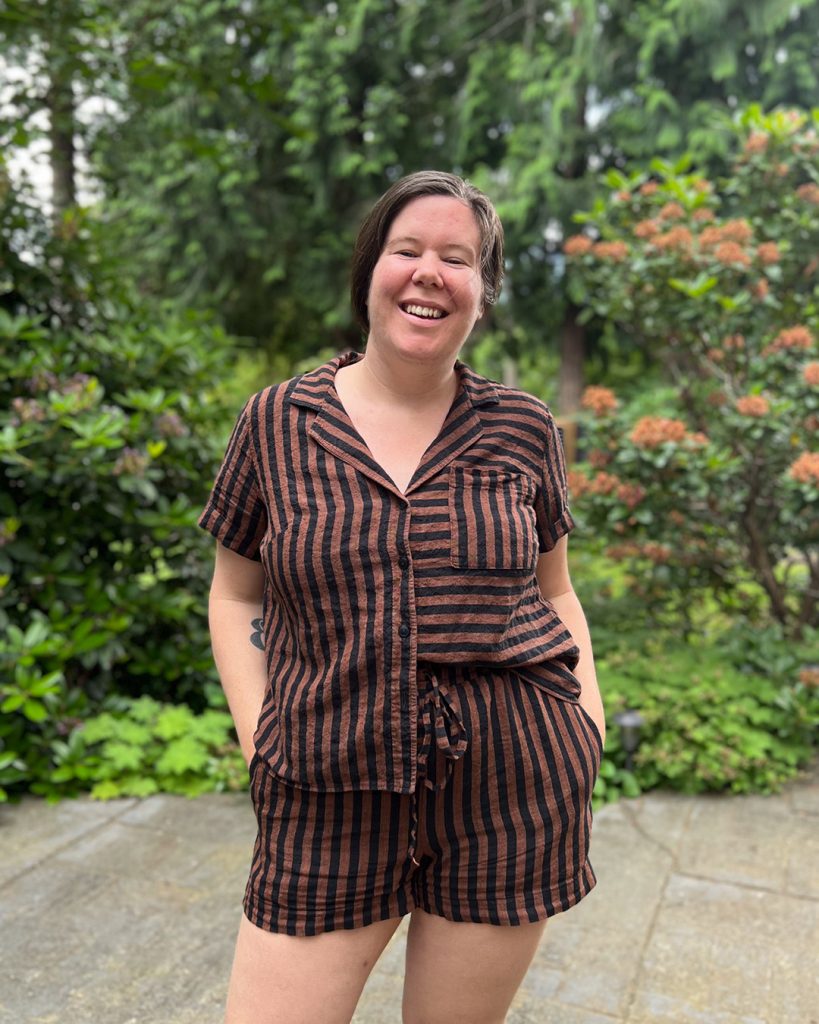 Who doesn't love a good matching set? Also known as a faux-jumpsuit or faux-playsuit, this is a great way to get extra versatility with your sewing projects. You make something for your bottom half and something for your top half out of the same fabric and voila! A cute matching set that can also be worn as separates. It doesn't have to be pants, either. If you make a skirt and a top, you have a faux-dress!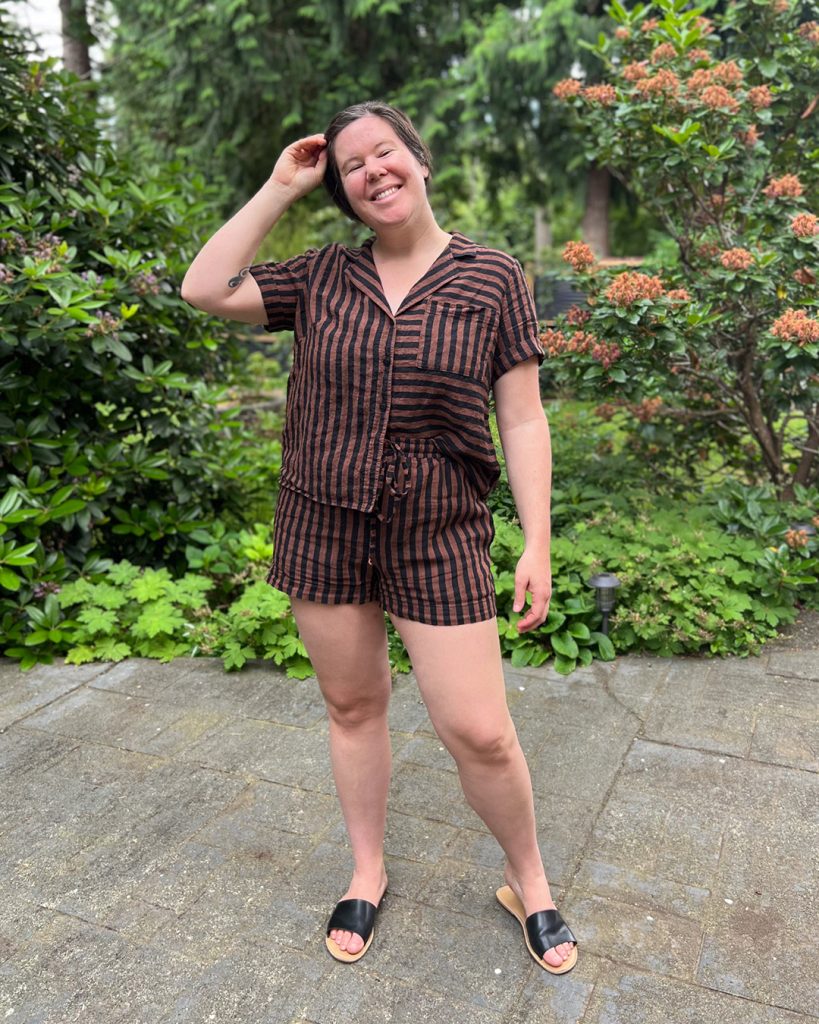 One of my favourite things about our new June Shorts and Pants pattern is how versatile it is. You can make classic culottes or everyday shorts and it can be paired with any top in the same fabric for a fabulous faux-jumpsuit. I knew I wanted to try June and Gilbert together, so I had our amazing sample sewer, Lesley, make up this matching set. She did an incredible job! I am loving this cute summer look.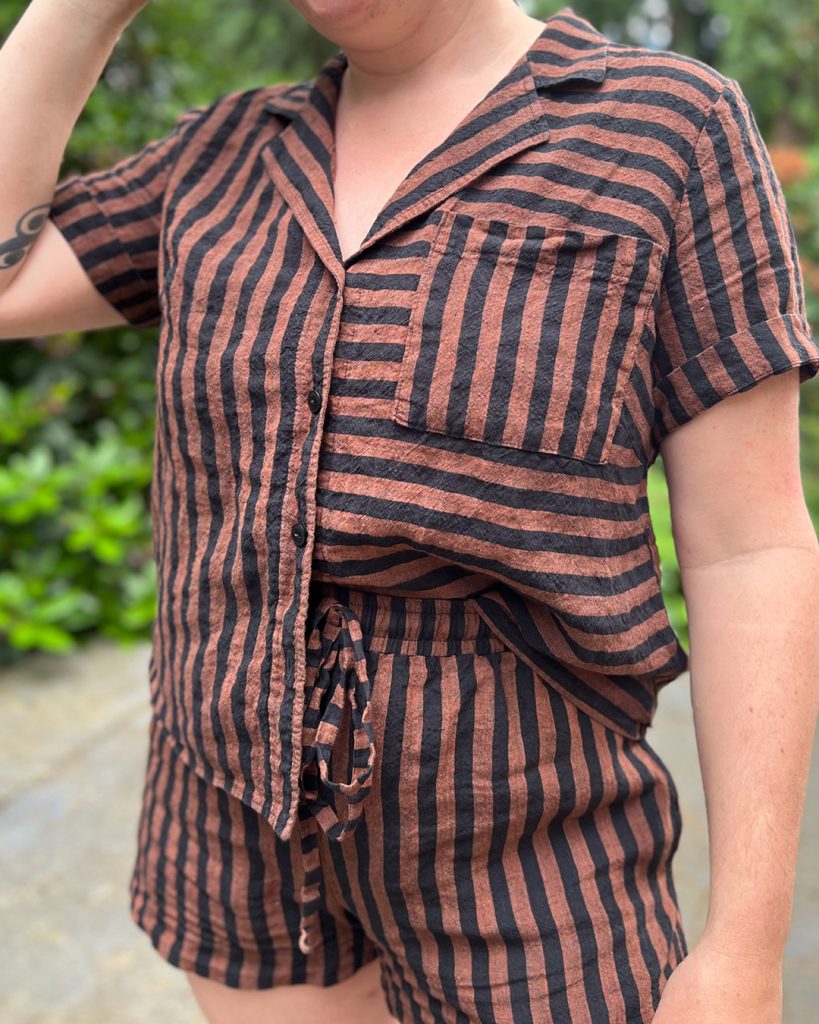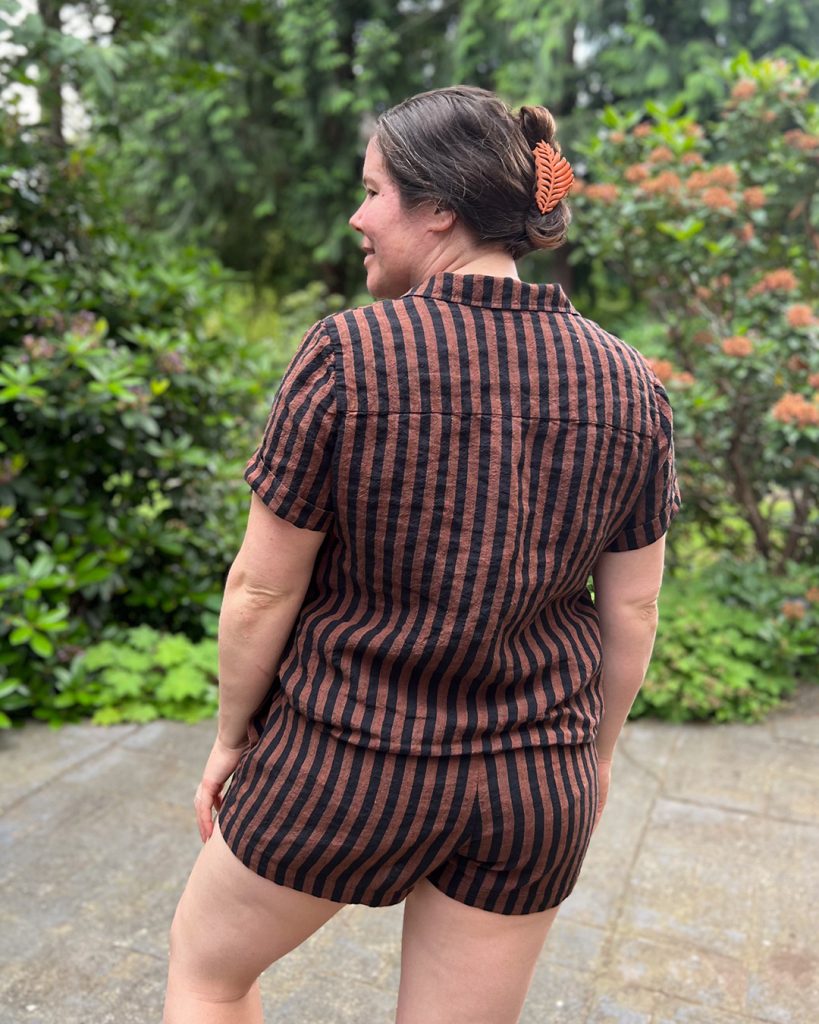 We used the regular shorts view of June and a mashup for Gilbert (shorter sleeves with the longer length, no front tie). The fabric is a gorgeous stonewashed linen from Blackbird Fabrics. It has a pebbly (almost rough) texture to it and the rich brown and black chunky stripe is so cool.
I love playing with stripe direction but I didn't want it to get too dizzying. We opted to go almost exclusively vertical with the exception of one half of the Gilbert front and the drawstring on the June shorts. The contrast on the front of the top with the chest pocket is so cute!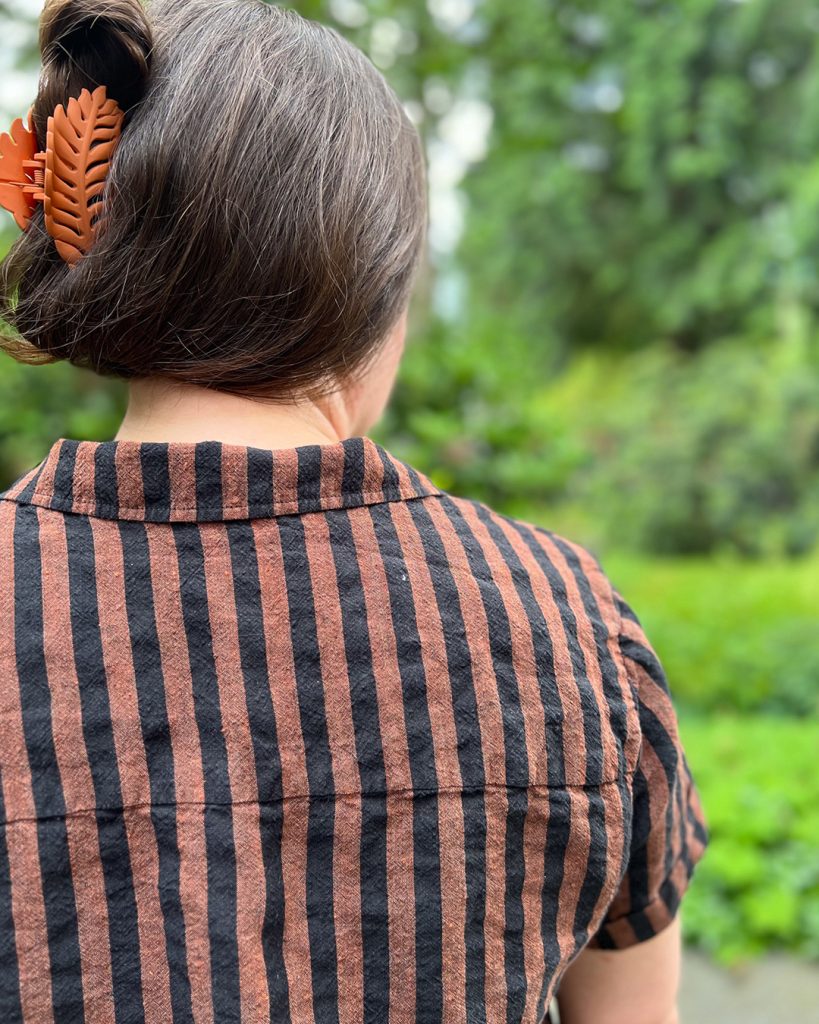 I love love LOVE a vertical striped short. I know I'll be wearing these shorts all summer! Both of these pieces look great individually as well as together. Versatility at it's best!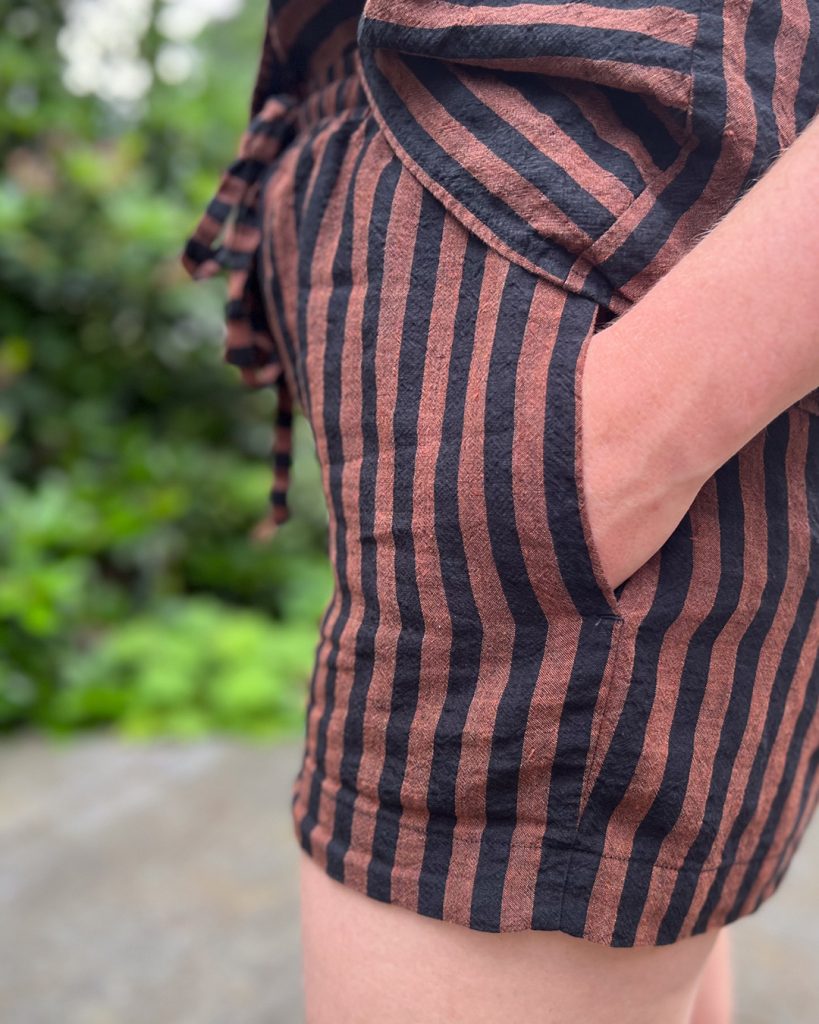 The question I have about this look is—does it look like PJs to you? The striped fabric, matching set, and camp collar are all really making this lean towards loungewear. But with that said, it's SO cute! I will totally be wearing this out and about, even if I do look like I'm sleepwalking.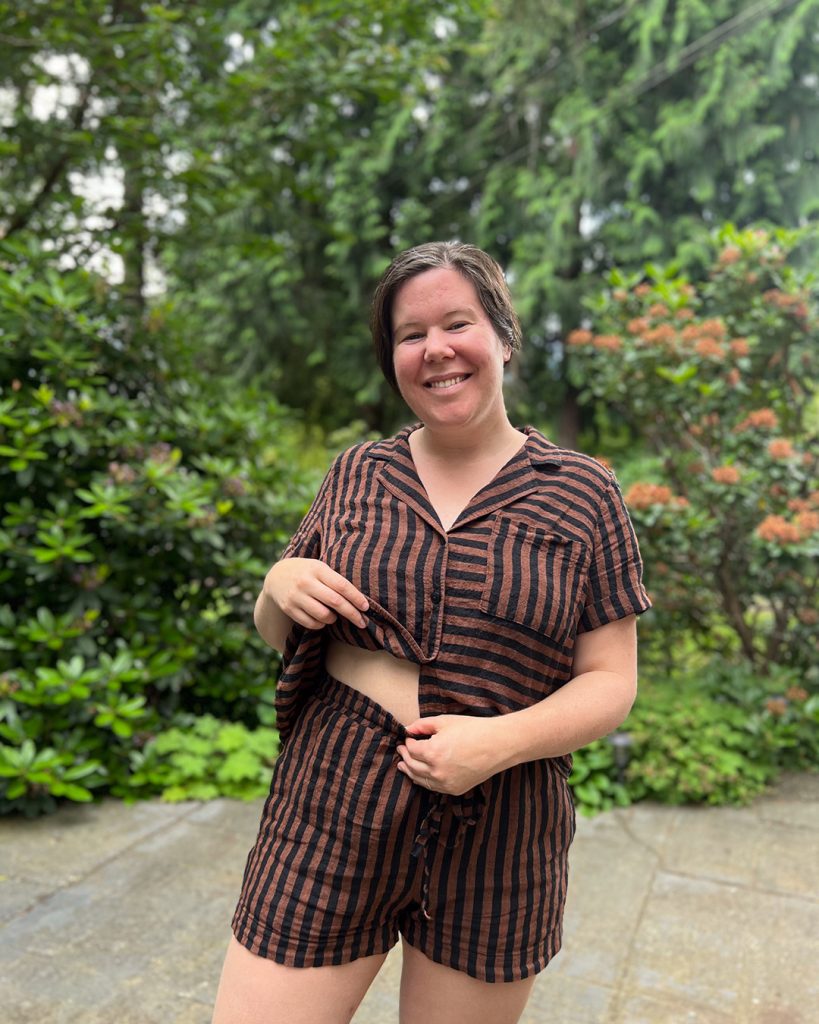 If you have been looking for a simple, classic high-elastic-waist short and pant, June is the one. I love the fit, the pockets, and the endless possibilities! Next, I would love to try a faux-jumpsuit with a the longer June pants view.