News
In honour of indie pattern designers, Sewing Indie Month is back this September!  Today is the last day to grab the first bundle of patterns for as little as $3.80 per pattern!  I've got mine and am looking forward to bundle 2 as well.  In particular, I'm stoked for the Sutton Blouse, Cressida Skirt, Ultimate Trousers, and Saltbox top.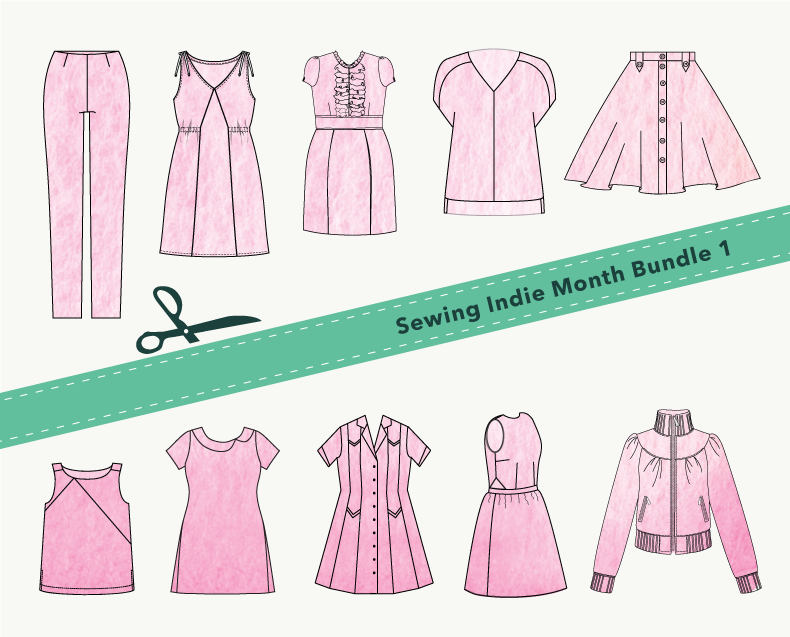 Makes
I am in love with Kelli's Trapeze Dress in Black Linen. Her style is always so effortlessly beautiful. Simple shapes and breezy fabrics are the way to go in the summer heat!
Lindsay made a Xerea Dress out of a gorgeous tropical print.  I love the detail she added with the piping along the pockets and hem.  The belt also really adds a nice shape – I've definitely got my eye on this dress.
Carolyn made a stunning Mississippi avenue dress (also included in the pattern bundle above). She pretty much killed it this week between that and these zigzag pj's.  She also reworked a bunch of her previous makes by dyeing them, so cool!
Fiona made a really cute 2-piece set.  I love the idea of this, it's like a dress when you need it to be but has the versatility of separates, genius!
Resources
Tasia wrote a really awesome guide to fabric shopping in Vancouver!  I was happy to have been to almost all of these at least once.  Dressew and Atex are right by my work, so I'm definitely feeling spoiled. I have yet to check out Button Button, the only all-button store in Canada, it sounds awesome!
Heather made a couple short videos on some great hand-sewing techniques.  Check it out to learn all the tricks, they are SO helpful.
Discoveries
After drooling over Jen's Blue Lace Watson, I was overjoyed to discover that Blackbird Fabrics (an awesome online retailer based right out of Vancouver, yay!) sells lingerie kits!  Everything you need (sans pattern) to make your own Watson Bra.
Community
I was smiling ear to ear seeing all these lovely sewcialists get together in Montreal.  It sounds like they had a blast talking sewing for a couple of days and hanging out with the dogs, super jelly!