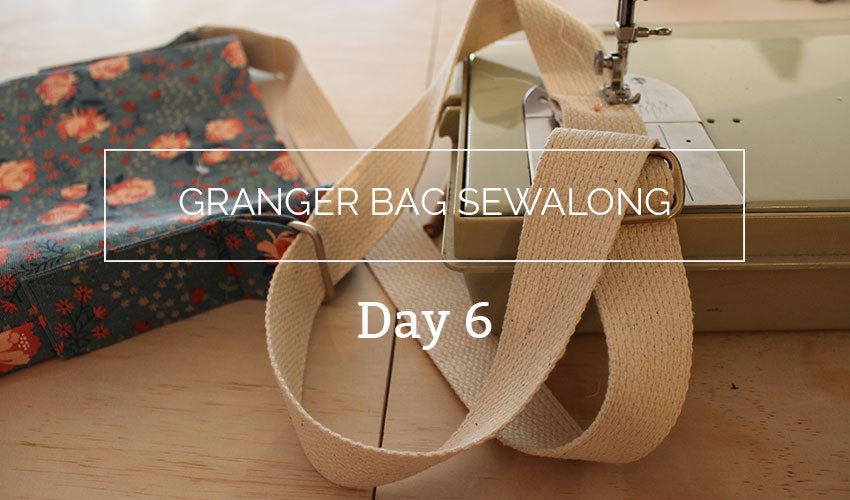 Final day, woo hoo!!  Congrats on making it to the last step of the sewalong, I hope you all had fun making your bags so far!  Today is all about the bag strap, so grab your strap pieces, pins, sewing machine, iron, and strap slider and let's get started!
---
If you are making your strap from fabric, place strap parts A and B together with right sides facing.  Your stitch guide boxes should be on the ends that are not lined up.  Pin and sew the two straps pieces together along the short end.
Press the seam towards the longer side of the strap and topstitch 1/4″ from the seam.
Fold each side of the strap pieces in towards the center.  Start pressing and then test your strap slider.  You want it to fit perfectly in the rectangle, with no bunching on the sides. You may have your strap sides overlapping as you press, and you can trim of the excess if you are worried about it being too thick.  I like a nice thick strap so I don't fret about too much overlap in the middle.  It is important to maintain a consistent strap width, so periodically measure to check you are on track.
With wrong sides facing, pin the two straps together. Top stitch along each side, 1/8″ – 1/4″ from the edge, your choice.  Feel free to switch thread color when you reach the contrasting fabric, or you can use one color and have some decorative stitching.

For the installing of the strap, I will be demonstrating with the webbing on View A.

Press each end of your strap in 1″.   Feed one side of the strap (part B if you are using fabric) through one of the tabs, in toward the bag.


Pin and sew the strap end in place, matching the stitch guides up with the end of the strap.  The stitch guides are a suggestion, feel free to sew the stitch box further way from the tabs if it is easier for you.
Slide the slider onto the strap. On the other side, feed the loose end of the strap through the tab ring like we did on the first side (towards the bag). Slide it around the middle bar of the slider in order to complete the loop. Make sure your bag strap is straight!  Pin and sew the strap end the same way we did with the other side.
All done!  Check back tomorrow to see the final Granger Bags from the sewalong!