Isn't it fun when decades of fashion come back around?  I love the 70's vibe that is so popular right now and I have been wanting to sew some 70's inspired clothes.  Check out my inspiration board on Pinterest and take a look at these awesome indie patterns!
Pants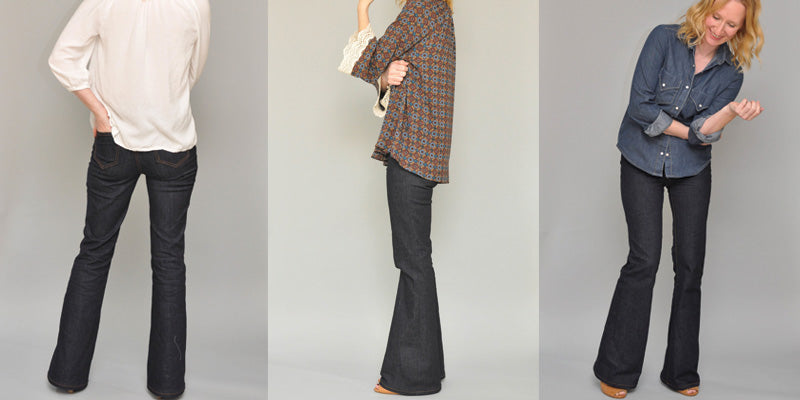 Birkin Flares by Baste + Gather – Intermediate
These flares are rapidly becoming a favourite pattern in the indie sewing community, they have a great shape and are impeccably drafted.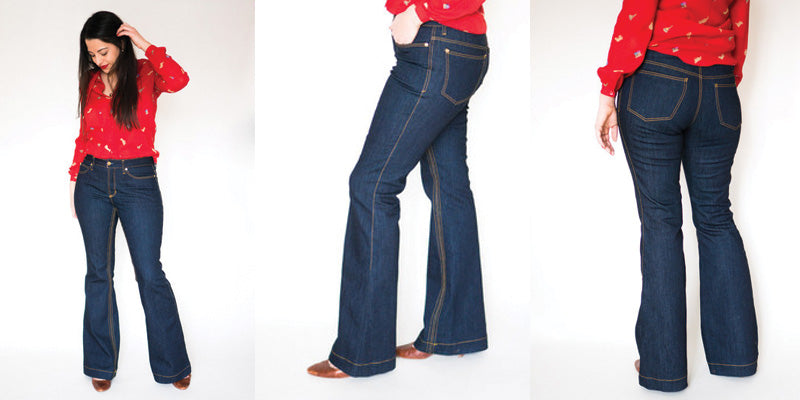 Ginger Jeans Flares by Closet Case Files – Intermediate
Since the success of the Gingers, Heather has released a flare expansion pack, so you can make your beloved Ginger jeans into flared beauties without having to fit a new jeans pattern – yay!
Astrid Wrap Pants & Shorts – Intermediate
These dramatic pants look so comfortable and simple to style.  I love the little wrap tie and belt loops.
Tops
Aster Top by Colette Patterns
This v-neck button up top is perfect for pairing with your flares.  I think it would be really cool to also do a flared sleeve on this design and give it more of a boho-chic look.  Check out this video for a tutorial on creating a flared sleeve.
Roscoe Blouse & Dress by True Bias – Advanced Beginner
This was one of the first patterns that came to mind when I was thinking about this round-up. It has long sleeves and a gathered hem band, as well as a peasant style neck tie.  I haven't made this yet but it is definitely on my list!
Hepburn Turtleneck by Itch to Stitch – Beginner
Pair any 70's inspired bottom piece with this beautiful, classic turtleneck.  Make one in white, black, and a pop of colour so you have one to pair with any outfit!
Jumpsuits
Sallie Jumpsuit – Beginner
How can we explore the 70's style without jumpsuits!?  The Sallie is a comfortable, simple pattern that is very flattering.  Make a dramatic entrance with full length legs or keep it playfull with a romper version.
Marilla Walker jumpsuit
I love the dress variation of this jumpsuit, it is just so cute!  I can see it being a go-to staple over any t-shirt in the summer time.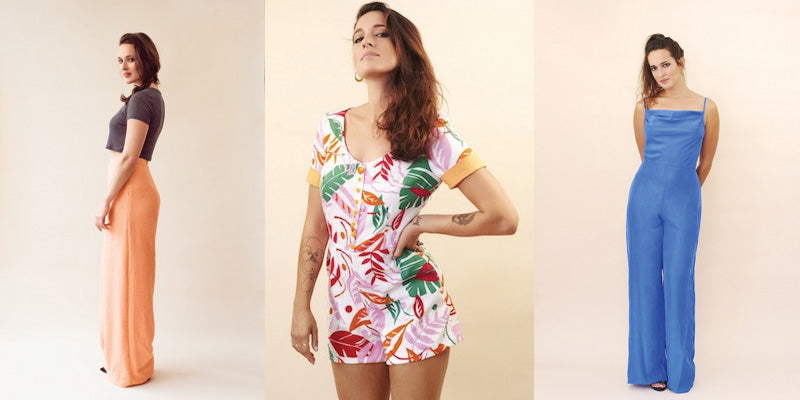 Holly Jumpsuit – By Hand London
This jumpsuit can be made as a short, romper version, or with a full length pant. The pants can also be sewn separately, and there are options for the bodice. This is one very versatile pattern!
Skirts
Rosari Skirt by Pauline Alice – Intermediate
I absolutely adore this skirt, and it is an obvious frontrunner for getting that 70's style.  Try it in corduroy or suede and pair it with a turtleneck.
Nita Wrap Skirt by Sew DIY – Advanced Beginner
This skirt is so fun to make and really comfortable to wear.  It would be so cute in denim and also works great in wool.
Fumeterre by Deer + Doe – Advanced
Get that truly bohemian look with a long, flowing skirt and simple, loose tank top.  Unbutton this pattern to show some leg and – of course – platform shoes!
Dresses
Flutter dress by Papercut Patterns – Beginner
When it comes to 70's dresses, it be all about the sleeves.  I love the dramatic sleeves on the Flutter, paired with the simple shift-dress silhouette.  
Skipper Tunic by Papercut Patterns – Intermediate
The Skipper Tunic has a great tie-front detail and is a perfect length for showing off some leg, or maybe even some cool tights!
Southport Dress by True Bias  – Intermediate
Our dress collection wouldn't be complete without a floor-dusting maxi dress, would it?  Make this pattern in a lightweight fabric with a bold print and pair it with a big hat and sunglasses – 70's perfection.
Jackets
Kimono Jacket by Sew Caroline – Beginner
This pattern is a great, simple layering piece that works great in a bold print.  The best part is – you can add all sorts of fun trim!  Try fringe for a full-on 70's vibe.
Lupin Jacket by Deer + Doe – Advanced
If you are in need of a more protective layer, the Lupin jacket is a cute little sports bomber that would look incredible in denim, faux suede or leather.
That's the 70's pattern round-up!  Please feel free to add to the list in the comments below, I always love to hear about new patterns.