I'd like to say thanks for all the outpouring of support and encouragement on my 1 year blogging anniversary yesterday.  You are all such amazing, creative, people and it means to much to me that you are in my life!  It is truly inspiring to have you all as my cheerleaders, and to receive so much help with my creative endeavors and sewing goals.  Ok, I'm getting teary eyed – lets get on to the news!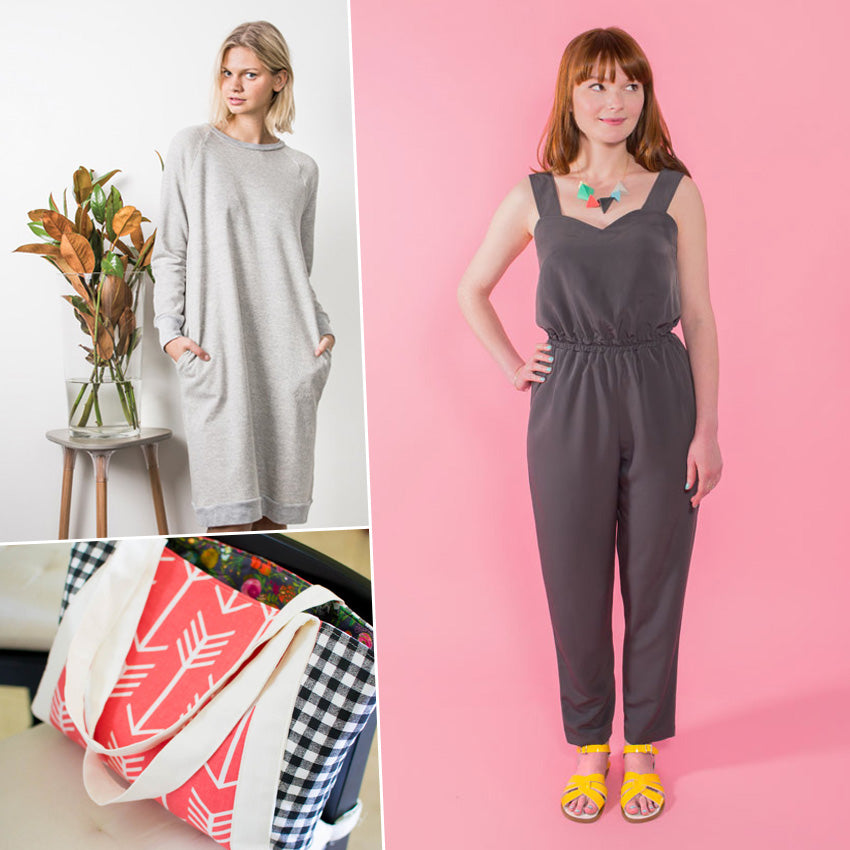 News
In The Folds released a free pattern via Peppermint Magazine, the Jersey Dress.  It looks so comfy I can't wait to make like 100 of these in the fall.
The Marigold pattern from Tilly and the Buttons looks smashing, I love that pant silhouette and I am becoming ever more obsessed with jumpsuits!
A free picnic tote bag pattern from Sew Can She.
All Thread Theory PDF patterns are 50% off!  I took this opportunity to purchase the new Fairfield shirt for Sam, if I ever do get around to some more selfless sewing, lol.
Gillian announced the return of sewing dares!  Head on over to Crafting a Rainbow to join in the fun.  She dared me to make a Nettie Bodysuit, a perfect dare because love that look but am a little nervous to sew form-fitted knits. Challenge accepted!
Makes
I am loving this Fen-ari dress from Randomly Happy, it is summer perfection!
This nautical shirtdress from Henne Pruella makes me so so happy.
The lace windowpane on this Aphrodite dress from Grosgrain Green has me all hearts for eyes.
Trying a new sewing thing can be scary, but so rewarding too!  Check out Maimu's first bra!
I was reading this post from Petite Josette and thinking 'omg, those waterfalls! I want to go there!'  Then I realized she lives in BC and those waterfalls are only a 2 hour drive away, haha. A very cute Plantain and some lovely scenery, check it out!
Naturally, I am OBSESSED with these culottes from Carly in Stitches.  Way to Culotte, Carly!
I am considering making the Makers Tote from Noodlehead, and this latest version has pretty much sealed the deal.  
This modern tank with pockets from the Fringe Association is so chic.
I was floored, as always, but Rochelle's latest creation.  That border print use is on point.
Resources
A list of good curvy-friendly swimsuit patterns from the Curvy Sewing Collective
Heather shows us how to sew perfect buttonholes.
Salme demonstrates a quicker way to add seam allowances.
LLadybird is hosting the outfit along, and she did a great tutorial on inserting an exposed zip.
Dandelion Drift shows us how to draft a trapeze dress.
Inspiration
One of my testers, Ashlee from This Seams Interesting, shared this great post about a photographer Jacques-Henri Lartigue's forgotten muse, René Perle, and the best part is, she is wearing the most amazing culottes!