Howdy, makers! I hope you are all in full Holiday swing! I have had a few too many cookies and cocktails over the past week, but it has been totally worth it.  It has been a bit hard to find time to sew, so I have been focusing on tidying up loose ends.  I've got a Flora dress that needs hemming and an Archer shirt that is awaiting buttons. I'm also still plugging away on my puffy vest and  I recently got some stellar faux-fur with which to trim the collar so that is exciting! Are you still sewing this season? Or are you anxiously awaiting the new year to dive back in again?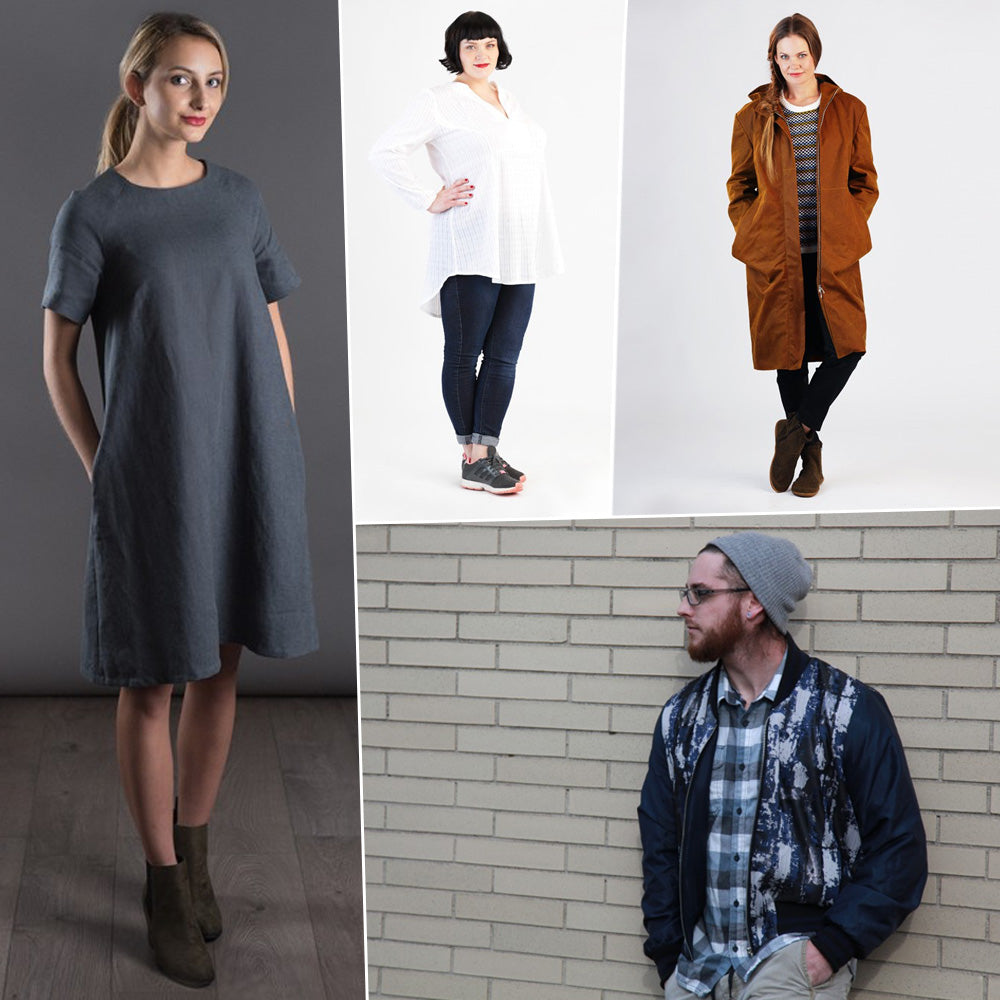 News (clockwise from top left)
The Avid Seamstress released The Raglan dress.
Schnittchen patterns released a series of new patterns, including the Katha Tunic and the Amy Parka featured above.
I stumbled upon this free reversible bomber jacket pattern from Mood Fabrics. I love the idea of a solid on one side and a bold print on the other.
Elizabeth Made This is hosting the Day and Night dress challenge this January. To enter, you must make a day dress in a print or colour that reflects you, and a classic evening dress in solid black. Check out her blog for more info!
Makes
I get so pumped whenever I see a me-made jumpsuit. Check out this one from Sew Blooms.
This Lola dress from Nicole at Home looks like the ideal winter dress.
I am loving the Adeline dress from Style Arc, check out this version from Meggipeg.
How cool is this holiday outfit from Life in a Mads House?!
I can identify with Saki's statement that her fabric wants to be a cloud. It's not weird, it is totally OK to project feelings onto fabric. Check out her Aphrodite dress.
I am swooning over this coat from The Mahogany Stylist.
Not everyone can pull off a dress covered in bugs, but Emma from Crafty Clyde sure can!
I love this simple and chic dress from Bee Made.
Resources
A tutorial on how to install eyelets on knit fabrics from The Last Stitch.
The Maker's Atelier argues in favour of making a Toile.
Inspiration
I am a big fan of the Papercut Patterns Sway dress, so when I saw this post on making it into a simple top I was like *mind blown*.  Why did I not think of this?!  Time to get sewing!
---