I'm pretty pumped to share my latest make with you all, and those of you who follow me on Instagram know that it is an instant favorite of mine! This is the Blaire Shirtdress from Style Arc patterns (PDF's are available here). Many of you have expressed interest in making this pattern so I hope these photos help you to make your decision, as there aren't many versions out there yet! I'd also recommend checking out Meg's dress, too.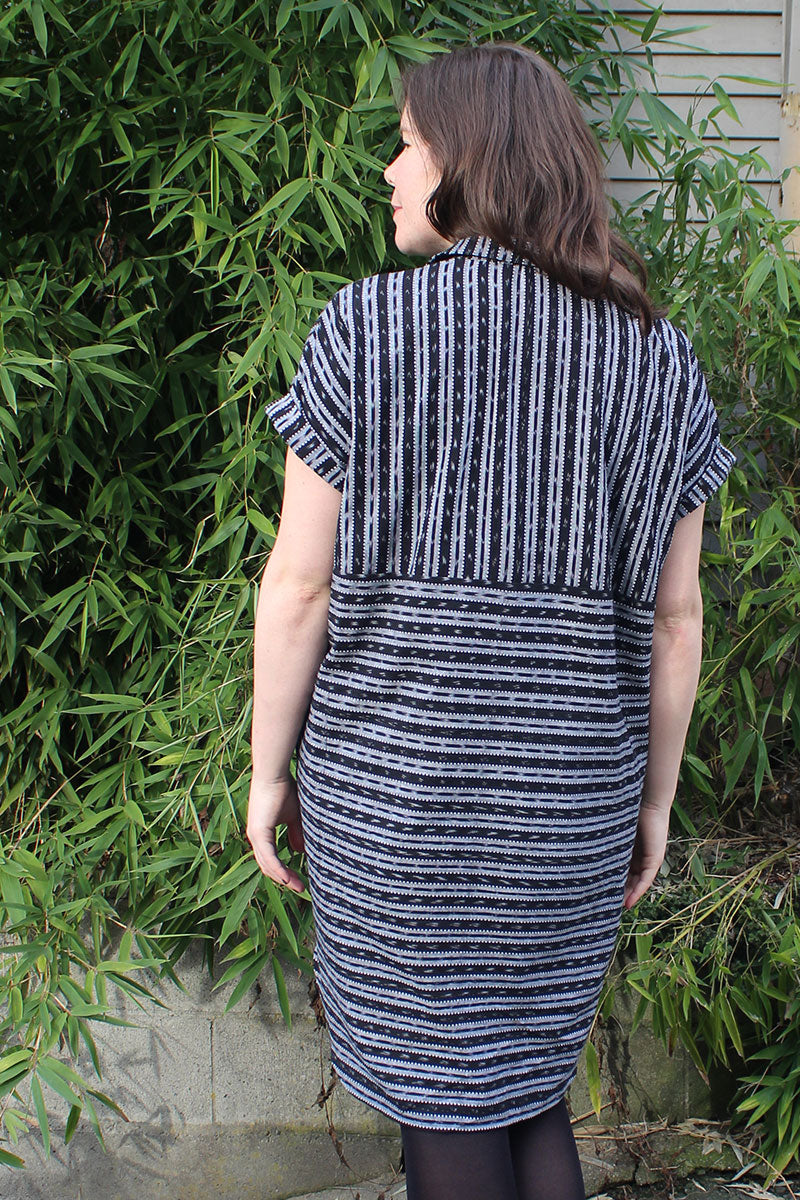 This shirtdress pattern is an oversized, boxy style dress with a dropped shoulder and a unique pocket design. The pattern also includes a shirt view which I definitely plan to make for the spring and summer months.  The dress also has a middle seam that allows you to do some cool stripe placement. The illustration shows the shirt with this same stripe placement and I loved the look, so I just copied it. Here is an example of a version without the perpendicular stripes – also super cute!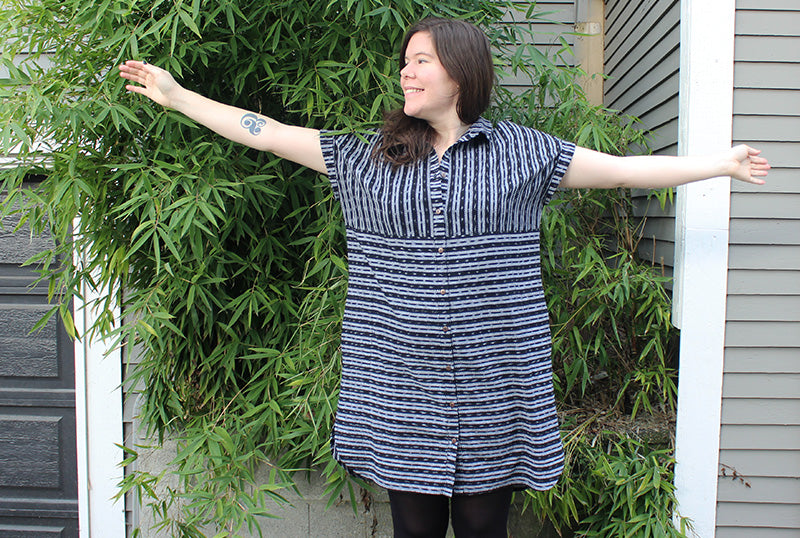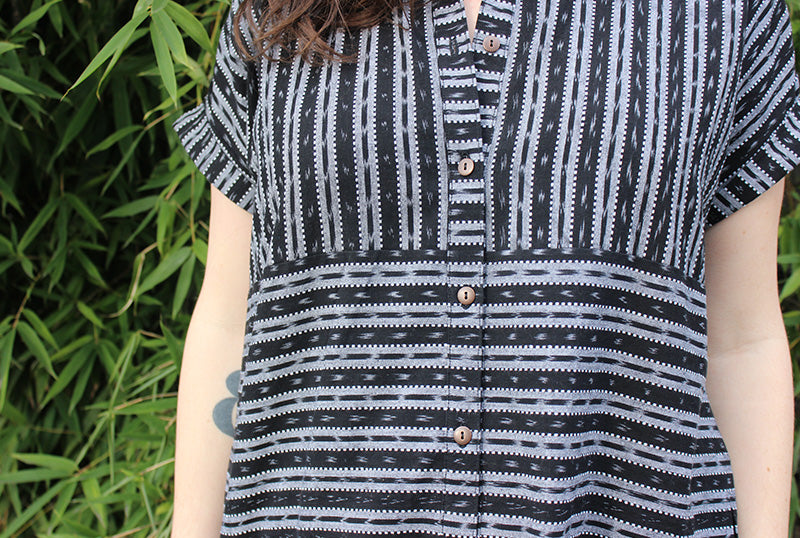 As far as construction, the Blaire is pretty easy for anyone who has sewn a collared shirt before. I was a bit underwhelmed by the lack of instructions included with the pattern, but I muddled through.  It basically gives you a list of the steps with a few illustrations here and there to support, but not many. It is hard to read, but it gets the job done! I wouldn't recommend this pattern for anyone who has not tackled a collar yet.
The cuffs are a nice detail and are drafted to have a small amount of fabric under the arm to reduce bulk. I like this approach and the finished look is very nice and on trend. They are a bit finicky to sew because they use the stitch in the ditch method, but the end result is worth it.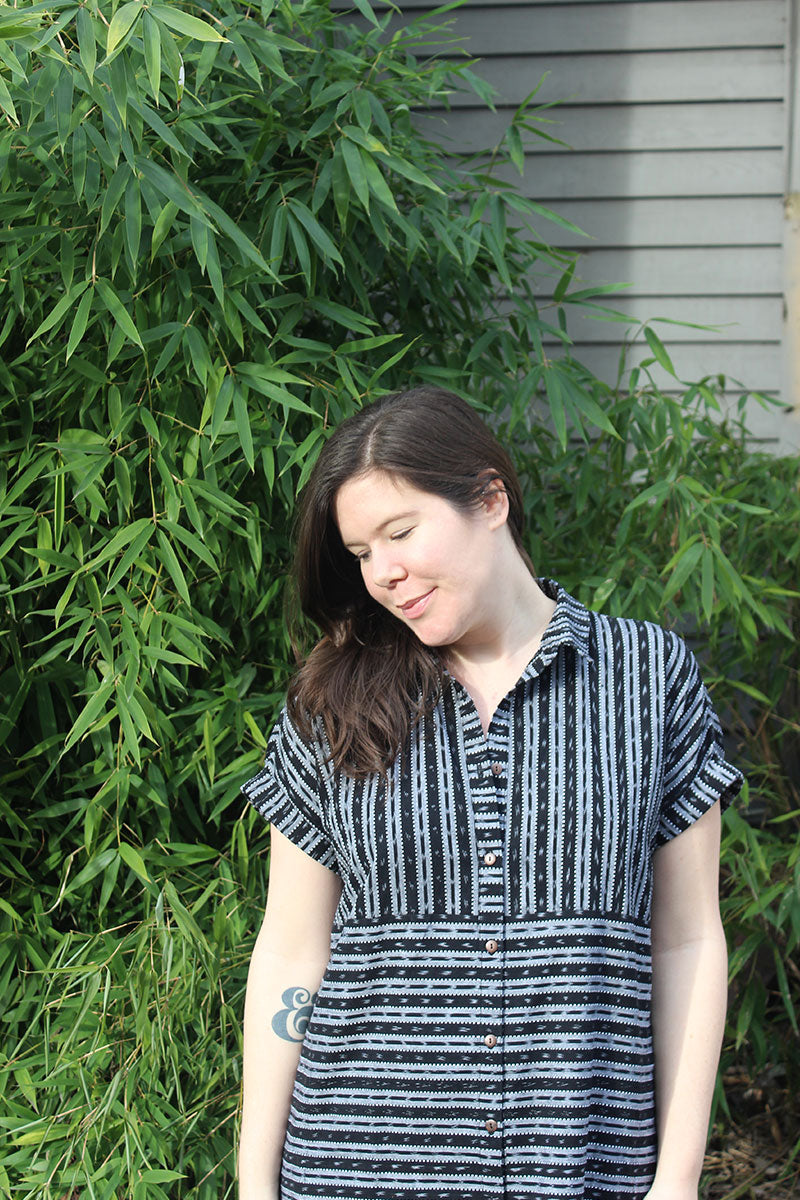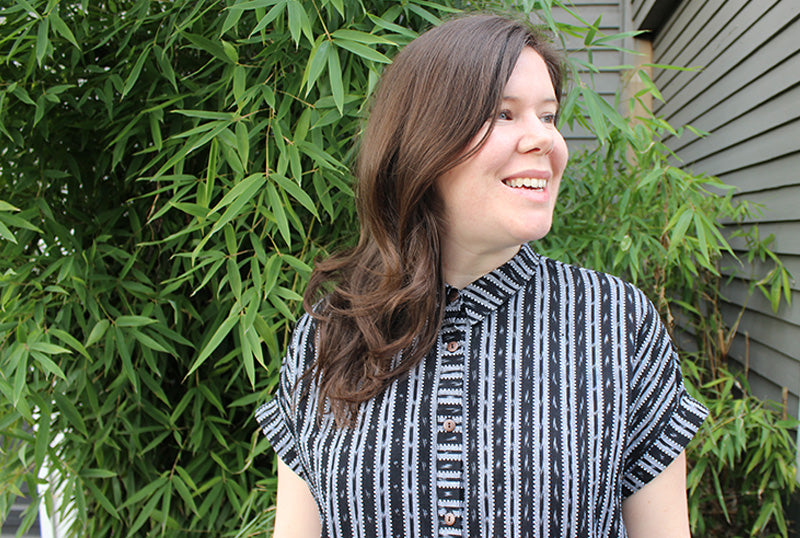 The other nice detail in this pattern is the pockets.  The hem of the skirt scoops up at the sides to reveal the bottom of the pocket bag. Here is another opportunity for cool pattern placement. Because of this detail, the pockets end up being very deep and a bit weird to put your hands into. The bag does not fall forward, but straight down, so your hands also have to go in straight down. That said, I have been walking about with my hands in the pockets and it feels nice, even if it is different. You can easily make the pocket less deep by sewing a line of stitching across the bag to shorten it, while still keeping the part that pokes out the bottom. You could also do forward facing inseam pockets instead if you wanted.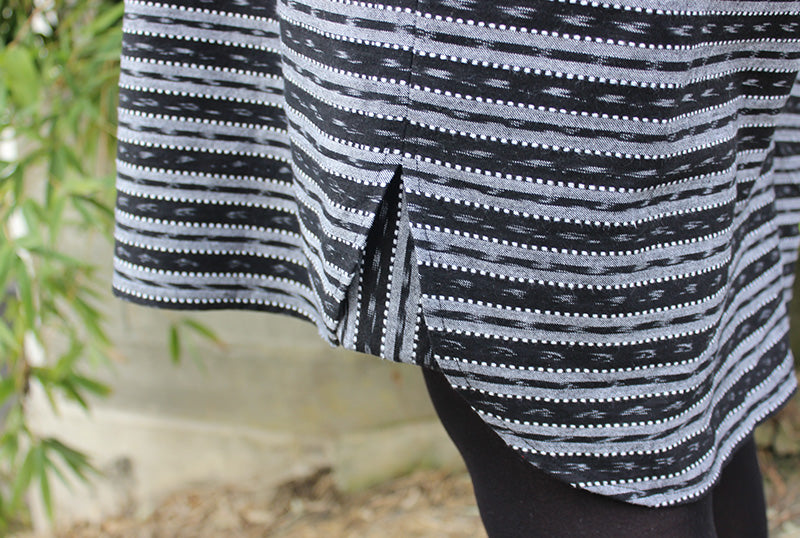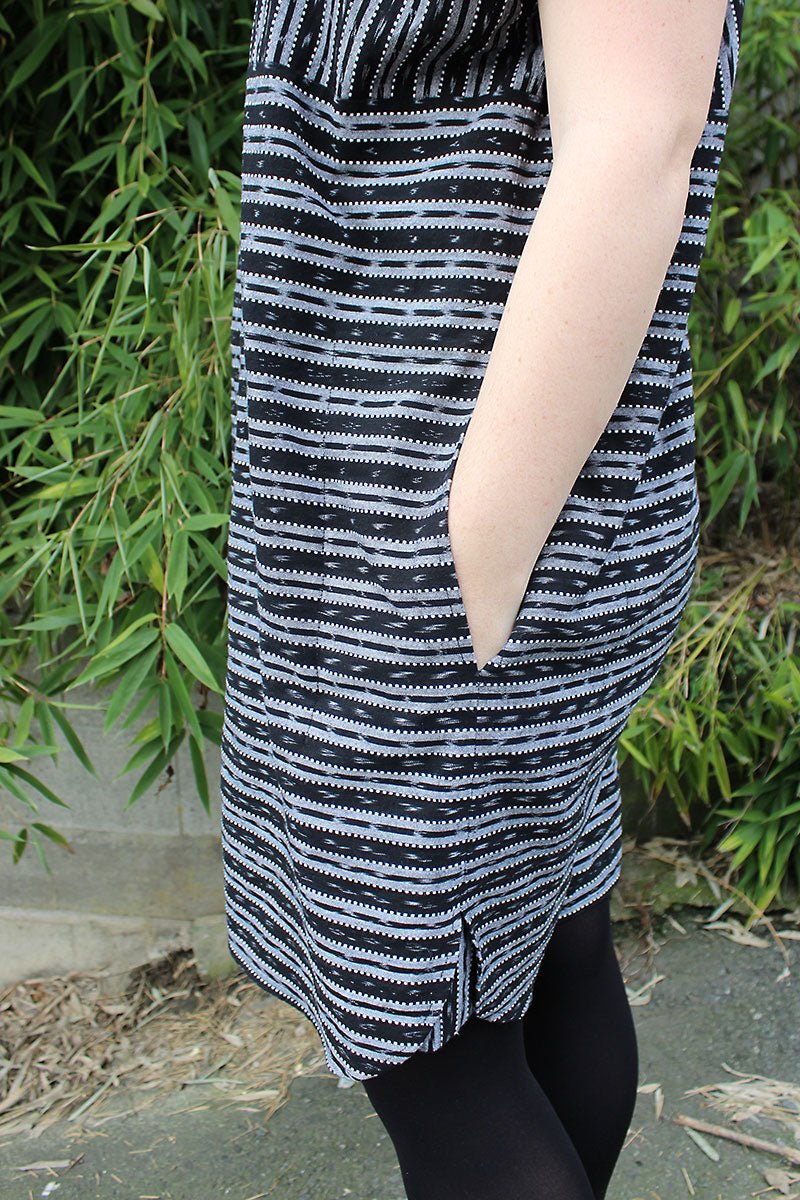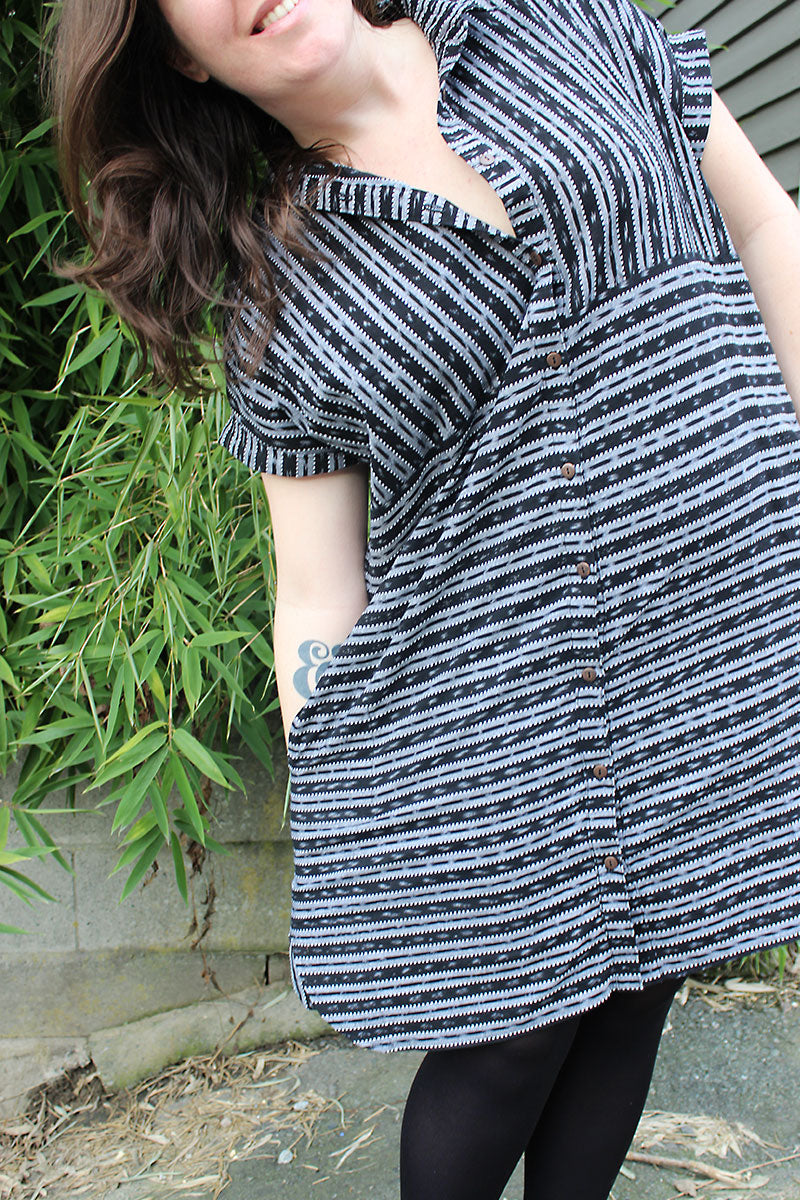 One thing I did change from the original pattern was to cut the undercollar in two pieces on the bias. I think this is a better way to construct the collar and it looks nice with the diagonal lines.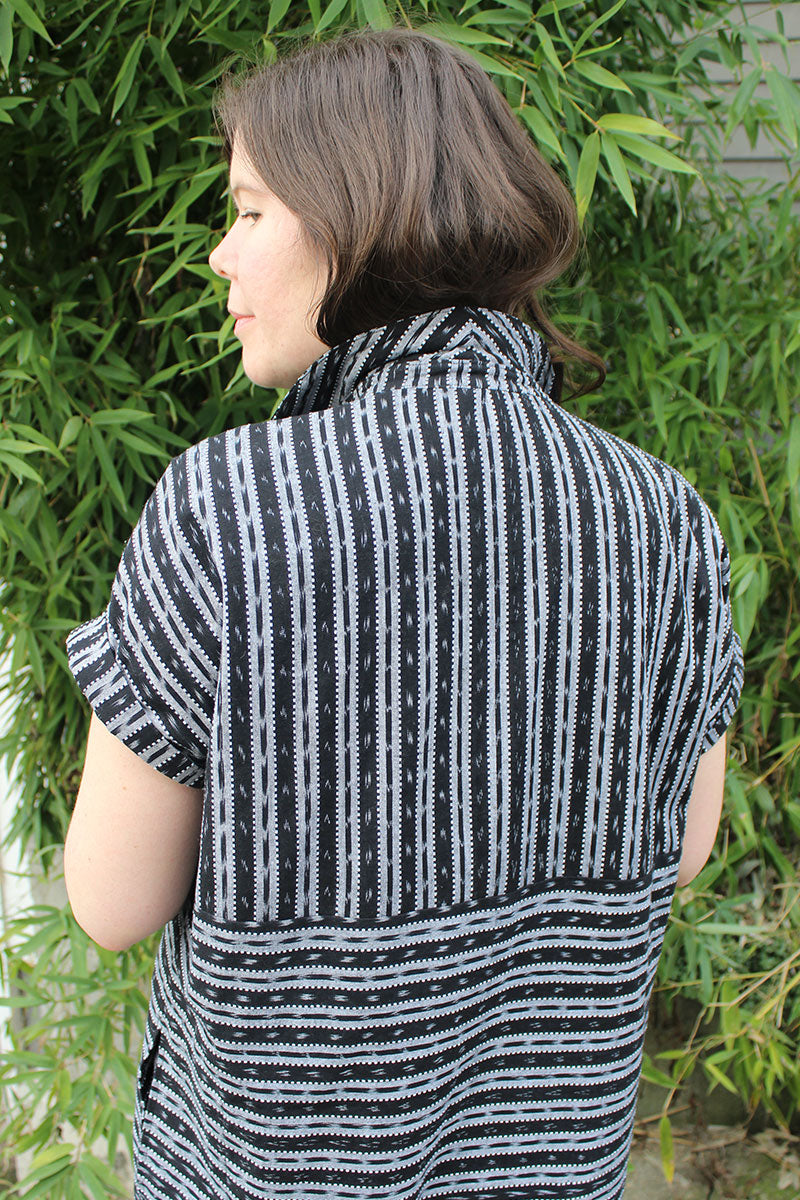 Overall I really like this dress. It may not the be the most 'figure flattering' (more on that discussion here), but I feel great in it. I love the bold stripes and the comfort level is through the roof. I used a cotton I picked up in Metro Textiles in New York, and it was really nice to sew with. That said, I think it is better suited to a summer dress without tights or leggings because the cotton does tend to get bunched up if there is anything underneath. It is also not a very jacket-friendly dress because the excess fabric under the arms makes it hard to wear under things. I look forward to taking it out more in the summer months. I also think it would be amazing and much more flowy in a nice rayon or silk.
As far as Style Arc patterns go, I am a fan of their designs and have several more on my list of possibilities to try in the future. I did find the lack of instructions a bit disappointing, and the separate paper pattern vs pdf pattern stores confusing. They also sell the patterns in size groupings, so you only get three sizes (like 10,12,14 and 16,18,20). That said, you can email them on Etsy and they will give you the sizes you need.  I think I will be trying them again in the future for sure.
I hope this post has been helpful for anyone thinking about this pattern!
Now, here is my happy dance…
---