Dresses are so exciting to sew, aren't they? Is it because it means making an entire outfit?  Is it the oodles of fabric you have swishing around you when you're done? Perhaps it's all the pretty prints that somehow seem ill-fitted for separates, but work perfectly for a dress? It's a combination of all of these things for me, and despite the fact that I don't wear dresses more than once a week, if that, I still love to sew them.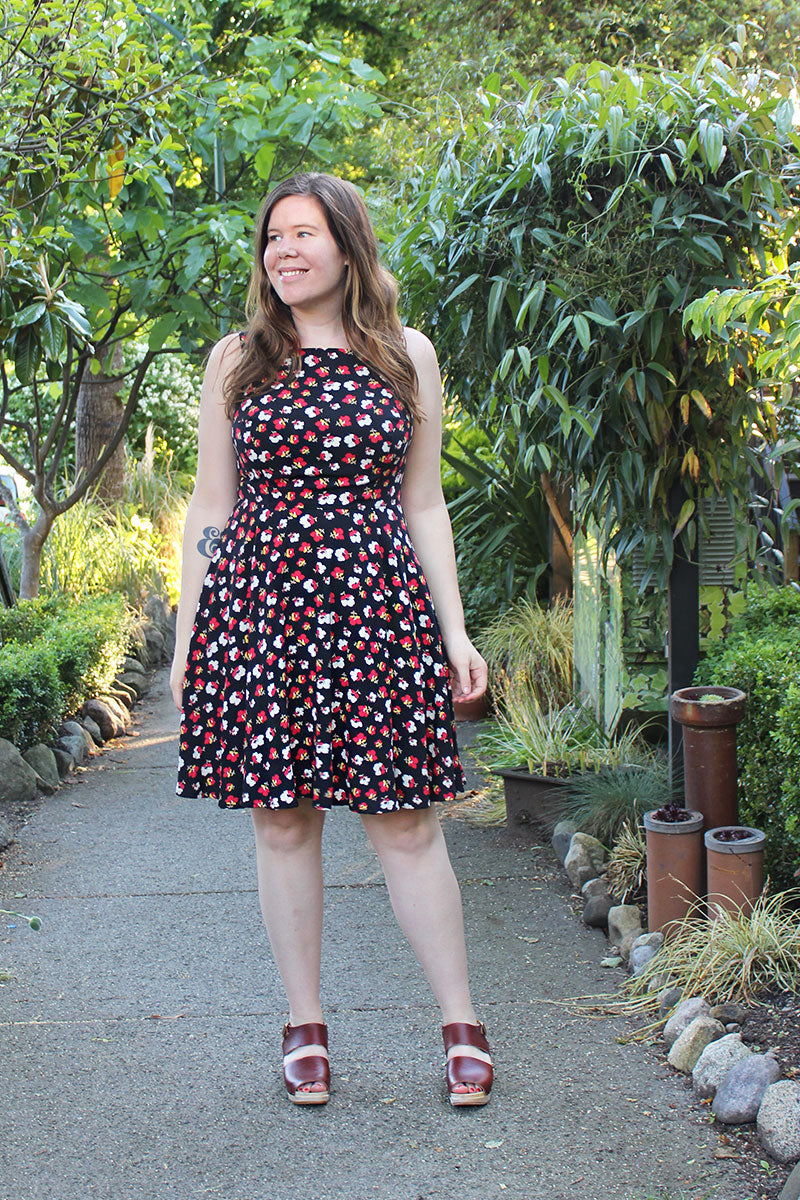 This week I want to show you a wearable muslin I made of the By Hand London Flora dress.  The reason I made a full muslin is because I made this dress as my maid of honour dress for my sister's wedding! I didn't want to take any chances on it, so I started early and made this test version. It has been sitting waiting for a hem for almost an entire year! I finally finished it up last month and I am loving it!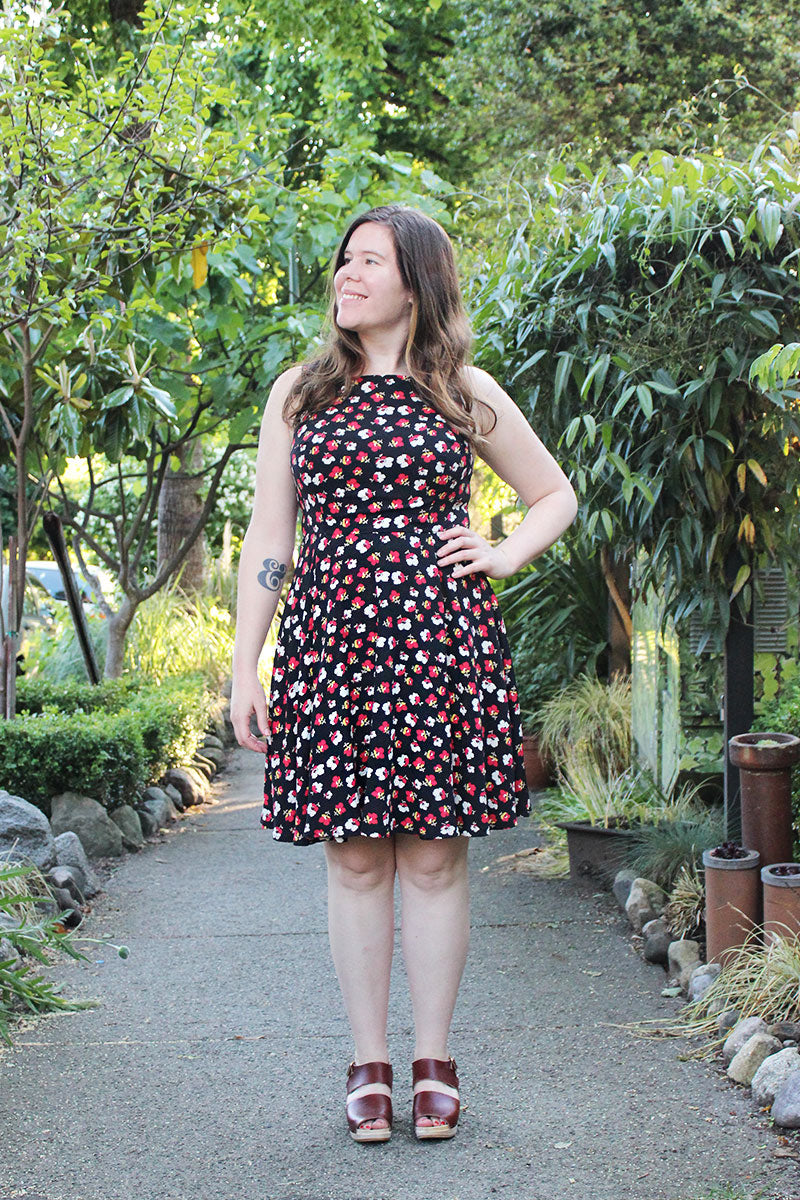 I opted to make the muslin out of a poly as well because I was working with poly-satin for the final dress.  I wanted to work through any fit issues in a similar fabric. This pansy poly is from Blackbird Fabrics and it is soooo silky and soft. After a quick bodice muslin in plain cotton, I did a 1" full bust adjustment to make more room for the girls.  After that, the bodice fits much better, and it had the close-fitted silhouette I was looking for.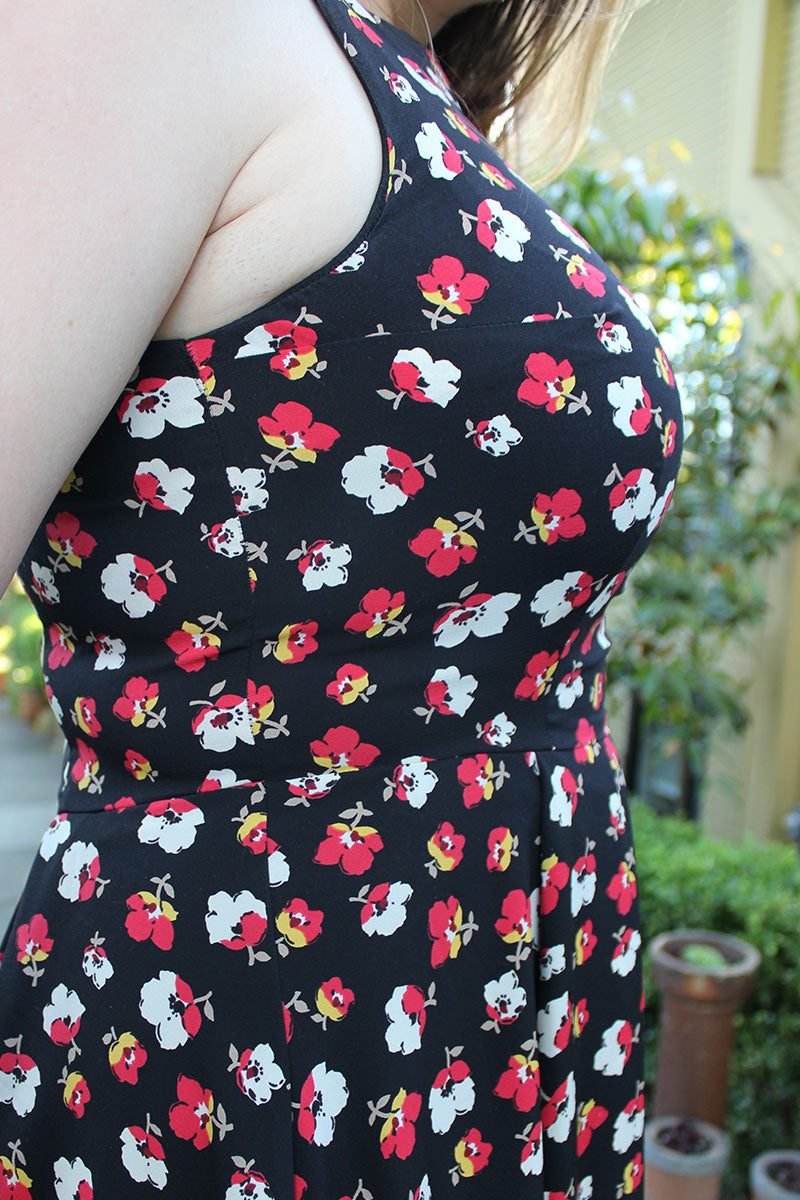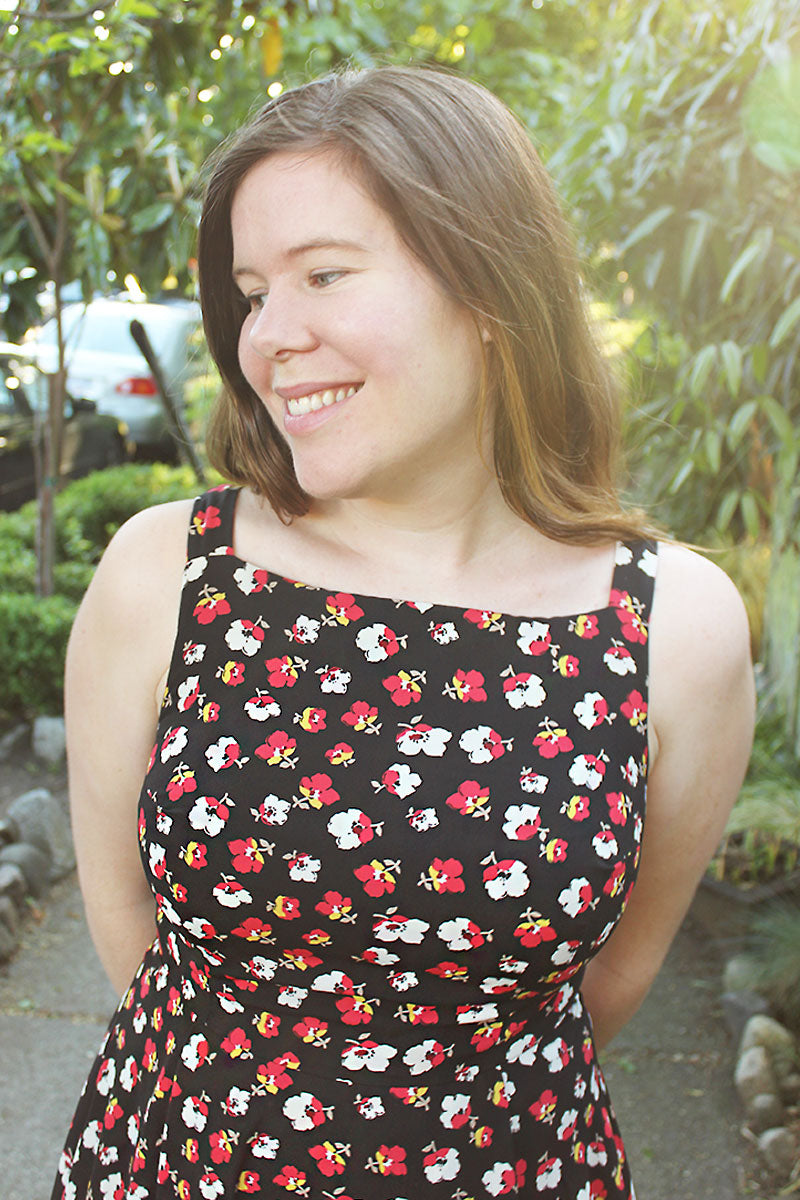 I didn't have to make any adjustments to the skirt as it is a basically a ½ circle skirt with large pleats in the front and back.  There are two hem options for the flora, one of which is a high-low.  I almost went for it, but in the end opted for the straight hem.
I decided to fully line this version of the Flora, because I planned to line the final version as well.  The bodice of the dress is designed to be lined, and there are instructions for lining the skirt as well on the BHL blog. I used a plain black rayon challis for the lining, to give it a nice soft feel on the inside. I also used the remaining rayon to make bias binding for the skirt hem. The rayon makes this dress so comfortable and I forget all about the poly when I'm wearing it.
The only thing I would do differently looking back on this project is stabilize the neckline with interfacing, because the fabric is not sitting straight.  It tends to dip down in the center and go up closer to the straps.  I had this issue with my finished version too, but didn't recognize it as an issue until looking at the pictures.
I really like the style of the Flora, it is comfortable and flattering without being revealing. It is also easy to wear with a normal bra, which I love. You really can't go wrong with a fit and flare, can you?  Has anyone made the other view of the Flora?  I am curious about that cross-over bodice!