I am soooooo excited to share this latest pattern with you! Introducing *drum roll please* the Suki Robe! I have been wearing my initial version of this robe nearly every day since I drafted it last winter. I love throwing it on in the morning and having coffee while I browse my blog feed, it certainly makes mornings a lot more fun!
When designing Suki, I was careful to consider proportions, fit, and wearability. I have had a few robes and wraps in my wardrobe that have failed to become integral to my morning experience, and by analyzing their shortcomings, I was able to design the Suki. Here are the features I focused on during the design process:
Kimono-inspired sleeves that won't get in the way when you try to make coffee, do your hair, or eat breakfast.
Inner ties that keep the wrap front closed and secure.
Pockets for my phone (because Instagram)
Waist ties that are anchored to the robe back so they won't get lost.
On top of these features, the Suki features a classic front band that you can choose to highlight with contrasting fabric. The sleeve cuffs and waist ties can also be contrasting so you can have fun playing with fabric.
Grab your copy of the Suki Robe this week for 20% off! 
THE OFFICIAL DESCRIPTION
The Suki Robe is a luxurious and comfortable robe, perfect for everyday use. It wraps around the body for a flattering waist fit and flares out over the hips. Kimono-inspired sleeves offer a classic look while still being a practical shape and length for getting ready in the morning. Inner and outer ties keep this robe closed so you can move around freely. The outer ties are anchored to the back of the robe so you will never lose them and inseam pockets ensure your phone is always at hand. Two lengths are provided and you have the option of contrasting front bands, sleeve bands, and ties. The Suki Robe will surely be your new favorite lounge-wear!​
THE VIEWS
The Suki features two views. View A is a midi-length robe and view B is knee length. I honestly can't say which one I enjoy wearing more, they are both so comfortable! With the longer version, you get to feel even more fabric swishing around you as you go about starting your day, which is always a plus for me.
Of course, the Suki can be lengthened to the floor or shortened to a mini length very easily.
Either view you choose, fabric requirements are provided for a solid Suki or a version with contrasting bands and ties.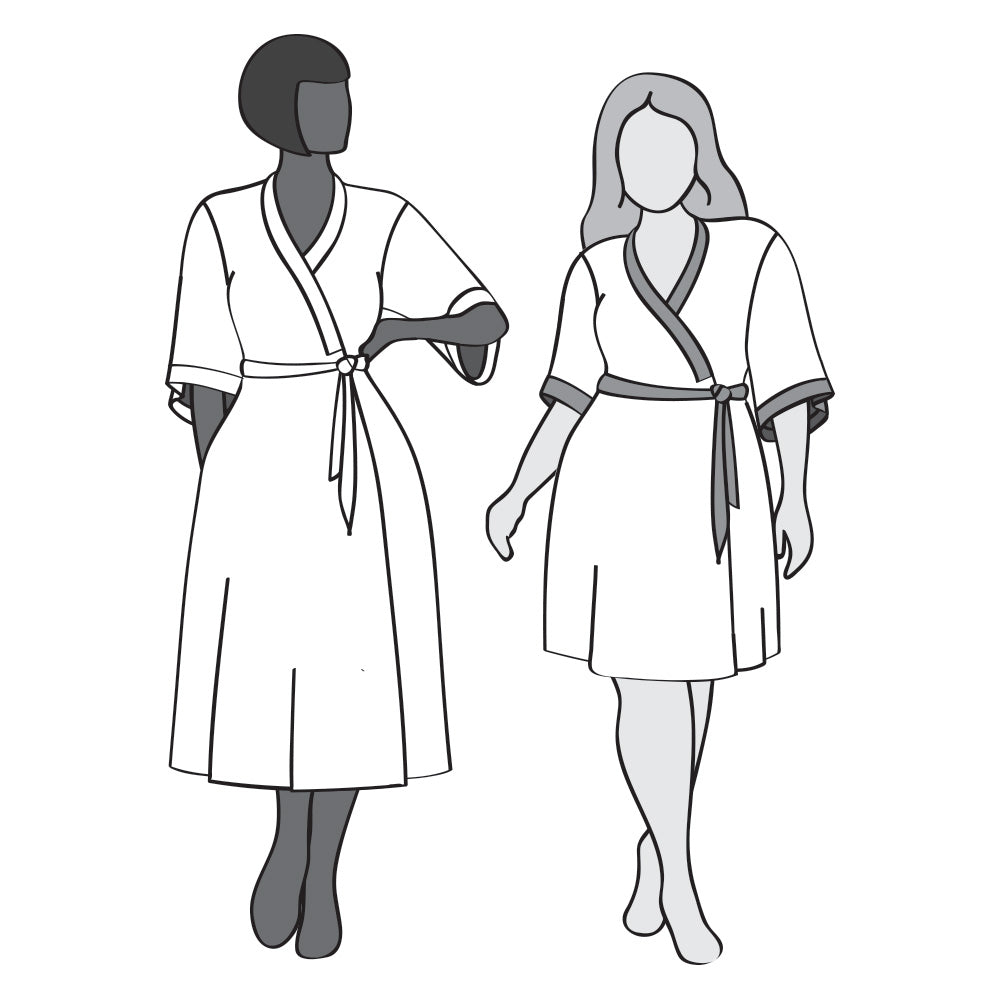 FABRIC
The Suki Robe works best in a fabric with plenty of drape. Choose a lightweight fabric such as rayon (challis, poplin, crepe), lightweight cotton (voile, double gauze), lightweight linen, or silk crepe de chine.
I have loved experimenting with different fabrics for Suki, everything from transparent cotton voile to silk crepe de chine. You can view the fabric requirements and size charts on the product page.
One of my absolute favourite things about this pattern is how fun it is to choose fabrics! Bright, bold prints work exceptionally well (and you all know how much I love prints). If prints aren't your style, a classic silk or satin elevates this robe to true luxury.
WHERE TO WEAR SUKI
At home, to the beach, or anywhere as a fashion robe! I have really enjoyed wearing mine out as a lightweight cover up for summer evenings or as a sun protector on the beach. I also wear mine all the time around the house and I just can't get enough of the glamor these robes have brought to my day-to-day life.
WHAT THE TESTERS HAD TO SAY
I had the best group of testers help me to perfect this pattern! I will be sharing all of their versions here on the blog on Thursday, but for now, here is what some of them had to say about Suki.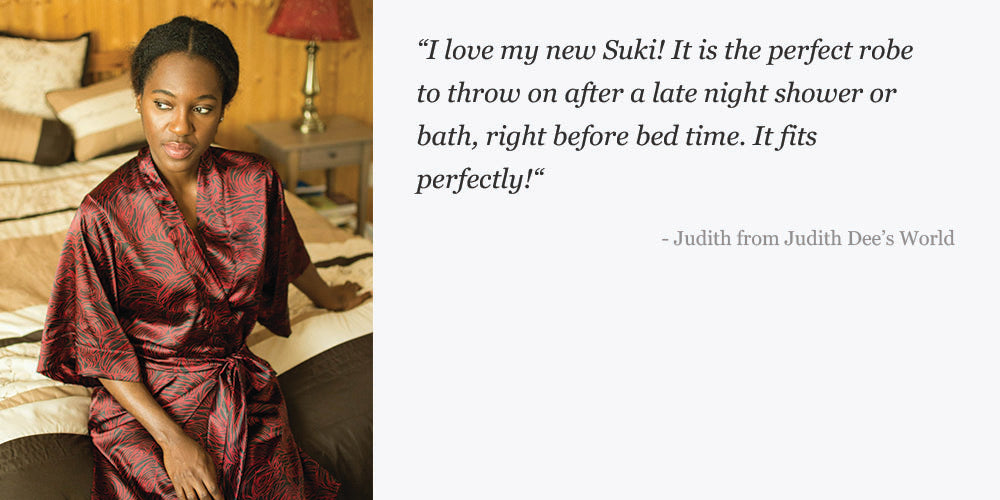 I hope you are all as excited as I am about the Suki Robe! I have lots of great blog posts planned to help you sew Suki and to get your creative juices flowing with this pattern. Thanks so much for all your support and thanks for checking out Suki!
Grab your copy of the Suki Robe this week for 20% off!