The day when I get to share the tester photos is my favorite day of launch week – is that weird?  I love sharing a new pattern with you all, but sharing the results of the pattern test is the most exciting. After two full weeks of hanging out in the tester facebook group with these lovely ladies, I am always so humbled by their hard work, honesty, and encouragement. It is also way too much fun to see all the different fabric choices and the way Suki looks on different figures (spoiler alert- it looks amazing).
Psssst – you can grab the Suki this week for 20% off!
Check out all their gorgeous versions below and follow their blogs and Instagrams for more shots and thoughts about Suki!
---

Bridgit
Girl and Machine  |  @brodonn
"I love this robe! It is extremely comfortable while also being practical and incorporating thoughtfully considered design elements – basically everything I've ever wanted! I love the modest neckline and wide but not too long sleeves. The ties attached to the robe make it feel really secure."

Anya
Anna Zoe Sewing  |  @annazoe
"Great little pattern! It is not difficult to make and the instructions are really good.I have been living in my robe ever since I made it. I want so many more!"

Gillian
Crafting A Rainbow  |  @gilliancrafts
"This pattern was a fun skill builder! Not too hard, not too easy… just right! My advice is to choose fabric that you really love because it's such a practical and pretty garment that you'll be wearing it for years!"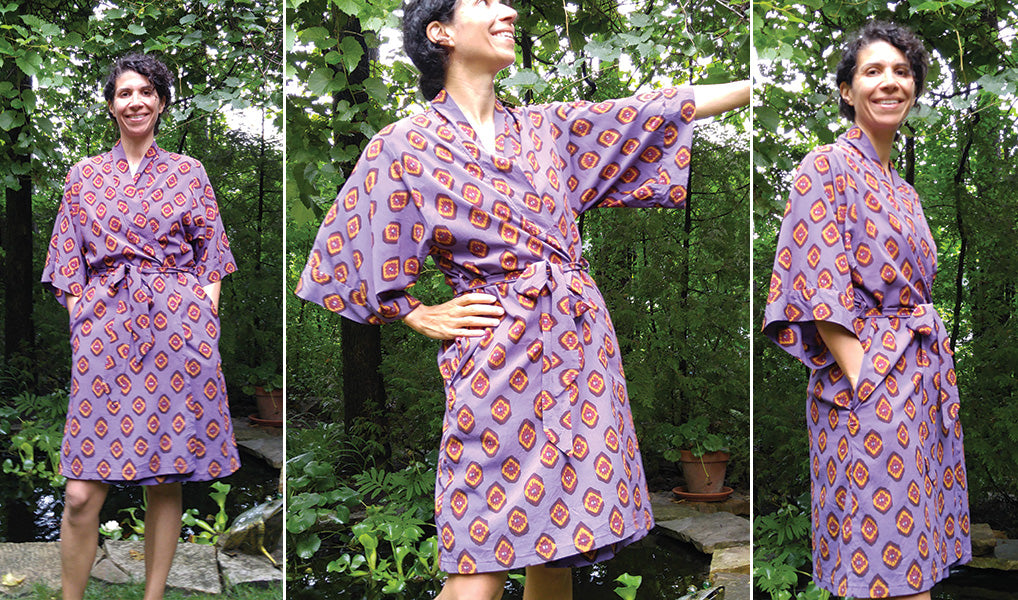 Michelle
@meesh.made
"My Suki Robe has quickly become one of my most-worn items! I love slipping it on over my PJs and it makes normal bedtime and morning activities feel special and a little glamorous. At the same time, it is comfortable and practical (no sleeves getting dipped in peanut butter). I plan to make a warmer winter version and a short one to use as a jacket."

Kellene
@kellenehunter
"I really enjoyed making the Suki Robe. The instructions are great and I love the design. It is the perfect robe for summer; light, flowy, and so comfortable! I know I will be wearing it a lot!"

Sue
A Colourful Canvas  |  @acolourfulcanvas
"After zero luck searching for a vintage robe, I finally found just what I was looking for in Helen's awesome pattern. I love my Suki! The silhouette is classic and the fit is just right. It feels like the perfect garment for injecting colour and pattern into my everyday outfits."

Meg
Cookin' and Craftin'  |  @megret79
"The Suki Robe is an elegant wardrobe necessity with some fabulously functional details!"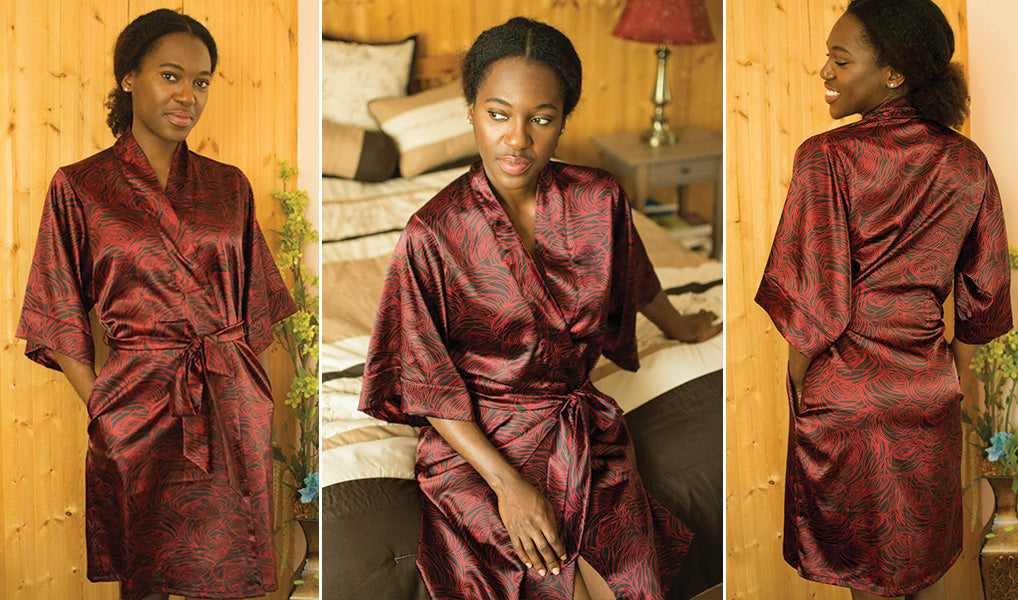 Judith
Judith Dee's World  |  @judithdeesews
"I love my new Suki Robe! It is the perfect robe to throw on after a late night shower or bath, right before bed time. Working with this satin was a little challenging around corners but the extra work was totally worth it! It fits perfectly!"

Christine
Unlikely Nest  |  @unlikelynest
"The Suki is a beautiful combination of simplicity and detail. The basic shape is classic, but Helen has polished the design with well-thought out details. The pockets, the collar, the ties… it is all very elegant and intentional."

Aida
Ida Aida Sewing  |  @aida.k_t
"The Suki Robe is a basic garment that everyone needs to have in their wardrobe. This pattern is an easy and quick make that depending on the fabric you'll use you can make a plain or a luxurious robe!"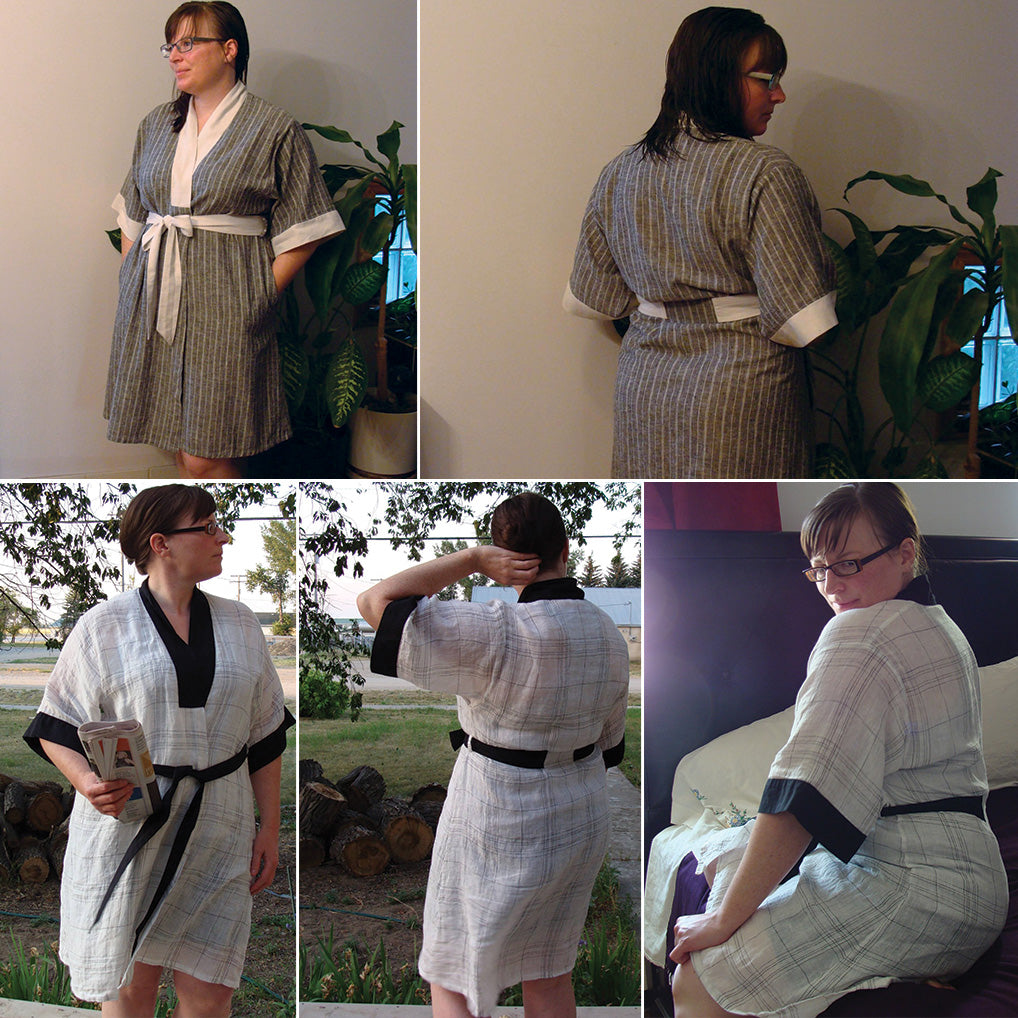 Anne
Sew Anemone  |  @sewanemone
"I'm so happy to have this new pattern to have in my wardrobe. My initial test version was made in a light floaty semi-sheer linen voile. A perfect swim coverup to have on hand for modesty or protection from the sun while still staying cool. I liked the fit of my first Suki so much I proceeded to make a 2nd version in a sturdier hemp/cotton chambray. I can tell already that I'll be living in my chambray Suki, so cozy and comfy I never want to take it off!"

Trudi
@trudizsews
"The Suki Robe has a beautiful drape and lovely details. I especially like how the collar is formed and how the ties are attached in the back. With the options for using contrasting fabric on the neckband, sleeve bands and ties, this is a fun make."

Denise
@dnembhard43
"This is a great robe/coverup. I chose a rayon challis, and it's super soft and comfortable. The scope is flattering on a variety of body types. It was a good sew, with a good variety of techniques so that a newer sewer feels like they've learned something new, but a more experienced sewer doesn't get bored."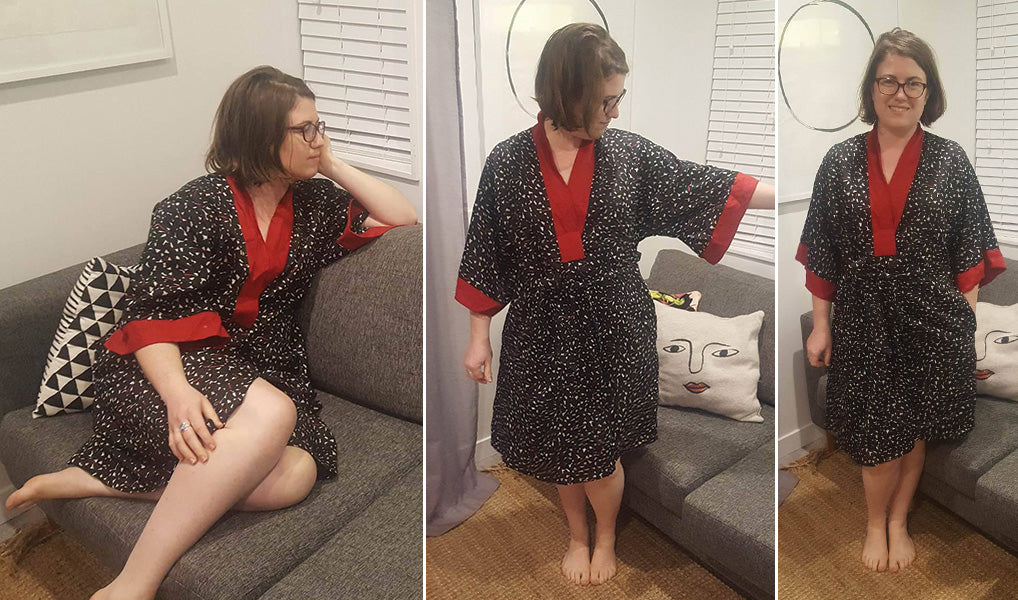 Emma
Emma's Atelier | @emmas_atelier
"Suki is a beautifully drafted robe pattern. Wearing a Suki robe will leave you feeling glamorous! The pattern has been beautifully destined to allow for daily tasks including sleeves at the perfect length, waist ties to hold the robe in place and pockets!"

Jennifer
Clothing Hacker  |  @mizzsmartypants
"This robe is so comfortable to wear and every time I catch my reflection in the mirror, I'm a bit surprised at how glamorous I look! I'm looking forward to making more so that I'll have a few options for looking stylish while working from home while still being comfy and cozy."

Sarah
Sew Sarah Smith  |  @sewsarahsmith
"I love this pattern! It's everything I wanted in a robe (the sleeves, length options, belt, pockets!) plus others (inner ties, hanging loops). It's the perfect cover up – an elegant long length for floating around at home in or a shorter length for hanging out poolside. This is the one garment you don't realise is an absolute essential part of your closet until you have one!!!"

Heather
The Pug And Needle  |  @heatherandthepugs
"This is such a great pattern!! I didn't realize I needed a robe until I made this one. It's so nice to wake up and put something beautiful on. I wear it while I make my coffee in the morning, and I've also found it useful as a bathing suit cover up. I'm excited to make another one."
---
I have so enjoyed working with all of these lovely ladies on this pattern! They have gone above and beyond in helping me perfect the pattern and the instructions to create the best robe possible. I am in awe of all their gorgeous versions and it is always so fun to see different fabrics, body types, and adjustments.
Make your perfect dressing robe this summer. Grab the Suki pattern this week for 20% off!
---