Welcome to August, makers! I am getting pretty excited about fall sewing, I have to admit. I know, I know, summer isn't over, but even though I am over a decade out of school, I still get those feelings of new beginnings and reinvention that surface around August. I intend to create a fall and winter inspiration board to share with you all soon, much like my spring/summer one this past season. I managed to make quite of few things from that board and it helped me to narrow down my sewing plans. Do you make seasonal sewing plans? How do you do it?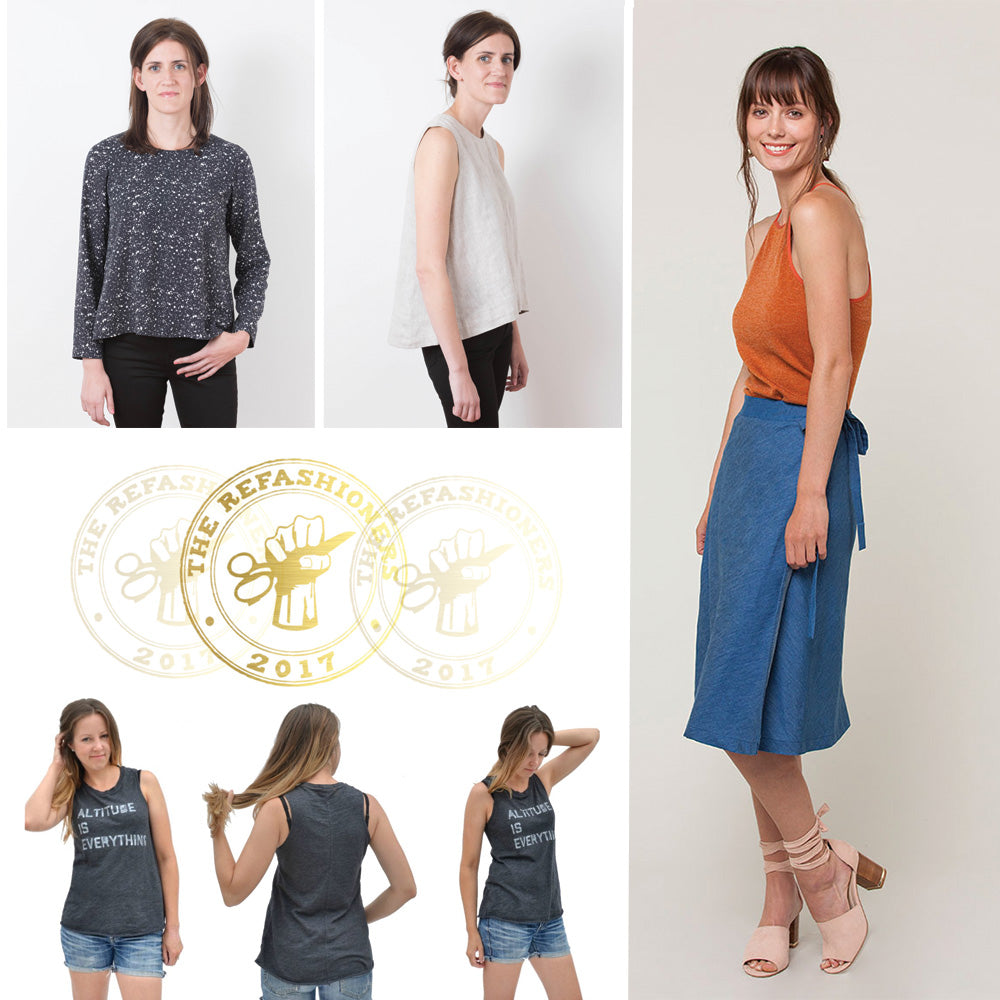 News (clockwise from top left)
Grainline Studio released the Hadley Top.
Seamwork released Julia and Laura.
Hey June released the Durango Tank.
The Makery announced the challenge for the Refashioners 2017!
Community
Erica Schmitz is hoping to create the ultimate body inclusive sketchbook generator for sewing enthusiasts everywhere! Imagine an app that can take your measurements and make a sketch that looks like your body for planning your next project. Well, that is just what My Body Model is going to do! Check out her campaign on Kickstarter!
Makes
So many gorgeous Reeta Shirtdresses out there! Check out this one from Stitch Study and this one from Athina Kakou.
I love this blue linen dress form Jazz Couture.
This blouse from Sew Love Red is seriously gorgeous.
The colours in this off the shoulder dress from My Love Affair With Sewing are so pretty.
The Clever Tinker made TWO Sapporo jackets.
This Kalle Shirtdress from Attie and Dora is even more beautiful than the scenery in these photos.
Thumblenina made an amazing silk ballgown.
I am loving this jade lace bra and panty set from Pattern Scissors Cloth.
Resources
Fashion behind the seams shows us how to create an all in one facing.
Feathers Flights shares her tips for weighing down hems with pennies.
Cashmerette gives us a guide to shopping in the New York garment district.
Inspiration
If you need a little sew-jo injection look no further than the #wardrobebuilder project from Petite Passions. Each month she challenges us to make a great wardrobe basic, and August is nightwear month! Suki Robe, anyone?