I love this time of year when I get to read everyone's sewing reflection posts and ogle their favourite makes. It's really fun to look back at the year and I am always so happy that I have my blog for that reason. Gillian is hosting the Top 5 series again this year and I am excited to share mine! I like to put my own spin on this by giving each piece an award, and of course, I couldn't keep it to 5 – #sorrynotsorry.
Click on the photo of each project to go to the full blog post. Here we go!
---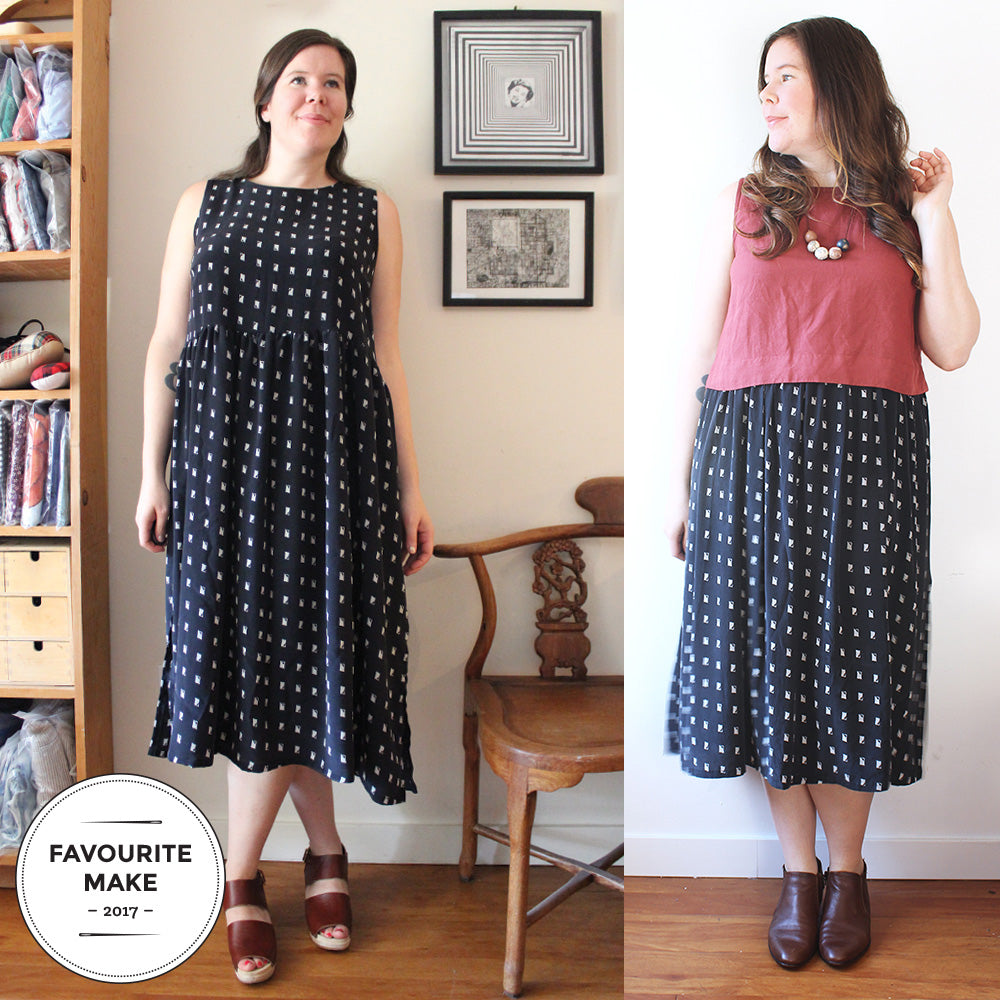 I made this dress for the Sewcialist Tribute Month as an homage to Katie Marcus from What Katie Sews.  I made this on a whim and it is now my favourite dress in my closet! I made it from this gorgeous silk and it feels so good every time I wear it. It is a variation on a pattern of mine that is coming out in 2018, so stay tuned for that!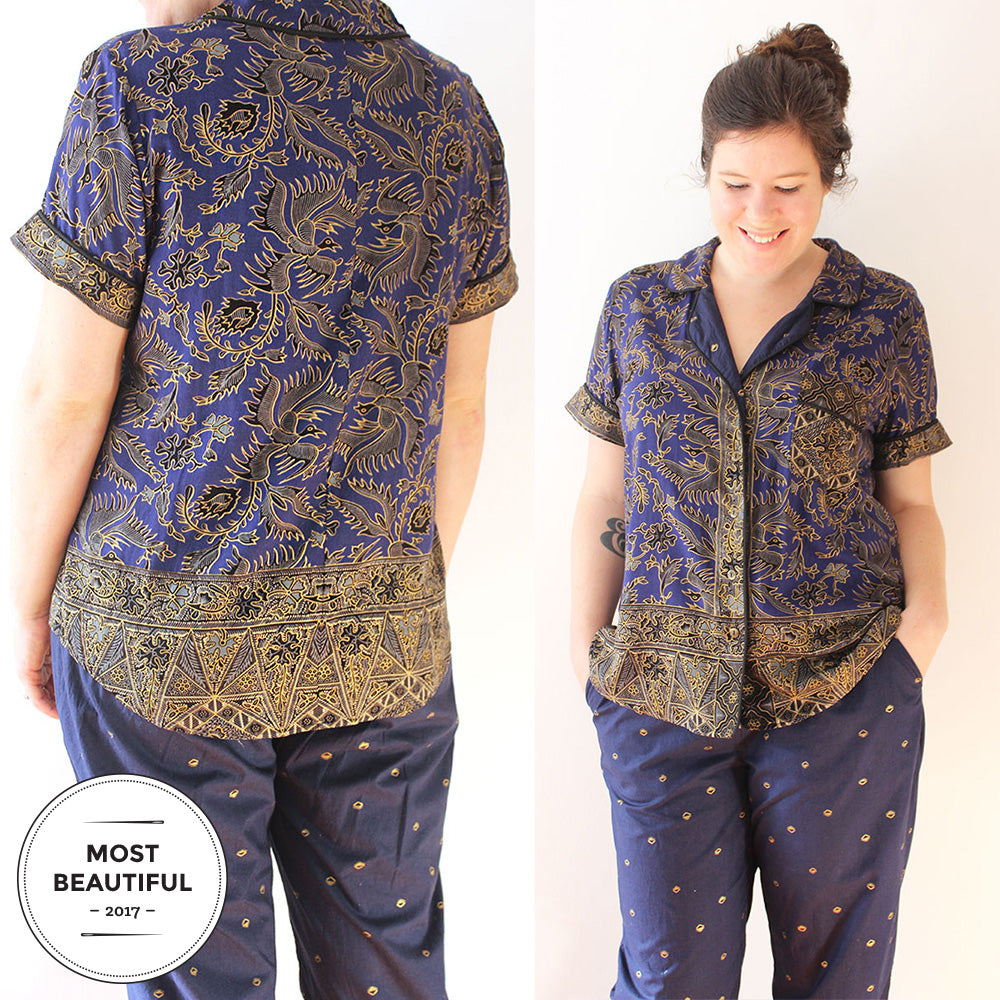 Closet Case Patterns Carolyn Pajamas
These PJ's were a really fun project to start the year off. I had been hoarding both of these fabrics for quite a while and I realized one day that they were a perfect match! They complement each other so well with the gold accents and the deep indigo hue. It's hard to tell in these pics, but they really do sparkle!
Grainline Studio Archer Button-up
Who doesn't want a classic buffalo check button-up? Here in the pacific northwest, these are standard issue with your raincoat and rubber boots. I love that my version is handmade and I chose the thickest, cozyiest flannel I could find for this project. This was my first time hand sewing the cuffs and collar and while it took a little extra time, it was so worth it in the end.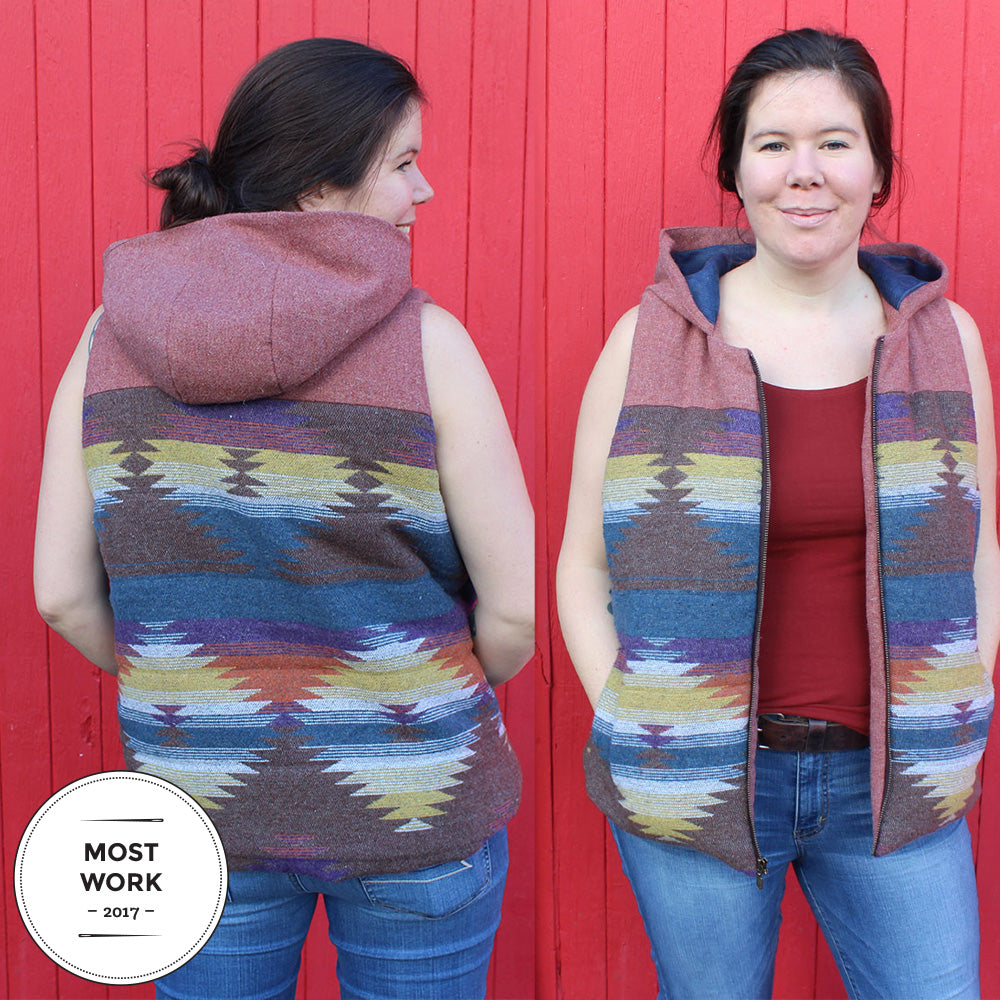 Grainline Cascade Duffle Coat Vest Hack
This may look like a pretty simple make, but it was a big project for me! I used the Cascade duffle coat as my base, but I modified it and figured out how to make a lined vest. The pockets were taken from the Closet Case Patterns Clare coat, making this a true indie love affair. You can see how I made this in the blog post!
Closet Case Patterns Nettie Bodysuit
Thank goodness for Sewing Dares! I wouldn't have picked out the Nettie bodycon dress for myself, but I am always up for exploring new styles. Gillian dared me to give this one a try and now I have 2 in my closet! I especially love it in this extra long length and in this gorgeous shibori bamboo knit.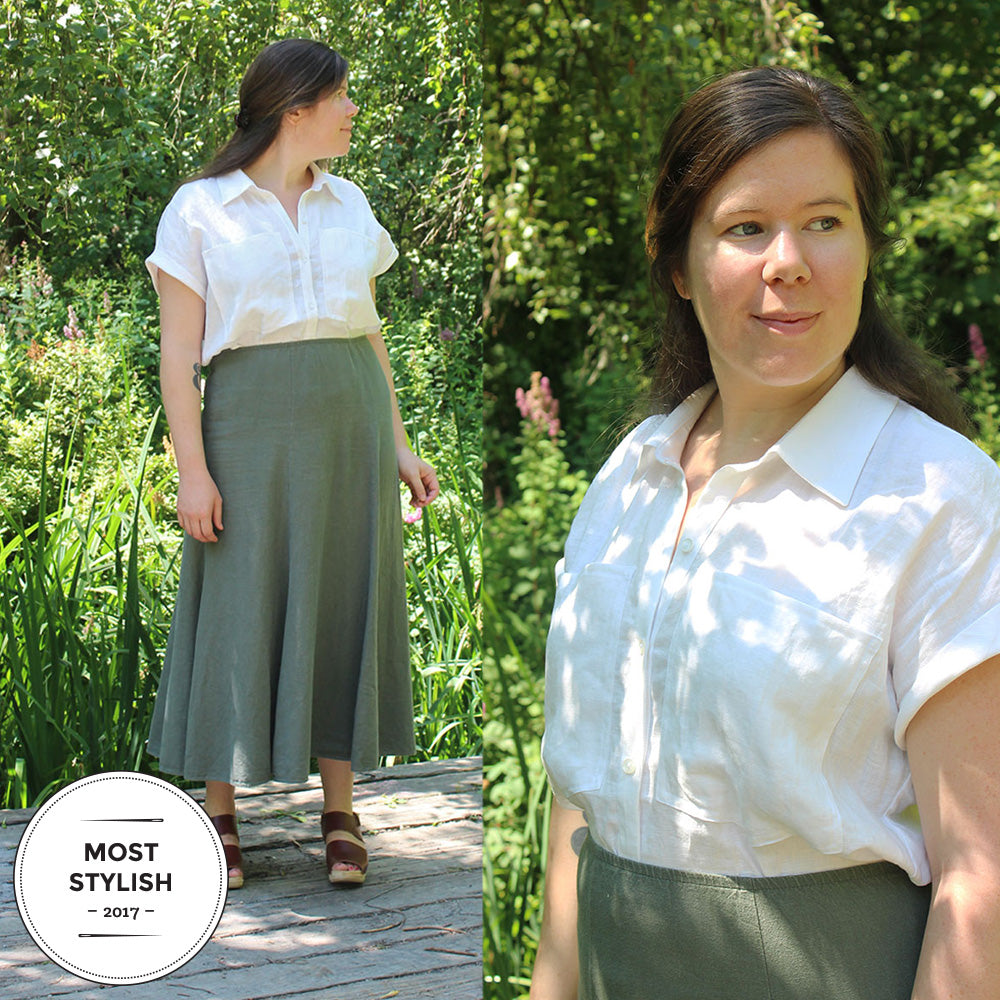 I love this shirt SO much. I'm honestly a little scared to wear it because it is SO WHITE!! I have to think about what kinds of food and drink are in my future before I leave the house in this. This shirt is a little pattern mashup I made this past summer and it has a great casual chic vibe.
If making matching shirtdresses isn't friendship, I don't know what is. Caroline and I made these cute Reeta's during a summer sewing day and we had a fun photoshoot to top it off. These pics fill my heart with happy summer smiles.
I love the design of this dress from In the Folds. It has my ideal neckline for a dress and the 'wings' give it such a unique look. This dress was made for a family wedding and I had so much fun wearing it!
Shibori Dressing Robe
Taking unbleached hemp/cotton and scouring it, tyeing it, dyeing it, and then sewing your own design with it was such a rewarding experience. This beach Suki is one of my favourites for sure, and I feel such a sense of accomplishment when I wear it.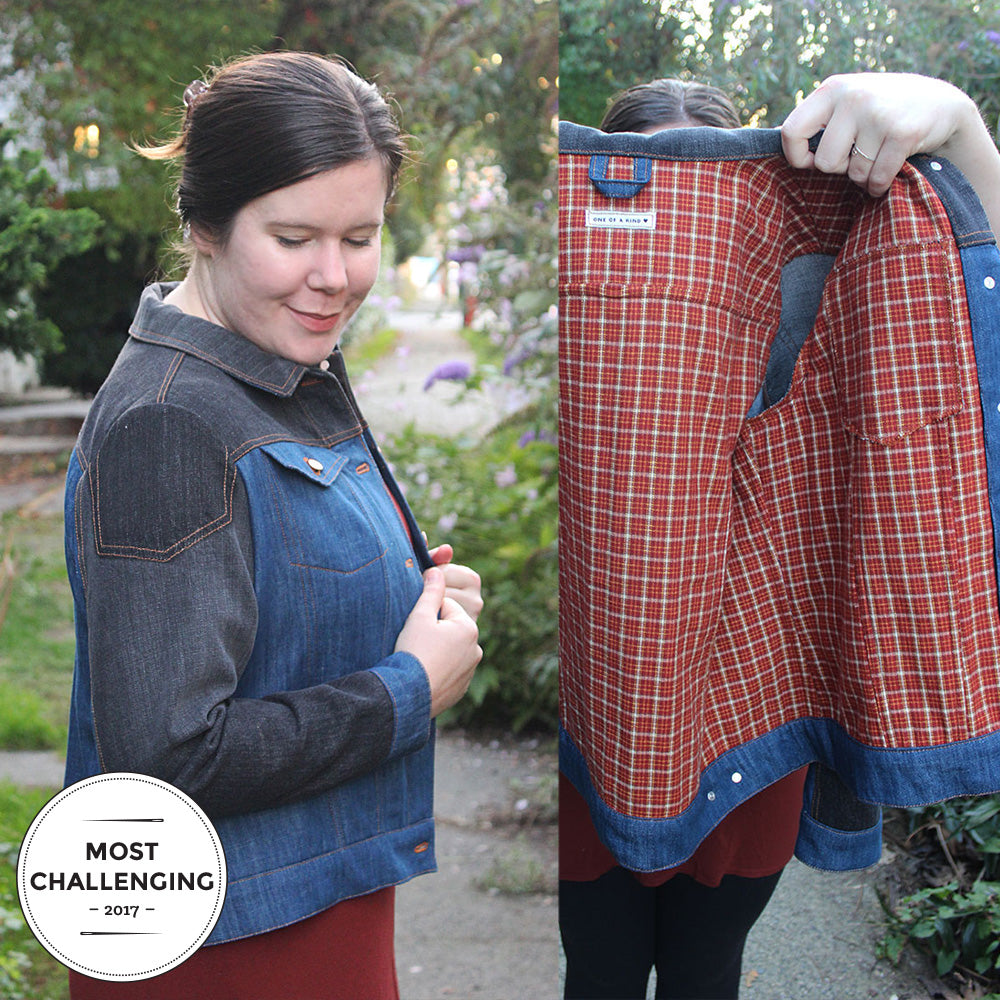 Alina Sewing and Design Co. Hampton Jacket
This year I finally got around to making jeans and then this jean jacket. It was great practice in topstitching, dealing with thick denim seams, and installing denim hardware. I also underlined this Hampton with flannel and used a pair of old jeans for the sleeves, encorporating the back pocket detail into the shoulder.
I didn't expect to like this jacket as much as I do. It got a lot of wear in September/October and I suspect it will again in April/May.  I am awarding it most wearble because it seems to look great over just about anything! I love it in this drapier Tencel Twill but am interested to try another one in a thicker fabric as well.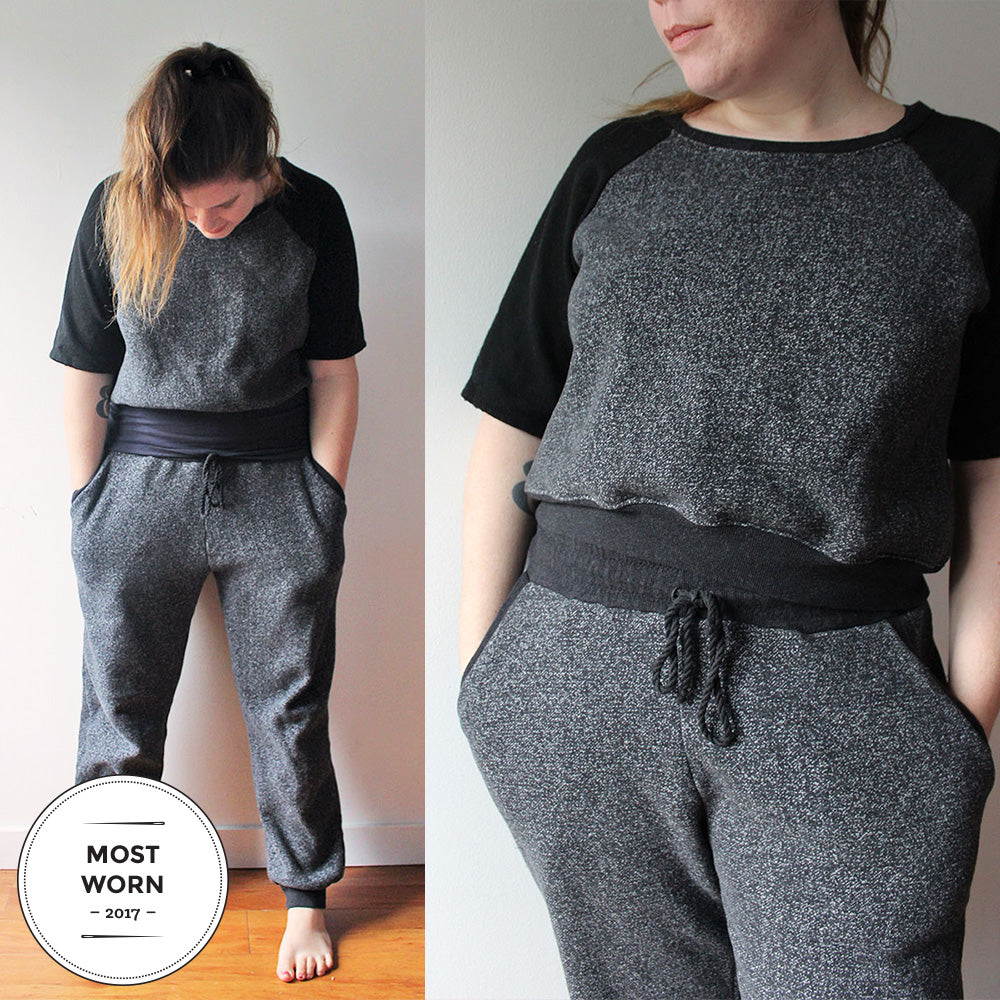 True Bias Hudson pants and Grainline Linden sweater
Well, it's official. I am wearing these pants 3-4 days a week now. It is cold in my apartment and I need to have toasty warm sweatpants! Don't look at me like that!!!
---
Want to participate in sewing top 5? Head over to Crafting a Rainbow to get all the details.