Happy New Year, makers! It is so nice to be on the other side of the holiday season (it was fun, but let's be honest, it's nice to be back to a 'normal' routine). I have seen so many amazing plans and resolutions being made in the sewing community and I can't wait to see all your makes this year! I have plenty of plans myself, including some non-sewing projects like knitting, sashiko, and maybe some more dyeing this summer! Here's to a creative 2018!
News (clockwise from top left)
Seamwork released the Skipper Sweatshirt and the Shelly Leggings.
Cashmerette released the Activewear Bundle, including a top, leggings, and yoga mat bag patterns.
Community Events
Introducing the Sewing Makes You Love Yourself challenge (#smyly2018) from Athina Kakou, Lisa Kisch, and Hattie van der Krohn. This challenge is all about sharing how sewing has helped you to gain confidence in yourself, your body, and your ability to create! Make something that you love and share it along with your SMYLY story between now and February 28th to participate. Learn more here!
Rochelle is adding a fun photo challenge to the MakeNine series, #2018takenine. Learn more on her blog!
Makes
Petite republic made a great long black coat.
I adore this off the shoulder number from Allie Jackson.
Nikki's Stitches looks beautiful in her holiday ESP dress.
Mokosha shares some amazing printed skinny jeans.
Don't miss the awesome night sky embroidery on this velvet DIY from Trash to Couture.
I love the simple elegance of this Christmas Camber dress.
Amy's scuba Zephyr dress for Minerva Crafts is amazing.
I can't get enough of the vertical stripes on these Winslow Culottes from Michelle Sews.
Almond Rock made a very pretty Mayberry Dress.
I am in love with this velvet dress from A Magnificent Thread!
How cute is this ice cream print dress from Pins & Pinot?
This Kimono dress from Bobbin & Baste is gorgeous.
Fake it while you make it made a fantastic Desmond Backpack.
Resources
Petite Font has gathered all the sewing challenges for 2018 into one resource for us! Check them all out here and help her gather more.
Heather Handmade shows us how to clip curves while sewing.  
Wendy Ward shares how to transfer pattern markings.
Love to Sew Podcast
We are talking about sewing resolutions this week on the podcast! What are some of our goals for the new year and how can we help each other stay accountable? Learn about sewing challenges to keep you motivated and get inspired to make your own re-SEW-lution.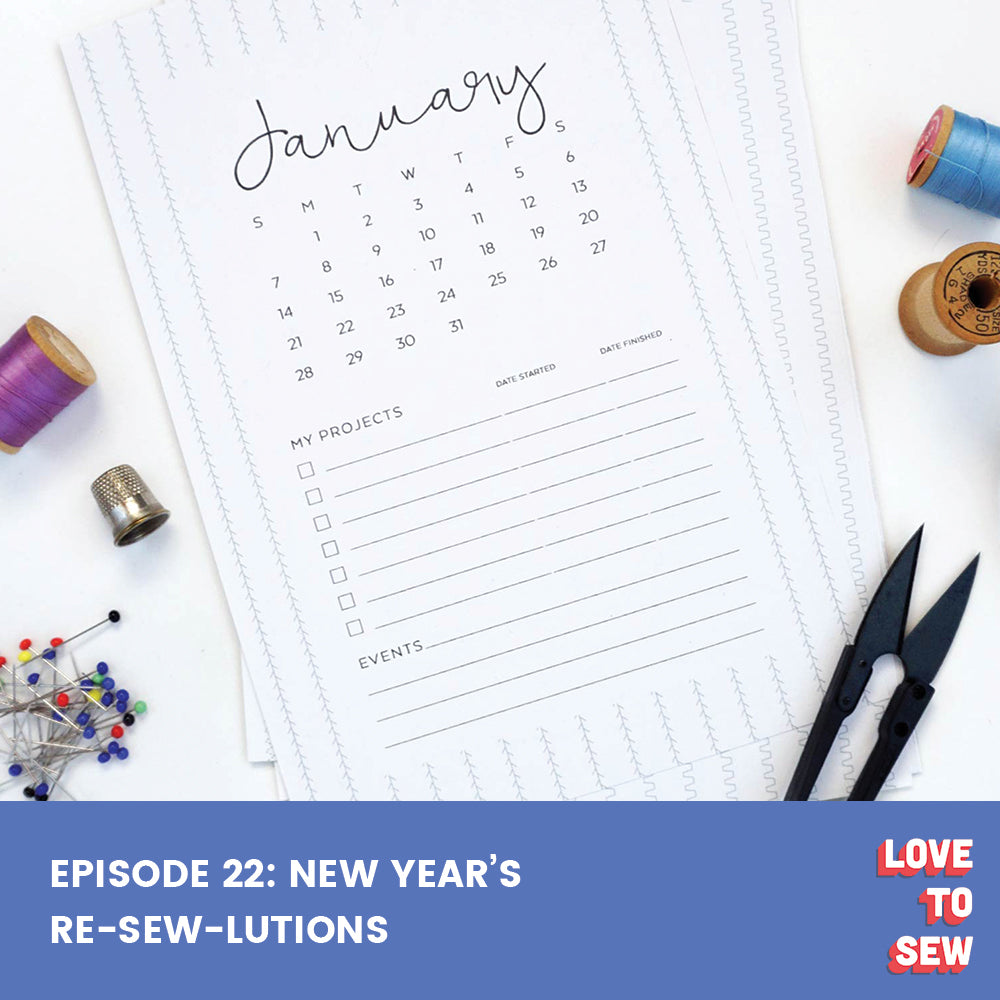 The Photo for this week's episode is the Free 2018 sewing calendar from Beth of Sew DIY