I have an exciting post to share with you today! I had the opportunity to work with Contrado to make my own custom fabric and it was really, really fun. Surface design is something that has interested me for some time now because I love creating digital art. This opportunity seemed like a perfect way to explore the process of making a repeating pattern and getting it printed.
Please Note: Contrado provided me with the printed fabric for free in exchange for an honest review of their product and service. All opinions are my own.
I started this process by pinning a ton of repeating prints and patterns that I liked on Pinterest (you can see my Pinterest board here). I knew I wanted to try Contrado's Slinky Matte Lycra for a pair of Avery Leggings, so it was simply a matter of deciding what to do for the print. I played around with a few things but I ultimately fell in love with the idea of a deep green/teal background and bright, bold flowers.
My print started to take shape with illustrating these somewhat abstract flowers made from basic shapes in illustrator. Then, I added in the vines and leaves. The most challenging part was making the pattern repeat feel balanced, but I think I got it to a cohesive place in the end. I like that my print uses simple shapes to create a layered design that really flows.
Before I ordered the fabric, I wanted to be really sure that it would work for the leggings, so I used illustrator to mock up the design on my flat illustration of the pattern. It looked pretty cute! Once I was sure about the design, ordering the fabric was simple. I was able to use Contrado's design uploader to determine the size and repeat style of my design, and it gave me a preview so I could visually see what I was getting.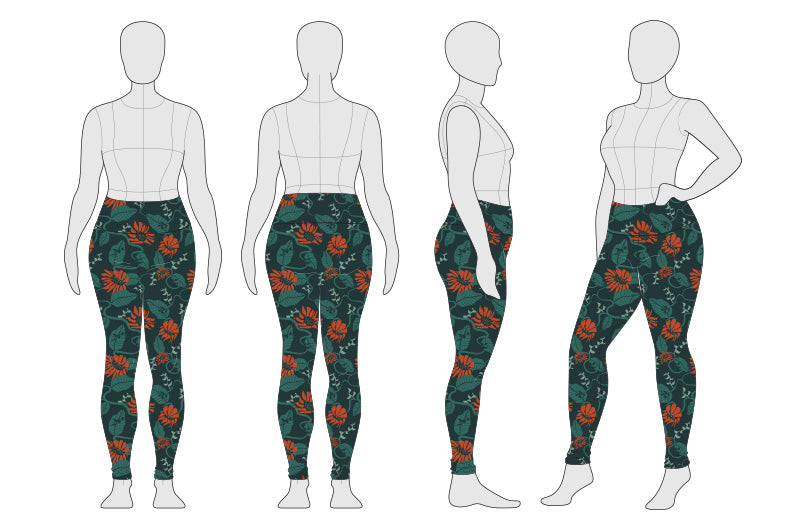 I was really impressed with the quality of the fabric when it arrived! This lycra is soft, stretchy, and opaque enough for leggings (yay)! I love that it isn't super shiny, and the colours came out as I had expected, no unwanted surprises. When the fabric is stretched out, the colours do get lighter because of the white base the print is on. That said, it really isn't all that noticeable once I sewed these up and put them on. The final product looks a lot like my flat mockups!
I made my latest pattern, the Avery Leggings, with my custom fabric. I have a lot of Averys in neutral colours, but I really wanted a pair in a fun print!  The seamless sides allow you to have a smooth, uninterrupted pattern on your legs.
The biggest challenge I had with this project was print placement! I was so worried about having a flower in a less than flattering location. Prints can be tricky like that, so do keep it in mind when you are designing. I think my print placement worked out pretty well in the end. After all, print matching is near impossible with a pattern like this.
These Averys are so much fun and I feel kinda like a kid again when I wear them. Do you ever think about how much fun kids have with fashion? Bold prints and colours are expected and kids tend to choose clothes based on their emotions and desires, not based on outer expectations. It's fun to wear something so bold and uniquely me.
I have some extra fabric left after making these leggings and I think it would make a great swimsuit! You know how perfect swimwear prints are hard to find? Well, why not make your own? I really loved making my print and seeing it realized on fabric and then as a garment was really cool. Thanks, Contrado!