Three years ago I launched my little home on the web here at helenscloset.ca and it has completely changed my life (not an overstatement, I promise). I knew right from the beginning that I wanted to commit to blogging as a challenge for myself and to see where it could take me if I really went for it. Three years later, I have a mostly self-sewn wardrobe, I am running my pattern business full time, and sewing has become a part of my every day in more ways than I probably realize.
I am excited to share some highlights from this past year as well as celebrate with you by having a little pattern sale! All patterns are 15% off this week, no coupon code required. Sale ends July 22nd at midnight PST.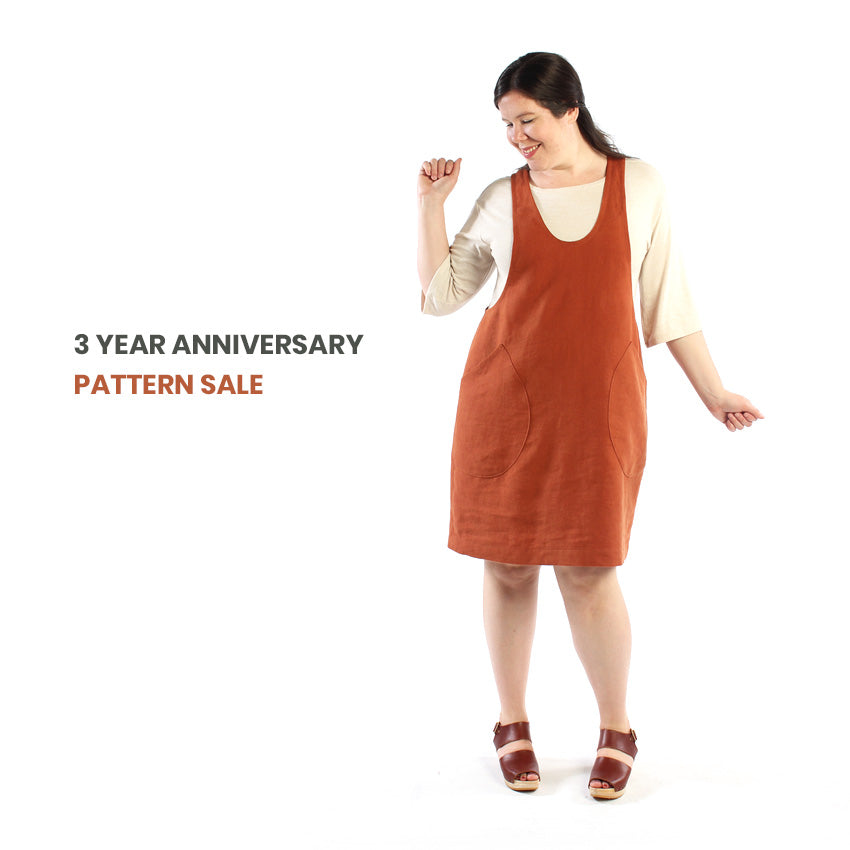 One year ago I was working as a user interaction designer at a tech startup here in Vancouver. I wanted more than anything to run my fledgling business full-time but I was scared. Feelings of insecurity plagued me day and night with questions like 'will I make enough money to make this worth it?' and 'am I throwing away a potential career in the tech industry for no reason?'. I knew I wanted to do it, but my brain kept throwing up roadblocks and trying to pull me back. The saying 'you are your own worst enemy' rang very true for me at this time.
I managed to push through the self-deprecating thoughts and believe in myself enough to go for it, and with support from all my friends and family (including my previous employer), I quit my job!
For anyone wondering – I was not making equivalent money yet at Helen's Closet. This is where the leaping comes in! To make more money at your side hustle, you need more time. To get more time, it needs to not be a side hustle anymore. Chicken and egg situation. There is risk involved in jumping from stable income to the unknown, but there is so much adrenaline and excitement, too! Having the time to focus on my work as a pattern designer was so liberating. I was able to really think about the big picture and execute my patterns the way I always wanted. I still had challenges, of course, but within three months of leaving my full-time job, I had one of my best months ever in terms of income and I was feeling on top of the world. My hard work was paying off and my gut instinct had been right. I can do this.
This year has been such a learning experience for me. I knew that working from home would have its challenges, and I talked to friends and listened to podcasts to get advice about how to make it work. Many say you need to have a certain personality to be productive working at home, but I disagree. Sure, for the first weeks or maybe even months, you may be tempted to stay in your PJ's and watch a little too much Netflix, but eventually, those things lose their appeal. It's not like a glorious staycation, because that feeling of being 'off work' goes away over time. With the responsibility of running your own business comes increased motivation and increased stress in equal measure. Working from home is a balance of those two. I sometimes find the stress and anxiety cause me to have less productive days. I want to rebel against the responsibility. Other days, I am a machine, turning out blog posts and pattern illustrations like nobody's business. Much like work at a 'regular' job, you have good days and bad days, and you learn what makes you motivated and what makes you crazy.
In addition to moving full time into my business this year, I did a lot of sewing! I am feeling really good about my ability to execute my vision as far as sewing projects go. Over the past three years, I have posted about 136 sewing projects. 136! That is a lot of practice. I feel that my personal sewing output has slowed down a bit since taking on my new role as full-time business owner, and that feels natural. I am less exposed to fashion because of my working environment, so I haven't been craving new looks as much as I used to. I still executed some really fun makes in the past year, including some garments for loved ones. I also took up knitting, which has been a nice respite from my day-to-day sewing life.
One of the biggest changes and accomplishments in my life this year has been the Love to Sew Podcast! Caroline and I started this podcast back in August of 2017 and we have put out an episode every week since. It has been one of the most challenging and rewarding undertakings of my life and I am so glad we decided to go for it. Working with Caroline has been an absolute pleasure and we have both learned so much in the process. It has also had a big impact on both of our businesses! I am certain that Helen's Closet would not be where it is now without starting the podcast. You get what you give, and I feel the support from the community every day.
The last thing I want to celebrate today is my partner, Sam. Sam has been my number one fan since the beginning of this blogging and business journey. He has taken almost every photo you see here on the blog, and he now edits and produces the Love to Sew Podcast with us every week. His role will continue to grow and we have been enjoying working together more than I expected! It was a HUGE step to bring him on board and have us both working on the business, but we have been making strides and I am so grateful for his support. He has shown the ultimate belief in me by deciding to leave his job so we can build this business together.
I hope you enjoyed catching up with me and hearing about my 1st year in full-time business. None of this would have happened if I hadn't started this little blog and I'm quite sure I would have laughed if you told me I'd be sitting next to my partner running my pattern business in three years time. I believe in the power of reflection and gratitude, and I have really enjoyed writing this post. I am so thankful to all of you who continue to stop by my home on the web and share in my sewing adventure!
Don't forget, you can grab any pattern for 15% off this week, no coupon code required. Sale ends July 22nd at midnight PST!