Happy Wednesday! I have been out of town for the past couple of Wednesdays, so there is much to catch up on! I went on an RV adventure with Sam and his parents, who graciously let us tag along in their home and tour Vancouver island with us. You can see photos from the trip in my highlights on Instagram if you are curious!
News (clockwise from top left)
Wardrobe by Me released the Hepburn pants.
Style Sew Me released the Madison Cardigan.
Cashmerette Patterns released the Chilton Trench Coat.
Sew Over It released the Cora Top.
Itch to Stitch released the Aveiro Cardigan.
Closet Case Patterns released the Amy Jumpsuit.
Sew DIY released the Ali Sweatshirt.
Fresh Press Patterns released the Leone Coat.
Itch to Stitch released the Petaluma Faux Wrap Dress.
Community Events
Do you live in the Seattle, Washington area? Check out their Frocktails event on Saturday, October 20th!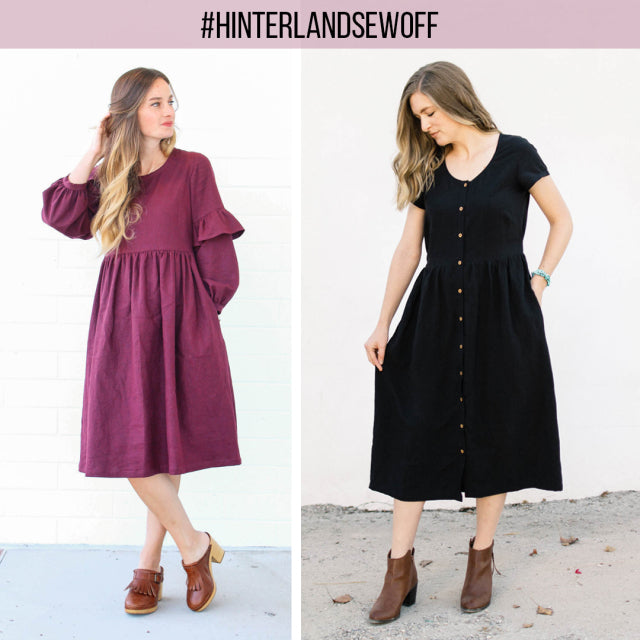 Sara from The Sara Project and Tori from The Doing Things Blog are hosting the Hinterland Sew Off! To participate in this challenge, Make your own Hinterland Dress, take a photo of your Hinterland, and post your photo on Instagram before October 22, 2018. More details here!
Makes
Sweet KM knocks it out of the park with her latest ensemble.
I love this Wiksten Kimono from the Unlikely Nest.
Life in a Mads House is getting in some last minute summer sewing.
I want a Tamarack just like this one from Noodlehead.
So many gorgeous Myosotis Dresses! Check out this one from Did You Make That, this one from Dixie DIY, and this maxi dress hack from Diary of a Sewing Fanatic.
Stars Threads made a gorgeous red dress with cut outs.
Self Assembly Required looks stunning in her birthday dress!
Foxgloves and Thimbles wore her Blackwood Cardigan to Braga.
This Rushcutter Dress from Me Sew Crazy is awesome.
I love this jumpsuit hack from I Sew Therefore I Am.
Resources
Closet Case Patterns shows us how to install an invisible zipper.
The Last Stitch shares how to adjust patterns for a petite body.
Grainline Studio teaches how to estimate pattern yardage.
On the Podcast
Sewing isn't always sunshine and rainbows. Sometimes there are tears, anger, and disappointment. On this episode, we share your sewing struggles, based on stories from our listeners. We talk about how hard it is to fit our bodies, how lonely sewing can be, and how comparing ourselves to others can make us lose our sew-jo. Listen here.