Happy Wednesday! This week has brought us not one, but two beautiful outerwear patterns, and loads of inspiring makes from the community. It's always so invigorating to see what fellow sewists are capable of!
News
Closet Case Patterns released the Jasika Blazer pattern.
Pauline Alice Patterns debuted the Serra Jacket pattern.
Community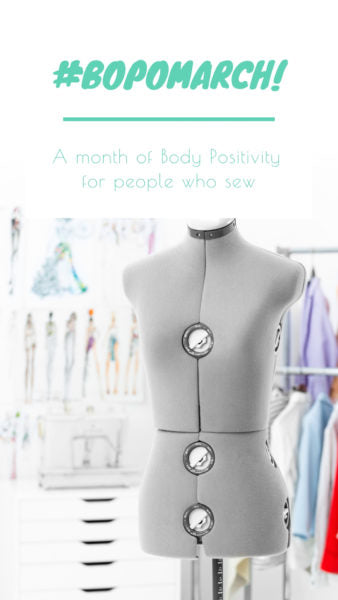 Ebi from Making the Flame is inviting us to join her in BoPoMarch (Body Positivity March). She will be writing blog posts, sharing articles, personal stories, and more. Follow along using the tags #bopomarch and #boposew!
The Day to Night Challenge is wrapping up this week, and you can see all of the submissions on Elizabeth Made This. There's lots of sewing inspiration to be found!
Makes
Erica Bunker made our jaws drop with this absolutely fabulous red power suit.
Naeh Collection shared this very cool, geometric Dia Sweater.
Sew Pretty in Pink created this delightful floral tie-sleeve dress– it looks so polished, but so fun at the same time.
SweetKM looks so cozy and chic with this layered Neenah Turtleneck and self-drafted cowl sweater combo.
Heathery Makes sewed these Avery Leggings to wear to yoga- they are so cute in dark grey!
Style Sew Me used a stunning ankara fabric to make this beautiful ruffled blouse.
Original Digby utterly transformed an old jumpsuit into this sizzling velvet two-piece top and pant set.
Antipodean Stitcher turned out this impressive geometric dress– just look at all that pattern matching!
Unchas Unchas tested the new Serra Jacket– it is so smart and classy.
Ooobop used a vintage Butterick pattern to create this 1950's-style coat, and it is aaahmazing!
My Love Affair with Sewing created this beautiful coat that is both stylish and warm enough for a cold Quebec winter.
Tweed & Greet made this adorable cerulean Blackwood Cardigan!
Resources
Indie Sew has five tips for sewing your first shirt.
On the Helen's Closet blog, we've listed our Top 10 Sewing Podcasts to give a listen to.
Closet Case Patterns compiled the ultimate list of independent online fabric stores.
Megan Nielsen rounded up great places to buy activewear fabric around the world on her blog, Design Diary.
Last Stitch makes choosing a needle easy with this video on Sewing Machine Needles 101.
Pomegranates & Pieces published a beginners guide to jeans making.
On the Podcast
Mac Housley joins us to discuss her part in starting the @meetmakersofcolor Instagram account. She shares why following a diverse spectrum of people online creates more cross-cultural dialogue and how Meet Makers of Color is helping us do that. We also discuss creative positive space for important conversations and 'trying on' new ideas. Listen here.