Thanks so much to everyone who has supported the new size range for the York Pinafore! It is so exciting and special that we are able to keep updating our patterns to the more inclusive size range. We are filled with gratitude for the wonderful testers whose York photos are featured in this post! These star sewists helped test the updated version of York to make sure it was as perfect as possible. They volunteered their time and supplies to test the York. They are all wonderful and you should go follow them!
You can read more about the new York Pinafore here, and read the original tester roundup for the original York Pinafore here.
Leanne
@threadyforit, threadyforit.com
"The York Pinafore was such a fun sew! This test had a couple firsts for me. This was my first time working with binding and my first woven garment and Helen's instructions had me so confident when I was going through the steps. I love my pinafore and I have a feeling this will be a year round staple for me!"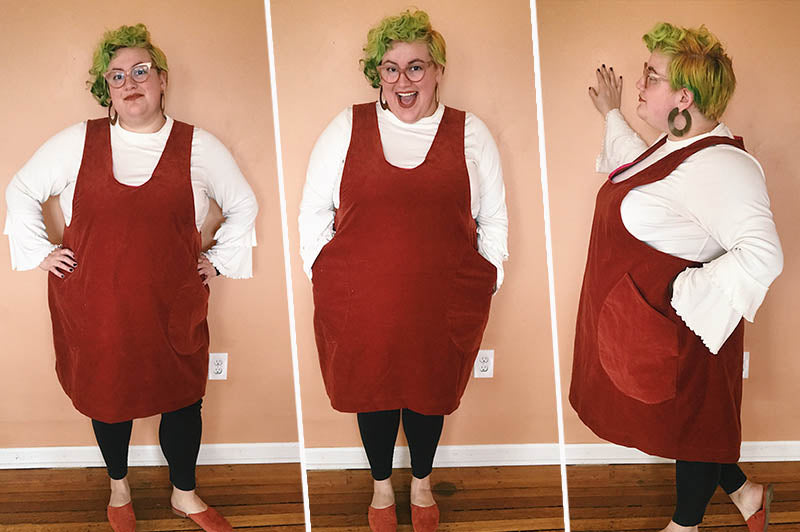 McKenzie
@emtothethird, emtothethirdyarn.com
"My sewing came to a complete halt when I started grad school, and then after graduating I found that I didn't feel confident to adjust/grade patterns out. I am so excited to be able to cut out a pattern and make it with minimal/easy adjustments and feel stoked about it!"
Meg
@megmadesewing, megmadesewing.com
"I can't believe I waited so long to make this pattern. The shape is adorable and the low scooped sides hitting at the waist are so flattering. The oversized patch pockets are super comfortable and are a great size, and the bias finish is so cute for adding a secret pop of color. I was surprised how much I loved this pinafore on me!"
Britney
@allthingsbritneylee
"This pattern has the potential to work for all seasons depending how you style it! I super love the deep pockets."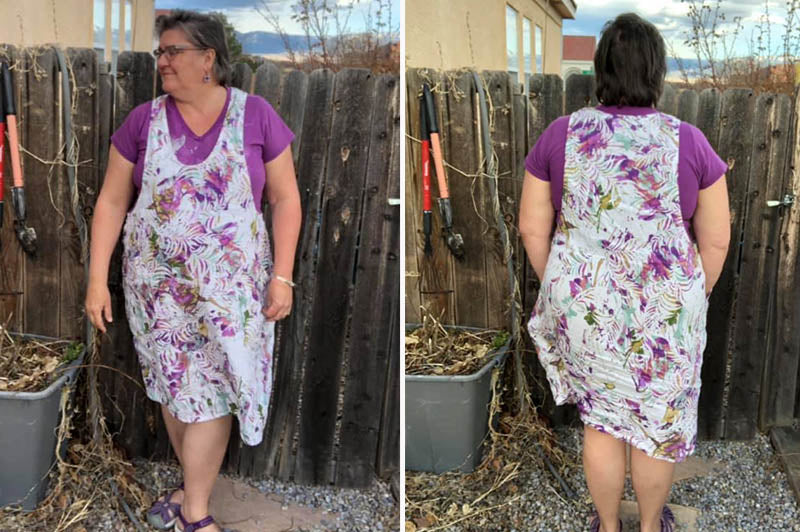 Joan
@joaninstitches
"I fell in love with the York Pinafore Dress when I first saw it in July. It has everything I had been looking for. Great lines, pockets and perfect for linen or stretch twill. I was able to grade it up a notch for myself and make a collection to enjoy all summer, fall and winter. Happy to test it to get a spot on fit without needing to change anything. Perfect over a tank and shorts all summer, a tee, or turtleneck and leggings with a cardigan when the weather cools. Compliments every time I wear one are a sure fire way to make me want to make more! Excited about the expansion pack."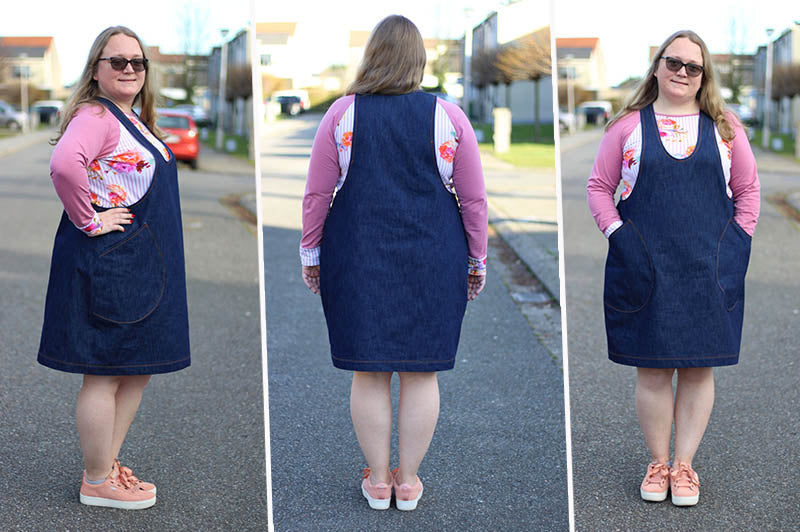 An
@diskordiacurvysewing, diskordiacurvysewing.blog
"The most comfy dress ever. I love the big pockets so I can carry around all my stuff. It's fun too to show off a shirt with a fun print."
Kristine
@kristinesews
"I love the loose, easy fit of this pattern, it would be an excellent pattern for a beginner because it is so easy to fit and only has 3 pieces to cut! The instructions are excellent, especially the tips regarding bias binding. So comfy to wear, too! My next version will be a York made in a lightweight fabric to be worn as a swim coverup for the summer."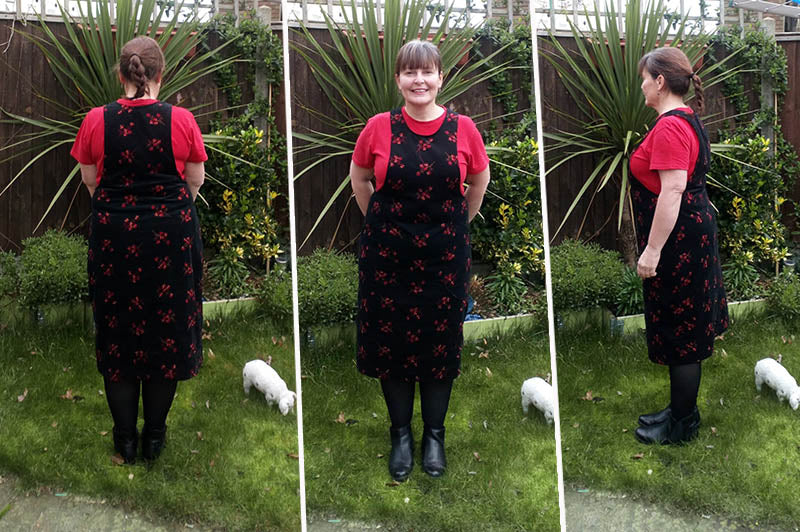 Jill
@jillypopssews
"This is a style that I have always loved on other people but never thought it would suit me, I'm not sure why, maybe because of my age as I remember pinafores from school days. When I was given the opportunity to pattern test I felt compelled to give it a try and am so pleased that I did. It's a very enjoyable sew and perfect for all sewing abilities. The instructions are super clear and take you through step by step in a very logical order. It's easy to adjust to fit your own unique shape and as I've discovered, the York Pinafore is for anybody!"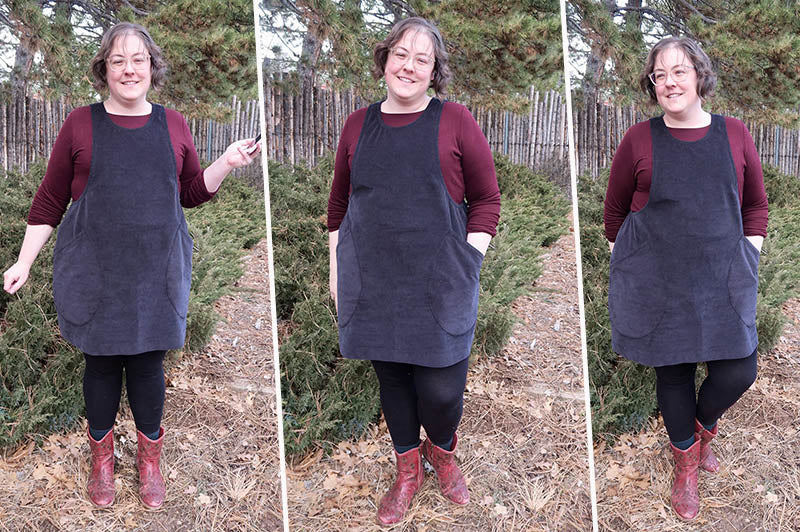 Megan
@thegreenviolet, thegreenviolet.com
"Honestly, the style of the York didn't initially appeal to me when the pattern was first released. But as I saw more and more people making the pattern, it snuck into my subconscious and at some point I knew I HAD to make it! And its just as amazing as I thought it would be. No waistband and huge pockets? What more could you want? Paired with leggings and a t-shirt, is so practical for my everyday life, and super cute too!"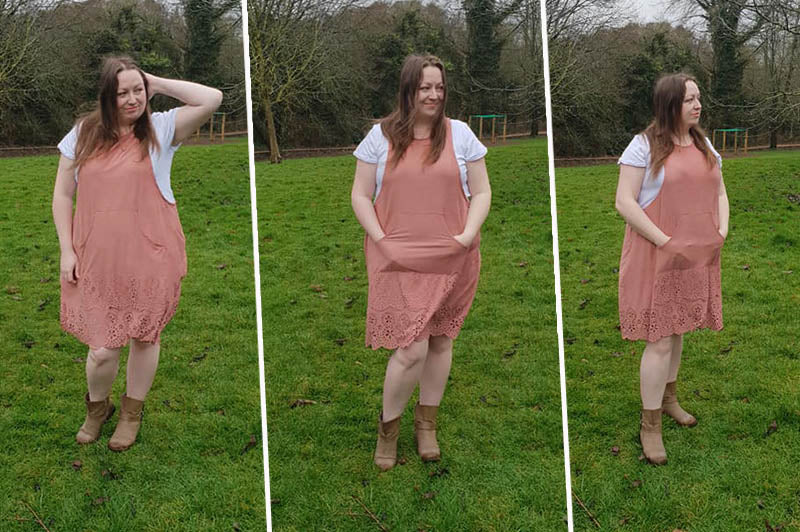 Kathleen
@kathleensews
"This is such a quick sew, and with the bias facings the inside looks as pretty as the outside. It gives me a 90's vibe style-wise. It is so comfortable to wear and easy to style and look put together."
Vanessa
@sweetvanessaleigh
"The York is one of my favorite Helen's Closet patterns. I am honored to be able to test it! I made my York in a medium non-stretch denim for the currently chillier weather to layer over turtleneck sweaters. I added to the finished length and opted to leave it open in a slit. I am 5'3″. I am happy with the end result, blown away by the simplicity and instant gratification of having been able to put this together with nicely finish it in only about three hours. A great staple. I look forward to making more in soft linen and maybe a lighter stretch twill or denim in the shorter length for spring and summer!"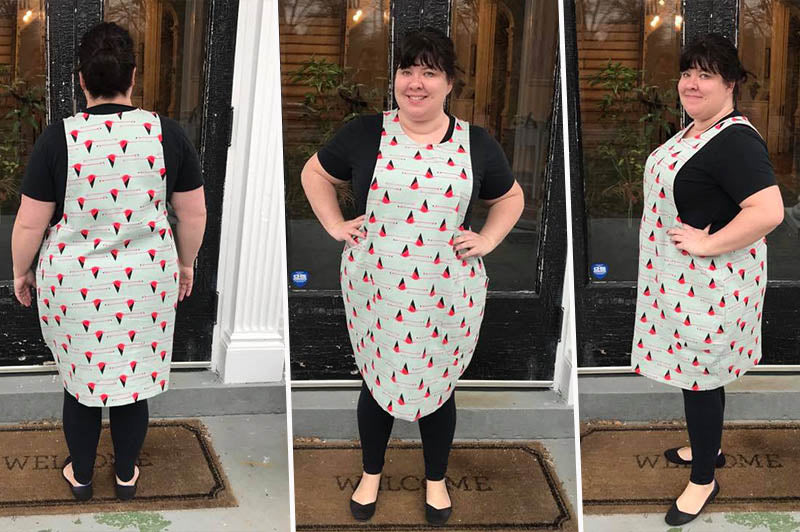 Jennifer
@weboughtamanor
"Love it!!"
Danielle
@sew.stoked
"This is such a fast pattern to sew! It works in a huge range of fabrics. I now have one in denim, an embroidered linen, and a striped wool. It's a shape that I think flatters a lot of different body shapes and is really easy to make fitting adjustments to. I love that I can throw it over a blouse to wear to work, or just over a tank top to run around on the weekends. "
Ginny
"I was really pleased that the pinafore was the next pattern chosen to be graded up. The loose fit and accommodating pockets are something I am always seeking out in patterns but few plus size patterns have those design features. I wasn't sure how it would look scaled up to my body size but the result was just what I was hoping for. Thank you for grading this pattern up!"
Krista Lee
@zag.with.me
"This was so much fun to sew. Cute, easy to fit, comfy. The kangaroo pocket is my new favourite thing – I want them on all my clothes now :-)"
Rebekah
@mojisha
"The York's cocoon shape and generous pockets make it easy to wear. I can see layering it with a tank in the summer and a slim turtleneck and tights in the winter making it a year-round staple."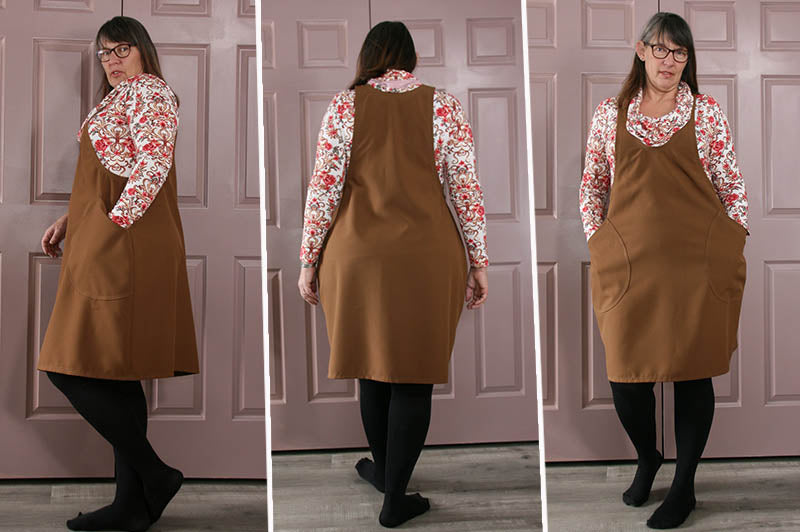 Gaylen
@gMariesews, gMariesews.blogspot.com
"I have wanted to try this silhouette since the first version was released. I really wasn't sure how it would look on my very pear-shaped figure. I picked my size based off my measurements and I think I could have sized down. I think this will become a very easy to wear dress that makes me feel like me when I'm in the kitchen making breakfast for guests."
Sara
"I'm super excited about wearing my York Pinafore as well as making more. The pockets are big enough for me to carry a book, snacks, and stick my hands in at the same time. 🙂 The pattern instructions were clear and walked me deftly through the process of making my very first garment. I modified every pattern piece – grading the waist to a 32 and the hips to a 34 as well as enlarging the pockets to maintain sizing and adding length for a larger bust – and pinafore came together beautifully."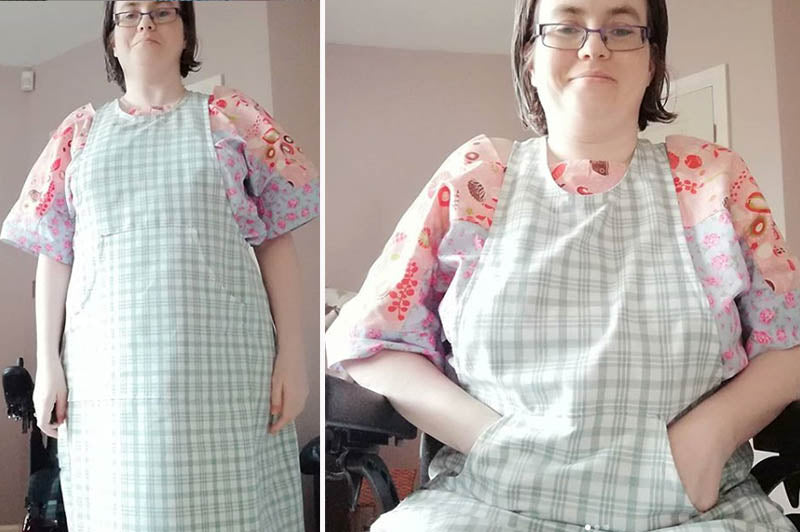 Michelle
@michebemason
"The York pinafore is a lovely comfy staple. I love how it is roomy in my tummy to give room for bloating without drowning me, it's a nice length and very comfy for sitting in my wheelchair and is a new favourite."
Roschelle
@mindofaladybug
"I LOVE this as my first pinafore! You can highlight different patterns on the bias, bottom and pockets (which can help you play up different styles). The deeper scoop neck makes getting this off and on easily for larger heads/hairstyles/glass wearers. For my apple shape (high/centered, not-pregnant-belly) I found that upsizing the cup to where I needed it (D) gave me the room I needed to accommodate both bust and belly, making adjustments SUPER easy. Since my hips are nowhere to be seen (ever, haha), I was able to grade in my fit from the top down. High bust 26, waist 22 hips 16 and bottom edge 14. I will definitely be making this again!! It is great for all year wear!!"
---
Thanks a lot for reading about our amazing pattern testers and their York Pinafores!