Hello makers! Happy Wednesday. This week saw the release of some beautiful new patterns, and it also marks the start of Me-Made-May 2019! We are both a little commitment-shy over here, but we are going to be doing our best to wear me-mades as much as possible and we can't wait to see all of your makes in the coming weeks! If you haven't participated before, read on to find out more about this awesome sewing challenge!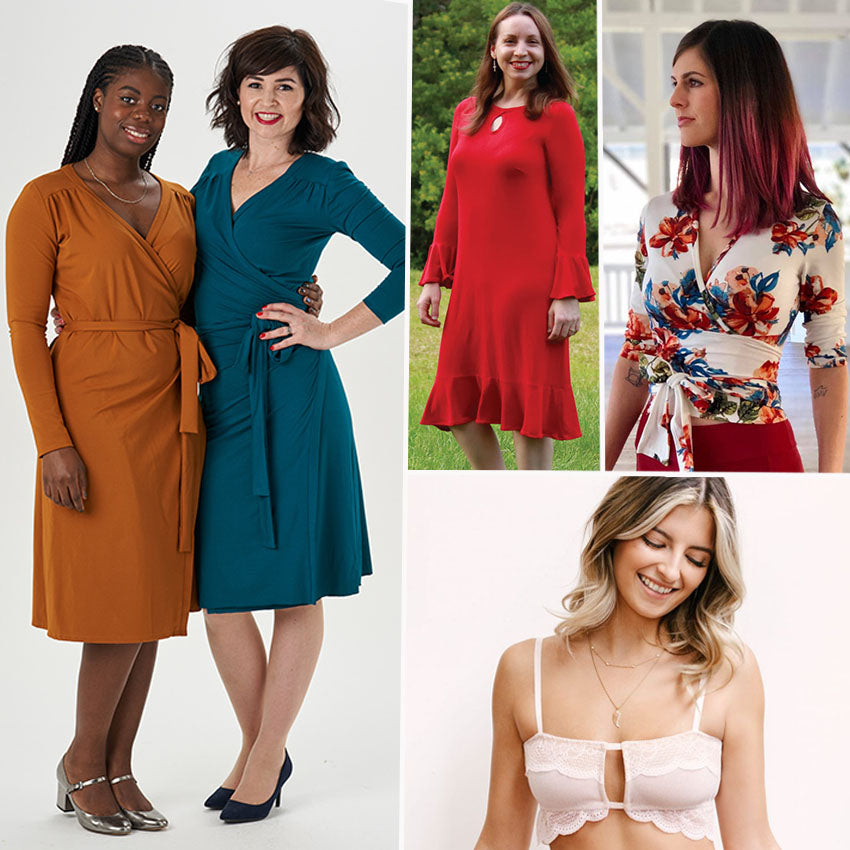 News (clockwise from top left)
Sew Over It released the Meredith Dress.
Designer Stitch released the Taylor Dress.
Greenstyle Creations released the Clara Wrap Top.

Madalynne Intimates released the Raquel Bralette.
Community
Me-Made-May 2019 is here! Me-Made-May is all about pledging to wear your me-mades more, and in different ways. For any questions and all the details on Me-Made-May, head to the blog on So, Zo…What Do You Know? Zoe started Me-Made-May ten years ago! Follow along on Instagram using the hashtags #memademay and #memademay2019.
Makes
Meg Made Sewing added sleeves and a Peter Pan collar to the updated Eucalypt Dress, and the result is the most adorable spring outfit.

The Ravel Out hacked the Adrienne Blouse to sew a beautiful dress with flutter sleeves.

Sablecraft used the new Cottesloe Swimsuit pattern to make a glorious pink loungewear set, and I am obsessed with it.

The Doing Things Blog posted two beautiful makes together- a patterned Roscoe Blouse and some wonderful rust-red Ginger Jeans. These garments look like they were made for each other.

This floral Melilot Shirt from Girl and Machine looks so smart!

I love this linen Wiksten Haori from Blogless Anna. It looks like the perfect between-seasons outerwear.

Handmade Shelby sewed a Chi Town Chino Skirt with the coolest geometric fabric.

The Petite Passions made the perfect summer sundress using the Rosie Dress pattern and Liberty cotton lawn.

Resources

Pattern Scissors Cloth published 15 tips for sewing silk chiffon.

Elizabeth Made This shared 7 pieces of sewing advice to transform your creativity.

Sew Can She shared a free tutorial for an out the door organizer. I think I need one of these ASAP.

We All Sew released this cute pennant banner tutorial. This would be a great way to use up cotton scraps or fat quarters.

Heather Handmade wrote a great tutorial on how to sew piping.
On the Podcast
David Page Coffin joins us to chat about his almost 50 years of sewing experience! He gives us great shirtmaking tips and shares his sewing philosophy. We also dive into his career as an editor of Threads magazine and how he stumbled into the wonderful world of sewing. Listen here.
[soundcloud url="https://api.soundcloud.com/tracks/613466460″ params="color=#ff5500&auto_play=false&hide_related=false&show_comments=true&show_user=true&show_reposts=false&show_teaser=true&visual=true" width="100%" height="300″ iframe="true" /]