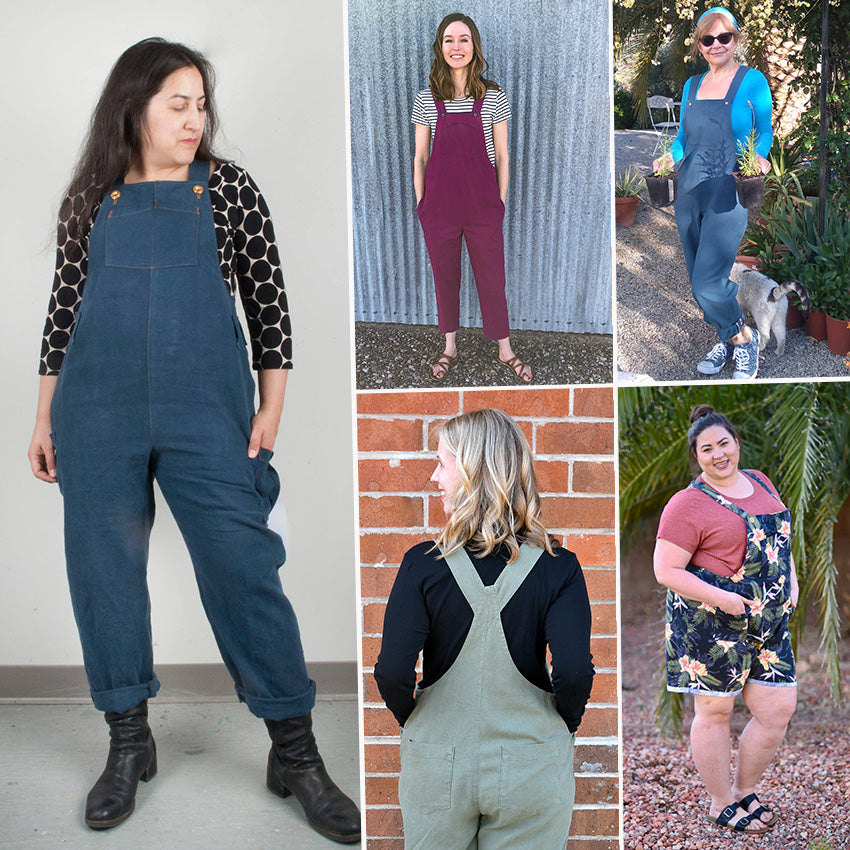 Thanks so much to everyone who has supported the launch of the Yanta Overalls! We are in love with this pattern and we are so excited to see what fellow sewists create with it. We are so thankful for the wonderful testers whose Yanta photos are featured in this post! These amazing sewists helped test Yanta to make sure it was as perfect as possible. They volunteered their time and supplies to test Yanta. They are all so talented and you should go follow them!
What's Changed Since the Test?
Pattern testing is always really helpful and here at Helen's Closet, we take it very seriously! This pattern originally had inseam pockets, as you will see in many tester photos. Through discussion with the group, we decided to change this pocket design to front patch pockets. This allows for more opportunity to adjust the pattern to fit your preferences and also improves the final look of the overalls. Other than this change, the updates to Yanta after the test were minor and we are so happy with the final result!

Leanne
@threadyforit, threadyforit.com
"The Yantas were my first intermediate woven garment and I learned so much while sewing them. Helen's instructions were easy to follow and I feel like a more confident sewist after completing this pattern. These are great because you can just throw them on and feel comfortable and cute with minimal effort! I love my new overalls!"
Yasmeen
@_ym.sews_
"I love the fit of my Yanta dungarees. The perfectly proportioned bib pocket along with the back bib shaping are two of my favourite features."
Mckenzie
@emtothethird, emtothethirdyarn.com
"I've always wanted overalls but the way I carry my weight made it feel like I'd never find a pair that fit. Thanks to the community of testers I feel very confident that my next pair will be nearly a perfect fit!"
Michelle
@michebemason
"These overalls are well explained and much simpler than I expected. They are nice and roomy around my tummy so no need to worry about bloating or anything pressing and they look amazing. I just had to add a patch on my chest pocket as well. Really enjoyed making and wearing these."
Meg
@cookinandcraftin, cookinandcraftin@blogspot.com
"The Yanta Overalls are so cute. I love how comfortable, yet stylish they are, and how easy they are to sew. I have visions of wearing them at the farmers market this summer…"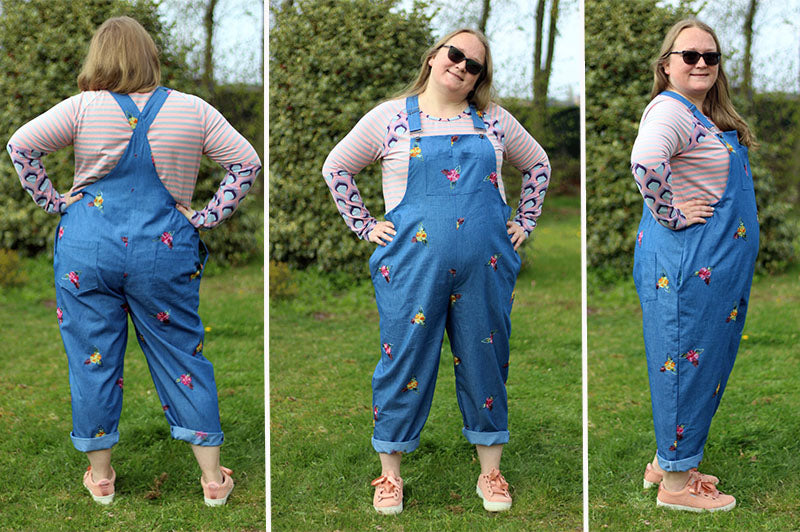 An
@diskordiacurvysewing, diskordiacurvysewing.blog
"Fun overalls, the construction isn't too difficult and it's very fun to get creative with."
Kellene
@kellenehunter
"I have not worn overalls for a very long time so I wasn't sure if they would work for me. I like to try new styles though and these were fun to make and are comfortable to wear."
Britney
@allthingsbritneylee
"These overalls are really comfy with its oversized fit and cool waist/hip shaping! It was also super easy to put together with how detailed the instructions and diagrams are!"
Denise
@dnembhard43
"I love this pattern! Another well designed pattern from Helen's Closet. As a textiles teacher, I appreciate the clear instructions, including lots of tips that a newer or more experienced sewist can use to amplify their sewing. The fit of these overalls is relaxed, but flattering. These are a great choice for winter and summer wear, depending on the top worn underneath. I've always wanted to own a pair of overalls, and was so excited when I saw the Yanta Overalls. They are everything that I thought that overalls would be!"
Rebekah
@mojisha
"The Yanta Overalls are fun to sew and fun to wear. The silhouette makes it a fresh option, even if you own many different other overalls patterns."
Joan
@joaninstitches
"Adore the details of the Yanta! The slanted chest pocket, the diamond stitching on the back strap area, and the darts that provide a nice fit. They are perfect for my life, from working in the garden to teaching an art class, I am prepared and comfortable!"
Heather
@heatherandthepugs, thepugandneedle.com
"This is a great pattern! Fun to sew and super comfortable and stylish to wear. I love that it can be made in a number of different fabrics for a number of different looks, plus I see some hacking potential for even more variety. The instructions are full of the detail we've come to expect from Helen's Closet and they lead you to a professional looking finished product. I know these will be a wardrobe staple for me."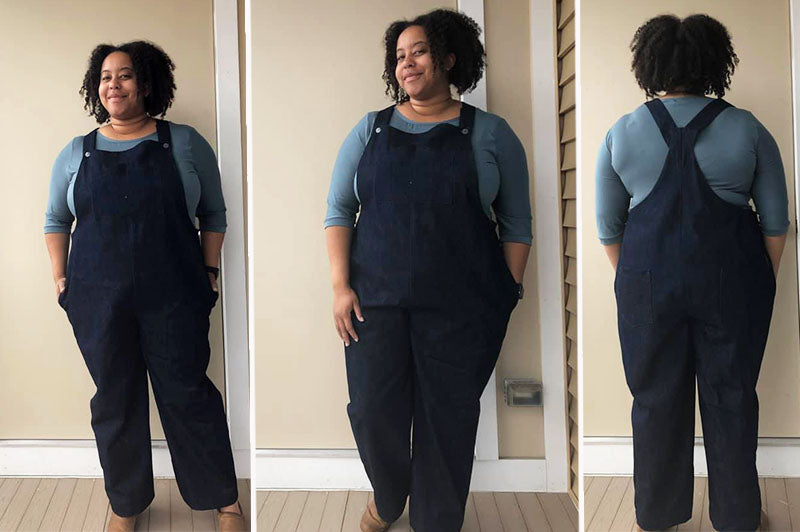 Sierra
@sierraburell, seamslikesierra.com
"I really enjoyed the Yanta Overalls. I didn't realize how comfy and functional they are. After I finished sewing them I immediately went outside and started hammering some bag hardware. I like the size of the check pocket as well. All around fun garment to sew and wear."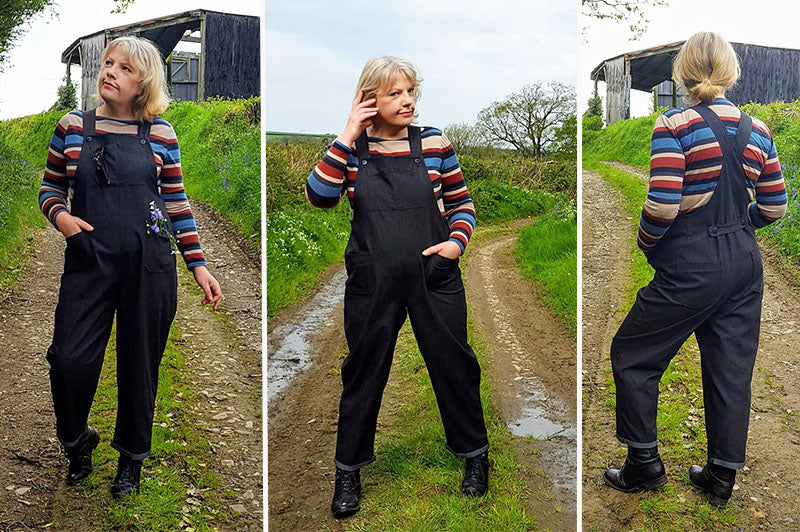 Sarah
@sewsarahsmith, sewsarahsmith.com
"Easy to fit and easy to wear with foolproof instructions, the Yantas are a relaxed approach to this year's major trend!"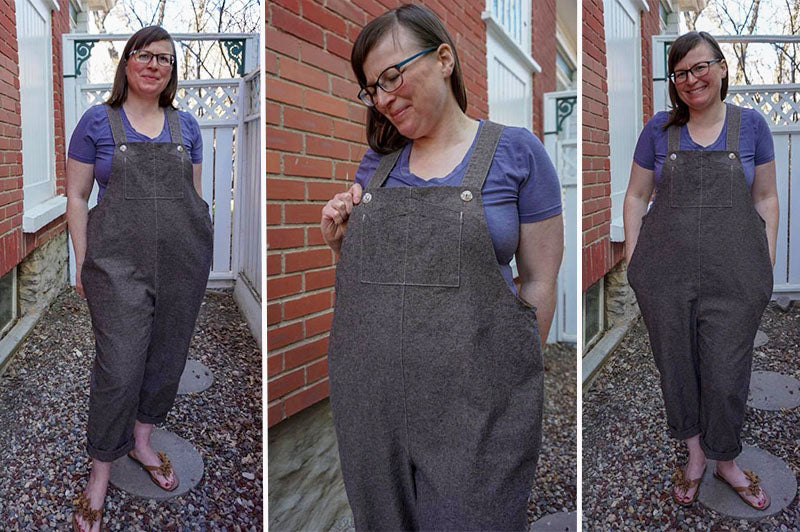 Anne
@sewanemone
"I was immediately smitten with the comfy casual vibe of these overalls. The Yanta Overalls will be perfect for my summer weekend lounging, drinks on the deck and wandering the farmers market…"
Christine
@unlikelyhandmadestyle, unlikelynest.com
"I worry that styles without any waist definition and a cocoon-yness around the hips tend to make me look larger than I am, or at least, my mental image of myself. However, I do love loose, comfortable styles, and have been living in jumpsuits and overalls lately. I took inspiration from the suggestion of "artist" overalls, even though I don't really know what that means!"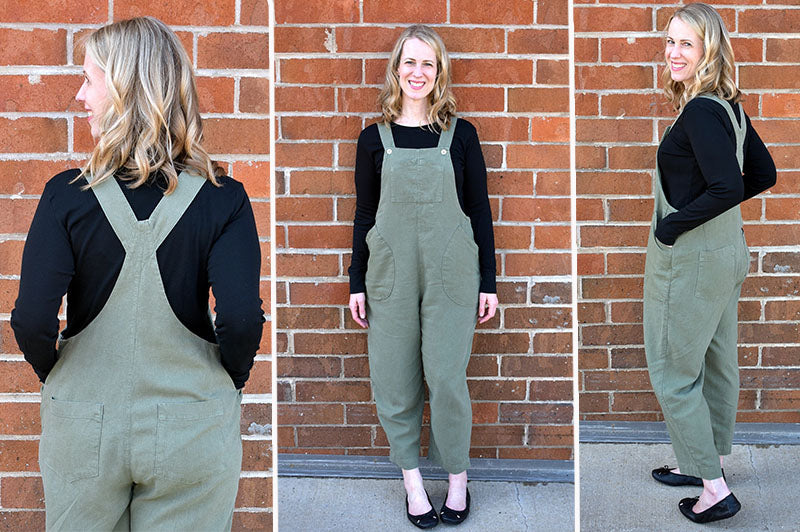 Teri
@teridodds1, fasewla.wordpress.com
"The Yanta overalls are such a fun and comfortable style. I love that they have a similar cocoon shape to the York pinafore, but as overalls. The pattern has some really nice details, like waist darts and a cool v-shaped back. I think this pattern is a great addition to Helen's pattern collection."
Anya
@anna.zoe.sewing, anna-zoe.net
"Yanta Overalls are a well drafted and designed pattern. I really enjoyed sewing my version and I can see this myself making this pattern again and again."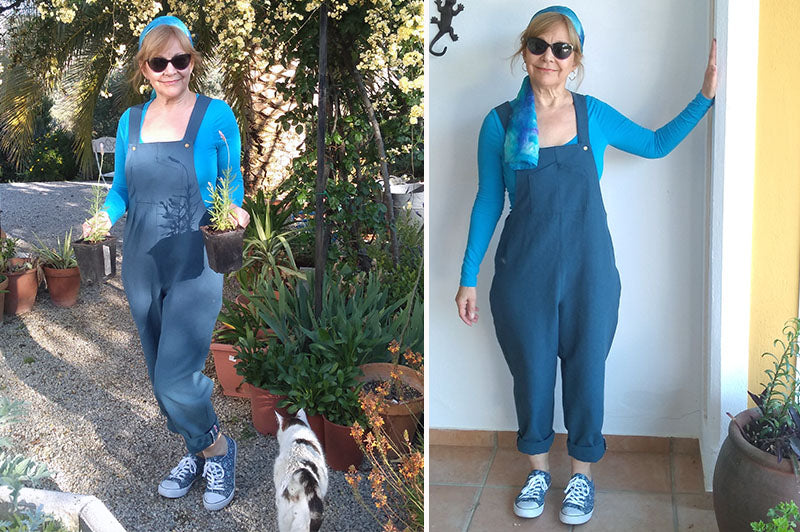 Suzy
@sewing_in_spain
"The Yanta overalls pattern is a fun pattern to sew up: expertly guided by the instructions; challenging, but not difficult, and suitable for so many fabrics. There are some cute design features such as the front bib pocket and the shape of the straps at the back. Definitely a pattern to use over and over."
Sue
@suebearsews, suebearsews.blogspot.com
"This pattern is certainly on trend, however I could also see this becoming a workhorse pattern for a workhorse piece of clothing. This would be great for gardeners, artists, or anyone else looking for a cute but completely practical garment. ALL THE POCKETS!"
Thanks for taking the time to check out our incredible pattern testers and all their beautiful Yanta Overalls! To celebrate the launch, Yanta is on sale for 20% off until May 13.