Before I get into this make (which I LOVE) I feel I need to acknowledge that this was not my best pattern matching or print placement work. A stark contrast to my tiger dress. In fact, I was so excited to dive into the project I just decided to wing it and live with wherever the palm fronds ended up. Well, I'll let you be the judge.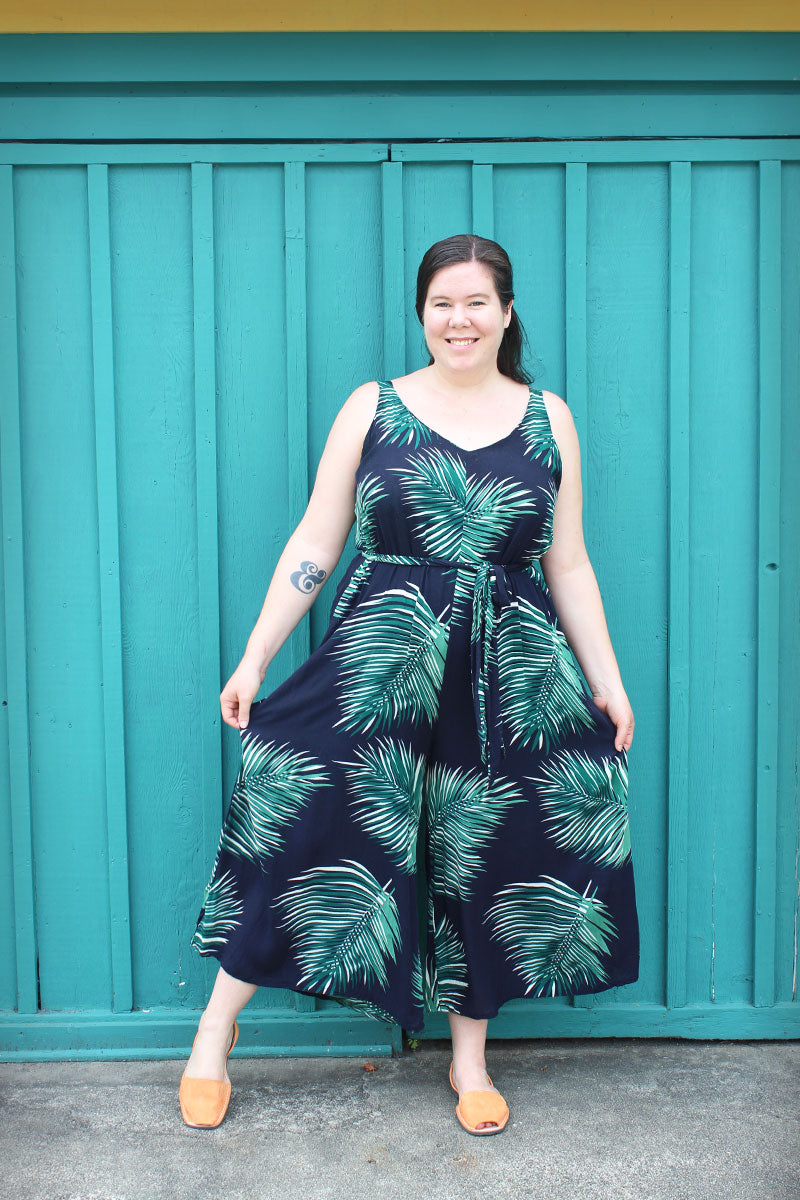 This is the Amy Jumpsuit from Closet Case Patterns and I have been wanted to try it since it was released late last summer. It is a relatively simple sew, and I figured I could get away with going straight to fabric for my first version. I lengthened the rise 1″ to ensure that it wouldn't be too 'crotchy' as we like to say, and I am pleased with the final fit! This is a straight size 20 and I am 5'9.5″.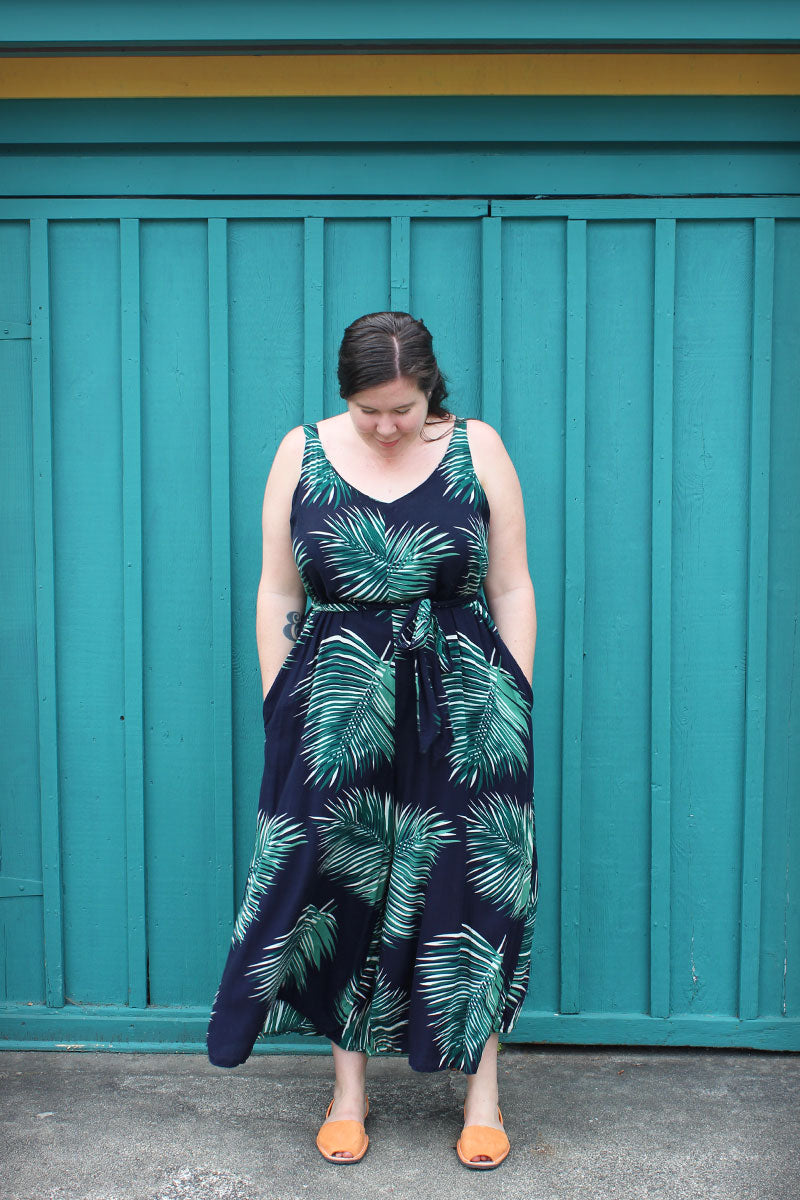 The fabric I used it a rayon challis that I picked up on my travels in Thailand in 2018. We went to Sampeng Lane and I had so much fun fabric shopping. This print really spoke to me and I have been saving it for a nice, large pattern with lots of surface area to show it off! A jumpsuit was a bit risky on account of the center front and back seam, but the way the leaves ended up on the front gives it a cool effect!
I really like the placement of the leaves on the straps and the two leaves on the center front catch the eye. I am less pleased with the double leaves on the back and the crotch leaves, but you win some, you lose some. A print this scale is so hard to place. I think when I am moving around, the jumpsuit flows so beautifully and nobody notices these things, right?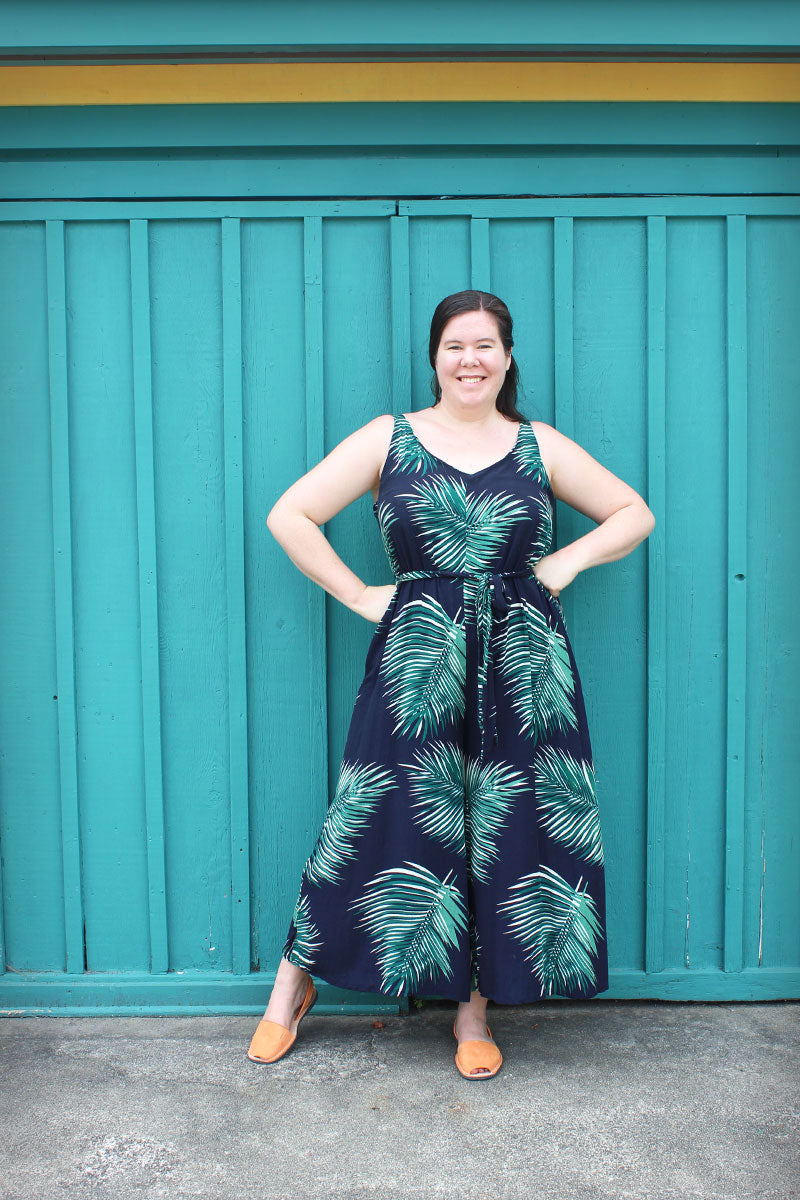 This jumpsuit is such a joy to wear. The waist tie cinches it all into place and it feels effortless in this lightweight challis. It also has pockets! I have worn it nearly every day since completion and I am sure it will be a workhorse for me this summer.
In order to be super comfortable and stop jumpsuits and culottes from riding up in the crotch, I swear by thigh-saving shorts. I wear them all summer under nearly everything and they make such a difference. This jumpsuit would be OK without them, but my upper thighs would be hurtin' by the end of the day! I get mine here.
I think I will make a second Amy Jumpsuit in a neutral colour since this one has gotten so much wear. I look forward to sharing more!

Happy sewing!
Helen