We want to extend huge thanks to all who supported the Pona Jacket launch! We designed this to be the perfect beginner jacket pattern, but it's also a great layering piece for more experienced sewists! This jacket is We're so excited to see all the beautiful jackets you come up with.
As always, we couldn't have done it without our incredible group of testers. These amazing sewists helped us to test Pona so that we could ensure the pattern is as perfect as possible. They volunteered their time and supplies to test Pona, which is so generous. Give these inspiring sewists a follow!
The Pona Jacket is available in sizes 0-30. Grab Pona this week for 20% off!
Anne
@sewanemone
"The versatility of the Pona jacket is fantastic! Depending on fabric choice it can be blazer-esque for work or a cozy outer jacket for fall. My View B Tencel version makes me feel "put together" at work, and I'm complete in love with my cozy View A, with giant pockets, in silk noil!"
@kellenehunter
"The Pona Jacket is the perfect layering piece for cool weather. It is extremely easy to fit. It is unlined and has no closures making it super fast and easy to sew. This is definitely the easiest jacket I have made! I love the big pockets! The fabric I used for my version is a wool blend which will be perfect for fall and I am looking forward to making a linen version for spring."
Gabriela
@craftstyleliving, craftstyleliving.com
"This pattern is a must have for anyone starting to sew jackets! You can play around with the fabrics, and I really love the dropped shoulder look."
Karine
@topstitchgirl
"I am an advanced sewist who appreciates Helen's patterns and the Pona is another example. It is a relatively simple project, yet yields gorgeous results when combined with the right fabric. It will be a great addition to my wardrobe."
Krista
@zag.with.me
"This a great jacket pattern with a relaxed blazer vibe. It comes together really quickly. If you're intimidated by collars, start here – Helen's excellent instructions make it easy-peasy."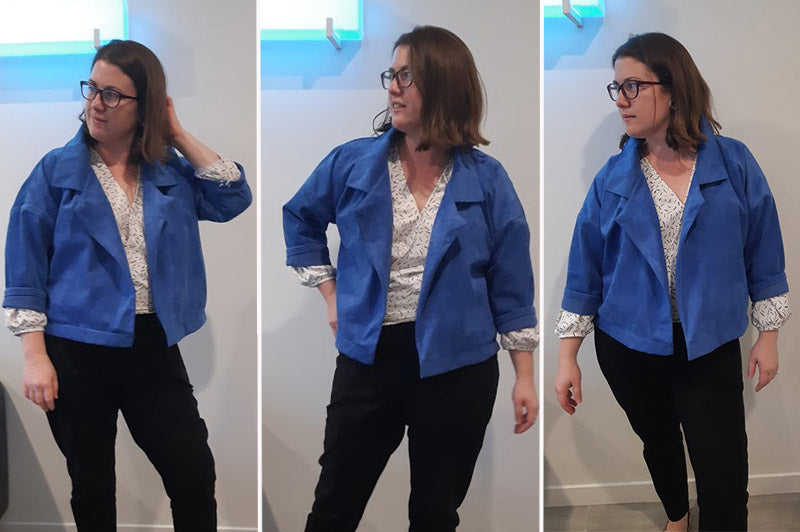 Emma
@emmas_atelier, emmasatelierblog.com
"The Pona Jacket is a beautifully designed drop-sleeve jacket. It is unlined which makes for easy layering and potential to customize the internal seams with binding #prettyguts. The instructions and drafting are top-notch! Another gorgeous pattern (which I didn't know I needed until now) from Helen's Closet."
Heather
@heatherandthepugs, thepugandneedle.com
"The Pona Jacket is such a quick and satisfying make. The instructions are easy follow and full of tips and tricks. This would make a wonderful first jacket project for a beginner sewist."
Heidi
@heidi_handmadefrenzy, handmadefrenzy.com
"The Pona Jacket was such a fun and SUPER quick sew! I love the cropped jacket look, and the oversized fit is surprisingly flattering. I can't wait to make another version, using a heavier fabric. It's so versatile, and can be made up in so many different fabric types!"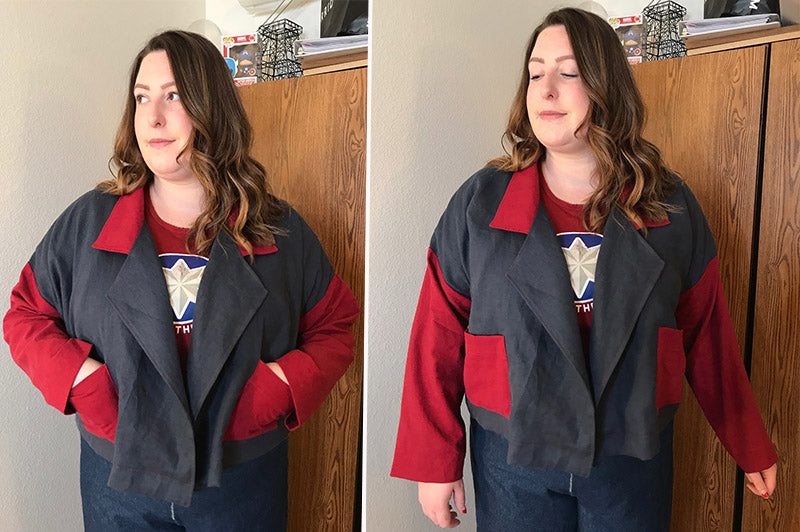 Britney
@magiquemaker
"Pona is a fun and versatile piece you could throw on with everything! Super comfy and chic."
Teri
@teridodds1, fasewla.wordpress.com
"Pona is a comfortable, loose fitting jacket that is sure to be my go to layer this fall. I love how it dresses up my usual uniform of t-shirts and jeans and also looks great paired with a skirt and tank. It was a fun sew and would be a great starting place for someone who has never made a jacket before. I can't wait to try the longer length soon!"
Kristine
@kristinesews
"I always learn something new when I make one of Helen's patterns. The lapel collar was so easy to make, and I also love how the facing hem came together. This is an excellent beginner jacket pattern to try if you are at all intimidated by making your first coat or jacket."
Sierra
@sierraburrell, seamslikesierra.com
"The Pona Jacket is a versatile layering piece that can be dressed up or down. It looks great in a range of fabrics. This was an approachable project that boosted my confidence in making outerwear. I feel amazing in this jacket."
Leanne
@threadyforit, threadyforit.com
"Pona was my first attempt at sewing a jacket. I made it in a linen blend, which I'm hoping will be perfect for the desert's attempt at fall & winter. As always, Helen's instructions are very easy to follow, and I get really confident as I sewed it up. I don't think I could have picked a better first jacket project."
Meg
@cookinandcraftin, cookinandcraftin.blogspot.com
"Pona is a casual, oversized jacket that can be dressed up or down depending on fabric. Plus it's quick and easy to sew! Hard to go wrong…"
Michelle
@meeshmade
"The Pona Jacket is an elevated basic that's easy to sew and to wear. It serves the same function as a cardigan but looks so much more polished! I'm eager to try it in different fabrics and lengths, and think it will work just as well over dresses as it does with trousers. This would be a great pattern for anyone who wants to try a notched collar for the first time–the method of construction is really simple and the instructions are excellent."
Sarah
@sewsarahsmith, sewsarahsmith.com
"If you're looking for an introduction to sewing coats or simply want a jacket that's as easy to wear and style as it is to sew then look no further; the Pona is it!"
Roschelle
@mindofaadybug
"This jacket is a fast-sew project that is definitely achievable for a beginner. This was my first jacket that I've ever made and it was super easy. Being an apple shape sometimes makes it hard to find a good, over-sized jacket that doesn't look or feel too big but this one is dead on. I will definitely be making a few more out of other fabrics!"
Sue
@suebearsews, sewbearsews.blogspot.com
"This jacket is such a clever little topper. I love the wide facings, which expand the fabric options. I think the Pona is going to be one of those hardworking wardrobe staples. "
Michelle
@michebemason
"I really enjoyed making this jacket and was very excited to use my overlocker on an actual item for the first time. I made a size 12 with cropped waist and long sleeves in this red corduroy, and it is lovely and snuggly for the autumn and will be lovely to wear on my mobility scooter as it won't get in the way, but still keeps me warm, and it will match too. Lovely pattern with amazing instructions as usual."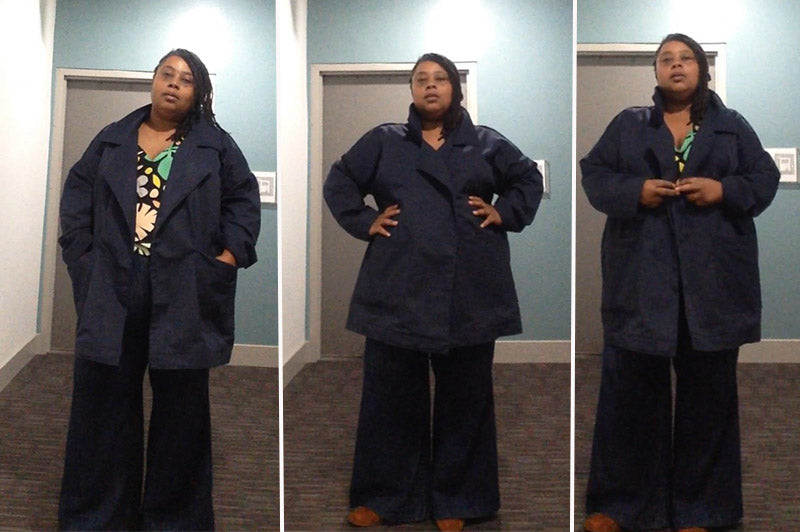 Vanessa
@sweetvanessaleigh
"I loved the pattern. I made it in cotton twill in size 26 at the shoulders grading up to 30 from the natural waist down, and love the fit which still feels boxy at the shoulders and bust. As to be expected with Helen's Closet patterns, it was so simple to construct but had new-to-me challenges around construction being a pattern sewist newbie still. I learned new techniques, including a lot of top stitching, which I so appreciate. My wearable toile is going to be very well worn. I wanted to make a blazer but was very overwhelmed at starting the patterns I had collected to attempt it. This was a great simple introduction to a coat/jacket/blazer, but really stylish wearable piece. On first sight I was thinking about it as an oversized relaxed blazer which I dearly need in my closet. I even made wide leg pants to go with it so that I could wear it as a suit should I want to. Love the jacket! I am definitely planning to do a cropped version ASAP!"
Thanks so much for taking the time to read about our beloved pattern testers and their Pona Jackets! To celebrate the launch, Pona is on sale for 20% off until Nov. 7.
Pona is available in sizes 0-30. Grab Pona this week for 20% off!