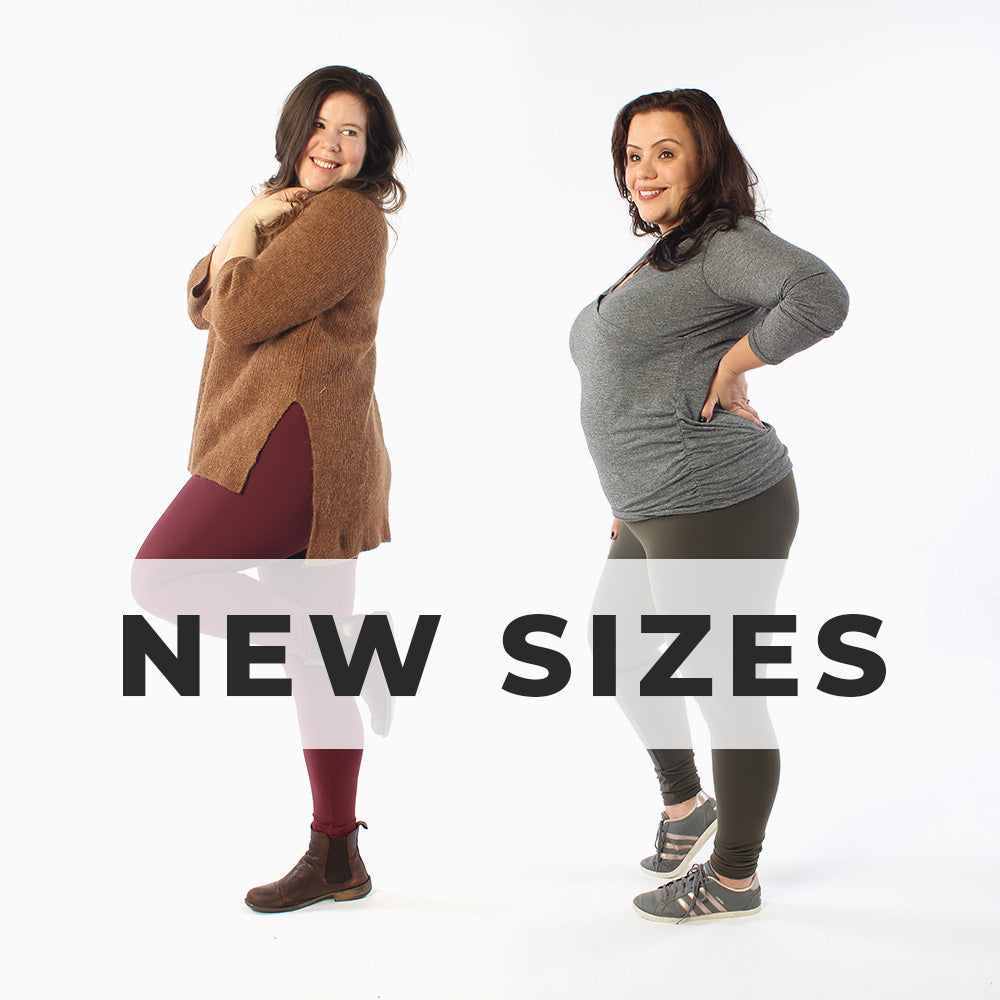 We are celebrating the size range upgrade of two of our workhorse knit patterns, the Avery Leggings and the Elliot Sweater & Tee! The Avery leggings are now available in sizes 0-34 and the Elliot sweater is available in sizes 0-30.
Grab both of these patterns for 20% off this week!
I personally have made many MANY versions of both of these patterns over the years. The Avery leggings are my go-to for loungewear and workout leggings thanks to their form-fitting draft and the extra high waistband that is designed not to fall down! The Elliot Sweater is always my favorite in the fall and winter because of the cozy high neck and the modern split hem. I wear Elliot Tees all year round, too!
What has changed with the updated sizing?
Both Elliot and Avery were originally graded using jump sizing (XS-XXL). We kept that original grading on these knit patterns because of their forgiving fit and simple design. We have re-labelled the sizes numerically so they now go from 0/2-28/30. We even added an extra size on the Avery Leggings (32/34)! Not much else has changed with these two patterns. So many people have enjoyed making these designs over the past couple of years and we hope to see many more to come!
What if I already purchased these patterns?
Not to worry! If you have already purchased the Avery Leggings or the Elliot Sweater, simply log-in to your account and download the updated pattern. You can also use the download links emailed to you after your purchase. The links will automatically download the new sizes. If you didn't create an account or can't find your download email, simply reach out to us at support@helensclosetpatterns.com and we will get the new pattern to you ASAP.

Let's take a look at these two patterns, shall we?
Avery Leggings
The Avery Leggings are the ultimate leg layer. They are simple to sew and result in a great legging for any activity! The Avery Leggings have no outer leg seam, so you end up with a nice, smooth leg for layering.
Try View A for a classic look, or View B for an ultra-high waist and extra-long legs. The Avery Leggings can be worn anywhere from yoga to the workplace and are a great wardrobe staple.
The Avery Leggings have a crotch gusset for improved range of motion that also reduces bulky seams. Each view features a waistband and waistband facing with a fully enclosed and stabilized elastic, ensuring your leggings won't fall down.
Elliot Sweater & Tee
The Elliot Sweater is your go-to cozy layer for everyday wear. Dress it up with denim and boots, or keep it casual over leggings and sneakers.
View A has a stylish high-low hem with a side slit that provides comfort around the hips. View B is slightly cropped, perfect for pairing with high-waisted pants and skirts. View C of Elliot makes a great, everyday raglan tee.
All views feature a raglan sleeve and three neck options are provided: an extra tall version that can be scrunched down or folded over, a medium-height version, and a classic knit band.
We are going to share loads of hacks and new versions of these patterns over the next week. Stay tuned for lots more Avery and Elliot inspiration!
You can grab both of these patterns on sale this week for 20% off to celebrate the new size range!