I'm so excited that the Pona Jacket is one of the selected patterns for Sew My Style 2020! This year-long sewing celebration highlights patterns each month and you can join in as much as you like! Sew My Style newsletter subscribers get 20% off the Pona Jacket for the month of October. It's not too late to sign up! Head over here to get your discount code and join in the Pona Jacket fun!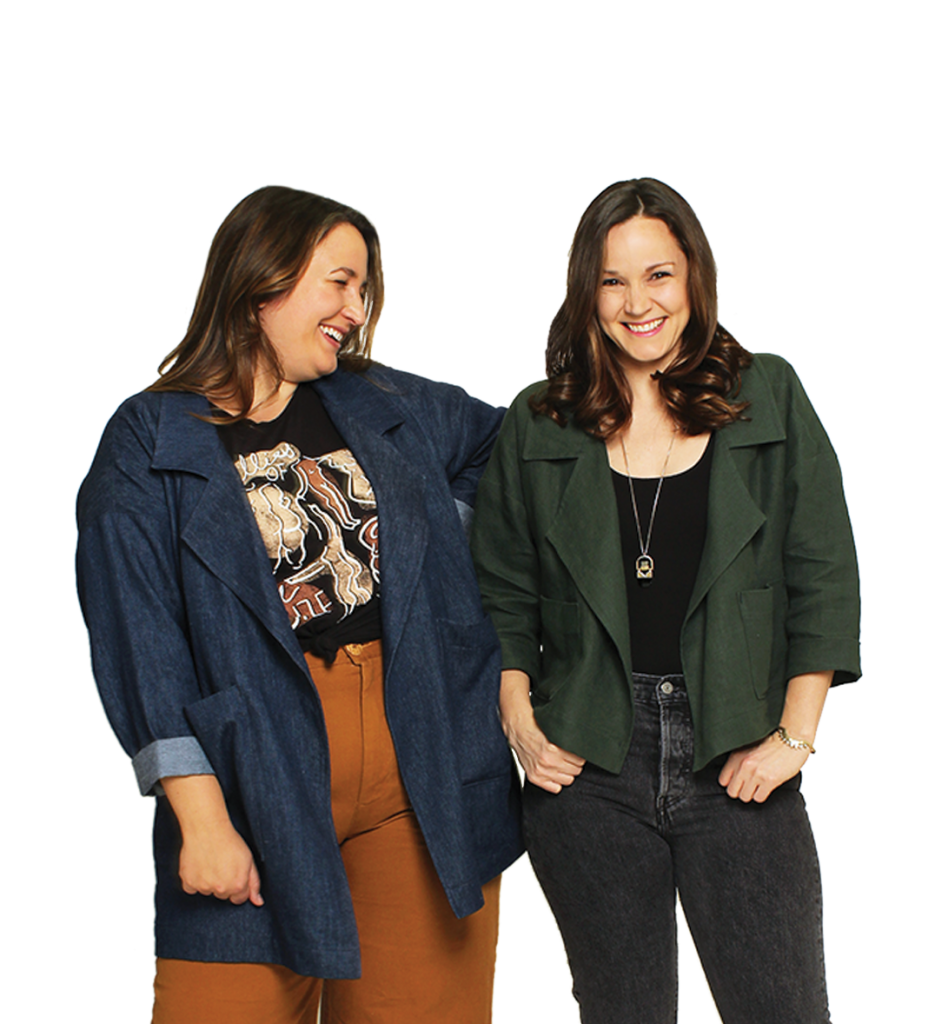 The Pona Jacket is a modern outer layer that is simple to make and style. An extra-wide facing allows this unlined jacket to drape open in the front, no closures necessary! Pona has an oversized blazer feel, complete with pockets and a statement lapel. It is a perfect beginner jacket, too! A great option if you want to try coat-making but need a starter project to practice on. We've got you.
We've made quite a few Pona's since this pattern's release last fall and we have more planned for this month, too! You can also check out the #PonaJacket hashtag on Instagram to see loads of inspiration from fellow sewists.
What fabrics work best for Pona?
We designed Pona to work great with medium weight fabrics like mid-weight linen and cotton, as well as denim, corduroy, and waxed canvas. Pona works best in a 5-9oz fabric with some structure, but it can be made in a lighter and drapier fabric for a softer look. Caroline's Denim Pona shown here is made in 6oz hemp/cotton denim from Blackbird Fabrics.
Another excellent fabric choice for Pona is mid-weight linen. We love the 6.5oz and 7oz mid-weight linen from Blackbird Fabrics for this pattern. We used it for two samples in the photoshoot AND I had to make one for myself, too. Check them out below!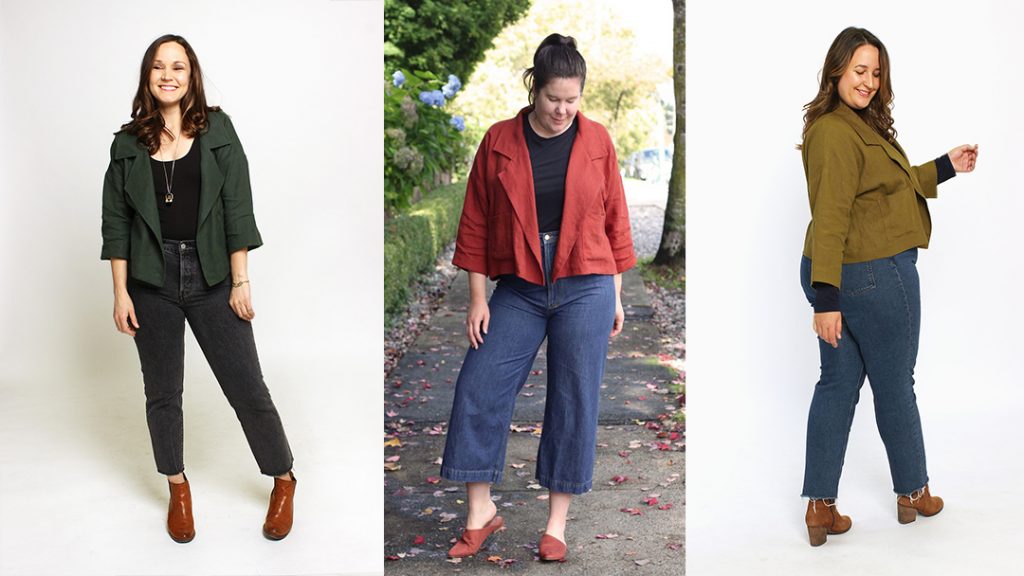 I've also made Pona in a statement handwoven cotton with quite a lot of structure to it. I LOVE this Pona and I think this pattern lends itself really well to unique fabrics like this. See more pics here.
Another fun option for Pona is a quilted fabric or something fuzzy and textured. Chloe made the Pona shown below out of a quilt that she picked up at a thrift store! So cozy and so stylish! See more pics here.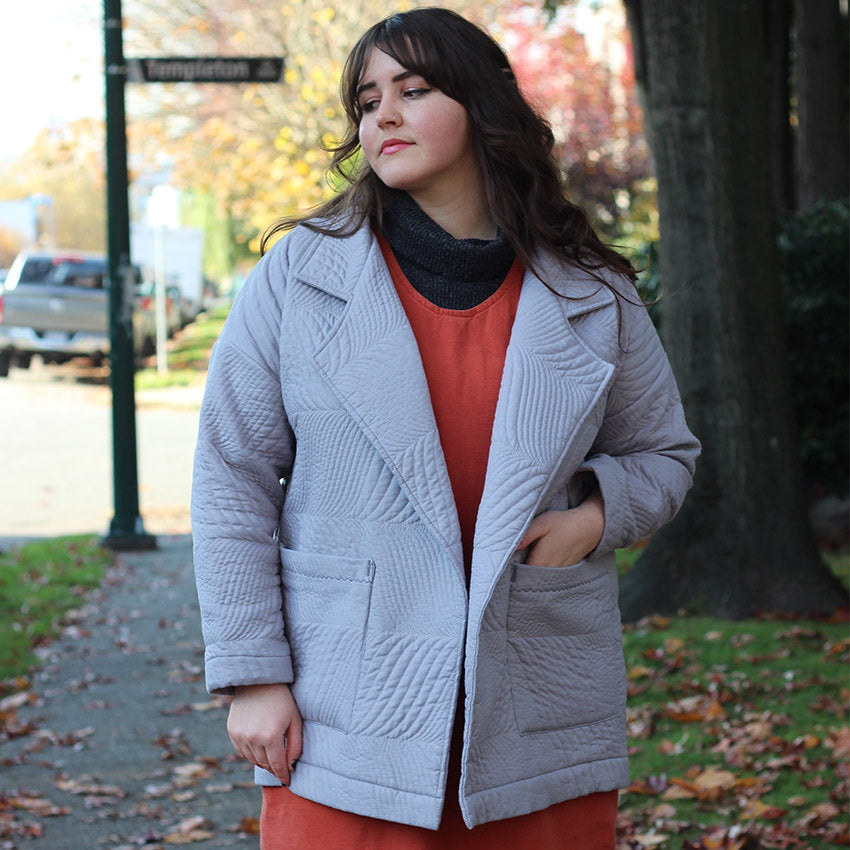 Can I make Pona in wool?
Yes! We love Pona in a medium-weight wool. Tasia is wearing the longer view of Pona below in a wool windowpane. Pona is unlined, so you may want to consider adding a lining if working with scratchy wool. We are going to be sharing how to add a lining this month on the blog!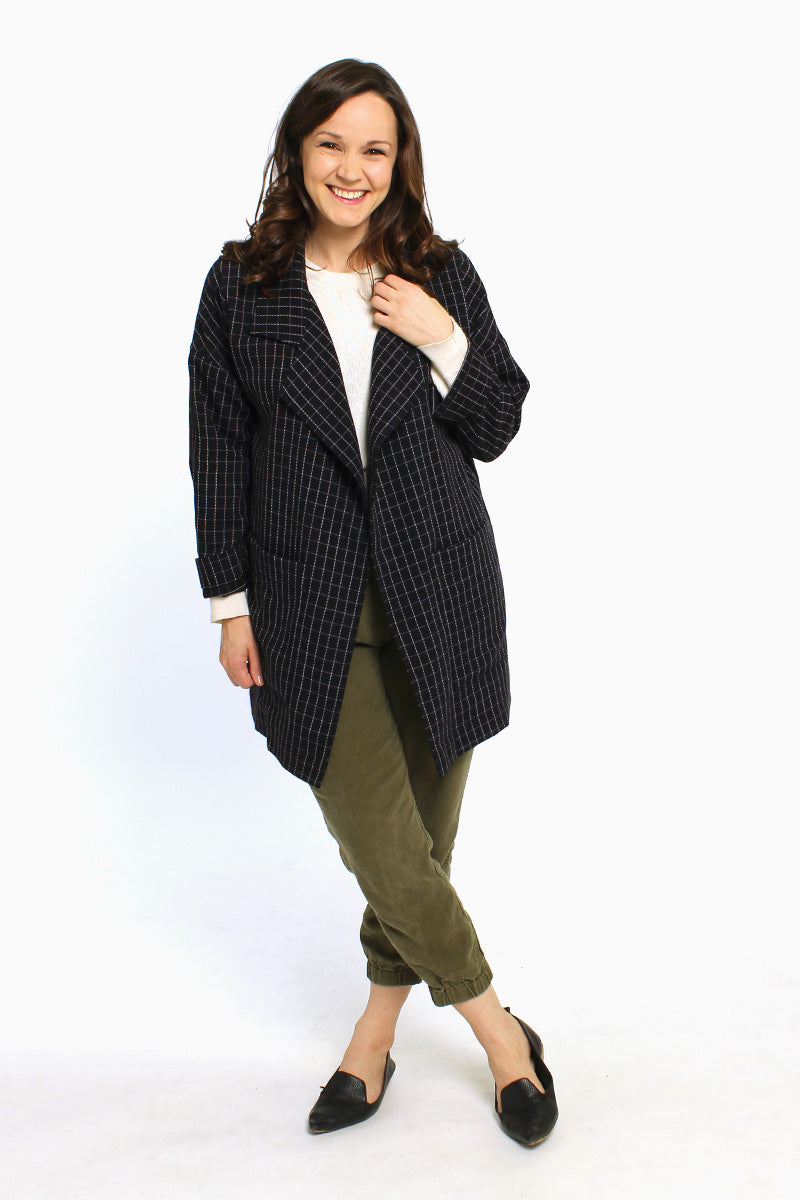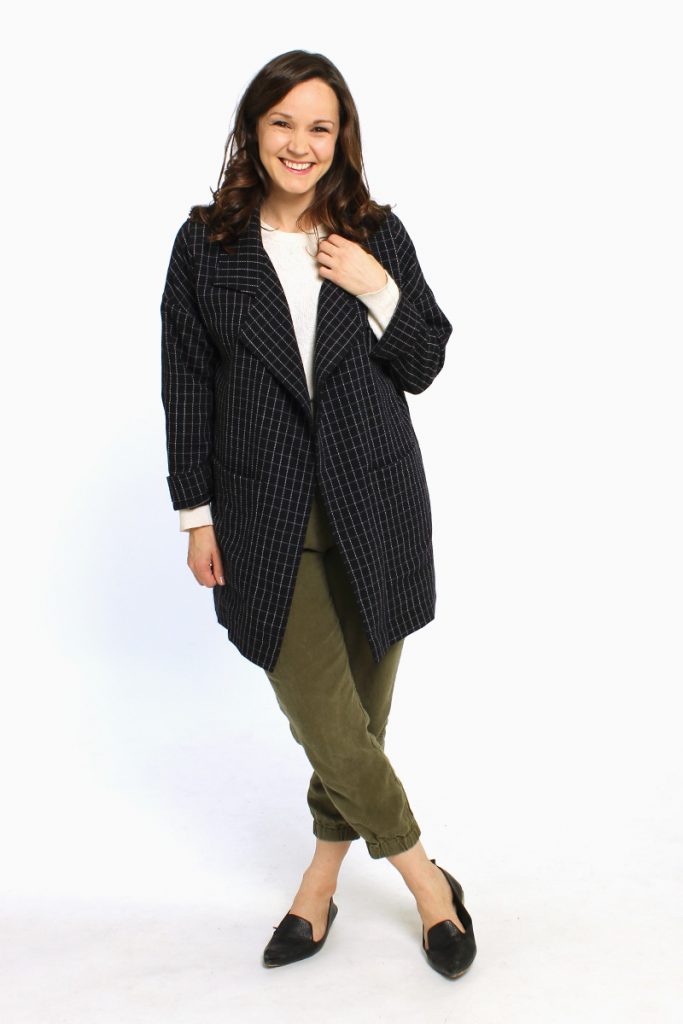 What about stiff fabrics like Canvas and Denim?
Pona really holds it's shape in a stiffer fabric and we love that look. Canvas and denim are great choices for Pona if you want a structured jacket. The handwoven cotton we used below is quite thick and stiff, so it is a good example of this look.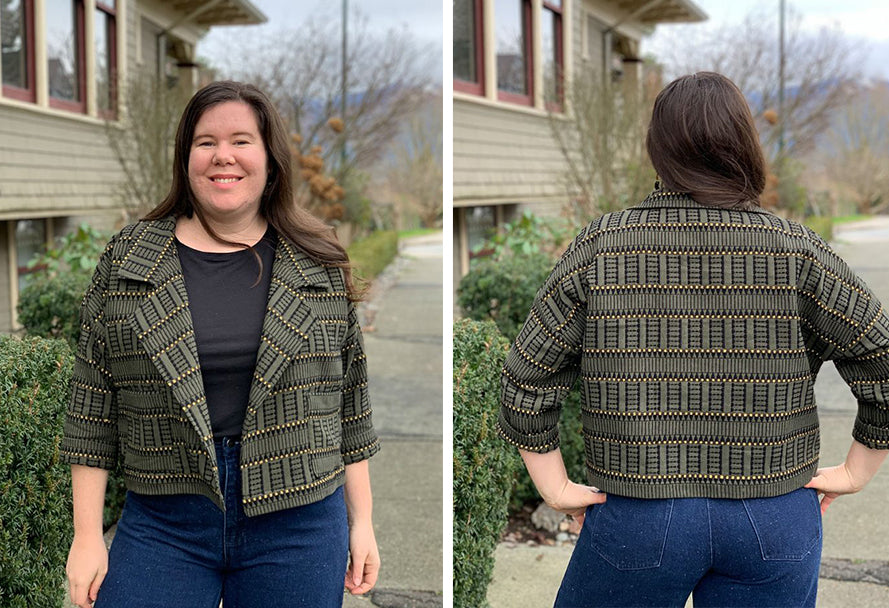 I want my jacket to close – can I add closures?
Totally! We designed Pona to be as simple as possible for beginner jacket-makers, but you can add and embellish it as much as you like. We love the idea of a waist tie for Pona (a blog post about that coming soon, too!) and the Pona does overlap enough in the front to have a double-breasted button closure if desired.
How does Pona fit?
Pona fits like you're wearing a dad's blazer. It's oversized and roomy, perfect for layering over sweaters (like our Elliot Sweater) for fall. If you would prefer a tighter fit you can size down, but be sure to consult the finished garment measurements before you make your decision!
Are the cuffs optional?
Yes! The Pona sleeves offer two length options, so you can have full-length sleeves or 3/4 length and roll up from there if you like!
What about the pockets?
We love a good patch pocket! The cropped view of Pona has smaller pockets that are great for smaller items, but they are a bit high for the hands. The longer view of Pona features roomy pockets ideal for hand placement.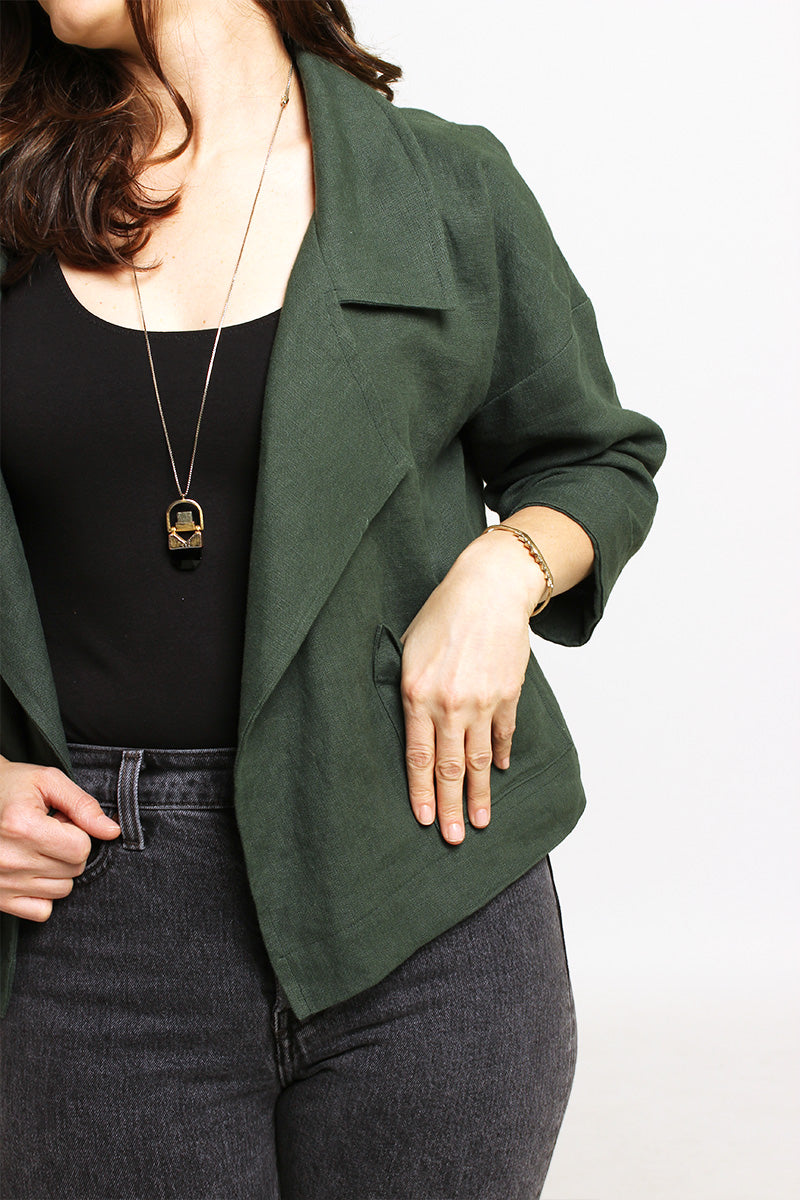 I hope you join us for Sew My Style 2020 and make your own Pona Jacket! Sew My Style newsletter subscribers get 20% off the Pona Jacket for the month of October. It's not too late to sign up! Head over here to get your discount code and join in the Pona Jacket fun!