Hello! Today we have another guest blogger—this time we want to share Janet of @sew_sister and her March Tunic hack! Janet is a fellow Canadian who shares our love for indie pattern designs! Her feed is filled with gorgeous projects (not to mention a cute pup), and we were delighted when she agreed to share this cool tunic version of the March Top and Dress! Let's take a closer look at Janet's March . . .
Janet's March Tunic Hack
Hi everyone! I am Janet, a guest blogger today! I am excited to share my March tunic! I am a retired teacher from Toronto, Canada. I have been sewing on and off for many years but I really started making my own wardrobe in the last five years. You can find me sharing my makes on over on Instagram: @sew_sister.
To make the tunic I lengthened the March Top by 7" and omitted the pockets. I used an dotty printed tencel twill in ivory from Blackbird Fabrics. A drapey fabric will hang closer to the body, and with a style like this it's a fun way to play with the volume.
I also adjusted the pattern by doing a 2″ (5 cm) full bust adjustment on a size 16 bodice. I decided on a 2" (5 cm) adjustment based on the size chart, even though I have a 3″ (7.5 cm) difference, knowing the design had plenty of ease. For reference, I have an upper bust of 40" (101.5 cm) and full bust measurement or 45" (114 cm). The other usual adjustment for me is to shorten the sleeves by 1" (2.5 cm).
I made some notes as I sewed and will share them with you. I used a fusible interfacing that is made for knit fabrics because that's what I had available. I was surprised at how well it worked and how it matched the fluidity of the tencel fabric. When applying the fusible interfacing to the cuffs I applied it to only one half of the cuff, the side that will be visible, to maintain the softness of the fabric. I made an additional note to myself to apply the neckline interfacing to the right side of the neck opening. Don't go on automatic pilot here experienced stitchers! This is when you realize the construction is different.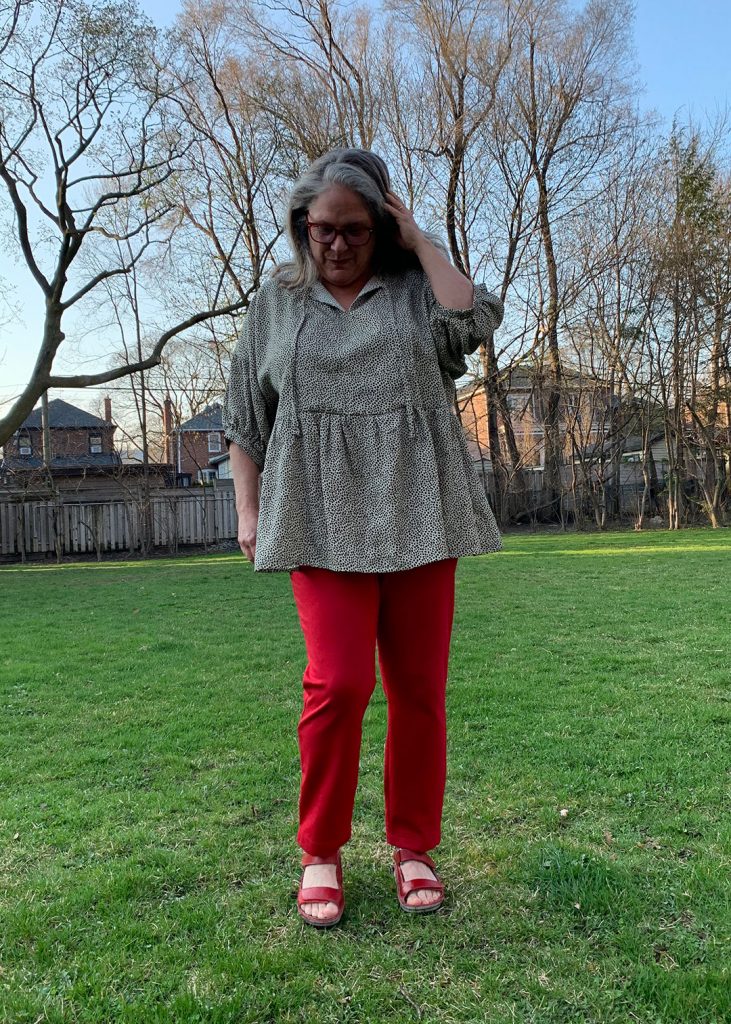 The construction was fairly straightforward, except I did find top stitching the panel tricky. There was plenty of movement in my fabric, a curved panel pattern piece, and a 3D bodice to contend with. Hand basting combined with pinning the front and back panel together seemed to work.
To gather the sleeves and peplum, I chose to use a zigzag stitch over dental floss using a ⅜" (1 cm) seam allowance, and then pulled the dental floss to create the gathers. I then stitched at ⅝" (1.6 cm) as per the instructions. It was a fun and easy way to gather but I don't think I got the desired results. If I did it again I would return to the method in the instructions. Distributing the gathers takes time and patience, and next time I may divide the skirt/peplum into four sections instead of two.
I liked the March dress style immediately. I am not a fan of a fitted look and yet I still want a few interesting details in a dress—so the March dress fit my requirements with the bodice panel, tie neckline, and the lovely Victorian sleeves. Choosing different fabrics will create such different looks. Wouldn't it be fun to try a homespun fabric to highlight the vintage inspired sleeves? The sewing community has also been sharing beautiful examples using the dress panel to feature special fabric. Helen made a version of the top with a straight peplum (View C), and I think that version will be my next one. With all of the different details the views provide in this pattern, plus the fabric options, there is lots to explore!