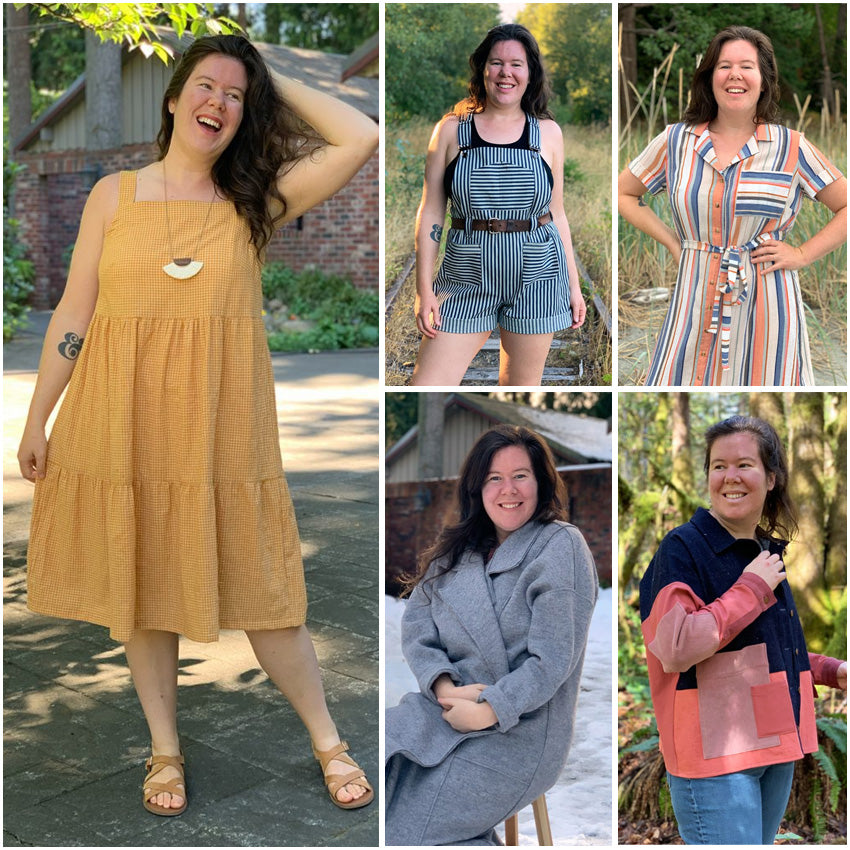 It's that time again! Every December I love taking the time to reflect on the past twelve months and dream about the upcoming year. All in all, 2021 was an amazing year for me professionally and personally. At Helen's Closet we managed to release four new patterns (that I'm SO proud of), and I was still able to maintain my own personal sewing practice along the way. Today I thought I'd look back at some of those makes and share my top 10 projects of 2021 with you! So without further ado, let's take a look!
Boiled Wool Pona Jacket
This boiled wool Pona Jacket feels so luxurious and special. I love the light grey colour and it feels amazing to wear. And oh my goodness—what a fun sew this was! Because I used boiled wool, I had to change the construction of Pona in order to sew overlapping seams. It was a bit of a puzzle but I'm SO satisfied with the results! Check out my blog post for more details on how I did it!
Scrap Busted Ilford Jacket
This is another project that I'm just so proud of: my scrap busted Ilford Jacket. There is something so satisfying about piecing things together to make a larger something. I was originally inspired by similar colour-blocked jackets on Pinterest, and decided to do my own take on it using the Ilford Jacket pattern and pieces of fabric from my scrap bin. The shades of pink with the pop of blue denim? I just love it!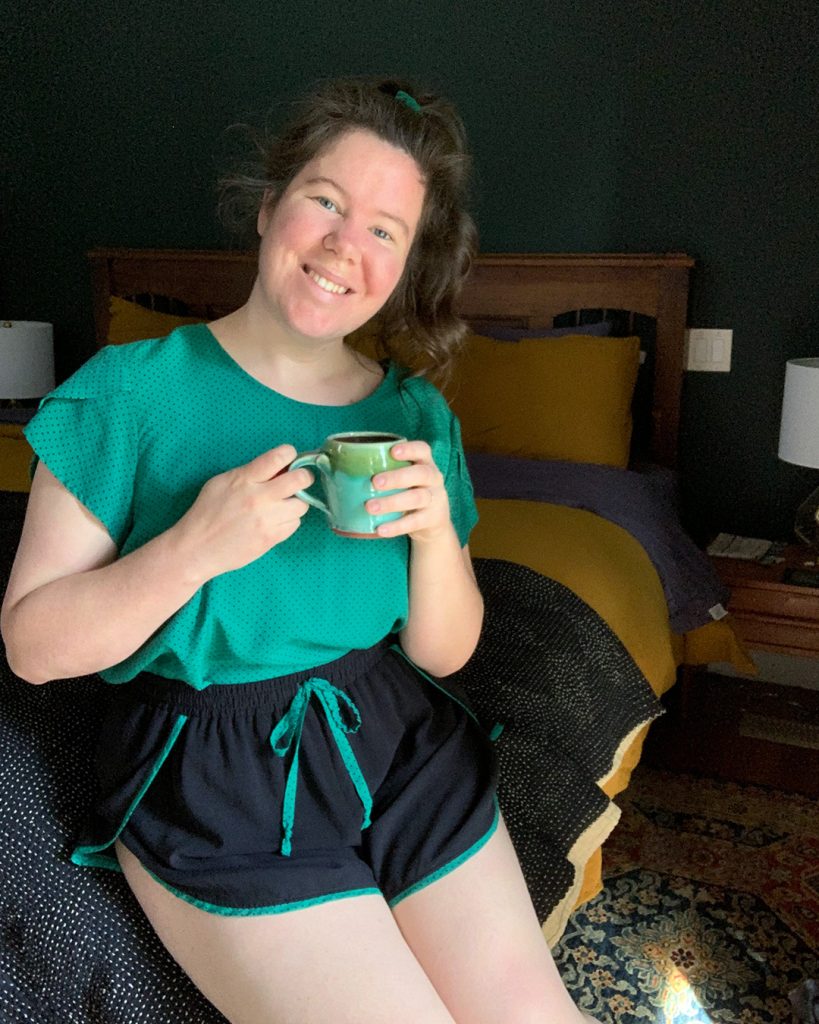 Ashton Top PJ Set
This Ashton Top was sewn up when we were working on the expansion pack, and I could not get the idea out of my head that this fabric looked like pajama fabric. I had this top languishing on a hanger in my studio for quite some time, until eventually I thought "Why not make matching PJ bottoms?". I self-drafted these cute petal shorts (inspired by the Ashton petal sleeve) and I love the way the shapes match. This sleepwear set is super comfortable and really fun to wear! Click here to read my full post about this project.
Gathered Waist Reynolds Dress
When I was dreaming up pattern hacks for our new Reynolds Top and Dress, this was the first design I sketched—and I still completely adore it! How could I not add gathered tiers to this wide-strap tank design? It's easy to wear, easy to sew, and super cute! Check out my full post to learn how to customize your own Reynolds.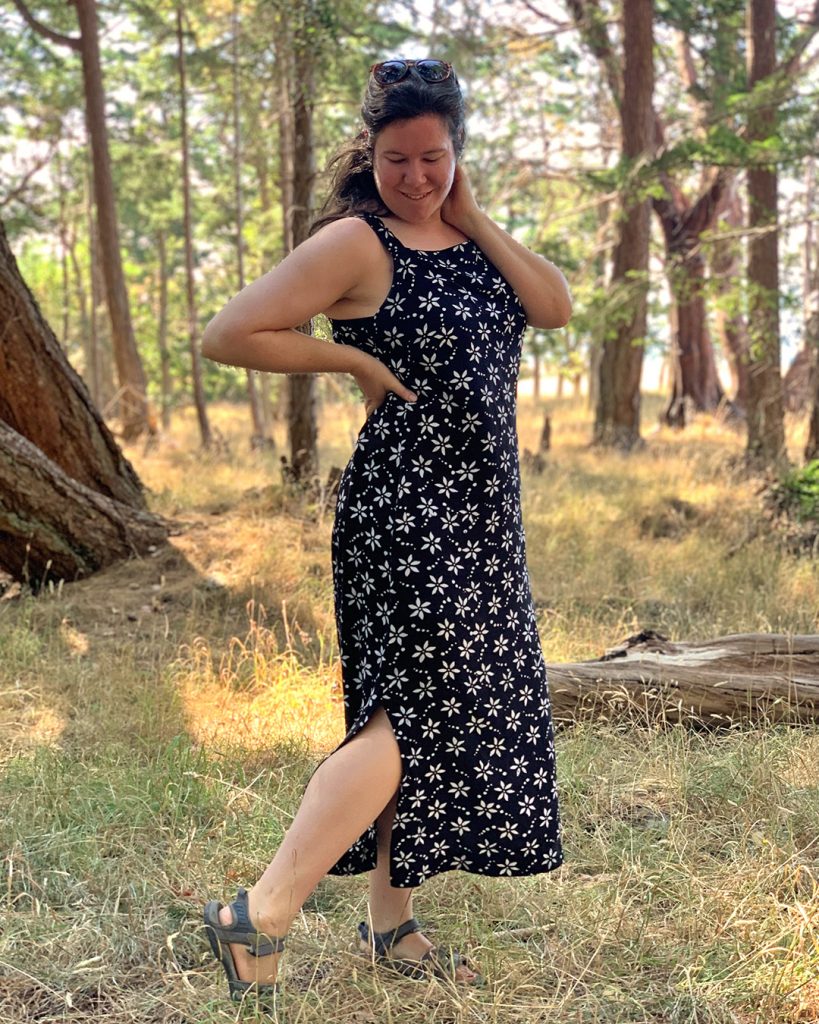 Black and White Reynolds Dress
When I first made this Reynolds Dress I lovingly referred to it as my "ideal Reynolds dress" and honestly—it's still true! Sometimes a fabric and pattern are a perfect match, and that was definitely the case with this dress. This fabric is from Gala Fabrics in Victoria and it is a rayon batik. It washed and sewed beautifully and has the perfect drape for the Reynolds Dress. It's a match made in heaven! Click here to see more photos.
Gilbert/Reynolds Dress Hack
You all know I love a good pattern mashup! It's nice when you can pair elements of one pattern with another for a whole new look, and this Gilbert/Reynolds mashup might be my favorite yet! You can totally do this hack too, even if you're a beginner. This dress feels so summery and breezy and I can't wait to wear it for years to come.
Corduroy Yanta Overalls
One question we get asked a lot about sewing Yanta is "Can I make the Yanta Overalls out of a fabric with stretch?" The answer is yes! Woven fabrics with spandex mixed in can work for Yanta, like this red corduroy I used for my most recent pair. I have been wanting a pair in corduroy, and I knew as soon as fall hit that it was finally time to make them! I just love how cozy these are with their brushed texture and warm hue. Click here to read my full post about these Yantas!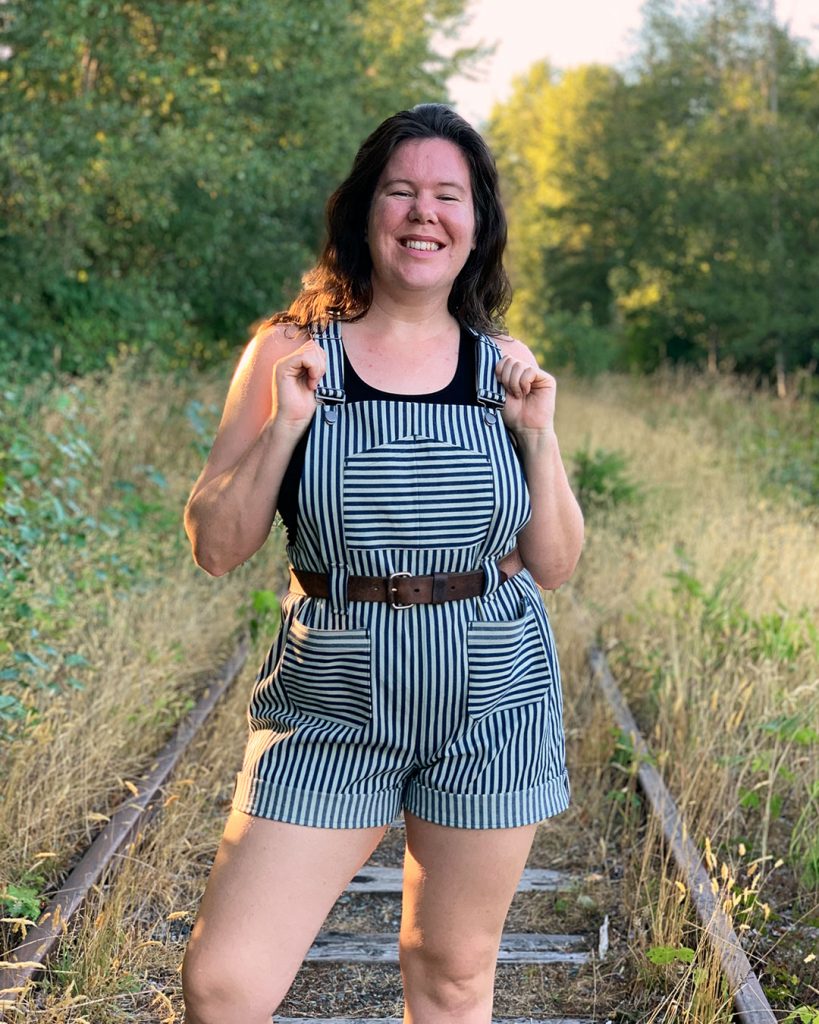 Railroad Yanta Overalls
You knew these would be in my top 10 list, right? These railroad stripe denim Yanta Overalls were cute when I finished them—but then when I decided to add the belt loops? Over the top! I simply adore them! I used the wrong side of the denim as an accent on the top of the pocks and the hem of the cuffs. Details like this always take projects to the next level in my opinion. Read my full post to learn how to add belt loops to our own Yantas!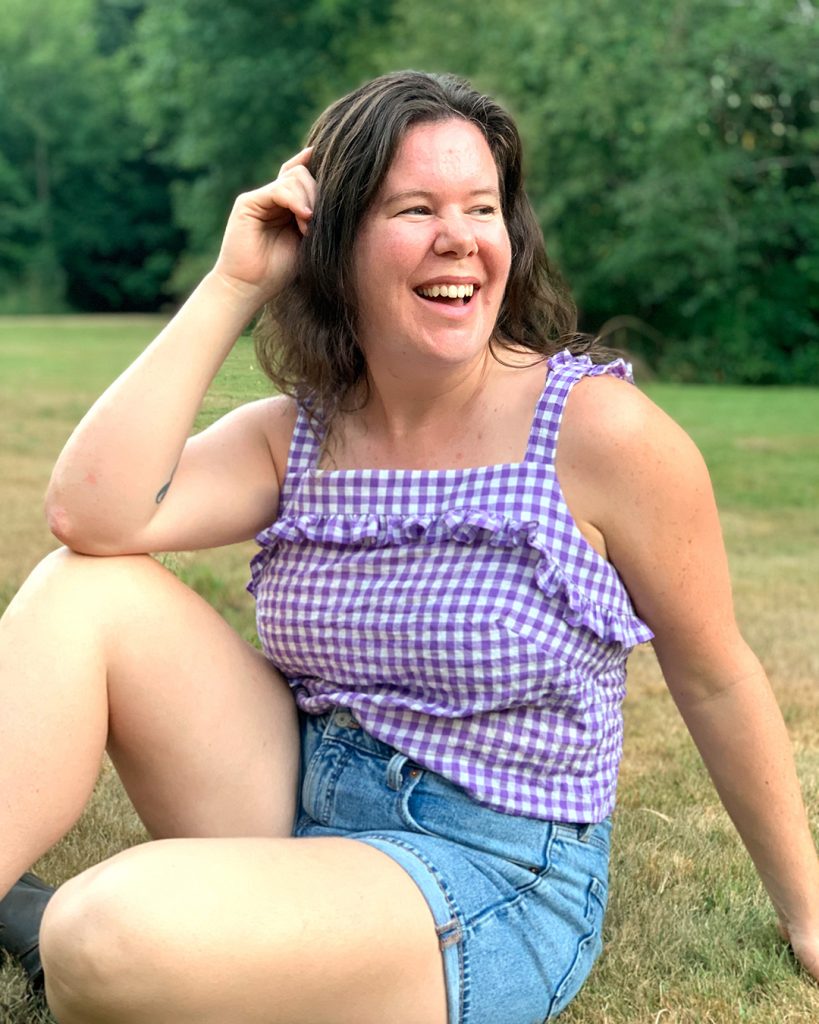 Purple Ruffle Reynolds Top
I'll admit, this ruffle Reynolds top is a little outside my style comfort zone, but sometimes you just have to go for it, you know? This hack was so fun to make, and I really love the final result even if it is outside my usual style. The good news is that this is one of those hacks that is easier than it looks, and I've got a full step-by-step tutorial for you here.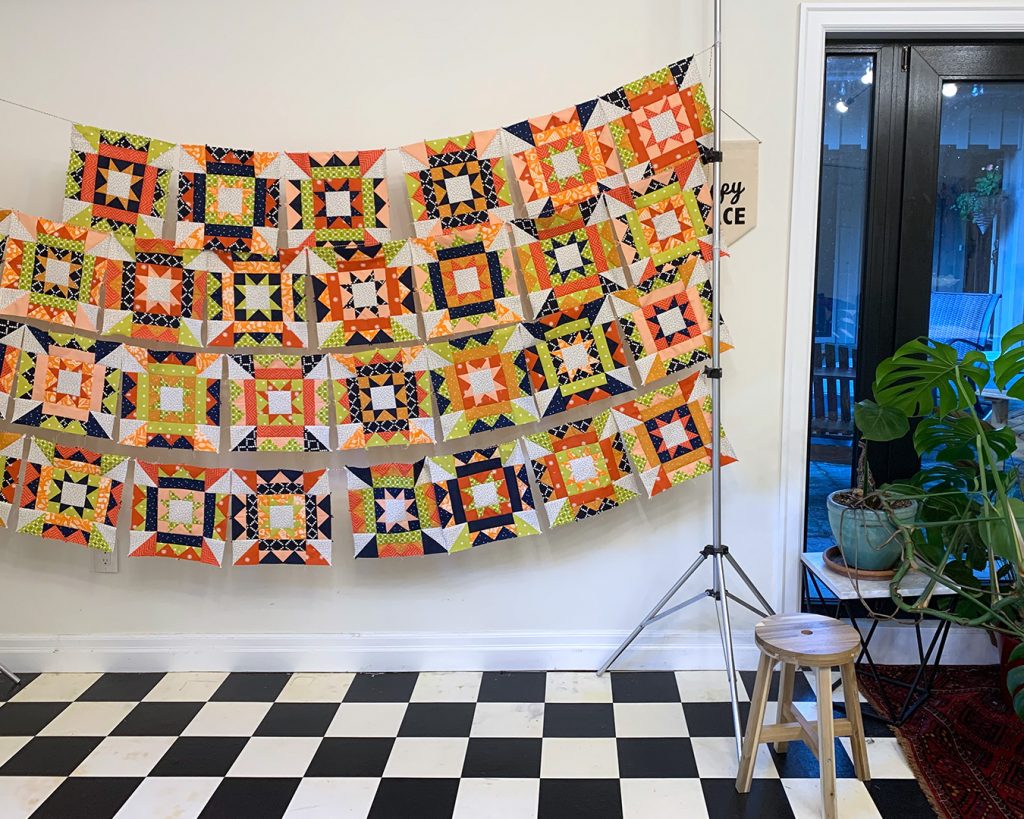 Nova Star Quilt Top
Okay, so this one isn't totally finished yet, but a lot of work went into this this year and I'm super proud of it! This is the Nova Star Quilt pattern by Then Came June , and it has been such a fun project for me as a garment sewist. It's really pushed me to explore a different approach to sewing and I have enjoyed working with these smaller pieces. I can't believe I've managed to get this far on this project and I know I will cherish this quilt for the rest of my life. I can't wait to finish it!
---
And there it is! I'm so proud of everything I managed to sew this year, and all the ways I was able to push myself creatively. Thank you so much for following along and for all of your support over this last year. I could not do it without you, and I can't wait to see what 2022 will bring!