I'm so excited to announce a new pattern in the Helen's Closet collection—the Cameron Button Up! Available in sizes 0-34 (up to a 62" chest/hip), this classic design will surely be your go-to shirt pattern for yourself and loved ones. Cameron has a relaxed fit with a dartless bodice and all the essential button up features like sleeve plackets, collar stand and collar, back yoke, and an optional chest pocket.
As always, we have included loads of helpful tips for sewing success with Cameron. In fact, this pattern has our most detailed instruction booklet to date! Make Cameron in flannel for the ultimate cozy layering piece or sew it up in cotton shirting for a timeless look. Read on to learn more about this new pattern!
The Cameron Button Up is on sale this week for 20% off! No code required.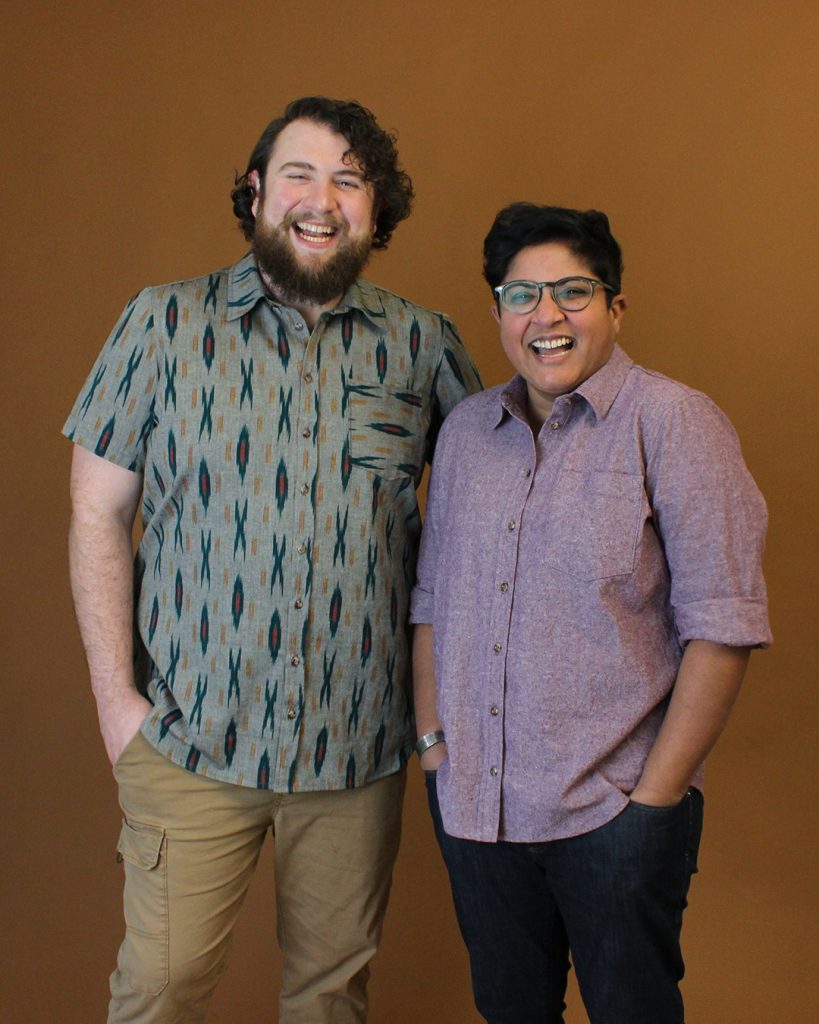 What is included in the pattern?
The Cameron Button Up includes two views. View A features long sleeves with classic sleeve plackets and cuffs and View B is a short sleeve option. Cameron includes multiple lengthen/shorten lines so you can customize the pattern for different heights. Details on how to do this are included in the instruction booklet.
The pattern includes a very detailed instruction booklet to help you successfully sew this project! Also included is a print-at-home pattern and a copyshop (A0) pattern.
Can I sew a Cameron Button Up?
If you have sewn garments before, you can sew a Cameron Button Up! This pattern is marked as 'intermediate' because it includes some tricky sewing techniques like sleeve plackets and a collar with collar stand. It was a goal of ours to make the best button up instructions EVER when we designed Cameron. We know you will be able to tackle these sewing techniques with confidence and level up your sewing skills with the Cameron Button Up. You can do it!
How is Cameron intended to fit?
Cameron has generous wearing ease and a relaxed fit. You can size down for a slimmer fit or size up for an oversized look. Cameron features a dartless bodice that works well on many figures. This pattern fits folks with no bust or an A-DD cup bust without any adjustments needed. Folks with an F cup or larger bust may wish to do an FBA on this pattern to add a bust dart (see our blog post about this here).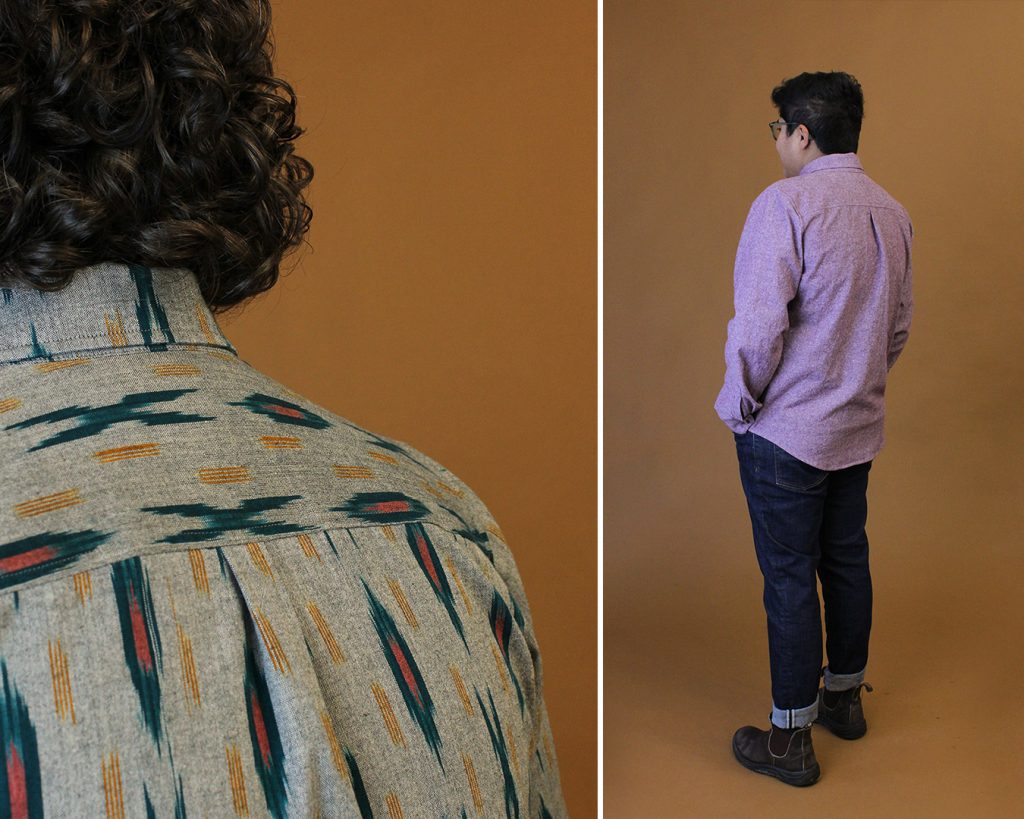 How can I style and wear my Cameron?
The Cameron Button Up is an incredibly versatile pattern when it comes to styling and wearability. Try it open over a t-shirt or tank top for a casual look. Tuck it into high-waisted bottoms for a vintage vibe. Rock a French tuck (only tucked in the front) for classic elegance. Try it buttoned all the way to the top or leave the top open and feel the breeze. The way you wear and style Cameron is totally up to you!
What fabrics can I use?
Cameron is also very versatile when it comes to fabric! The obvious option is lightweight cotton. Even quilting cotton can be used for a fun, novelty print option. If this is your first time sewing a button up shirt, lightweight cotton is the best option. Look for 'cotton lawn' or 'cotton shirting' when shopping. Sam and Parnian are both wearing handwoven cotton Cameron Button Ups here.
Cameron also works really well in linen. We love the rumpled yet elegant look that linen brings to shirtmaking. A cotton/linen blend is also a great option. We used Robert Kaufman Essex Cotton/Linen for the purple sample that Parnian is wearing.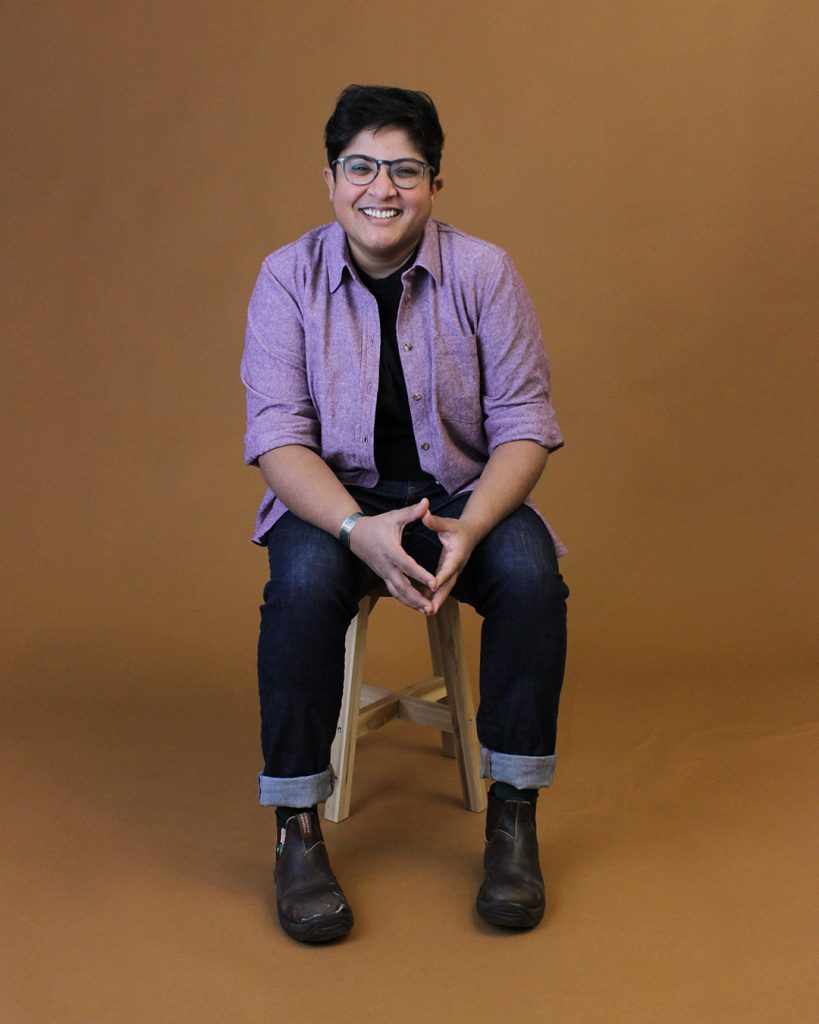 When we initially designed Cameron, I was dreaming of it in flannel. Give me all the warm, cozy layers! I love this pattern in a plaid flannel—it's a match made in heaven! Sam is wearing Cameron in a mammoth plaid flannel here.
If you are looking to make a Cameron that is more like a jacket than a shirt, you can try sewing it in a medium weight fabric like wool coating, cotton twill, canvas, denim, or corduroy. Keep in mind that small details like the sleeve plackets and collar stand become harder to sew with thicker fabrics. We did sew a Cameron using a 9 oz wool coating (blog post coming soon) and we were able to do it, but it was a challenge. A 5-7 oz fabric would be easier to sew and give you that 'shacket' look.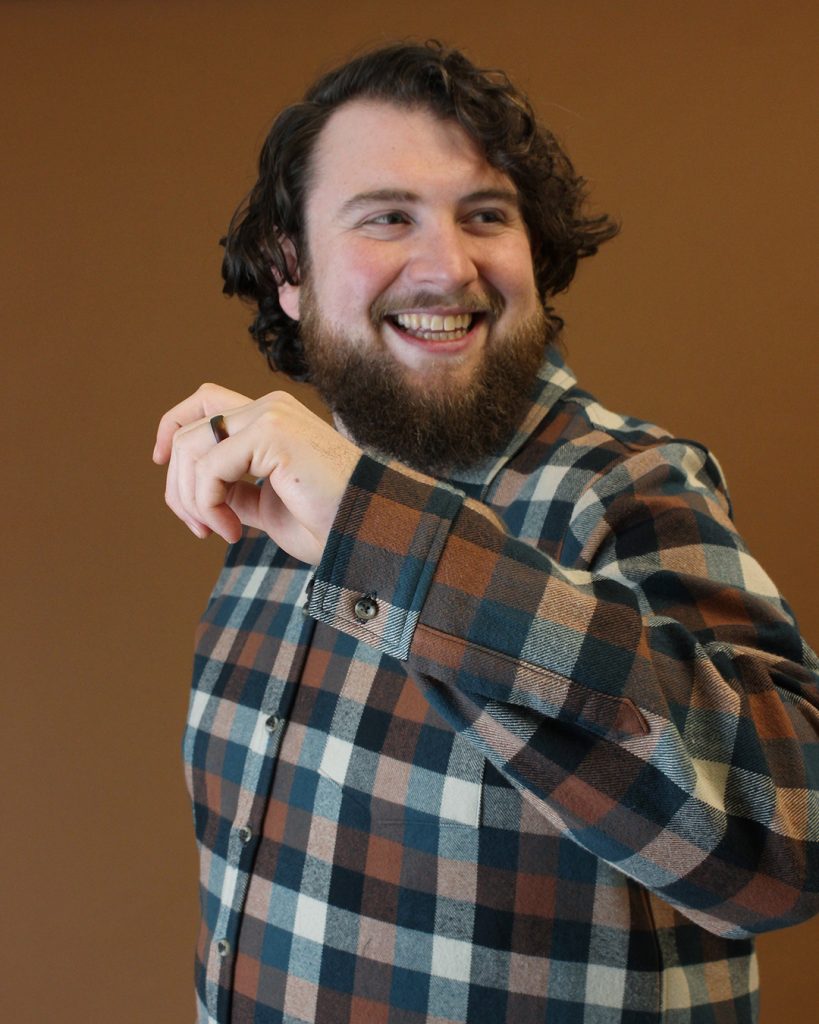 What about drapey fabrics? You can totally make Cameron in a drapey fabric like a rayon/viscose challis or Tencel twill. We love the way Cameron looks in a flowy viscose challis because it has a gorgeous softness to it. However, once again, the details can be tricky to sew in these fabrics. We recommend interfacing the whole sleeve placket if using a lightweight, drapey fabric and taking your time to cut out the pieces accurately. Try using spray starch to get your fabric to behave!
How do I pattern match?
Want to sew a Cameron in a print or a plaid but nervous about the pattern matching across the front? We've got you! We have included markings for the center front on the pattern and created an additional page in the instruction booklet all about pattern matching. It's easier than it looks!
What makes the Cameron Button Up special?
Cameron is one of our most technical sewing patterns to date and we are SO proud of the fit and the instructions for this design. We have really gone all out with the illustrations for the harder elements of this design so that people can learn how to sew button up shirts with confidence! We also love that this design fits so many figures well and can be used to make Camerons for family and friends, too.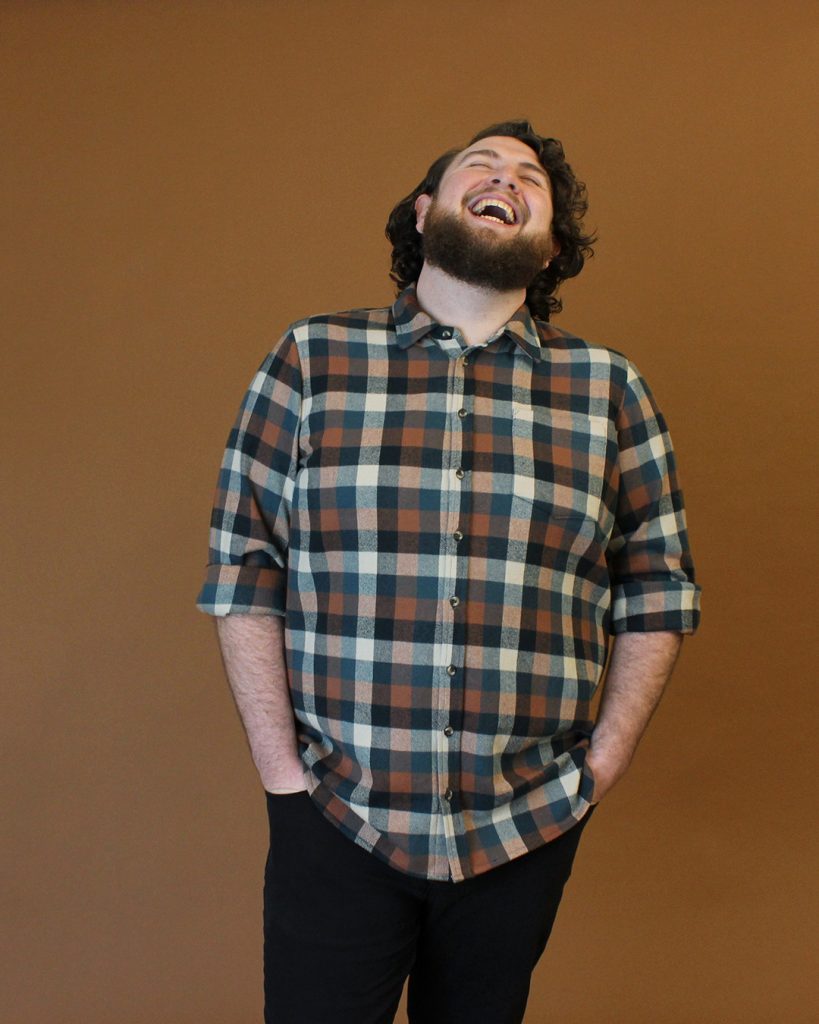 Cameron has consistently surprised us with its versatility! Every time we sew it up in a new fabric we fall in love all over again. I am reaching for my Cameron Button Ups in the morning because they are comfortable, easy to wear, and I feel so cute in them! Sam is also really happy to have new button up shirts that actually fit. He can't wait to try sewing his own Cameron soon.
We hope you are as excited about this new addition to the Helen's Closet collection as we are! Let us know in the comments or via email at support@helensclosetpatterns.com if you have any questions about this new design. Thanks for checking out Cameron!
The Cameron Button Up is on sale this week for 20% off! No code required.