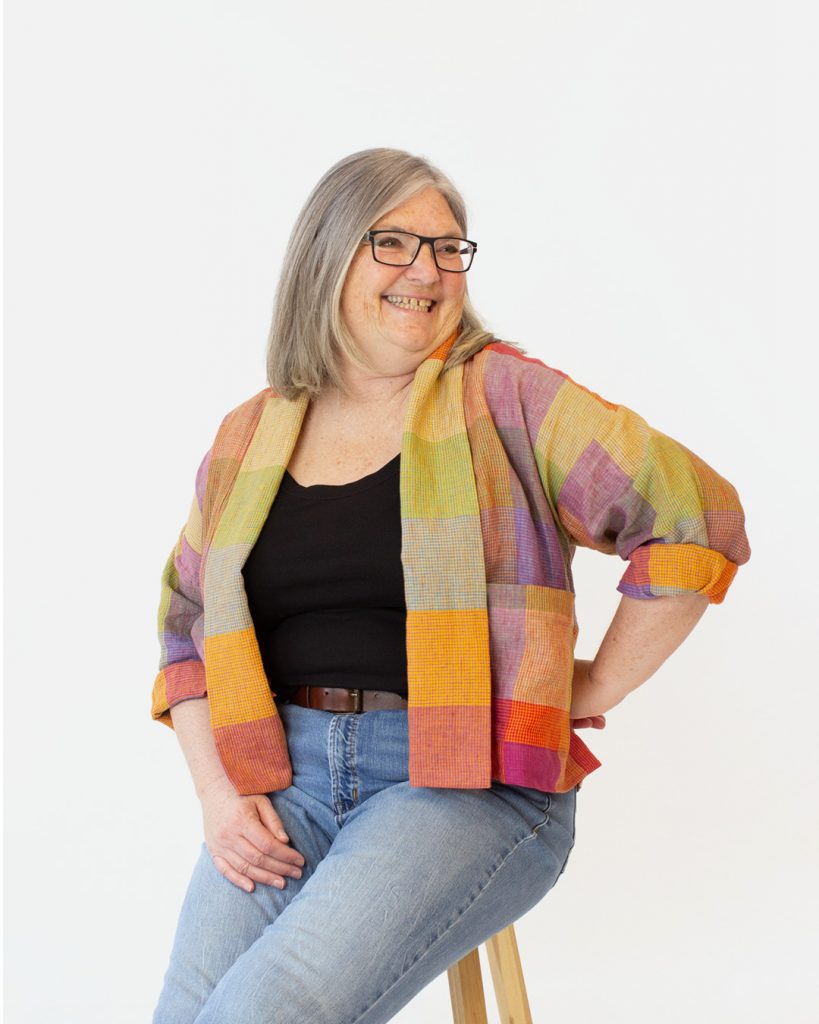 Last but certainly not least in our STUDIO collection deep dive: the Moss Jacket! This one may be my personal favourite (but it is so hard to choose)! Moss is the perfect layering piece to have on hand for any occasion. I love wearing Moss in my studio (duh), but I've also worn it out to dinner, walking my dog, travelling—you get the idea. This is the kind of pattern that transforms depending on what fabric you sew it up in and it is SO much fun to play around with this design.
Overview
The Moss Jacket is the ultimate easy layering piece for your wardrobe. View A features an external front band facing and view B features a wide, folded collar. View A hangs open in the front and is ideal for casual or dressy layering. View B has long sleeves and can be worn as lightweight outerwear. Choose from two lengths for both the jacket and sleeves, offering many possible combinations of views. All views have front pockets and a back yoke detail. Moss can be made in many different fabrics to achieve a variety of looks!
Fit
Moss is a loose-fitting garment but it is not oversized. It is intended to look relaxed and chic without looking frumpy or messy. The view A front band hangs straight down from the shoulder, meaning that Moss hangs open in the front to show off your beautiful outfit. View B features a wide band collar that folds over on itself and creates more coverage in the front of the jacket. We love wearing the longer sleeves rolled up for a modern look.
Construction
At first glance, Moss looks very simple. This is a boxy shaped design but it is deceiving. We love a good, fun construction detail so we've included a few in this pattern! Moss features a back yoke that is sewn using the burrito method. This is a fun opportunity to play with print direction or colorblocking.
The view A front band is actually an external front facing, and it fully encloses the front seam as well as one side of the front patch pockets. The View B pocket is also sewn into the front seam. We provide multiple construction options for attaching the view B collar so you can sew it with no exposed seams if desired.
You can sew Moss on your home sewing machine and we provide four different seam finishing options in the pattern instructions. Moss is a true joy to sew and it is fast, approachable, and fun!
Views
The Moss Jacket includes two distinct views. View A is a short sleeved, longer layering piece. View B is a long sleeved, shorter jacket with a wide band collar. Both views include pockets and a back yoke detail. One of the great things about Moss is the ability to mix-and-match elements from the two views to create other looks! Here are the combinations you can create using Moss: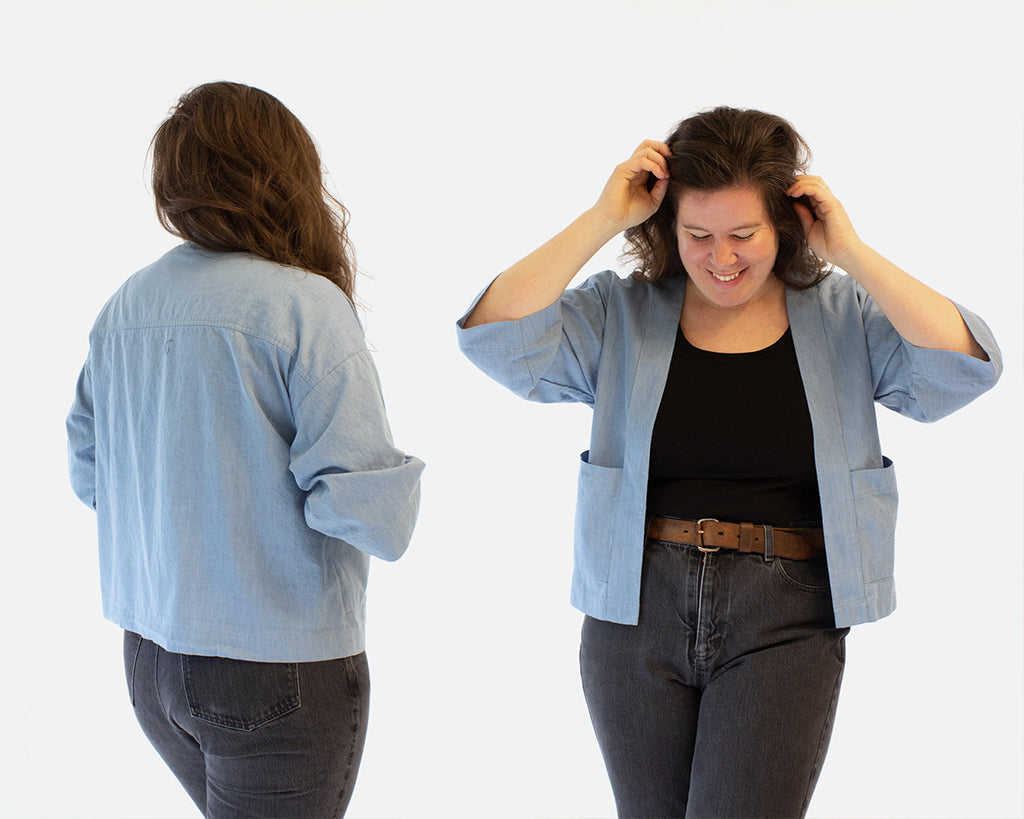 Fabrics
Moss works best in light to medium weight woven fabrics with no stretch. Linen, cotton, denim, wool, hemp, rayon/viscose (challis, twill, crepe, poplin), and Tencel twill will work well. We recommend drapier/flowy fabrics for view A and more structured fabrics for view B.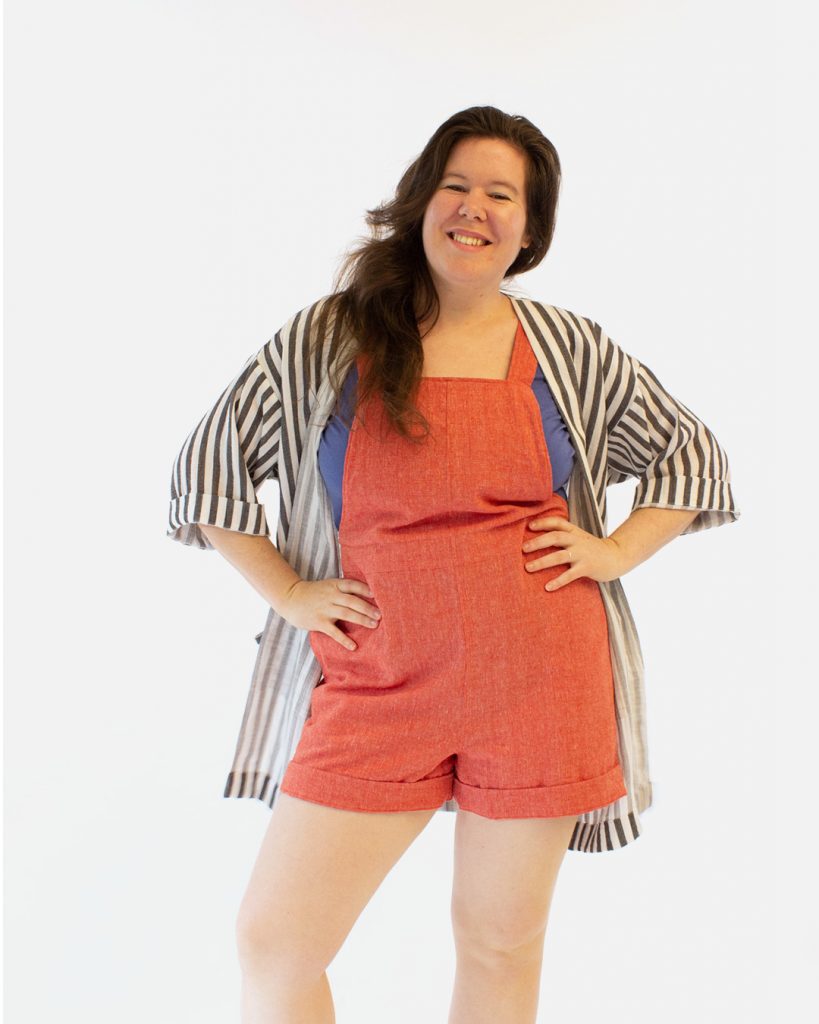 Can you sew Moss in a stable knit? Yes, I think so! A stable knit like ponte or a sweater knit would likely work for Moss. I can't wait to experiment with this myself!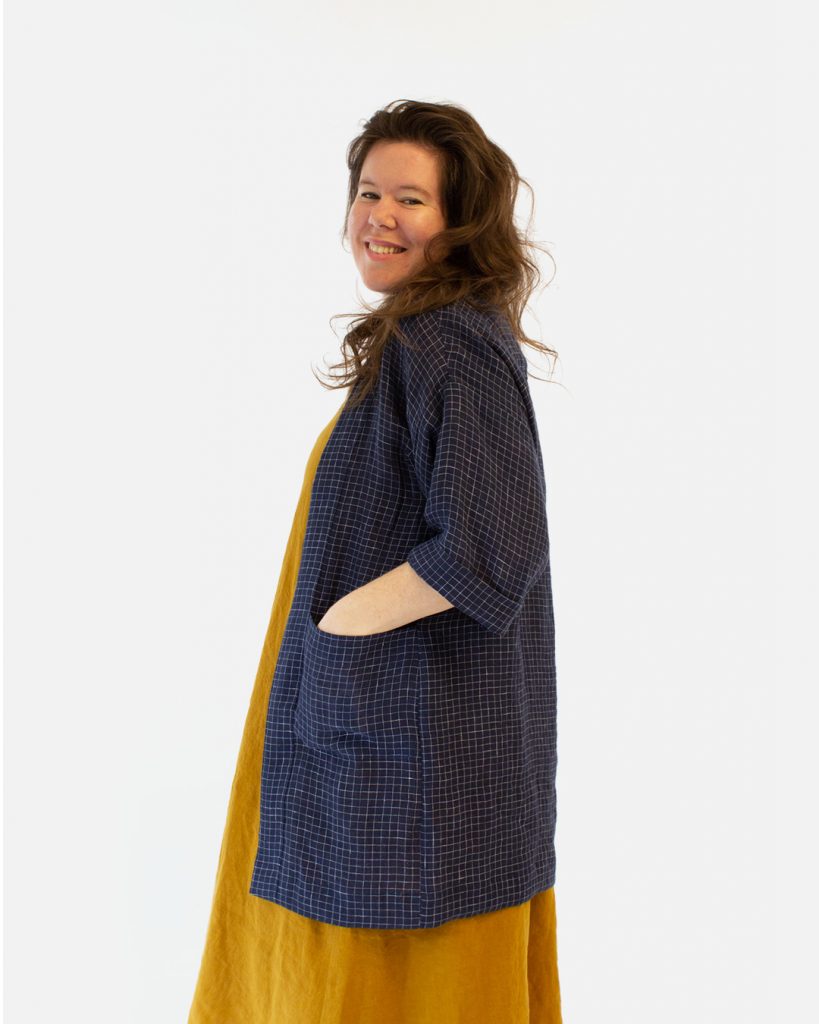 Final Thoughts
I can't overstate how much I am loving my Moss Jackets! I put on jeans and a t-shirt and it's a regular day, but with a Moss jacket in the mix—BAM! Special day. I keep seeing all my medium-weight wovens as potential View B Moss Jackets and all my lightweight rayons as View A Moss Jackets. Send help! I hope you enjoy Moss as much as I do 🙂