Today I want to answer a question we've gotten about our Arden Pants pattern:
"Can I make Arden for my [husband, boyfriend, brother, partner, father, friend]?"
The answer is yes! While we did draft this pants pattern with women in mind, it has enough ease in the hips/crotch to work for other folks too. Sam wanted to make a pair so I got him set up in the sewing studio! He loves woven jogger pants. They are comfortable to wear and they look cool, too. I'm so proud of him for sewing this project!
Here is what we changed to make Arden for Sam:
Graded from a size 24 waist to a 20 hip [his waist is 43" (109 cm) and his hip is 47" (119 cm)].
Shortened the front and back rise 1.5" (4 cm)—he wanted a lower rise for his joggers.
Lengthened the legs 4" (10 cm)—he is 6'2" (188 cm).
Adjusting the rise on Arden is easy! You can follow our tutorial for adjusting rise on pants with slash pockets. We also have an article on grading between sizes on pants with slash pockets. Those pockets can really throw things off so these blog posts help walk you through it!
Other than adjusting the length for Sam, we did not have to make any other changes. They have a loose fit in the back, but that is going to depend on the shape of the body you are sewing for. Sam does not have much junk in the trunk (sorry, Sam!), so they are loose in the back.
The legs on Arden have a relaxed fit and an optional jogger cuff. We added the wide jogger cut and it looks great. It sits perfectly around the top of Sam's boots. Not to tight, and not too loose!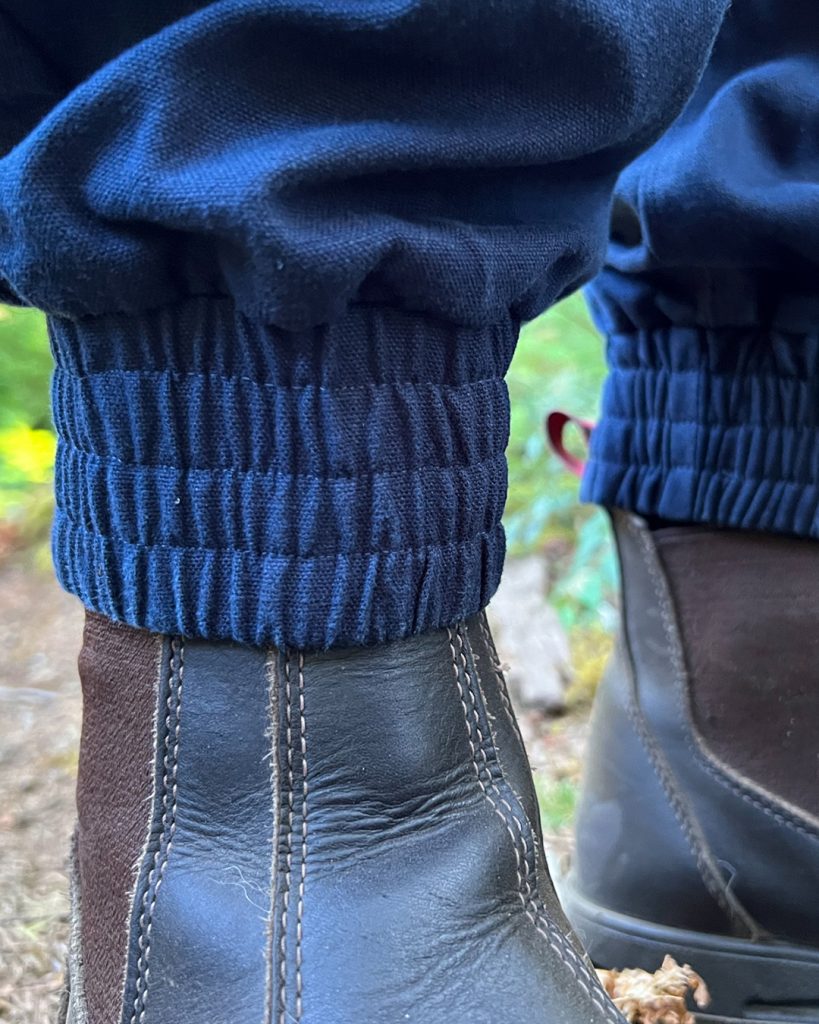 The fabric we used is a cotton hemp canvas. I believe it is about 9 oz in weight. I love this fabric for Arden because it has a softness to it while still being heavy and sturdy. It also washes and wears really well, fading with time and offering that lovely crinkly look around the waistband, pockets, and cuffs. I bought it at the Spool Sewing Studio here in Courtenay!
Sam is wearing his new Ardens with a Jackson Tee and a Cameron Button Up. Head to toe Helen's Closet! He loves this flannel Cameron so much. Super cozy and perfect for cooler weather. Sam is very proud of this whole look and his new Arden pants!