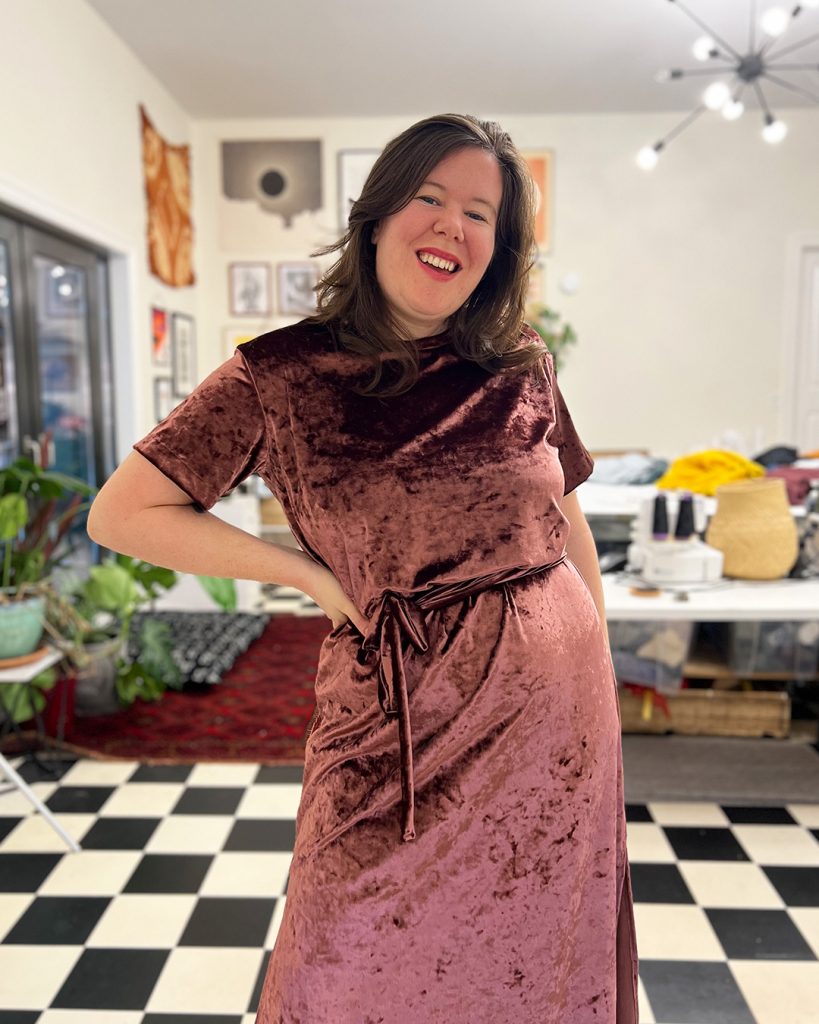 'Tis the season to sew some frosting! If you aren't familiar, sewing "frosting" is when you make something decadent that you know you will only wear on special occasions. It's a fun opportunity to work with fabrics you wouldn't normally choose and play dress up! I do love getting fancy with my makes occasionally, but I still crave comfort. A lengthened Jackson Tee could not be more comfy, so all we need to do is dress it up a little bit!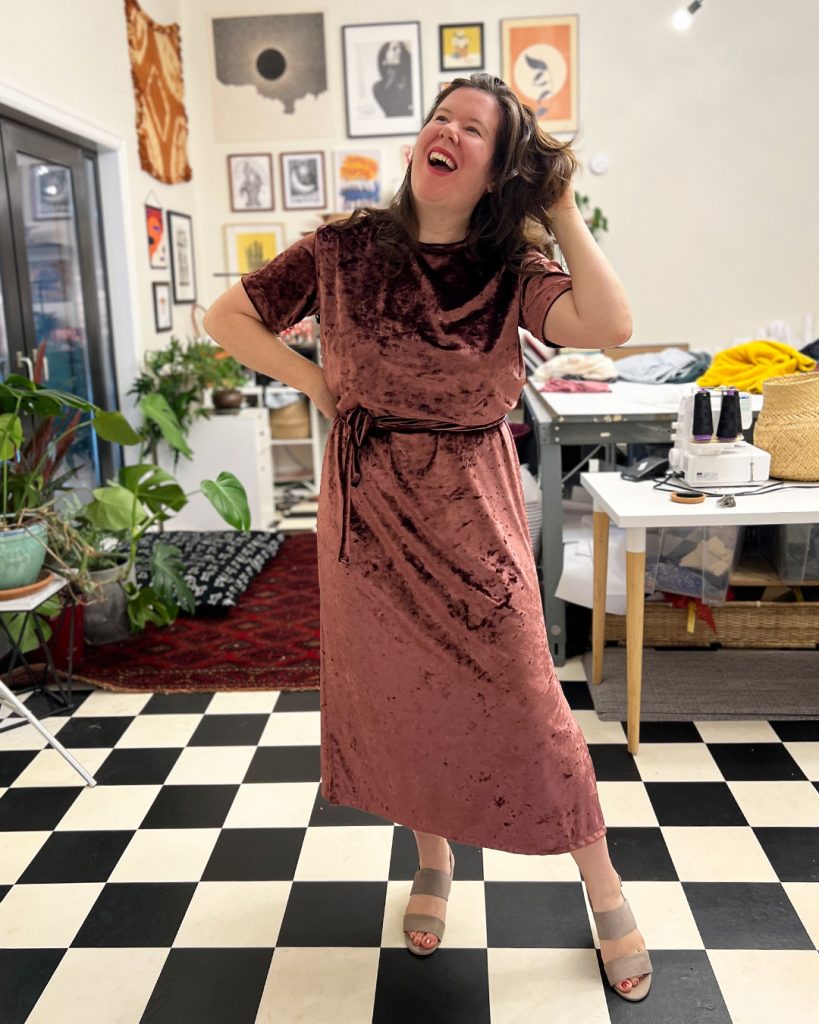 For this make, I used crushed stretch velvet from Blackbird Fabrics. This is a stretch velvet that is made from polyester. This colourway is called "Merlot" and it has a beautiful deep plum colour that lights up with a pink/silver shine. I'm usually not a big fan of wearing polyester because it makes me sweaty, but this stretch velvet is super soft and feels nice against the skin. I chose a loose-fitting garment so I my body could still breathe.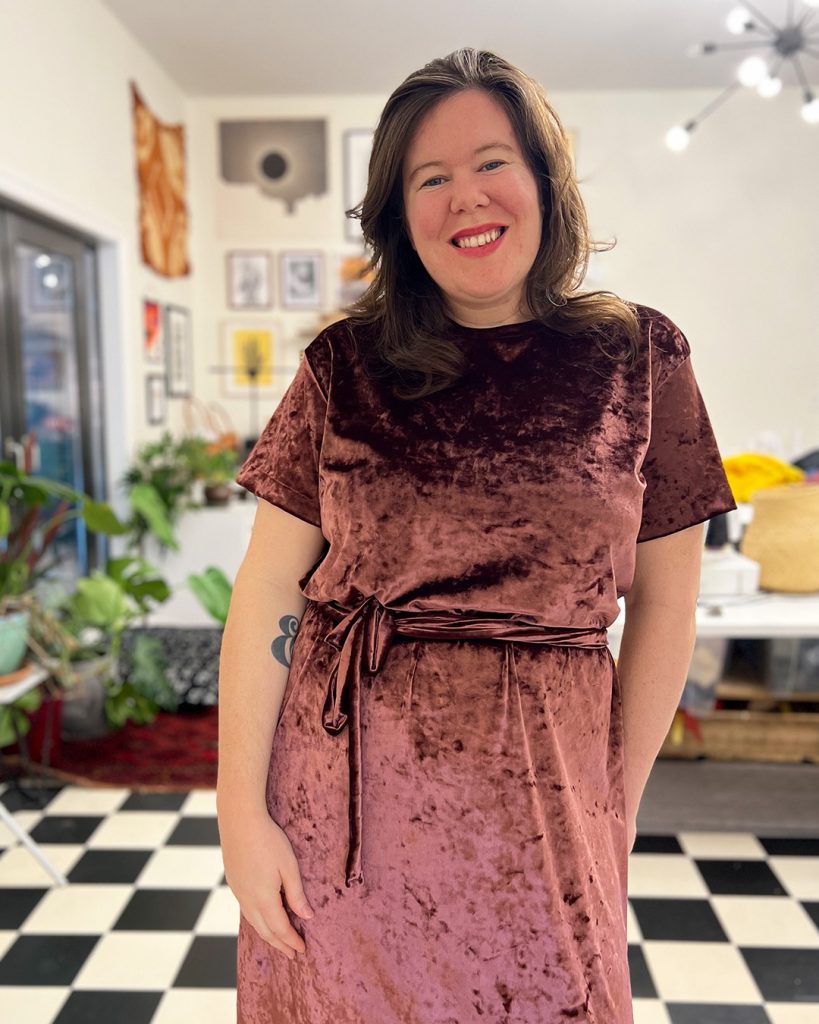 Velvet is one of those fabrics that is just SO enchanting. It is a lot of fun to wear, but typically it is not so much fun to sew. Non-stretch velvet can be quite tricky, but stretch velvet is not so bad! Because it is a knit, I just finger-pressed all my seams and skipped the ironing. I also accidentally cut my sleeves against the nap (oops!) and you can't even tell thanks to the crushed texture of this velvet. Overall, this was a really easy holiday make, it only took me a couple hours to sew.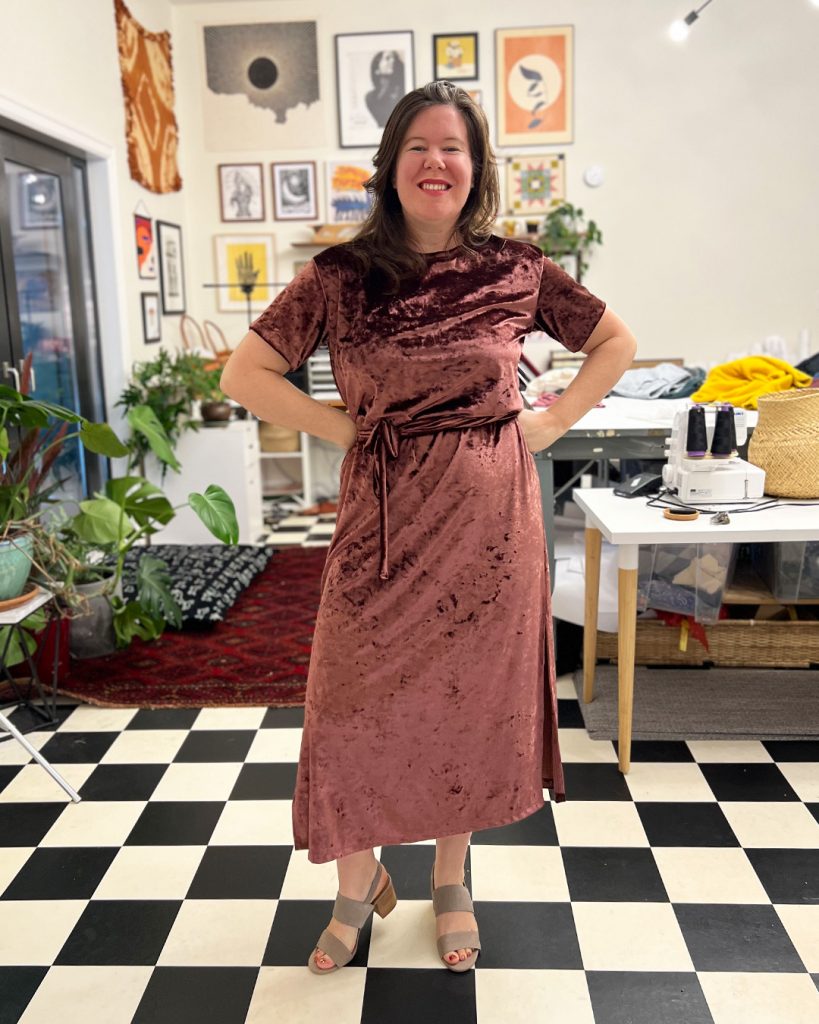 You can check out our full blog post on lengthening the Jackson Tee pattern into a dress. We've provided all the details and some suggestions for modifications you can make as well. I lengthened this dress as long as I could with the fabric I had. I also added a bit of a flare as I went down, like the illustration on the right below: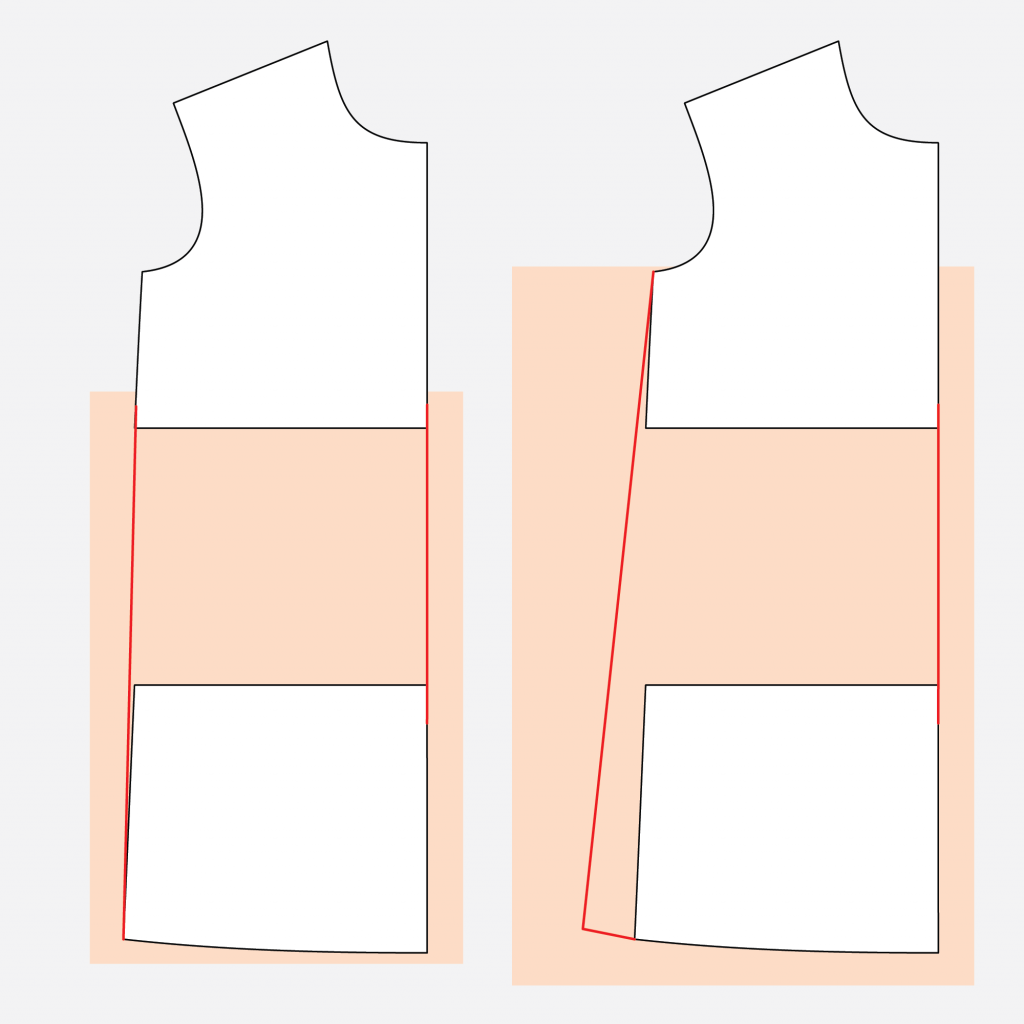 Because it is a longer dress, I also added side slits for some visual interest and to make it comfortable to move around in. To do this, I simply stopped sewing the side seam where I wanted the slit to start, pressed the seam allowance to the wrong side along the slit, and topstitched it in place, pivoting at the top of the slit.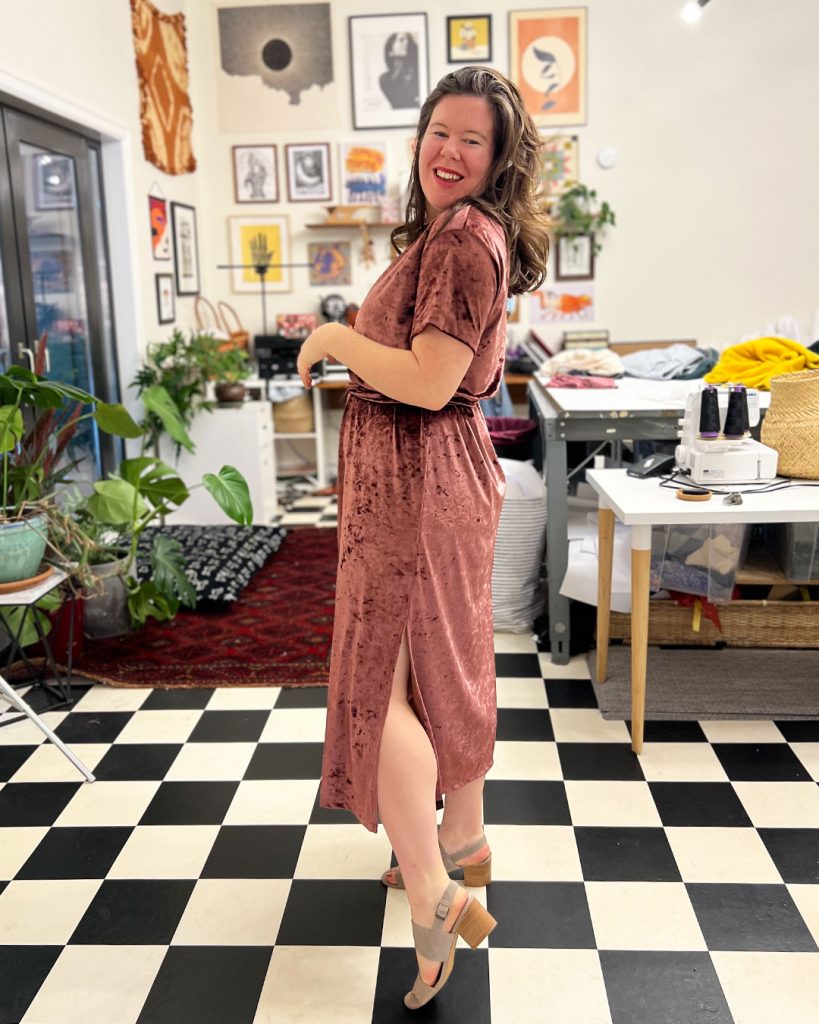 Once the Jackson dress was complete, I felt that it could use some waist shaping. It was really fun and pretty as a shapeless tee-dress too, but the combination of the velvet and the longer length made it look a bit cult-y. I think a velvet mini-dress with no waist shaping would have worked really well. I decided to sew up a quick waist tie. The shape of my dress ended up looking like the example on the left in the illustration below: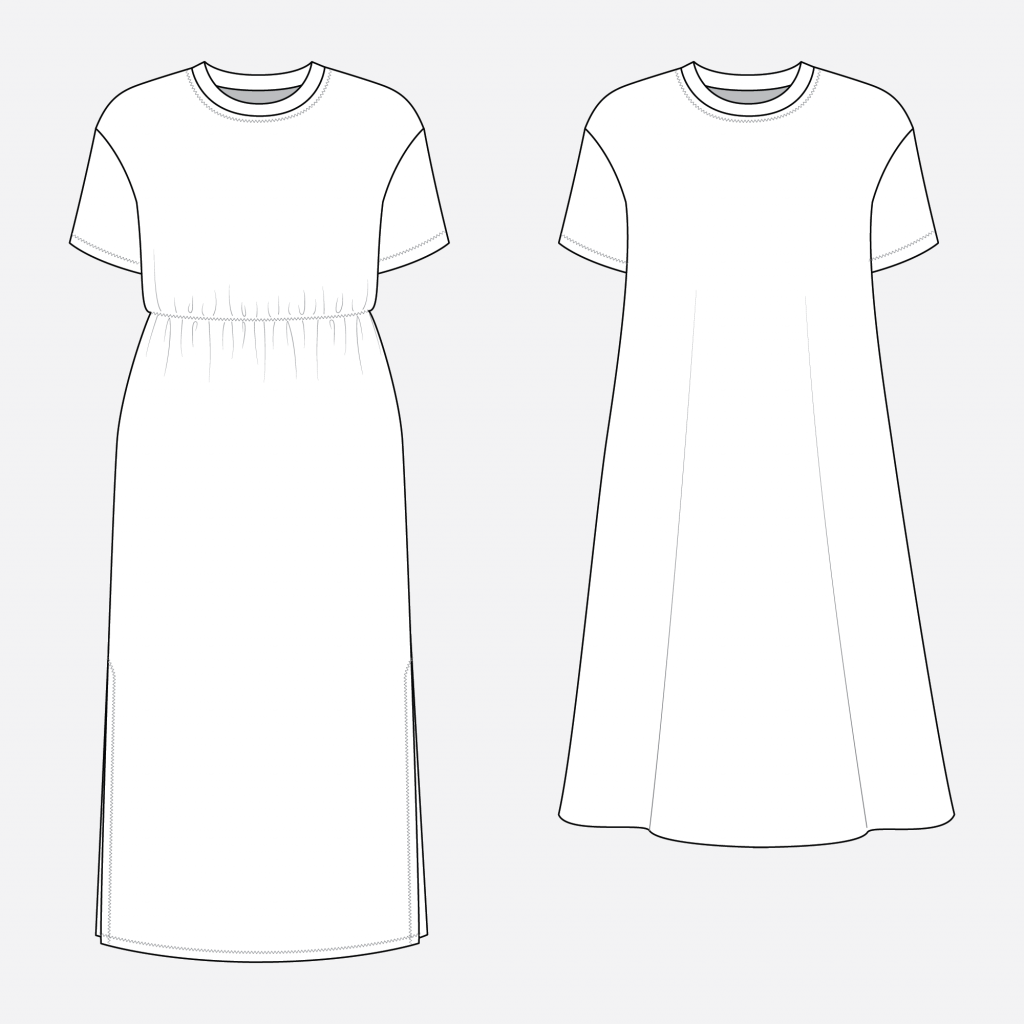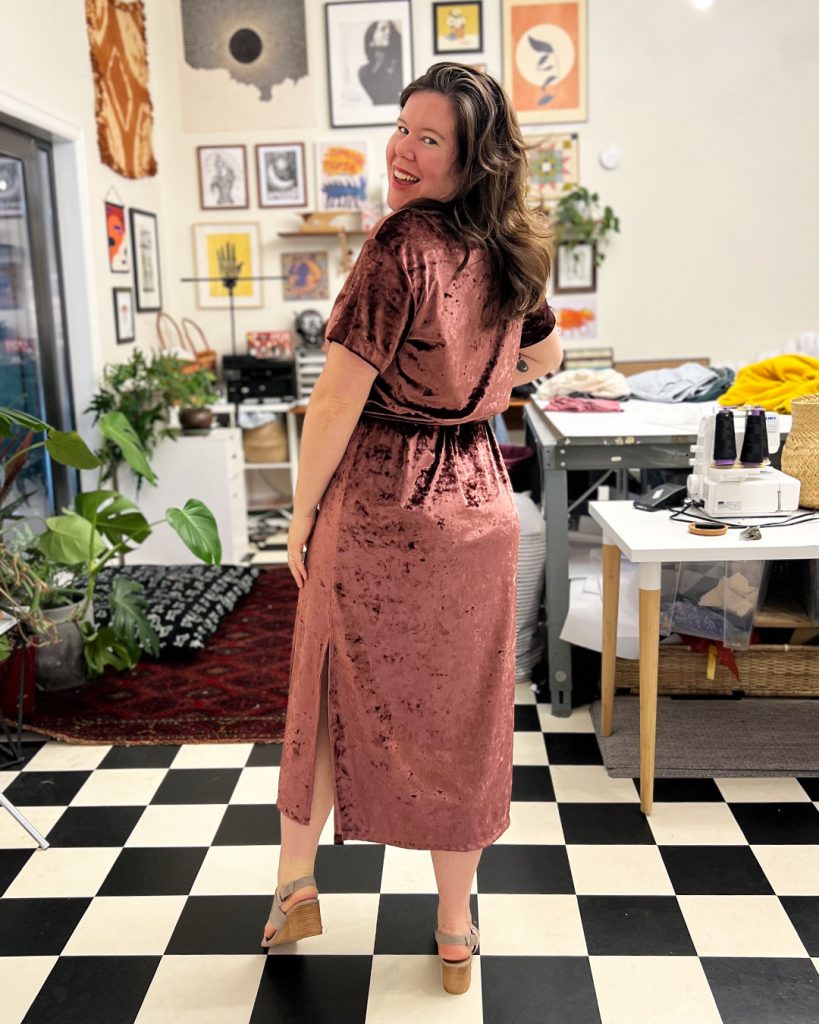 I'm really pleased with how this make turned out! I love how shiny and eye-catching it is. It is also really easy to throw on with some nice shoes and accessories and it is good to go! Perfect if you are in need of a fancy last minute look. Nobody will look at this and think "oh that's just a t-shirt". You will have them all fooled and be the most comfortable person at the party! I can fit so much turkey in this dress—I am so ready!
Happy Holidays!
Helen (and Sam and Emma too!)