I'm so excited to announce a new pattern in our collection, the Lawrence Top & Dress. This design has been percolating for a while now and I'm so happy to finally get it out there into the world! Lawrence is fun, flirty, and fabulous—what more could you ask for!?
The Lawrence Top and Dress is the perfect breezy summer sew. It features a relaxed fit with a v-neck and an optional shoulder ruffle detail. Two lengths are provided for the dress, with a choice between two or three gathered tiers. The finished lengths are knee-length and just-above-the-ankle-length. The top is a great wardrobe staple and can be made even simpler with the omission of the shoulder ruffles. In this case, a bias binding method is used to finish the armholes instead.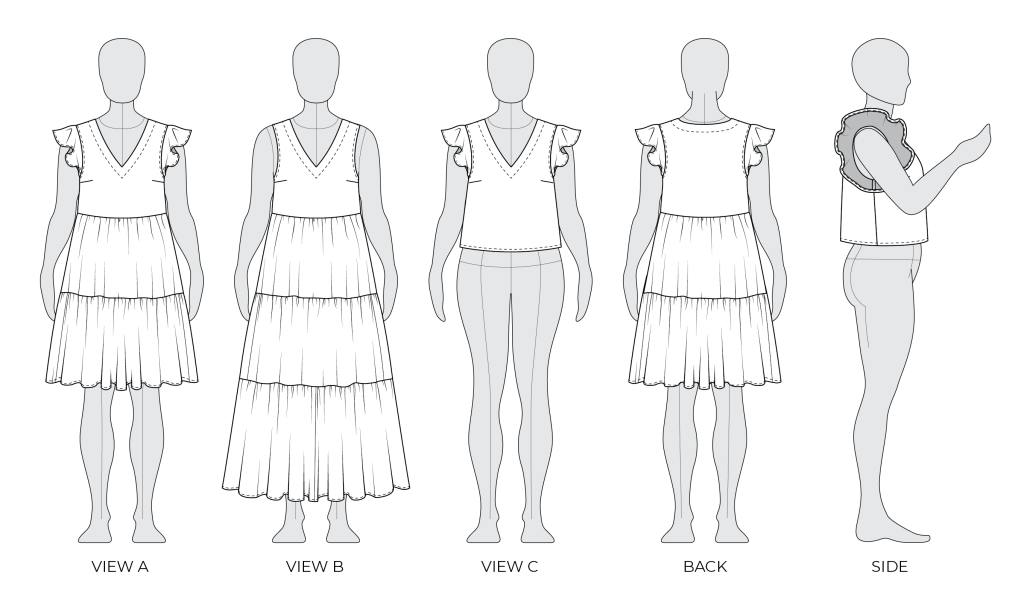 Lawrence is available in sizes 0-34 (up to a 62" bust/chest). This pattern includes cup sizing across two size ranges. Sizes 0-22 is based on a B-cup and sizes 12-34 is based on a D-cup.
The bodice features bust darts and the v-neck is finished with a topstitched facing. This pattern does not include pockets but inseam pockets can easily be added to the first tier of the dress if desired. Lawrence is so much fun to sew and to wear!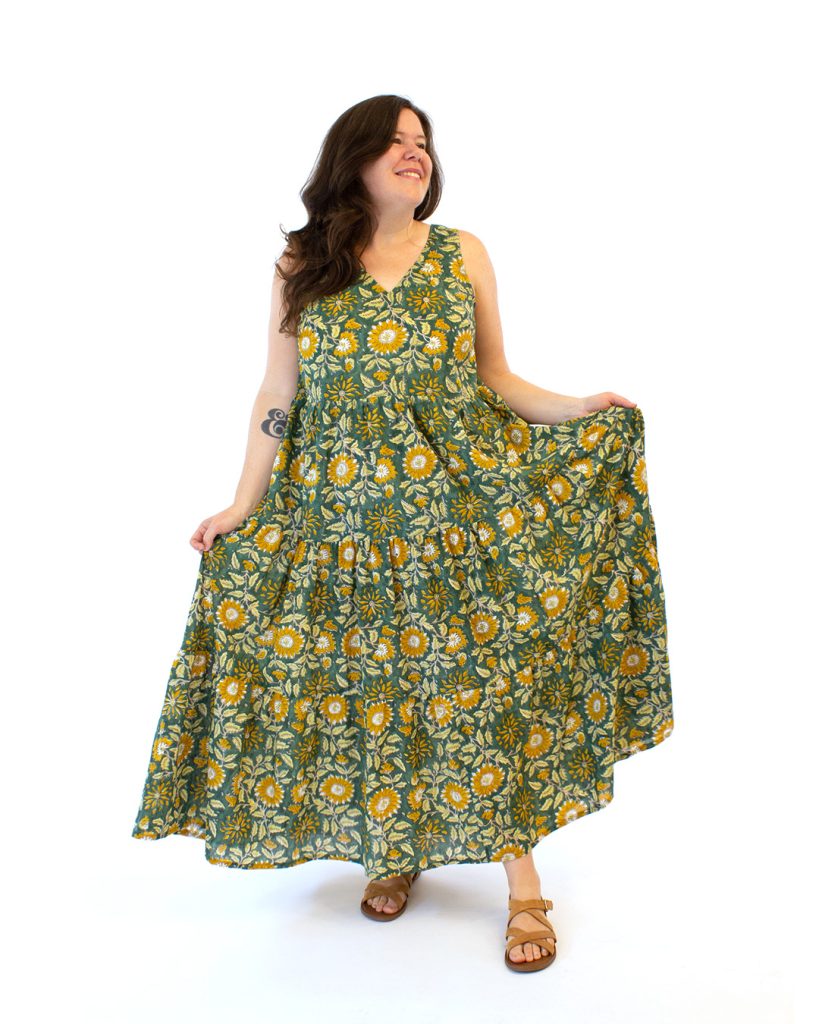 It's easy to mix and match views with Lawrence. For example, you can add the ruffle shoulder detail to the longest dress for even more fabulous flounce. You can remove the ruffle from the top view for a simple, everyday v-neck blouse.
Choosing Fabrics
Lawrence works best in lightweight woven fabrics with no stretch. Linen, cotton (lawn, poplin, voile, batiste, seersucker, shirting, double gauze), Tencel twill, and rayon/viscose challis or poplin will work well. Structured fabric like crisp cotton lawn will have more dramatic volume and drapier fabrics like rayon challis will have more fluid movement.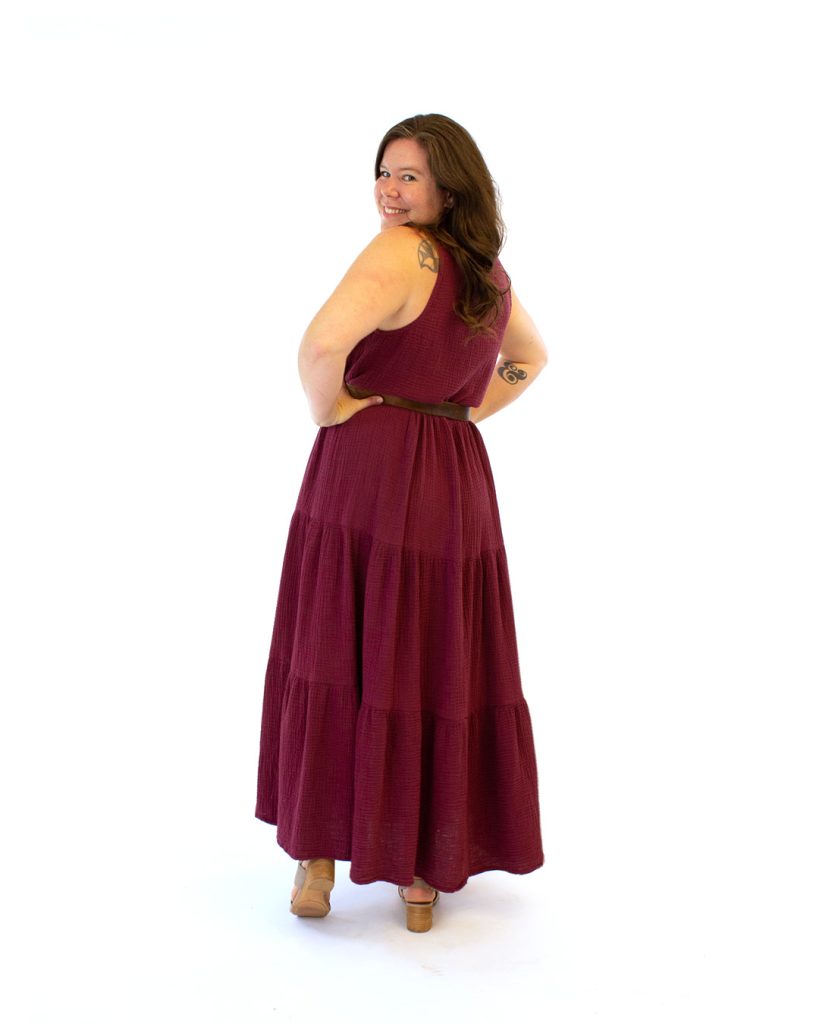 For our samples, we used cotton batiste (block-printed long dress), lightweight linen (blue dress), double gauze (maroon dress), and handwoven cotton (white top). We also love this design in rayon challis or crepe for the ultimate lightweight summer dress.
Sewing Lawrence
This pattern is very straightforward to sew and pretty easy to fit. The gathered tiers provide a lot of room around the hips and the bodice has an A-line shape. We recommend making a quick muslin of the front and back bodice to check the fit, but once you nail that, you can get right into the sewing!
The ruffle shoulder detail is a fun sewing challenge. This extreme curve can be tricky to hem, but it attaches to the bodice just like a sleeve. We have provided several different hem options for the ruffle shoulder that you can experiment with! If you opt not to sew the shoulder ruffle, the armholes are finished using bias binding.
The neckline on Lawrence is finished using an interfaced and topstitched facing. You know I love a good topstitched facing! It tucks everything away nicely, and it adds stability to the V-neck on this design.
As always, we've got a full instruction booklet with loads of tips and tricks for you. We provide multiple options for hemming the ruffle shoulder details. If you are sewing the longer dress, you will be an expert on gathering by the end!
This dress really has become a favourite around here. It's excellent as a beach dress, an around-the-house dress, and even a fancy dress! The ruffle shoulders are really fun to sew and wear, and the non-ruffle option is sleek and elegant. I know I'll be sewing a bunch of these little V-neck tops – talk about a great wardrobe staple!
I can't wait to see you sewing Lawrence this summer!