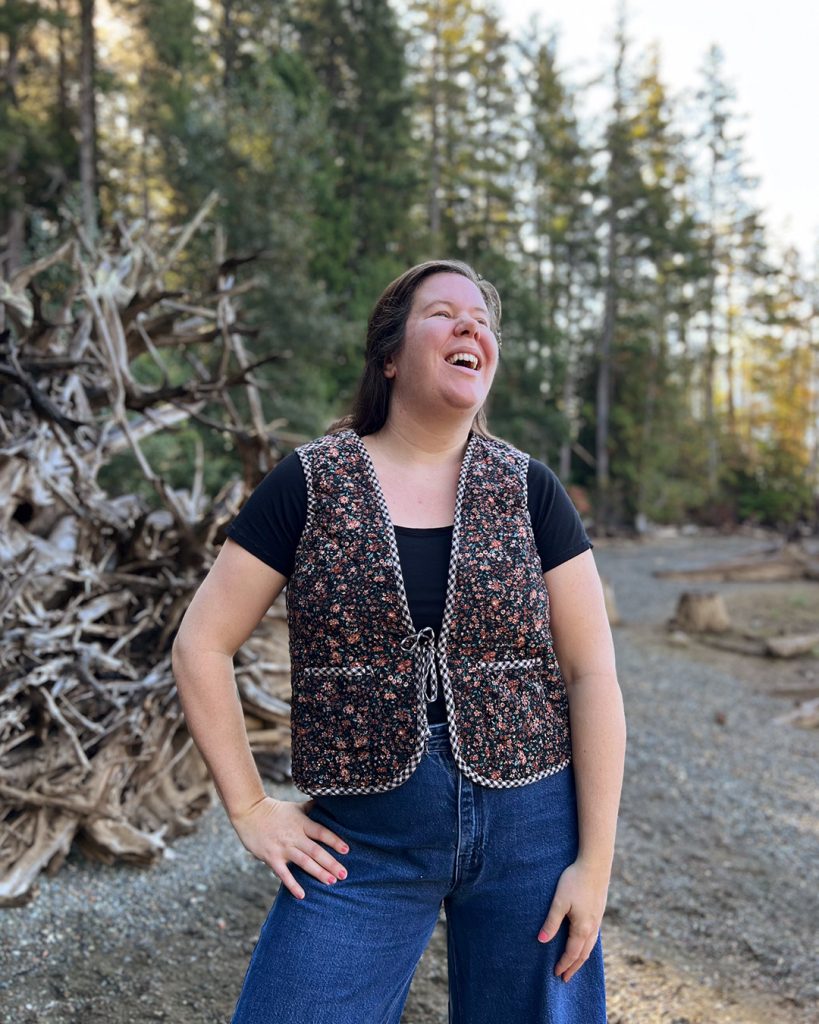 One of my favourite things about sewing is the ability to make garments your own. Choosing the fabrics, making alterations, and ultimately styling each piece just the way you like it! It's a way to express ourselves and to show ourselves love. Wildwood is a great pattern for doing just that. You choose not one, but two fabrics (or more!) and the overlapping construction allows a ton of flexibility for fitting. I've made a couple of other alterations to this little vest and I'm going to show you how I did it!
How to make a Wildwood Tie Front Vest
Note: I used the shortest view of Wildwood for this project.
The Wildwood pattern is designed to overlap at the center front so that you can put snaps or other closures on. To make a tie front vest, I removed some of the width from the front of the pattern. This is easy to do simply by trimming off along the button placement markings, eyeballing the bottom hem "scoop".
For my Wildwood Vest, I also altered the neckline to have a more classic vest "slope". I drew a curved angle up from around the third buttonhole marking from the top. I sloped it to meet the shoulder. The vest neckline can be any shape you desire so play around here and cut the front out of muslin fabric to test out different shapes.
I simply used the leftover bais binding from the vest to make my ties. I just made a bit of extra binding and it was plenty. You can decide how you want your vest to close:
One tie
Multiple ties
A toggle
Hook and eye closures
When I was sewing the binding onto the fronts of the vest, I tucked the ties into the bias binding topstitching. I then folded them outward and did a line of stitching to secure them so they were pointing the right way.
The Pockets
I wanted a smaller pocket for this vest so it would be more low-profile. I cut a rounded patch pocket and finished the top edge with the same bias binding as the vest. I did not add batting to this pocket because I wanted it to be light and easy to work with. I folded the edges under, gathering in the rounded corners with my serger differential feed cranked up.
I sewed pockets on both sides of this little vest so I could make it fully reversible! I aligned them perfectly using many MANY pins and sewing them on at the same time. I sewed from the gingham side of the vest because I knew the stitching would not show very much on the floral side. Any imperfections are hidden. In hindsight, I should have taken the time to hand sew the pockets to the vest for the most accurate and cleanest finish.
These pockets ended up being much too small for my hands, but they do just barely fit my phone and they are great for little things like dog treats or treasures found while walking.
The Fabric and Quilting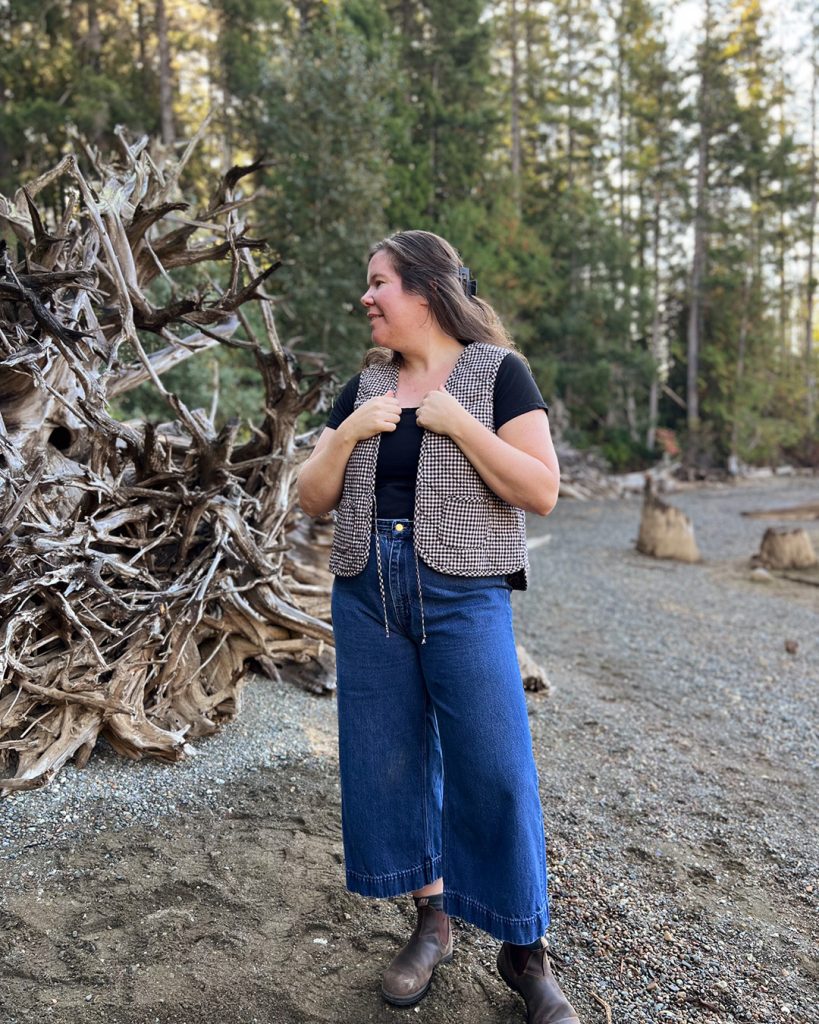 I had so much fun choosing the fabric for this project. Both were leftover from previous samples for Helen's Closet! I wanted a cottage-core look so this floral print combined with the gingham really hit the mark.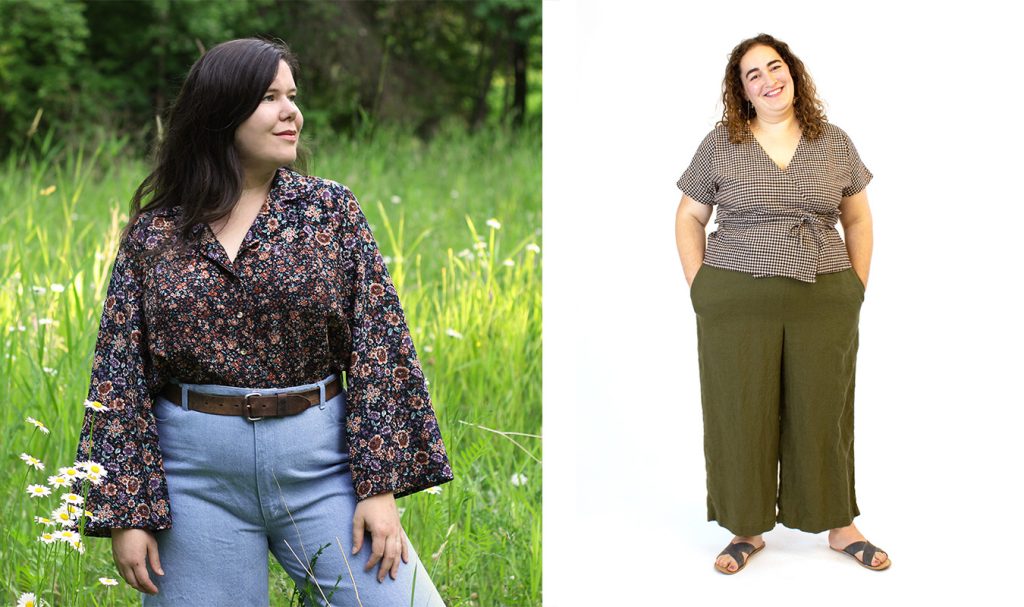 I LOVE this floral print so much and I have not encountered a fabric quite like this again. It is a really lightweight wool fabric that was split in half vertically with one half being a smaller, ditsy floral and the other half being a larger scale floral. It makes it so fun to sew with because you can cut strategically and decide how you want to place each print. I put the larger scale on the back of the vest and the smaller scale on the front.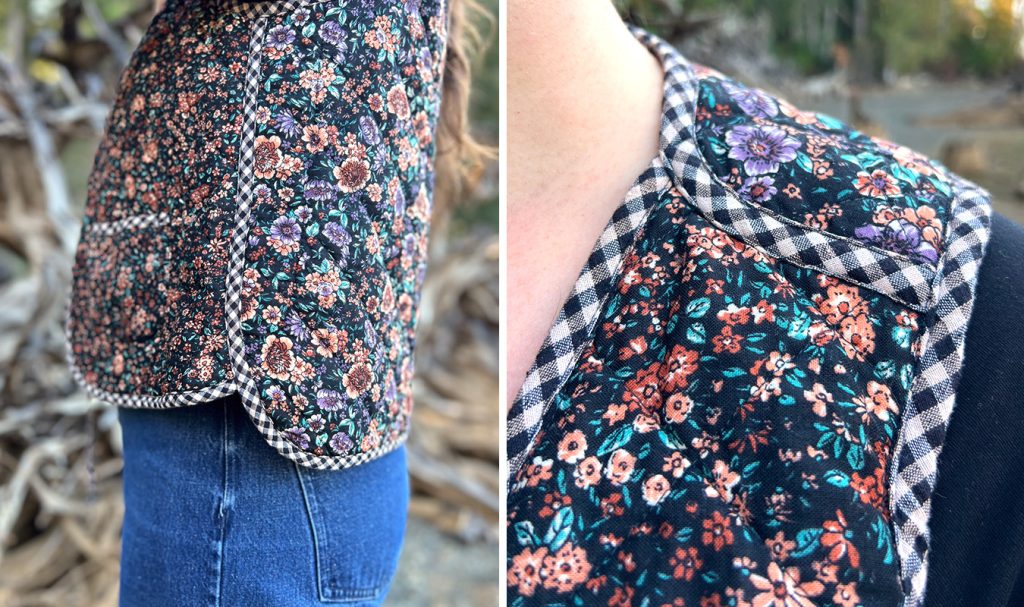 The gingham lining is a no-brainer and I couldn't resist doing the matching bias binding. Gingham just looks so great on the bias!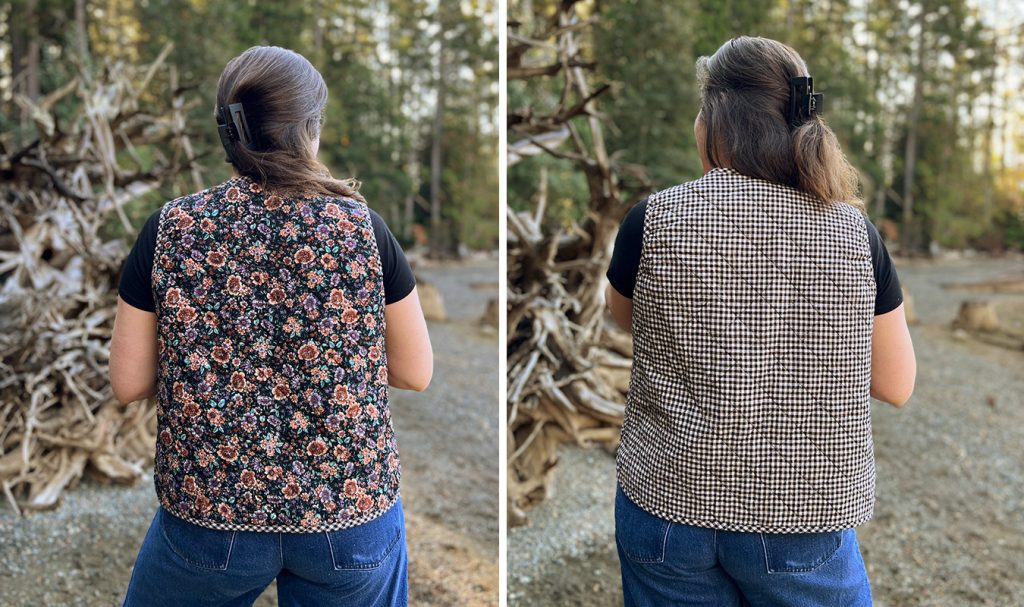 I had been thinking about this vest with the floral side as the outer and the gingham as the lining, but then I decided to put two pockets on so it could be made fully reversible. Now I am not sure! I love both sides and wear it both ways, so I suppose I don't really have to choose. Which side do you think looks like the "right side"?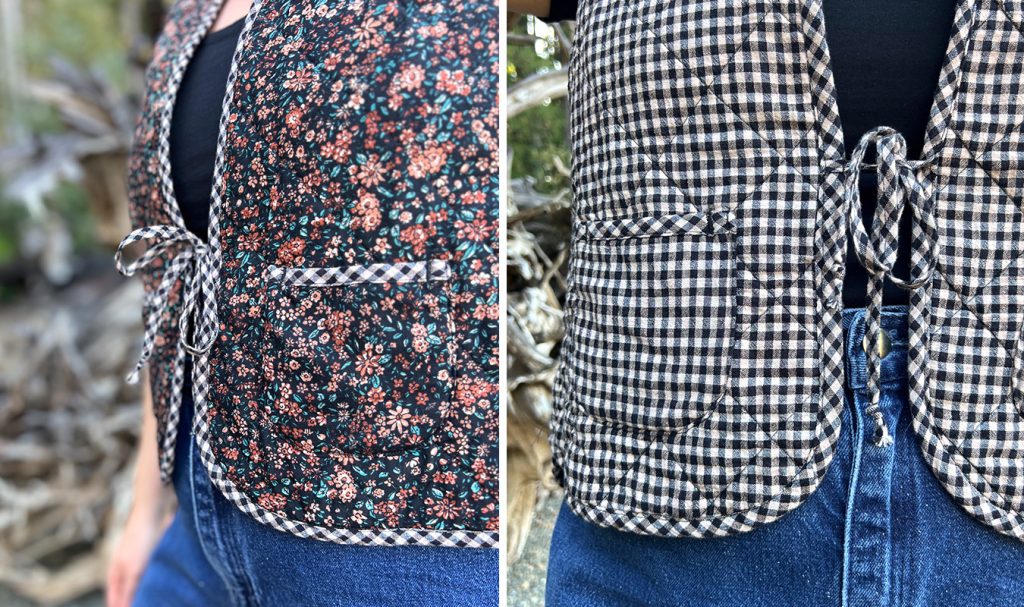 For the quilting, I decided to go with crosshatch quilting, spaced ~2" (5 cm) apart. It shows up best on the gingham side which is a point in its favour!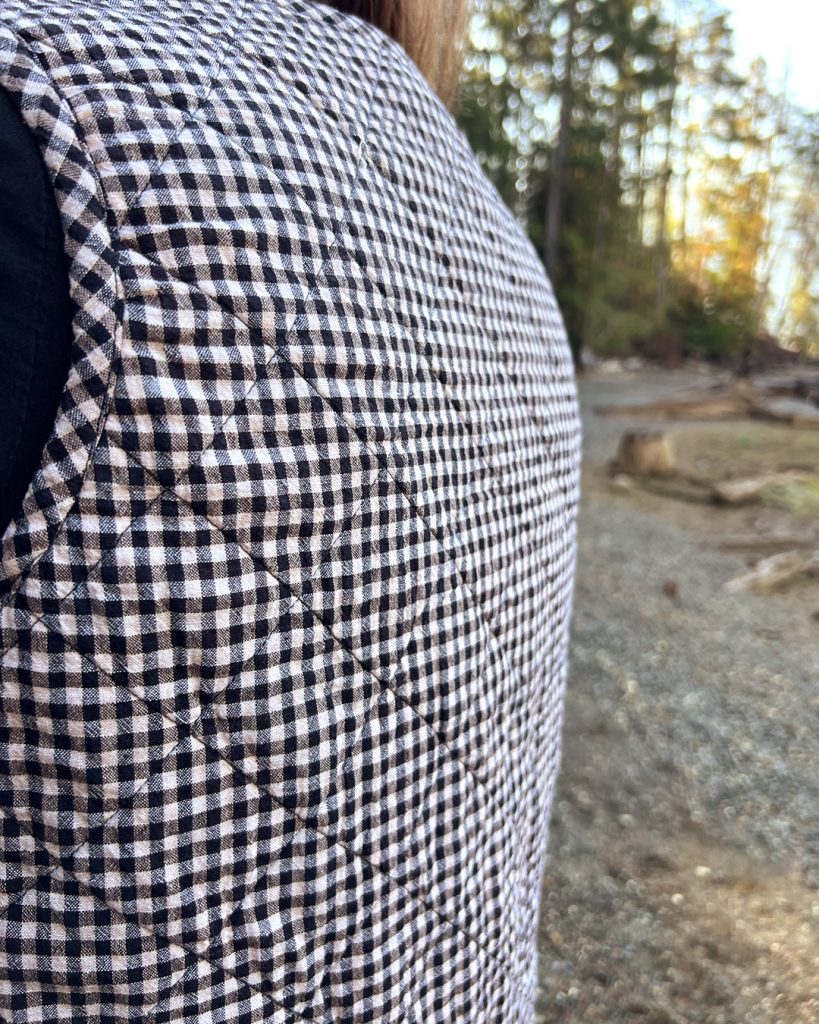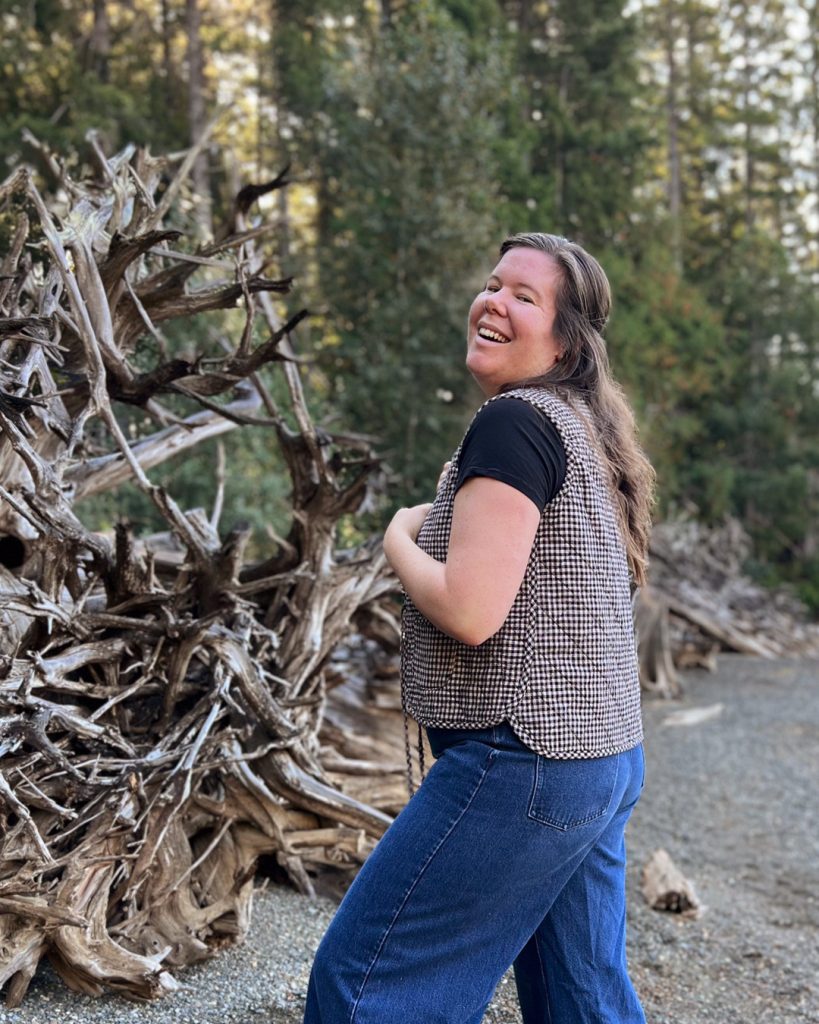 Overall, I loved making this little Wildwood Vest! Quilted garments do take a bit of extra effort but they are so worth it! And a small tie front vest like this really doesn't take too long. I love how it adds just a bit of cozy warmth to whatever outfit I'm wearing and I enjoy styling it with fall/winter looks or over summer dresses. It's a vest for all seasons!