I hope you're feeling ready to get cozy because we've got a new pattern in the shop this week—introducing the Arbutus Robe! This sewing pattern is perfect for making yourself a dressing robe and it also makes an excellent gift for loved ones, too!
Pattern Description
The Arbutus Robe is perfect for lazy mornings, self care afternoons, and cozy evenings, too! It has a relaxed and comfortable fit and the pattern includes lovely details like an inner tie, belt loops, pockets, and a shawl collar. Make the Arbutus Robe out of drapey satin for a luxurious feel, or get cozy and make it in fleece or terry cloth. Arbutus is versatile and satisfying to sew. We bet you can't make just one!
Arbutus is available in sizes 0-34 (33-62" hip). This pattern is roomy and does not include bust shaping. It is easy to size up or down with Arbutus to get your perfect fit.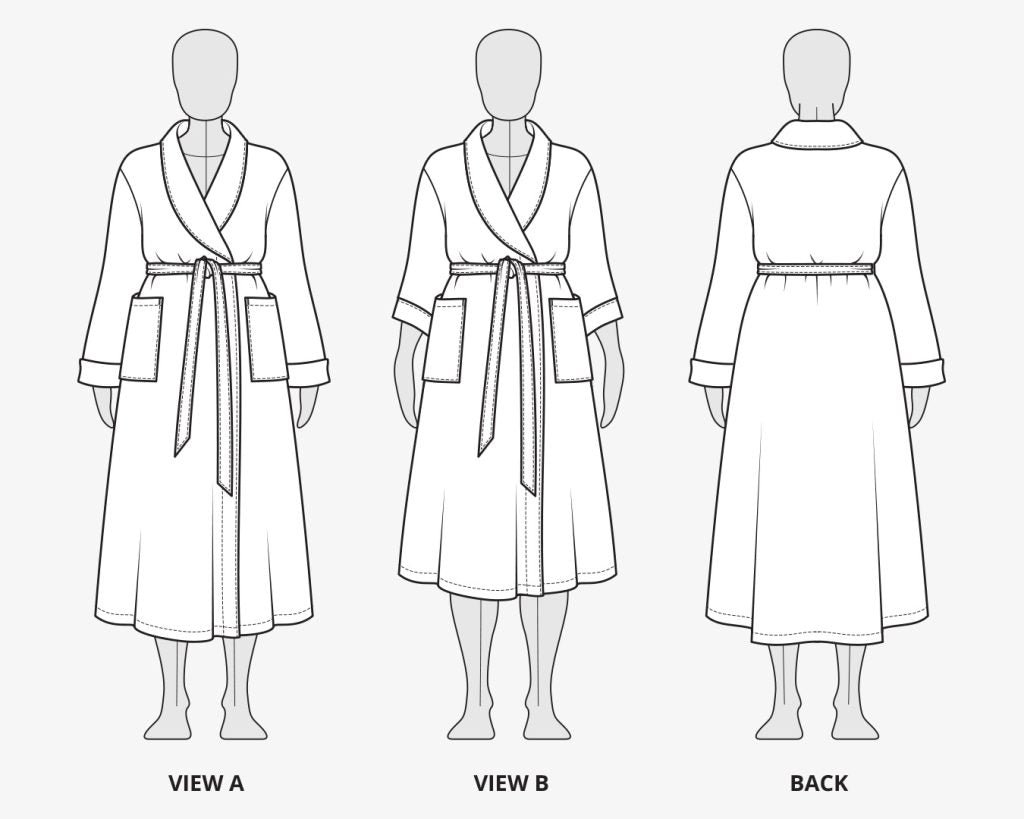 Choosing Fabrics
We really wanted a robe pattern that would work for a variety of fabric weights—anything from rayon challis to teddy fleece. This presented some design challenges but we managed to come up with a really neat construction method and loads of great tips throughout depending on the fabric you choose.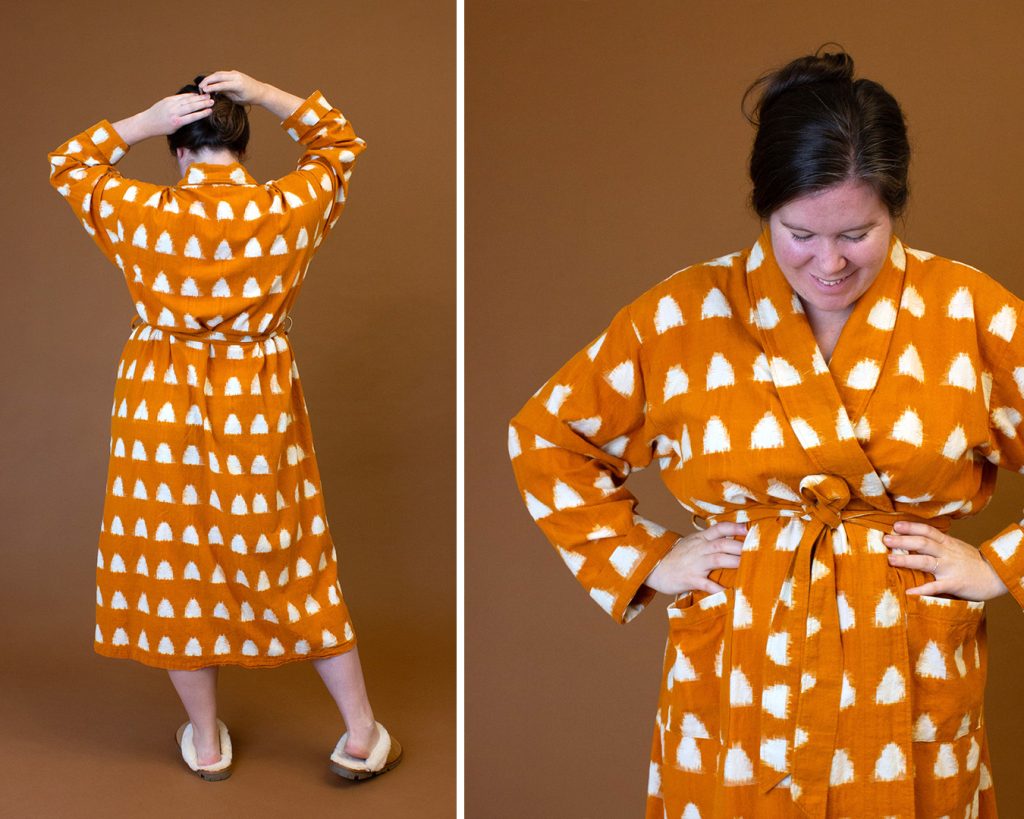 Arbutus works great in lightweight woven fabrics like rayon, cotton, and linen. For beginner sewists, we recommend choosing a lightweight cotton fabric like a cotton lawn or batiste. Arbutus also works well in medium weight wovens like cotton flannel, medium weight linen, or cotton waffle.
Want a more cuddly robe? We've got you! Arbutus can be made in all the fun and fluffy fabrics like terry cloth and fleece. We recommend choosing a fabric with as little stretch as possible. If your fabric has a lot of stretch, consider sizing down one or two sizes.
The Arbutus Robe also includes the option to use contrast fabric for some of the details. You can sew the collar, cuffs, and waist tie out of a different fabric to highlight these areas like we did with this green and black sample. Fabric requirements are included for this option.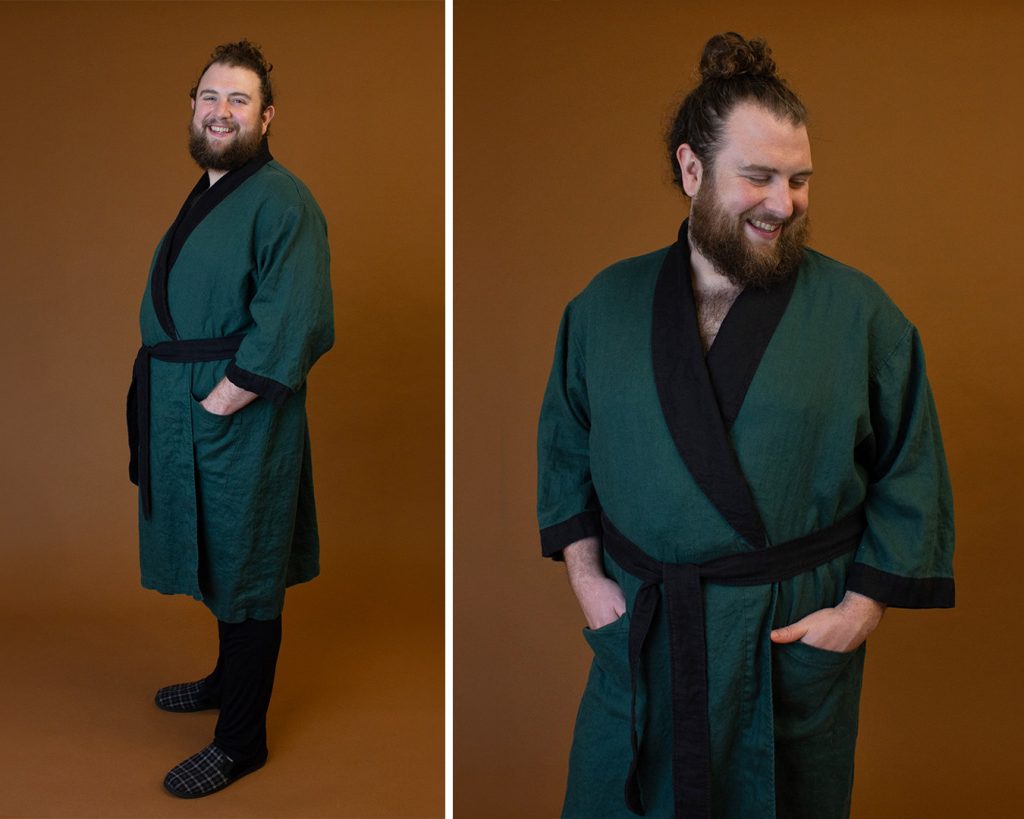 The Inspiration
I'm a big robe fan. I love reaching for my favourite robe in the mornings and throwing it on while I drink my coffee and have my breakfast. There is something so nice and comforting about that garment always being there and not having to think about what to wear the moment you get out of bed each day. I also love to wear my robes after a nice hot bath or shower, while I rest, and when I'm feeling under the weather. These are all times when being enveloped in gorgeous fabric feels amazing.
I have different robes for different weather, activities, and moods! Sometimes I like a really lightweight and flowy robe. It feels so luxurious and special to be draped in a fabric like rayon or silk. Sometimes I love a classic and comfy cotton robe. Lightweight cotton in the summer months feels cozy without being hot. Cotton waffle is the perfect robe for a home spa day, and fleece is ideal for winter months or battling sickness. Take it from me, you really can't have too many robes!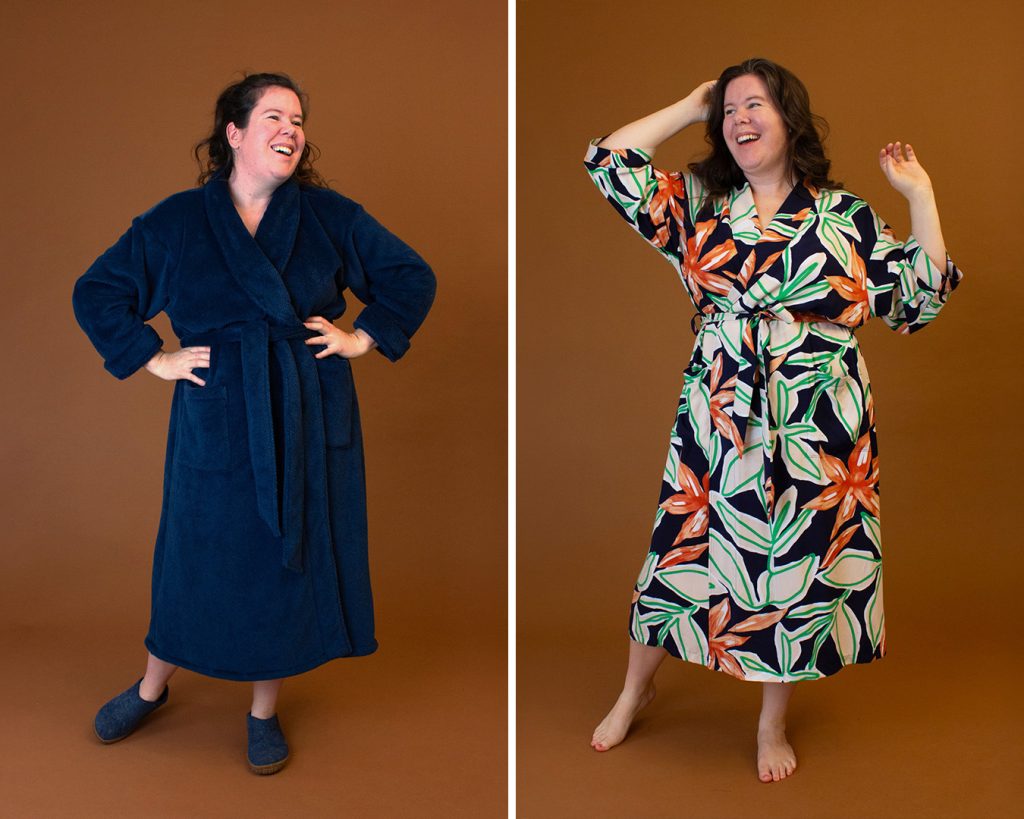 Arbutus is named after the beautiful arbutus trees in my coastal environment. These red-barked trees twist and cling to the rocky slope by the ocean here and they have always captivated me. The outer layer of the bark peels back to reveal the lovely soft inner layer underneath and it almost feels like it's wrapped in paper or cloth. When I see these trees I think of mornings spent camping near the ocean with my family as a child, waking up to the dewy fresh air and the sounds of seabirds. Those mornings were so special and calm, and it's a feeling I want to have every morning.
Thanks for checking out the Arbutus Robe!