Thank you so much for the warm reception to our latest pattern, the Arbutus Robe! I'm so glad that folks are excited to sew this pattern for themselves and their loved ones. Arbutus is quite versatile when it comes to fabrics and I want to go over some of the benefits and drawbacks of various fabric choices so you can make an informed decision. 
When I was designing Arbutus, I really wanted it to work for both lightweight wovens and fuzzy fleeces. This presented some design challenges but we took all things into consideration and came up with a great design and some fun construction tips to make sewing your chosen fabric easier.
Before you choose your fabrics, be sure to take a look at the fabric requirements. Because this robe is quite roomy, it does require a good amount. It is beneficial to choose a 57" (150 cm) wide fabric over a 45" (115 cm) wide fabric because the requirements jump up for those narrow widths.
Lightweight Wovens
Let's start with this broad category of fabrics. These will be the easiest to sew and more affordable to purchase. If sewing a lightweight woven fabric, adding the fusible interfacing to the collar, ties, pockets and cuffs is important.
Arbutus can be made in lightweight cottons like cotton batiste, lawn, or even some quilting cottons. If choosing a quilting cotton, select one that is on the thinner and softer side, rather than one that is a bit thick and stiff. Lightweight linen is also an excellent choice. Check out our yellow lightweight handwoven cotton sample below.
We recommend: Blackbird Fabrics Block Prints, Blackbird Lightweight Linens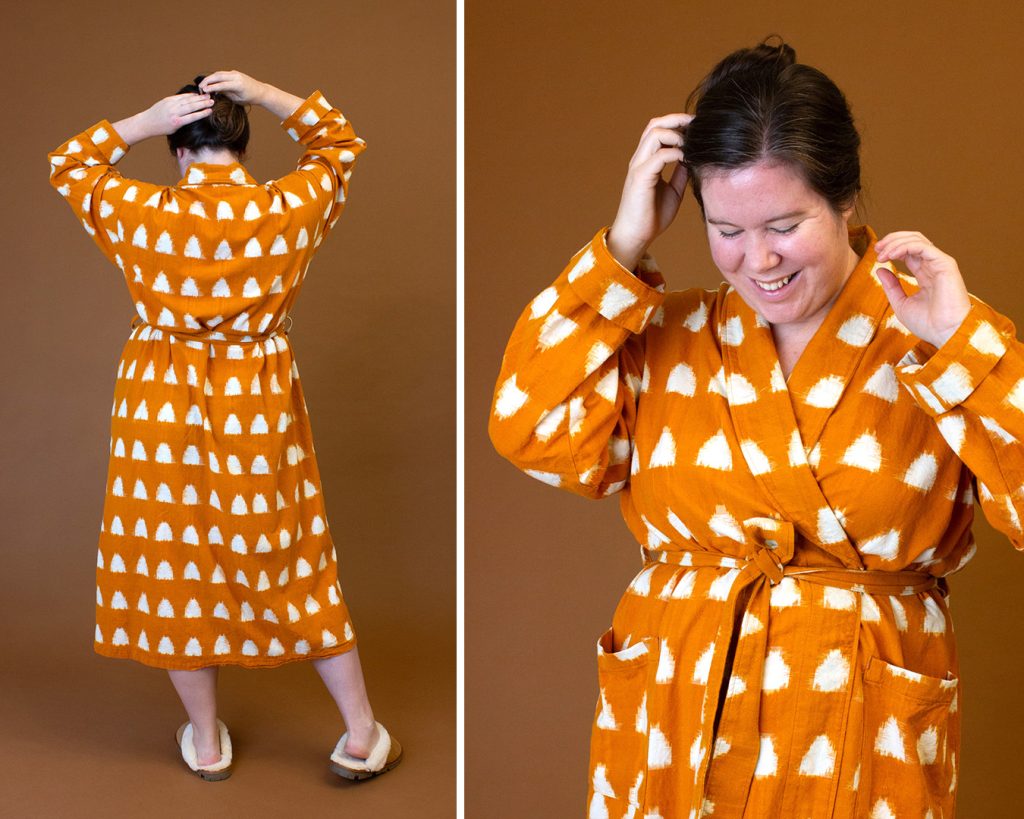 Arbutus also works great in more flowy/drapey lightweight fabrics like rayon challis, crepe, or poplin. Choose this fabric if you want a luxurious fabric that mimics silk or satin. You can also choose actual silk for an Arbutus Robe for ultimate glamour.
We recommend: Blackbird Fabrics Rayon Prints
We used a rayon challis for one of our samples and it is one of my favourites! This fabric has a cool hand so it just feels amazing to lounge in. It moves so beautifully and swishes when you walk.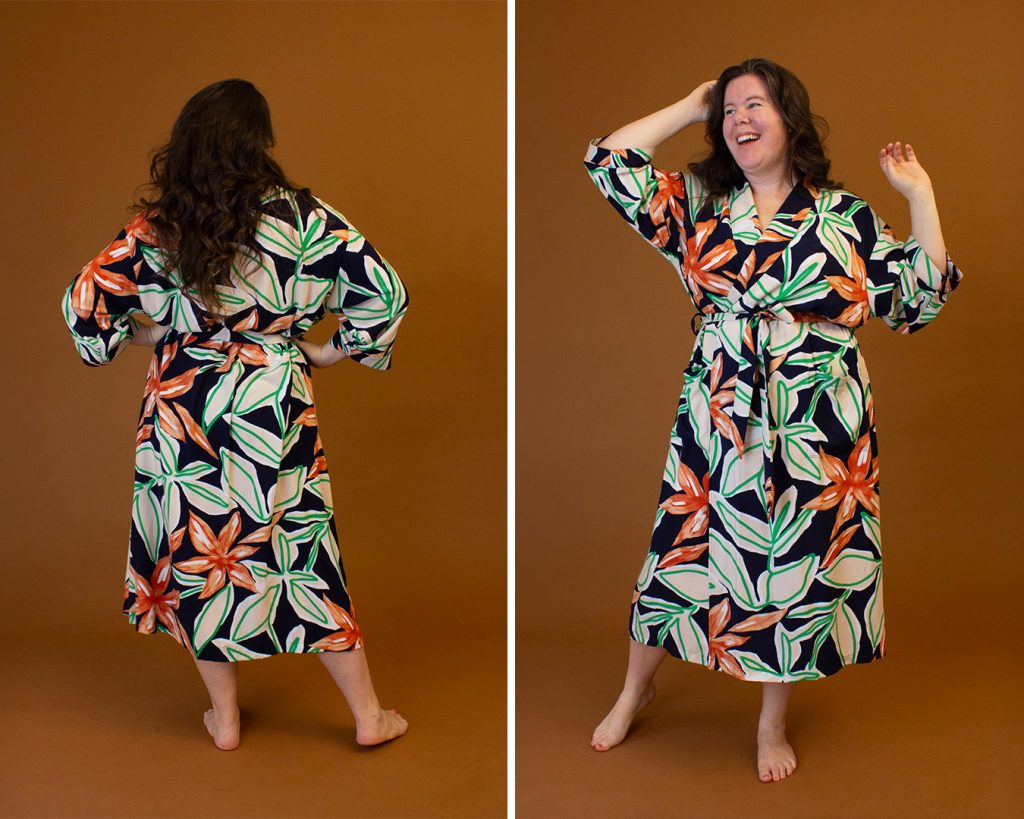 Midweight Wovens
Midweight wovens also work great for Arbutus. These fabrics will be a bit warmer and often have more structure. If sewing a midweight woven fabric, the fusible interfacing is not 100% necessary but is still recommended for added structure.
Arbutus looks great in a midweight linen (~6oz). This fabric has a heavy drape it feels soooooo good when worn. Midweight linen is a great weight for all seasons.
We recommend: Blackbird Fabrics Everyday Linen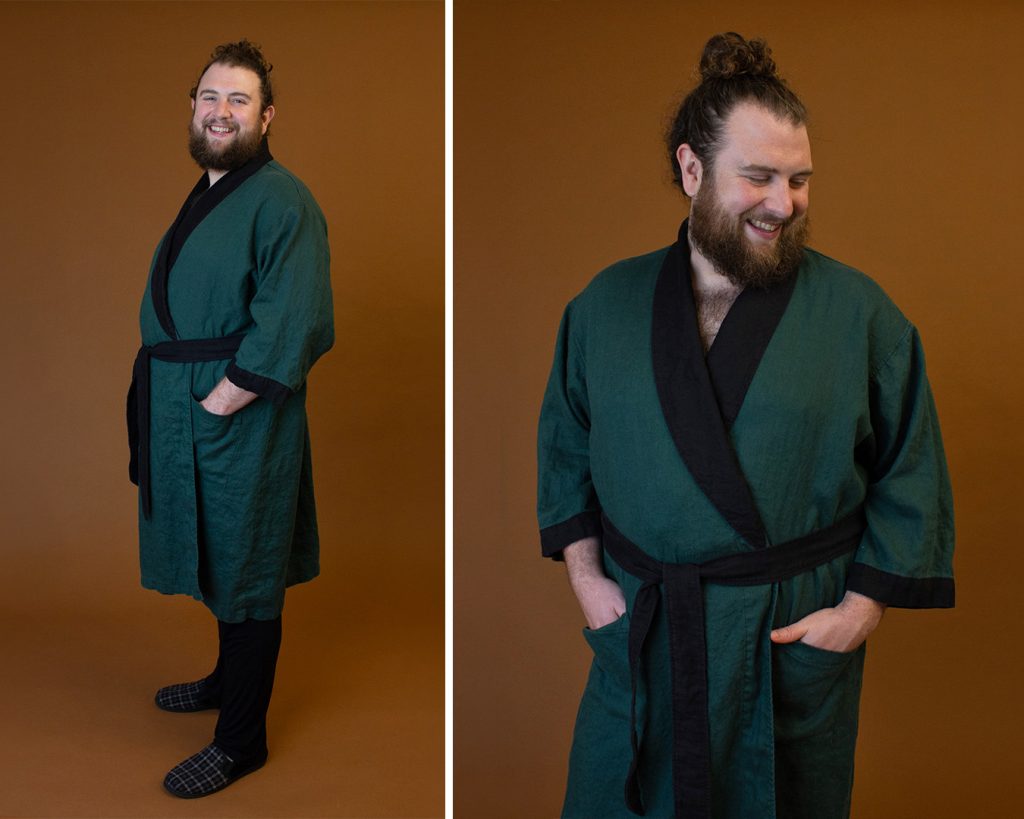 Arbutus also works really well in cotton flannel. This fabric will have a very cozy vibe and be on the warmer side. Keep in mind that flannels are often narrow in width and may require some pattern matching if desired.
We recommend: Blackbird Fabrics Cotton Flannel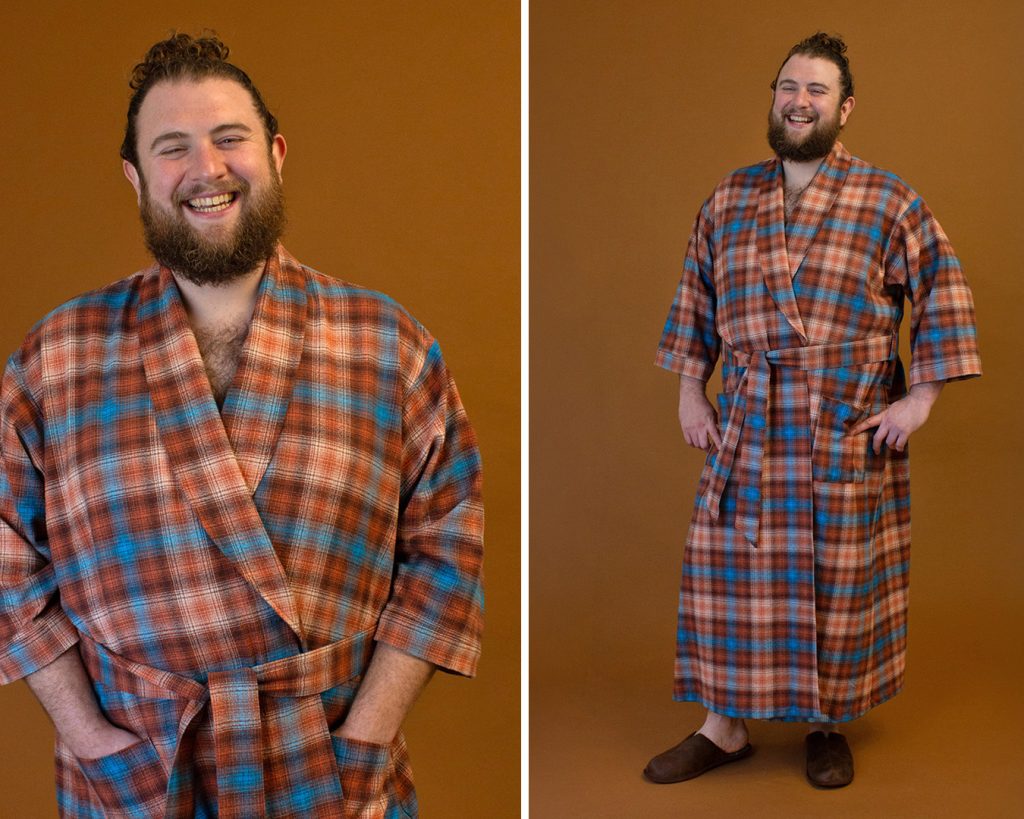 We used both midweight linen and cotton flannel for Sam's samples. The linen sample uses contrast black linen on the collar and cuffs and tie and it looks sooooo good.
Stable Knits
Even through this pattern is mainly designed for wovens, stable knits will work as well. I love a good fuzzy robe in the morning so I wanted this pattern to work with fleece and other textured fabrics.
Let's talk about fleece first. This fabric comes in so many different colours, prints, and weights! There is thin fleece and super chunky thick fleece. Either will work, but the thinner it is, the easier it will be to sew. It will also be less warm—but there may be such a thing as too warm!
I made our fuzzy sample in a polertec high loft fleece from Discovery Fabrics. This fleece is super soft and warm and has a beautiful cozy texture to it. It's quite bulky but our thicker fabric tips throughout the instructions will guide you on how to handle the bulk.
You can also use terry or waffle fabrics for a more classic spa robe feel. The less stretchy these fabrics are the better, so look for a woven cotton waffle or a terry toweling. Knits like French terry that have a lot of stretch are not recommended as they can get stretched out of shape.
Low-stretch percentage cotton fleece is also a good option for Arbutus. Again, looking for as little stretch as possible in any knit you choose.
We recommend: Discovery Polertec High Loft Fleece, Dressew Waffle, Blackbird Fabrics Teddy Fleece
FAQs
What fabric is best for a beginner?
Cotton! Choose a nice lightweight cotton that makes you happy and feels nice against the skin.
Can I use a heavyweight woven fabric?
No, we would not recommend a heavy woven like canvas or denim. It is possible to sew the robe in these fabrics but it will not be the most comfortable to lounge in.
Can I use a lightweight knit fabric?
We do not recommend thin knit fabrics as they will not hold the shape of the robe details very well (like the collar).
Can I use bamboo French Terry?
This fabric has a lot of stretch and therefore will not work well. If you are really keen to have a BFT robe, we recommend sizing down at least 2 sizes and interfacing the collar and cuffs using a stretchy tricot interfacing.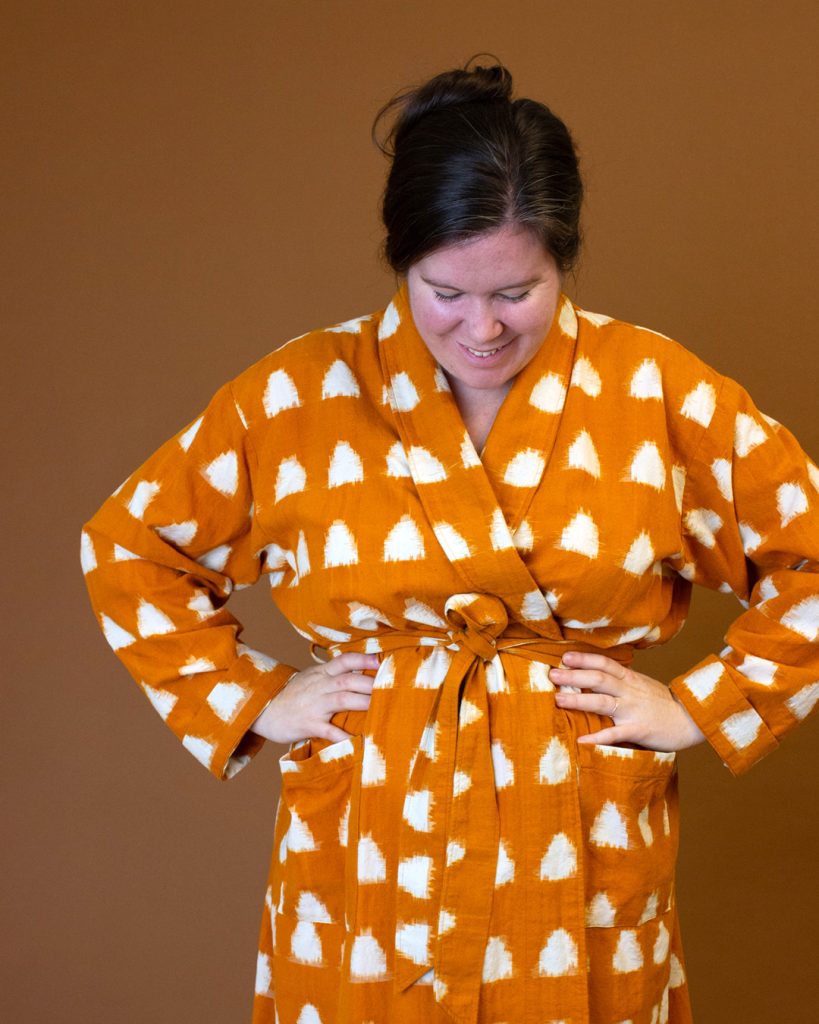 I hope this post has been helpful! Let me know if you have any fabric questions in the comments.