Button up shirts have always intimidated me.  I think its because they have to fit so nicely from top to bottom, not like a skirt or dress that can flare out and away from the body.  There's also the added intimidation factor from the collar and those buttons!  One day I will look at a pattern with buttons and not think "oh no…", perhaps that day will come when I have a more modern machine that can do buttonholes nice and smoothly, no problem.  I love my machine, but my buttonhole attachment is a little wonky.  Sometimes it makes beautiful buttonholes…and sometimes it makes gaping holes that you could practically put your whole hand through – it's just not worth the risk!  I didn't want this to stop me making this shirt though, so I opted to make the button holes using a tight zigzag stitch – also a little risky, but it worked out.  Nothing is more stressful than making tiny holes in a finished garment, I totally cut two front placket pieces in preparation for the moment when I messed it up – thankfully I never needed it!
Ok enough about buttonholes. I am totally in love this shirt.  It is the Sewaholic Granville Shirt pattern without the sleeves, and Tasia has made a great tutorial on how to remove the sleeves and keep the arms holes from gaping open at the sides.  Next time I am going to remove the fabric from the arm holes, but leave the side-back pieces untouched.  I have broad shoulders and could actually have done with a slightly larger armhole. I made a size 14 and had to make almost no alterations.  The only change I made (apart from Tasia's sleeveless instructions) was removing some of the fabric at the bottom of the shirt on the sides.  The Sewaholic patterns are designed for a pear shaped figure, which is great for fitting button up shirts over wider hips, but I didn't need the quite as much flare at the waist.   I made this shirt using quilting cotton from Cotton + Steel which I picked up at Spool of Thread in Vancouver.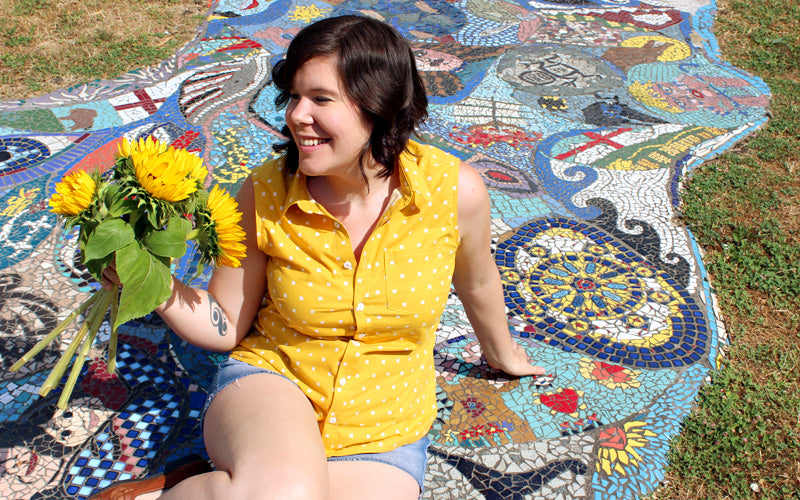 This pattern is perfect in so many ways.  It has a great back yoke piece, beautiful back seams, and a lovely bottom curve.  I opted to sew two lines of top stitching on all my seams because I felt it suited the fabric and it helped to get my seams to lie nice and flat against my back.  I am extremely happy at how the collar turned out – it was really easy to sew and it doesn't look wonky at all – Hallelujah!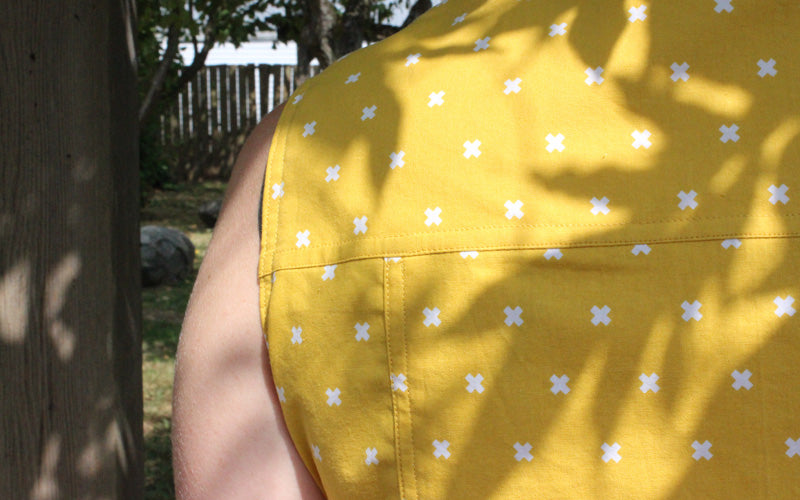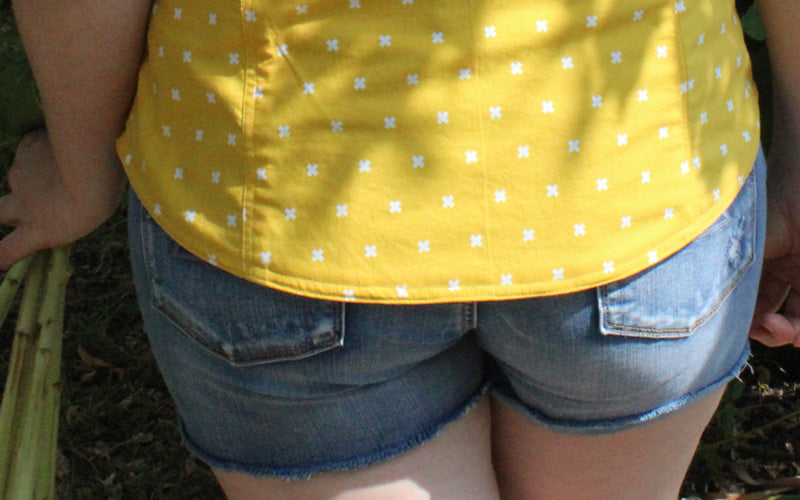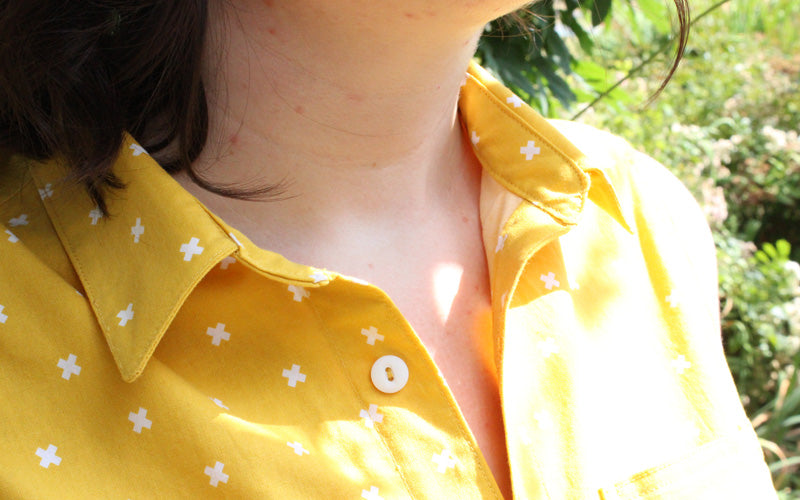 The front pocket also really adds a nice touch to the shirt overall.  For my next version I am definitely planning to make the two pockets with flaps shown on view C.  My sewing needle was a bit dull when I was doing the back seams and the side seam, and I got some fabric pulling, but it's not too noticeable.  There is a little fabric pooling at the lower back, but I actually like this because it gives me the fabric I need when I am bending forward or sitting down (ideal for riding my bike to work).  I finished all the inside seams with bias tape leftover from my arrows hollyburn, the yellow was a perfect match!
This is a perfect summer work shirt, it's nice and structured while still being summery and fun.  It is also not too restricting, which I often find with button ups.  That is the beauty of this pattern, it is designed to give you that perfect fitted shirt look without being bulky in some spots and too tight in others.
Sam and I had a lot of fun with this photoshoot.  We took the pics at Mosaic Creek park in Vancouver, at 1475 Charles Street (@ McLean Drive).  It's a small park near our apartment that has so many lovely little features – definitely worth going to check it out!
Final Stats:
Total project time:  Approximately 7 hours 
Fabric: 2 meters of 100% Cotton from Cotton + Steel
Pattern: Sewaholic Granville Shirt  – View B, size 14
Adjustments: Removed excess fabric at armholes and at waist.