I look forward to Seamwork magazine each month, particularly because of the two patterns that are provided with each subscription.  The magazine itself is free to read, so you if you haven't yet, you should check it out!  Each month, the magazine has a theme and the patterns go along with that theme.  As a subscriber, you get two credits to use on the current issue's patterns or any patterns from past issues.  Check out the pattern library here.  So far, I have made the Reno and Dakota swimsuit, Kenedy dress (not blogged yet), and this Almada Robe.
The Almada robe was included in the February intimates issue of Seamwork, and it was an instant hit with the sewing community.  It is fun to sew up simple projects like this that can be made from bold prints and worn around the house.  I was in need of a lightweight robe for spring/summer, and the Almada is perfect!  I love the loose fit and the dramatic sleeves.  I also love that the ties are attached to the robe, so they can't fall off and get lost!  It sounds silly, but I am constantly misplacing ties for things, so this is pretty great.
The fabric I used is a digitally printed cotton from Dressew supply here in Vancouver.  It is super lightweight and soft, perfect for throwing on in the morning.  I love this crazy print, with the flowers, swirls, and bright colours.  It makes me feel awake and happy, so maybe I will be more inclined to leap out of bed just to put it on (not likely, haha).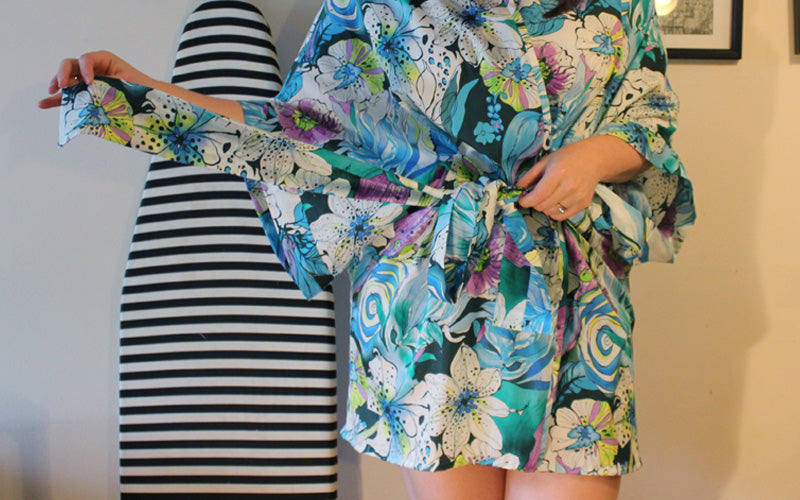 The construction of the Almada is very simple, it would be a good project for a beginner looking for a bit of a challenge (bias binding can be tricky).  For the bias, I made my own out of the leftover fabric and decided not to turn the bias to the inside of the garment, because I liked the way it looked along the edge. All seams are finished using french seams, and I used the stitch-in-the-ditch technique to get hide the exposed seams on the cuffs. I opted not to add the snap at the top, but after wearing it around the house a bit, I think I will pick one up and sew it on.  The robe gapes open without one, so it makes sense to have the option to close it up.
I think the Almada is a great pattern and it would make an awesome present for a friend or family member.  I may whip up a few of these for Christmas next year!
Have you made the Almada?  What is your favourite Seamwork Pattern?