One of my goals for 2017 is to finally do something about the growing pile of thrifted items I have stashed under my bed. I often pick things up at vintage shops, garage sales, and flea markets because I love the fabric, even though the fit or style is way off. Some items are great sources of fabric, like the gathered-waisted skirt I used in this refashion. It is essentially two rectangles sewn up the sides and gathered into a waistband at the top. Once you cut the waistband off, you have a pretty decent chunk of material to work with. I scored this skirt for $5 at Mintage here in Vancouver, it was on their sale rack because the buttons were falling off. I love getting a good deal like that for such a minor flaw! This skirt is arguably very pretty as-is, and it does fit me, but I had a vision for this Christmas dress so I went for it!
I didn't bother taking apart the seams, because this old velvet was pretty delicate and after unpicking a bit at the hem, the old needle holes were very obvious. I just cut off the waistband, center front button band, and hem – easy peasy. I wanted to make this into a simple dress, and the Seamwork Kenedy was an obvious choice. I made it once before and it is a very comfortable dress that is fun to wear.
I didn't have quite enough fabric to make the entire Kenedy out of the skirt, so I decided to alter the top a bit to include some sheer chiffon blocking. This hack is simple, just cut or fold your pattern piece where you want (I chose 3" down from the center neckline) and cut out the bottom and top pieces separately. I also cut the back on a bit of an angle. Be sure to add seam allowances!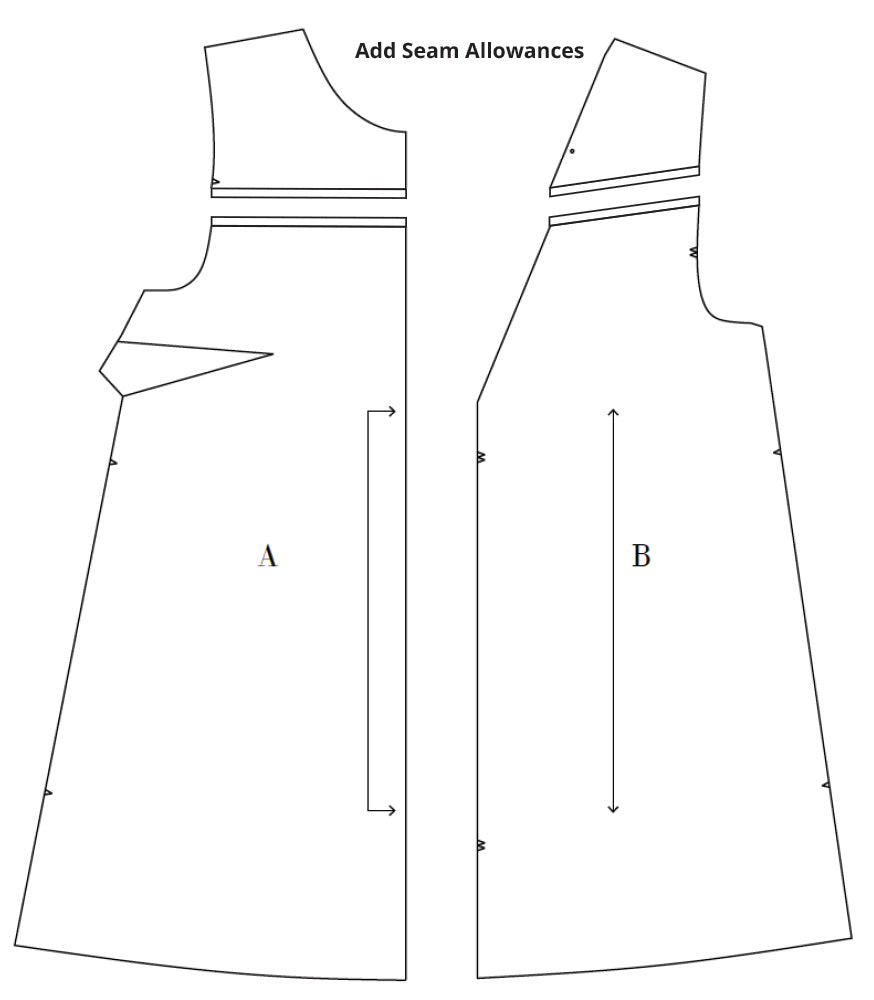 Once cut out, be sure to staystitch the edges of the chiffon pieces. This can be quite tricky fabric to work with, but staystitching helps loads. I also used a french seam at the shoulder, so the edges are all inclosed.
Sew the top chiffon pieces to the bottom dress pieces before continuing with the pattern instructions. I was going to make the sleeves out of chiffon as well, but when I tried it on sleeveless, I quite liked the look so I decided to finish the arm holes with bias binding just like the neckline. I also took the sides in a smidge here to make the arm hole smaller.
I made my own bias tape out of the chiffon for a nice, matching finish. You can see the binding through the sheer fabric, so it is important to do it carefully. Needless to say, this is very finicky and nerve-wracking process. Use tons of pins and you will be fine! 🙂
I think the blocking effect is really fun, and it could be done with lace or any other kind of accent fabric.
Another little addition I made to the Kenedy design was to add tassels to the back ties. This velvet fabric is just begging for tassels, don't you think? I've been wanting to add them to a project ever since I saw them on Heather's Roscoe dress last winter. I couldn't find tassels I liked, so I made my own out of fringe trim. I got some braided trim to use as the ties and tied a knot at the bottom of each end. I then used a needle and thread to stitch the fringe around the base of the knot until I built up the right sized tassel. I love how long and soft they are, and they are much nicer looking than the store bought tassels I saw.
This dress was a great choice for a big dinner, and I got lots of compliments on it. I think this velvet fabric is particularly striking, I haven't seen anything like it before. That is one of the benefits of refashioning! I look forward to sharing more of my refashion projects in the new year.
---