When Alina asked me if I wanted to join in the Hampton Jean Jacket tour I had to say yes! I have mentioned wanting to make this project on the podcast, so I it felt like the perfect opportunity to finally get going. I do tend to make things happen if there is a deadline, and I also love a good challenge. Alina mentioned that some of the other ladies on the tour were modifying the jacket in different ways and getting creative with the project, so of course, I wanted to get on board with that! I am first in this week's tour, so go and check out the rest of the series as the week goes on!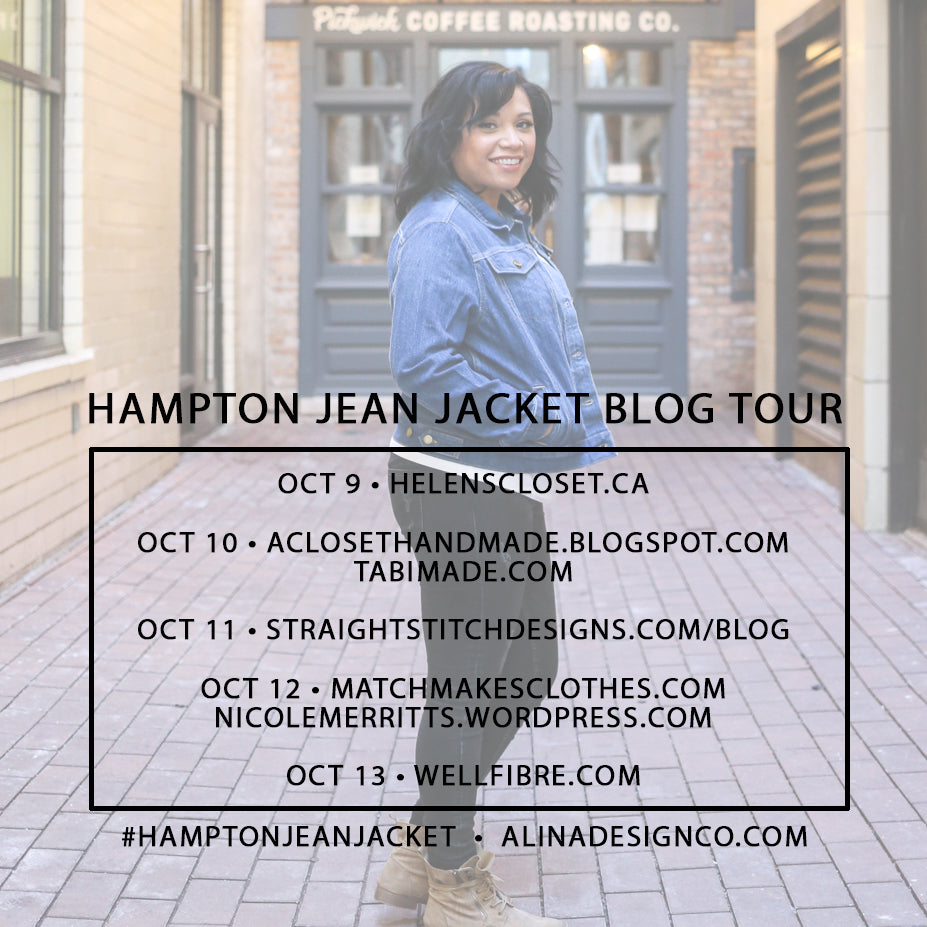 Hampton Jean Jacket Fall 2017 Blog Tour
---
If you want to try the Hampton Jacket, you can grab the pattern this week for 15% off using the code HAMPTONSFORALL.
---
For my Hampton Jacket, I had SO many ideas and I had trouble narrowing it down. I knew I wanted to use a piece of lightweight blue denim I picked up at an Our Social Fabric sale here in Vancouver, but there wasn't quite enough of it to make the whole jacket. This got me thinking about what fabrics I had on hand to do a duo-toned look and I remembered this pair of black jeans I had leftover from my Refashioners 2016 challenge. I spent so long trying to figure out how to squeeze the jacket out of these two pieces of fabric and I finally managed to strike a nice balance and use almost all of the material (so little scraps left)!
The shoulder caps (or pauldrons as I have been affectionately calling them) were a happy necessity. I needed to cut the main sleeve from the jeans but there wasn't enough uninterrupted (no seam lines) denim to cut this large pattern piece. I ended up taking off the back pockets and loving the darker black colour underneath. I lined up the piece so that the pocket would be on the top of the shoulder and I went for it. There were also thread holes where the topstitching was, so I decided to sew over the holes with my topstitching thread and make a feature of it! This shoulder detail makes the jacket look pretty badass, don't you think?
My next challenge was that my blue denim was pretty thin. I worried that the jacket would lack structure on the bottom, so I had the idea to underline it for stability. I remembered another piece of fabric from OSF that I had in my stash and I loved the way the three textiles looked together. I was able to get underlining cut from this small piece for the body of the jacket and I opted not to line the sleeves.
When underlining, you cut two of each underlined piece and you treat the two fabrics as one unit. This is different from lining, where the lining is separate from the garment and encloses all the seams inside. Because I had so many pieces of fabric to work with, flat-felling the seams was a bit tricky. There was more bulk to handle, so I took Alina's advice and I used the amazing Wonder Tape to tape all of my seams in place before sewing them. This was a real lifesaver because I could not get the seams to stay folded using pins. I also graded my seams as much as possible to reduce bulk.
One more thing I did differently was that I eliminated the welt pockets because I don't tend to use pockets on denim jackets and I wanted a really clean inside. I also serged the edges of the upper pockets and did not turn them under as instructed. I simply had too much bulk to make it work here, but the serged edge barely shows because I used matching serger thread.
The flannel underlining really adds a cozy element to this jacket and I love the way the copper topstitching and buttons matches the orange flannel inside!
For the rest of the black denim areas, I had to do some creative cutting to make things work. The back yoke has a center back seam, as does the back collar. The front yoke has the original inseam positioned right on the center front edge, which worked out great for cutting but was challenging to topstitch. My topstitching on this project is far from perfect, but seeing as this is my second time topstitching denim, I'm pretty proud of the results!
\
Let's talk about buttons and buttonholes! In general, I got through this project without too many buttonhole snafus, but making buttonholes with topstitching thread is challenging on thicker fabric. For most of my buttonholes, I used regular thread underneath, but for the center front row, I chose to use topstitching thread underneath because it can be seen more often. However, on the top, black denim area, the buttonholer was like NOPE and I was forced to use regular thread in the bobbin. C'est la vie!
I used jeans buttons from Closet Case Patterns (I had some button-fly jeans kits and I just decided to use those). They worked out great and I loved hammering them all in! So much fun to wield a hammer while working on a sewing project.
I absolutely love my Hampton Jacket! It fits so well and it is truly a unique garment. The pattern was great and the instructions were phenomenal! I would recommend this pattern to anyone looking to level up their sewing and encourage advanced beginners to give this one a try! It looks complex, but Alina helps you through the whole thing with her sewalong and her great instructions.
When Sam tells me to look intimidating in my badass jacket – this is what happens to my face.
If you want to try the Hampton Jacket, you can grab the pattern this week for 15% off using the code HAMPTONSFORALL.
Don't forget to check out the other ladies in this tour! Here is the Schedule:
Hampton Jean Jacket Fall 2017 Blog Tour