Choosing the right fabrics for your Avery Leggings is very important and I know it can be hard to find just the right stretch percentage and weight when shopping online. I have contacted some retailers around the world to inquire about their fabric offerings and I am excited to share my findings with you!
What are we looking for?
Four-way stretch knits with at least 70% stretch horizontally and vertically. Look for nylon spandex, cotton spandex, bamboo jersey, or rayon jersey. For leggings that aren't intended to be layered, make sure to find a fabric that is 100% opaque. Look for 'performance jersey', 'technical fabric', 'activewear knits' or 'dancewear' when shopping.
Avery Fabric FAQ:
Can I make the Averys in a fabric with less than 70% stretch?
Yes, but I would size up if you have less than 60% and I would not go lower than 50%.You will lose comfort and range of motion if you do not have the requisite stretch.
Why does the Avery need so much stretch?
The Avery has a significant amount of negative ease. This helps the pattern fit like a 'second skin' and not fall down. Consequently, it requires more stretch.
Can I make my Averys in a fabric with more than 70% stretch?
Yes! For example, a bamboo jersey can have more than 70% stretch and it will offer a more relaxed, casual legging that is great for lounging.
Can I make Avery with a fabric that only has widthwise stretch?
Nope. This pattern needs vertical stretch so that you can bend your knees and sit down comfortably. Trust me on this one.
Can I make Avery out of ponte or scuba knits?
Ponte and scuba will likely not have the stretch amount you need for this pattern, even though the weight might be what you are looking for. I would recommend looking for a thicker activewear fabric instead.
Do I need to use activewear fabric?
You can use lots of different fabrics and I have made pairs with cotton jersey/spandex that I love wearing on weekends and under dresses.
3 Tips for shopping online for knits:
1. If the fabric doesn't have the stretch percentage listed, just ask! I emailed lots of stores when sourcing fabrics for this post and they were all very friendly and quick to reply to me.
2. Search for 'activewear', 'athletic', 'performance', or 'dancewear'. Fabrics can be labeled all sorts of things and there are going to be lots of knit fabrics to sift through. Try to narrow it down using these terms.
3. When in doubt, order some swatches! If they don't have swatches, just ask. They might be able to send you some even if they don't have them listed on the site.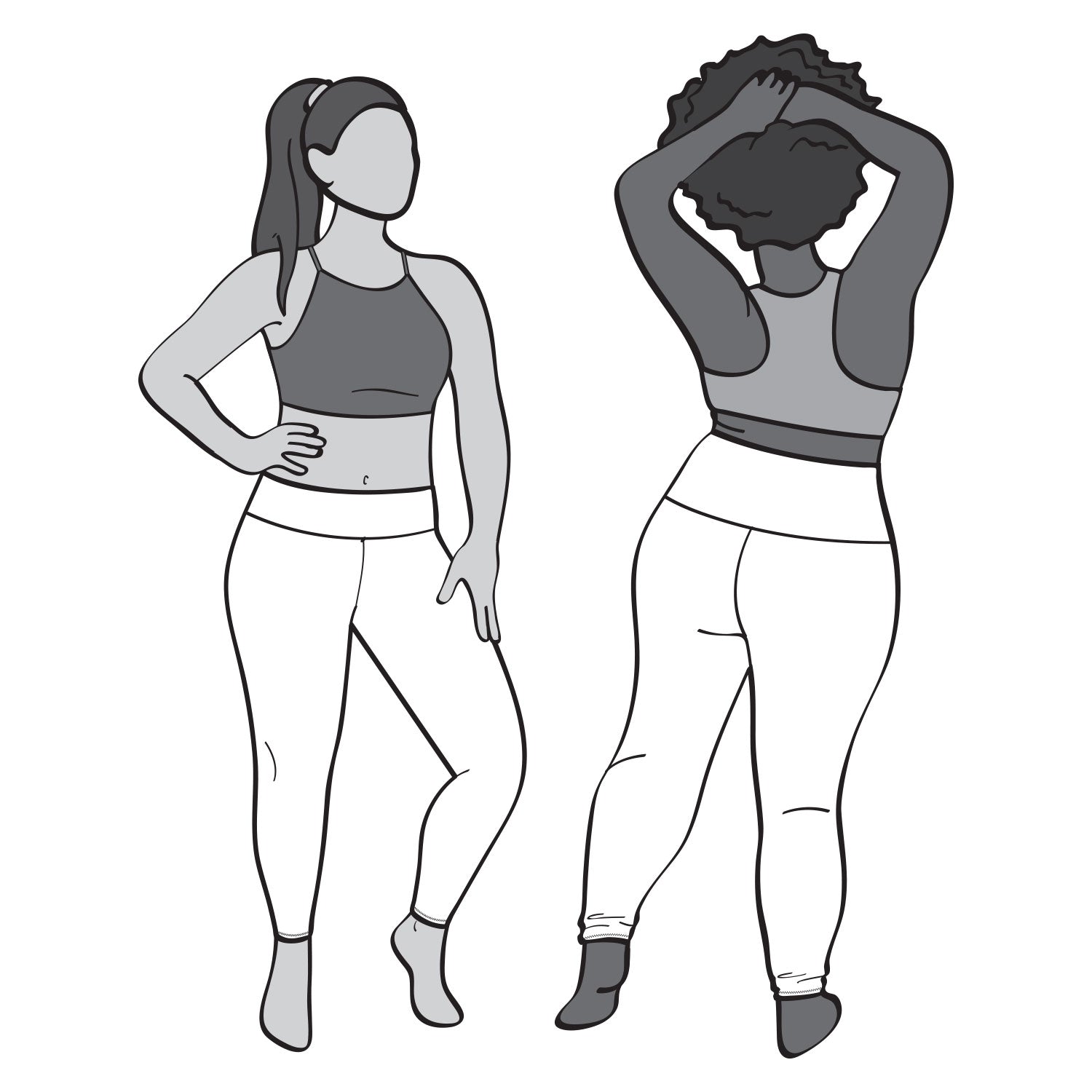 ---
I have rounded up some options in the US, Canada, UK, Australia, and New Zealand. I wish I had more insight into other countries, so please let me know if I missed a retailer that you are familiar with! I asked these shops to recommend fabrics for this post and they were happy to oblige. I hope this helps you find fabrics for your Avery Leggings.
*Note that Peak Fabrics only accepts credit card over the phone. 
Custom Prints
Can't find the right print for your leggings? Try custom printing one! Design your own fabric and have it printed on a high-quality Lycra. I have a blog post coming soon on my experience doing this with Contrado, so I look forward to sharing that with you!
---
Lastly, I wanted to point you to a list of activewear fabric retailers compiled by Johanna Lu over at The Last Stitch.
I hope you also check out your local fabric shop if you have one available to you. It is easier to check things like stretch percentage and weight in person. You can also explore the #averyleggings hashtag to see where other sewists are getting their fabrics.
Let me know in the comments if you have a good source for activewear fabrics!