Well, it didn't take long for me to get into my second quilt project (see my first one here)! I decided to continue with my Christmas theme and make some stockings from fabric scraps. This time I wanted to try improv quilting and come up with my own designs. I also decided not to go full-on Christmas with the fabrics and experiment with some fun colour combinations using leftover fabrics from my garment making instead.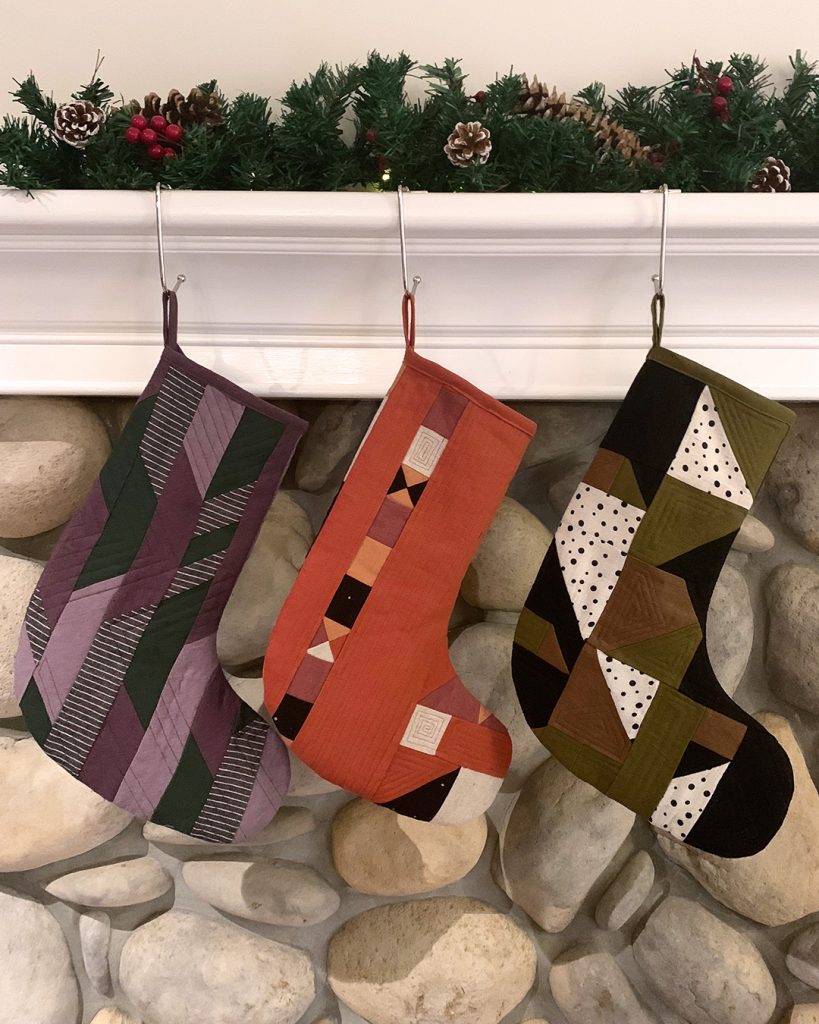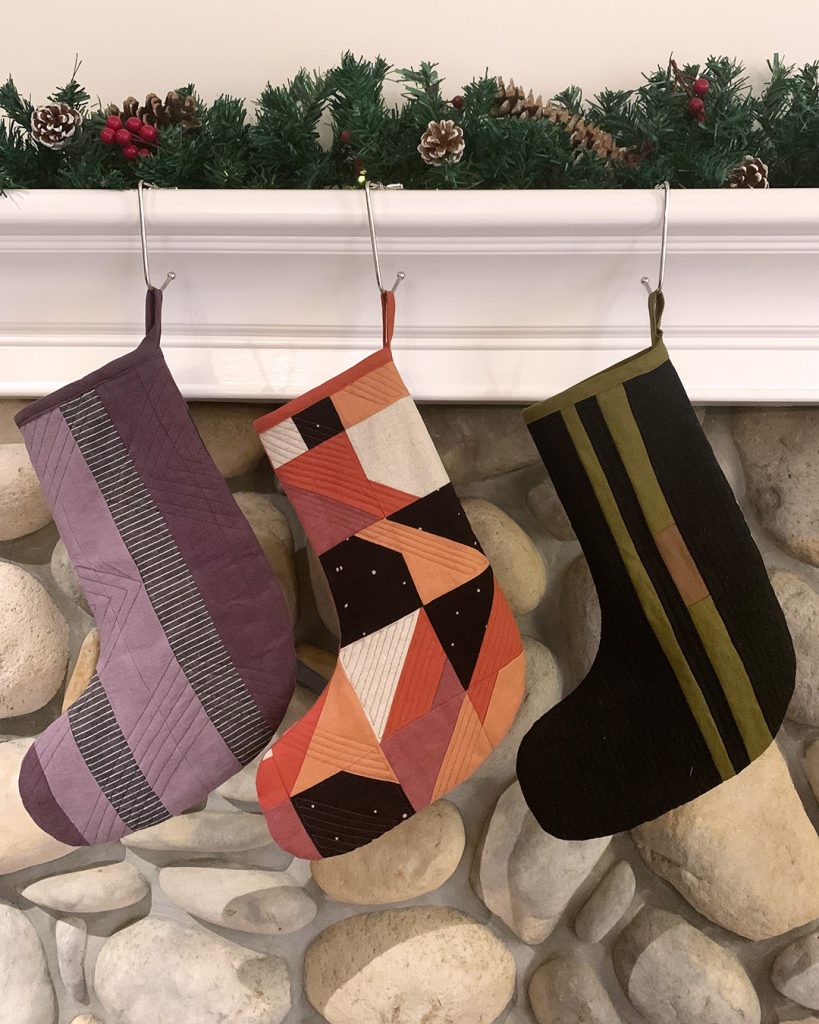 These are the first three in a collection I am working on. It's just the two of us in our household (and Emma, too!) but we often have family over for the holidays and it's nice to have lots of stockings to accommodate everyone. I am preparing for future years when we can be together again and it is helping me to get through this year apart from loved ones!
I'm using fabric scraps that are similar in fiber and weight. These are all linens and cottons. I put them together in piles of 4-5 colours and prints that paired well. You want to have contrast between colours and value (light and dark). Since this is improv quilting, you can approach it however you want and it is so freeing to just put fabrics together like a geometric painting.
How to Make Quilted Stockings from Fabric Scraps
There are a few different ways I approached this (and please keep in mind that I am a quilting newbie). For the stocking I will be showing in this post, I used what I will call a 'squares method':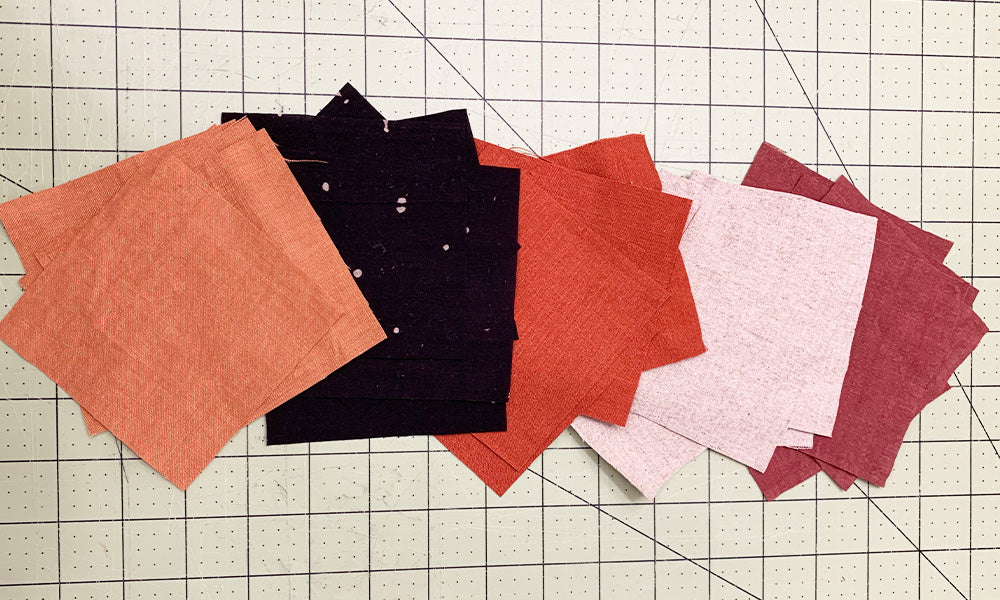 I cut 5″ squares out of a bunch of colours and layed them out in a pleasing arrangement. I will be cutting out my stocking shape later, so I can just focus on making a general 'L' shape for now. Remember, you will need a front and back and they need to be opposite 'L' shapes.
I played with making half-square triangle (HST) blocks and other small blocks using those squares. First I laid out the pieces in layers to get a sense of my design, and then I went to the machine and sewed them.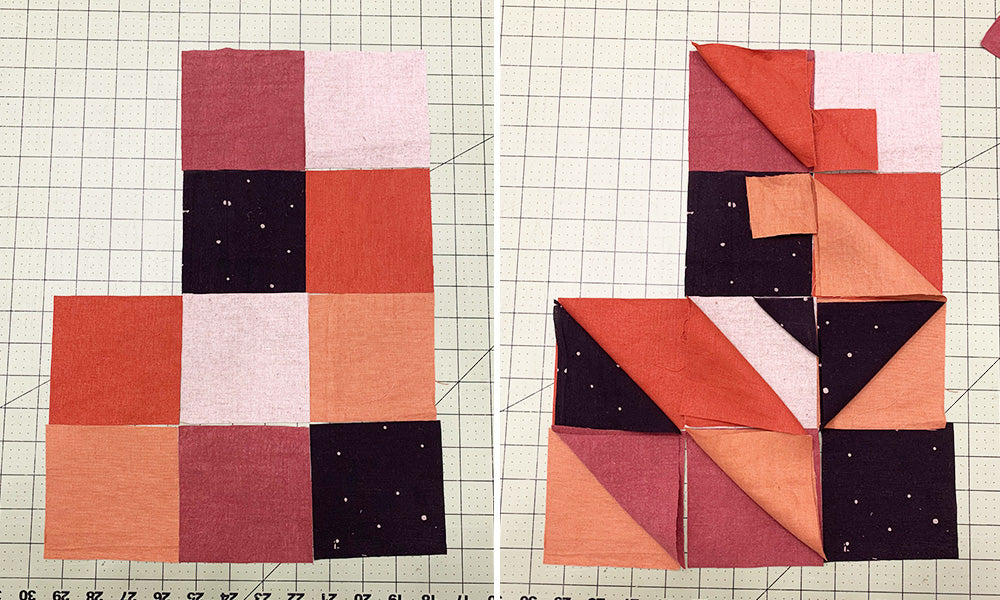 Once you sew the squares, you get a chance to lay things out again and make any changes. It is so fun to swap and rotate the blocks to get new designs. You may even add more little details by sewing additional triangles on or cutting up blocks and adding new fabric.
When you are happy with the design, it's time to assemble the blocks in rows or columns and then sew those rows or columns together. I ended up needing to add a bit to the toe and the top because I underestimated my seam allowance. It's easy to add! Just sew a strip together and attach it on.
Cut your stocking out using a template. I drew mine myself, but you can find lots of templates online or trace an existing stocking.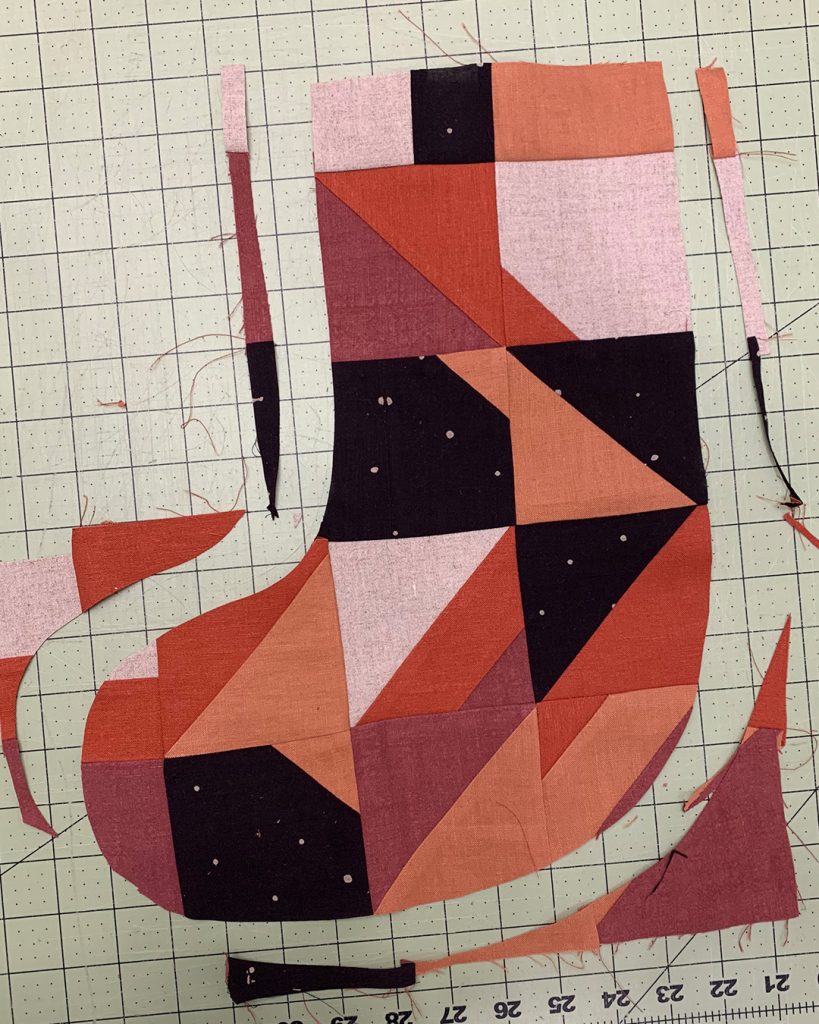 For the back of my stocking, I used all the leftovers from my front in addition to a couple of larger strips. I made a long column of smaller square blocks and a stocking toe from random leftover rectangles and squares. I quite like the result with the larger orange areas – it is nice to have 'white space' like this in design. You can also have a simple one-color back, too!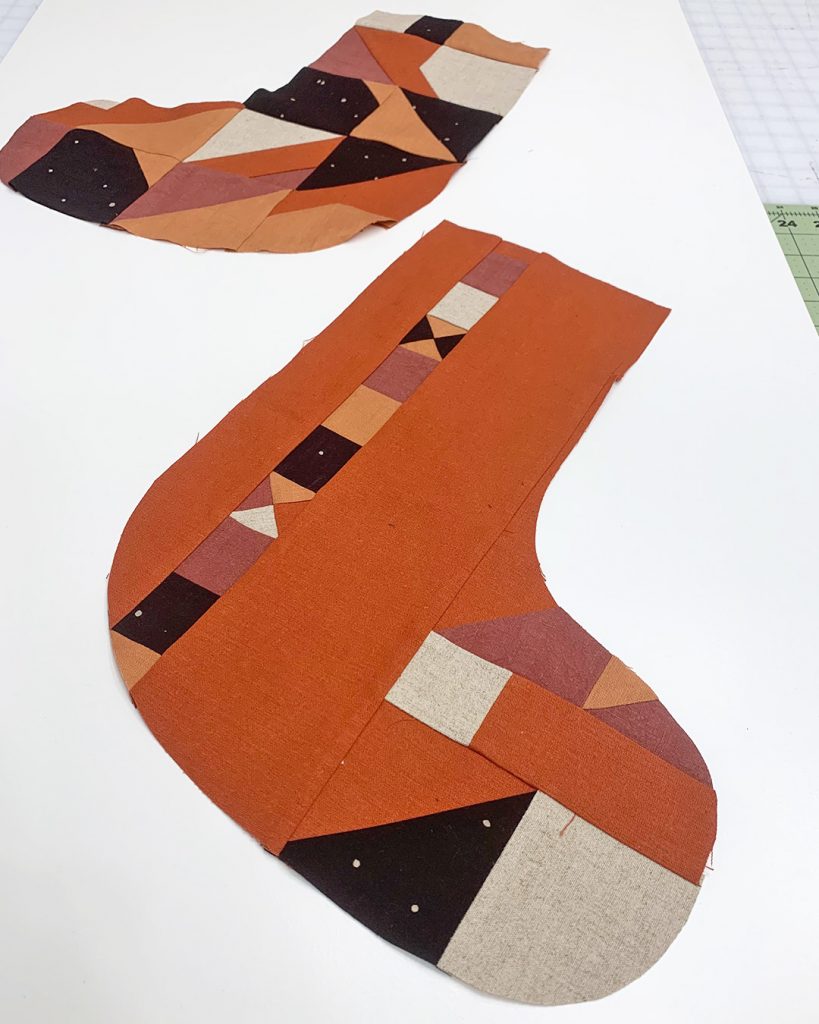 Once you have your back and front, it's time to start quilting! Sandwich your stocking top on some batting and pin in place. Again, I'm no expert – I simply quilted lines and geometric patterns to match my design. I did just enough to hold the fabric and batting in place and add some visual interest. I like that there are areas that are not quilted, too.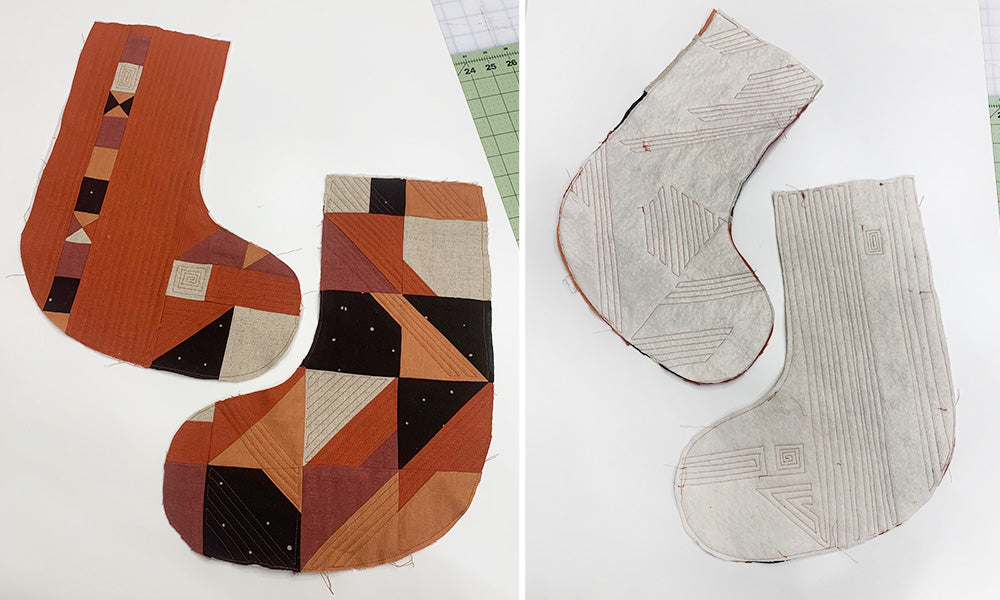 I sewed my front and back together, clipped the curves, and turned it all right side out! I added a lining and sewed double fold bias tape around the top to finish it. I also extended this bias tape into the hanging loop.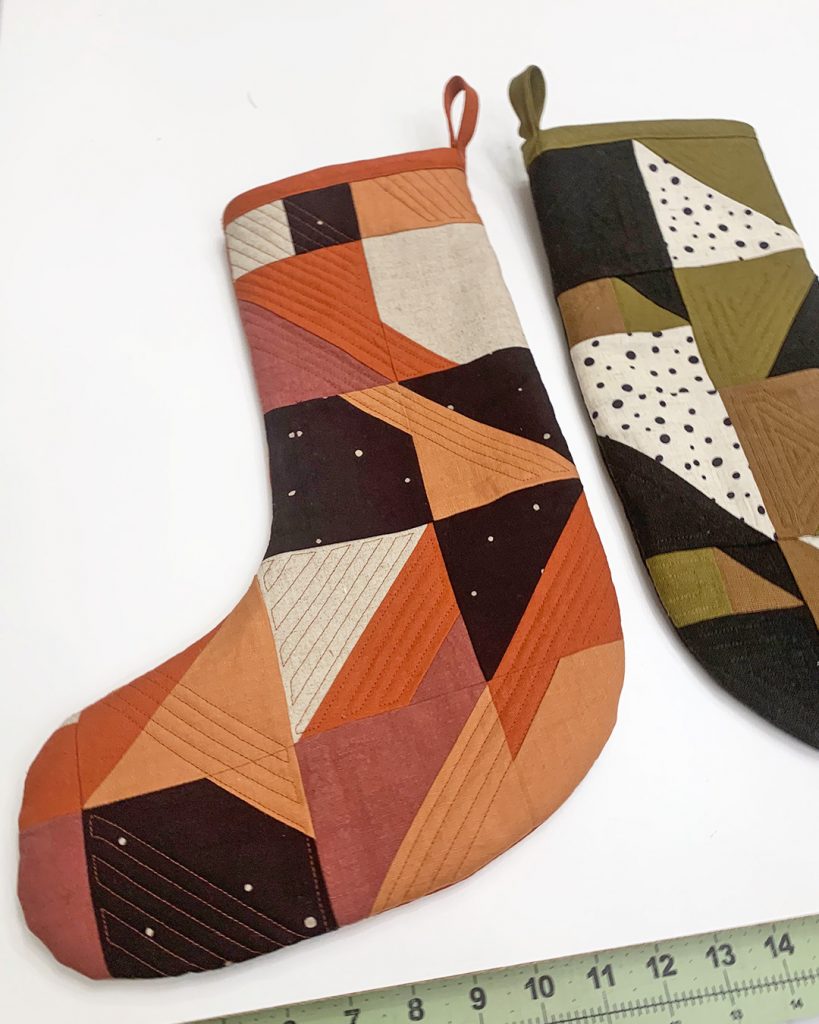 And that is how I use squares or little mini blocks to make this scrappy stocking. I love both sides of this one – it's hard to pick a favourite!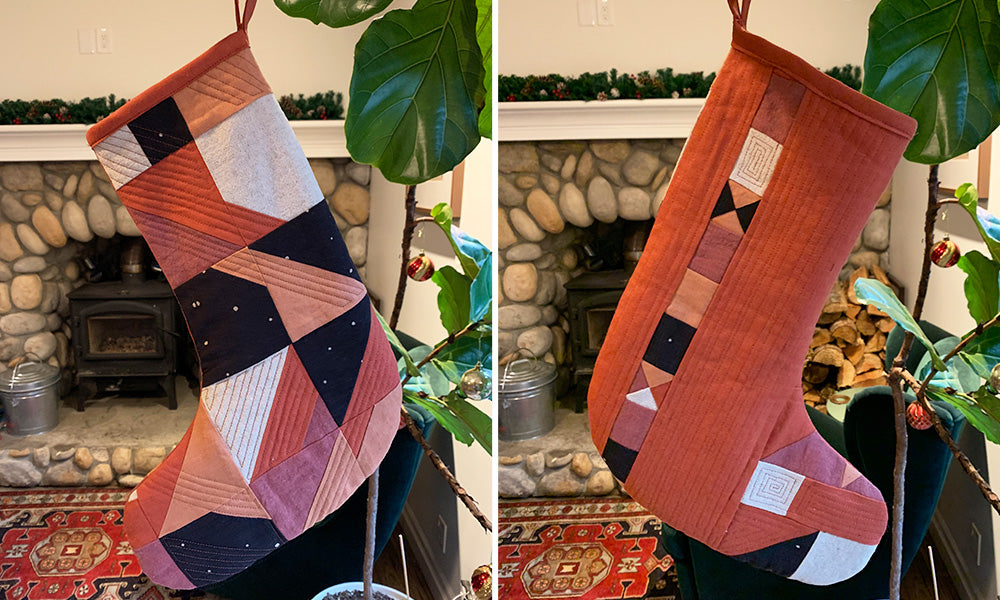 Another method I have used that is worth mentioning is what I call 'strips and stripes'! I cut several 2″ wide strips from my chosen colours and then sewed them together using angled seams (like you do when you piece together bias tape). These angles look so cool on the stocking and have a wonderful angled effect. You can put as many angles as you like in each stripe. I tied them together using triangle shapes with my quilting. For the back, I just sewed the strips together, no angles!
I hope you enjoyed this little post on how to make quilted stockings using scraps. Let me know if you have ever done this or if you plan to try it. I think you will find it is a lot of fun to experiment with fabrics and let the quilting take you where it may!
-Helen