We're continuing our March Model Spotlight today with Nokomis! You know that feeling when you meet somebody and just know that you are going to be friends? This is how I felt with Nokomis. She arrived in my studio looking so cool, wearing all black with a beautiful block printed face mask and bandana. We talked about her love of dyeing and visible mending and all things fibre arts. We had masks on so It wasn't until she came back for the photos that I got to see her beautiful smile, too!
The March Top and Dress is 20% off during the launch! No code required.
Nokomis and I looked at a bunch of fabrics for her samples. I love for my models to feel confident in their clothes—so it's fun to match the fabrics to their style and personality! Upon seeing all the colours and prints I had pulled, Nokomis hesitantly said that she mostly wears all black, but she loves colour and small floral prints when she's working with fabric and dyes. I thought, well why not make a black March dress? I usually avoid black for photoshoot just because it can be hard to see details, but I had some silky linen in my stash that has a subtle sheen—perfect for capturing the light.
We made two views of the March Top and Dress for Nokomis: View A (the dress) and View C (the straight peplum with the shorter sleeve). Here are the details:
Model's Measurements: High Bust (43"), Full Bust (47"), Waist (42"), Hips (49"), Height: 5'9"
Size Made: Straight size 20
Adjustments: Lengthened the pattern 1" at the bottom center front and tapered back up at the side seams. This gave extra length in the front to drape over the bust.
Fabrics Used: Silky Linen (black) and Sandwashed Cotton (chartreuse). Both sourced from Blackbird Fabrics.
This was my first time using this sandwashed cotton fabric and I just love the bumpy texture and the way it holds volume! It is also a dream to press and it has a great weight to it. It is good for tops like March but could also be used for pants, too!
View C of the March top features shorter sleeves and has no neck tie. I like how the 'V' cut out stands up on its own thanks to the interfaced front and back panels. You can also sew a tie on this view if you like! March is great for mixing and matching design features from the different views.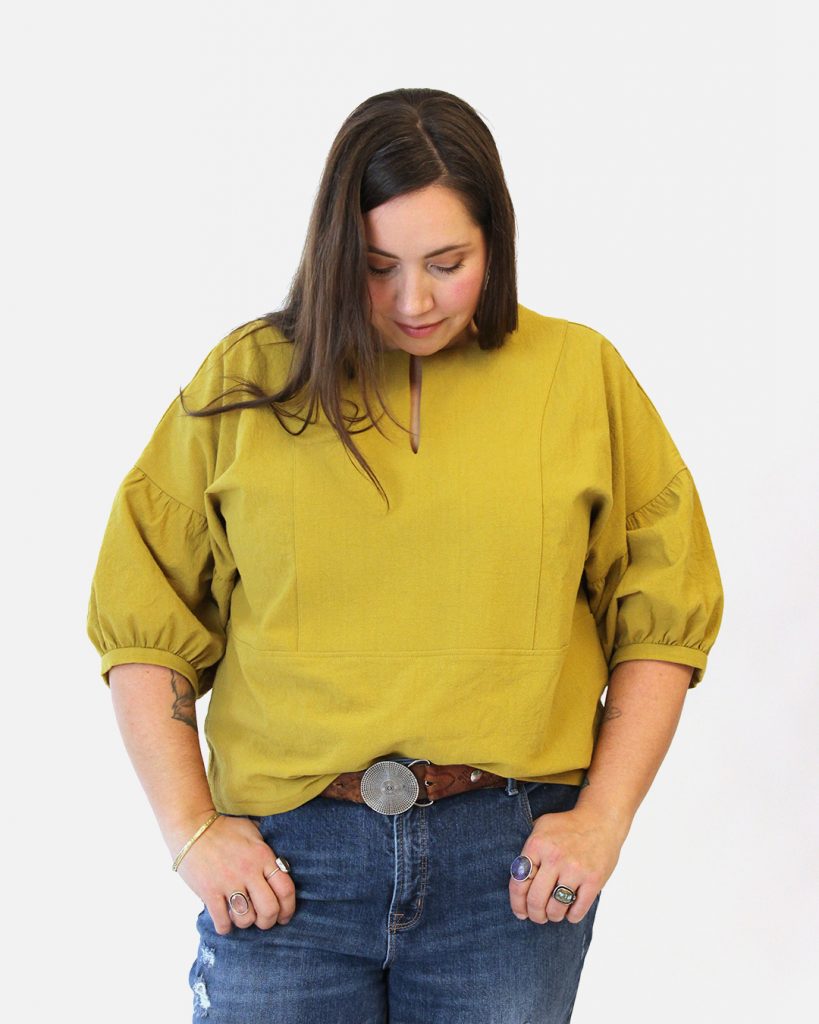 Nokomis brought some really cool jewelry to the photoshoot and I loved how it paired with both the samples. She loves gemstones and chunky metal pieces and I can see why! They are so gorgeous!
For Nokomis' dress we chose the black silky linen and I'm so glad we did! This fabric looked so stunning sewn up in this pattern. It has a regal appearance and I could totally see this being dressed up for a special occasion.
I could photograph Nokomis' smile all day! It was so great getting to know her and having her model the March photos for us—thanks Nokomis!
The March Top and Dress is 20% off during the launch! No code required.