We are back with another guest blogger—please help us welcome Andie of sewprettyinpink.com and @sewprettyinpink! Andie is here to share not just one, but TWO March Tops, including an amazing embroidered version! You may remember Andie from their interview on the Love To Sew podcast last October, where they discussed sewing with a chronic illness and accessibility in the sewing community. We love following Andie for their bright and playful sense of style, and these versions of the March Top are no exception. Let's see what they have to say!
Hello everyone! My name is Andie and my pronouns are they/them. I am 40 years old, Canadian, disabled, neurodivergent, and nonbinary. I have been sewing since 2008.
I was on the edge of my seat leading up to the March pattern release because of the tease pictures. All I could think of was how perfect that panel was for embroidering and knew I had to create a really unique piece.
I knew I wanted to make the top version. I haven't connected with wearing dresses lately so I wanted to make sure I made something that I would wear with pants or leggings. When it came to deciding on the view for the top though, I couldn't decide! So in true Andie style, I made both! Because why have one top when you can have two?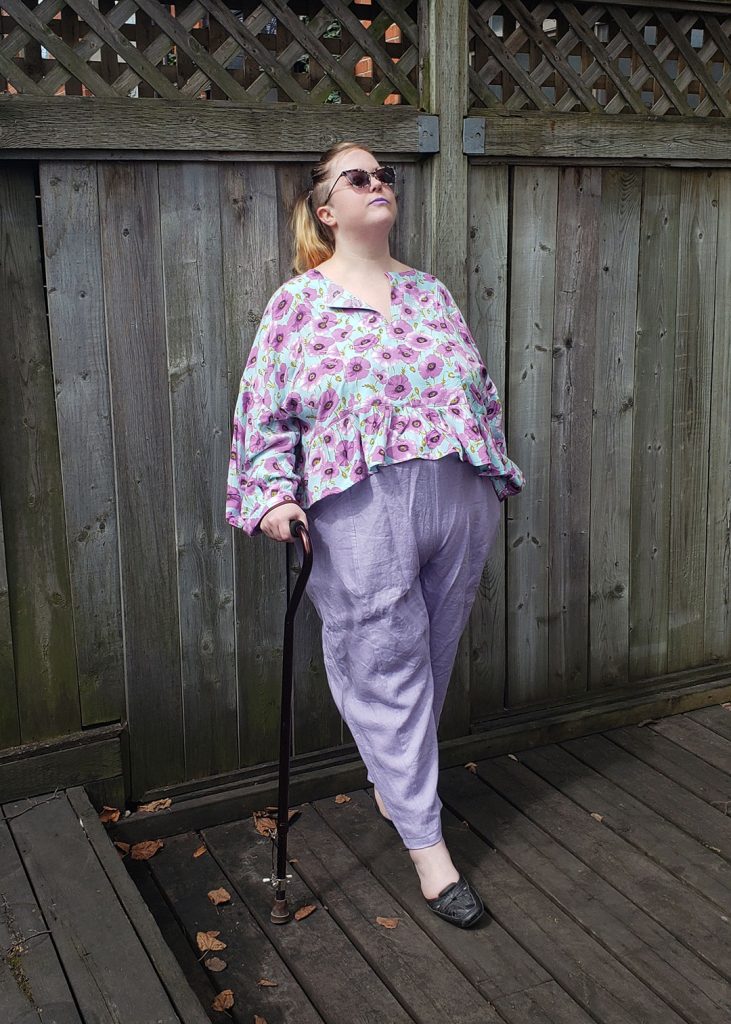 Sewing for my disability
Before sewing with a new pattern, I read through the instructions to make sure they work for my disability. Helen's Closet always has fantastic instructions that give a lot of details, but even great instructions need to be adapted for my disability. I will often do instructions in a different order or use methods that I find easier to do when factoring in pain and energy conservation. In reading the instructions, I changed the order of operations. I sewed the sleeve cuffs on to the sleeve, sewed the sleeve to the body and then sewed the side seam up including the cuff. After that, I just needed to topstitch the cuff piece. I also sewed the neckline after the shoulders versus after the sleeves are on. Both of these make it a bit easier to manage the fabric at those stages. Otherwise, I would be dealing with a lot more fabric for fiddly steps.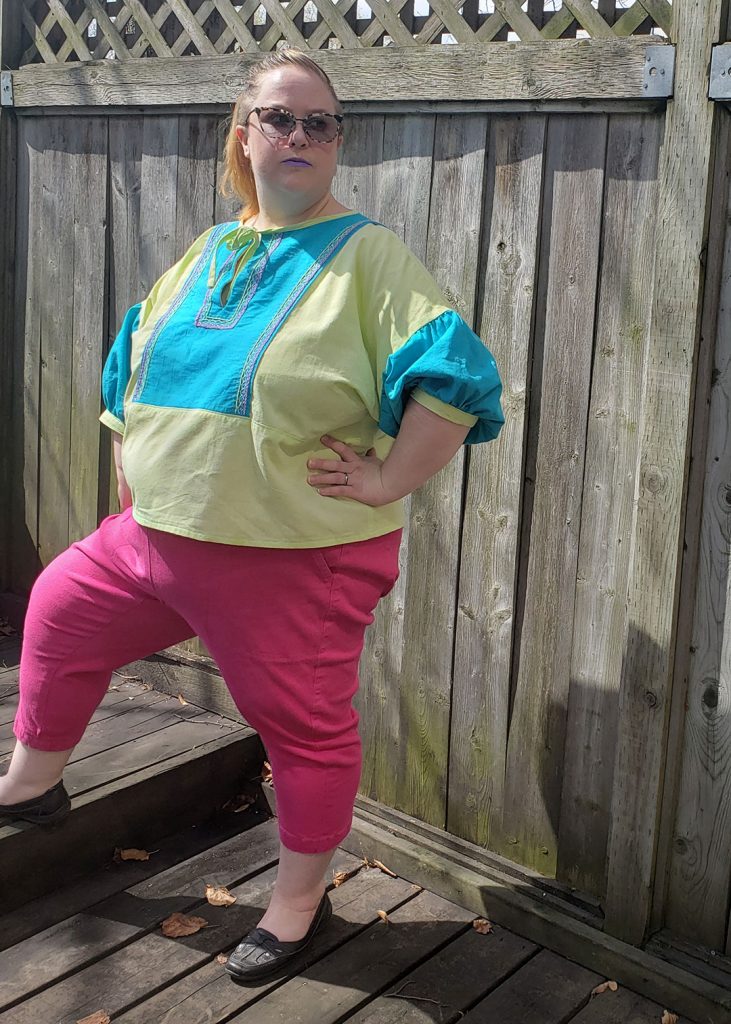 In addition to changing the order of operations, I usually do multiple steps at once to reduce the number of times I need to stand up for the iron. With this pattern, I sewed the shoulders on both the panel and the front and back pieces at the same time as sewing the gathering stitches for the sleeves/cuffs. I'll often do multiple steps until I get to a spot where I have to complete one step before sewing another. It makes it a lot easier.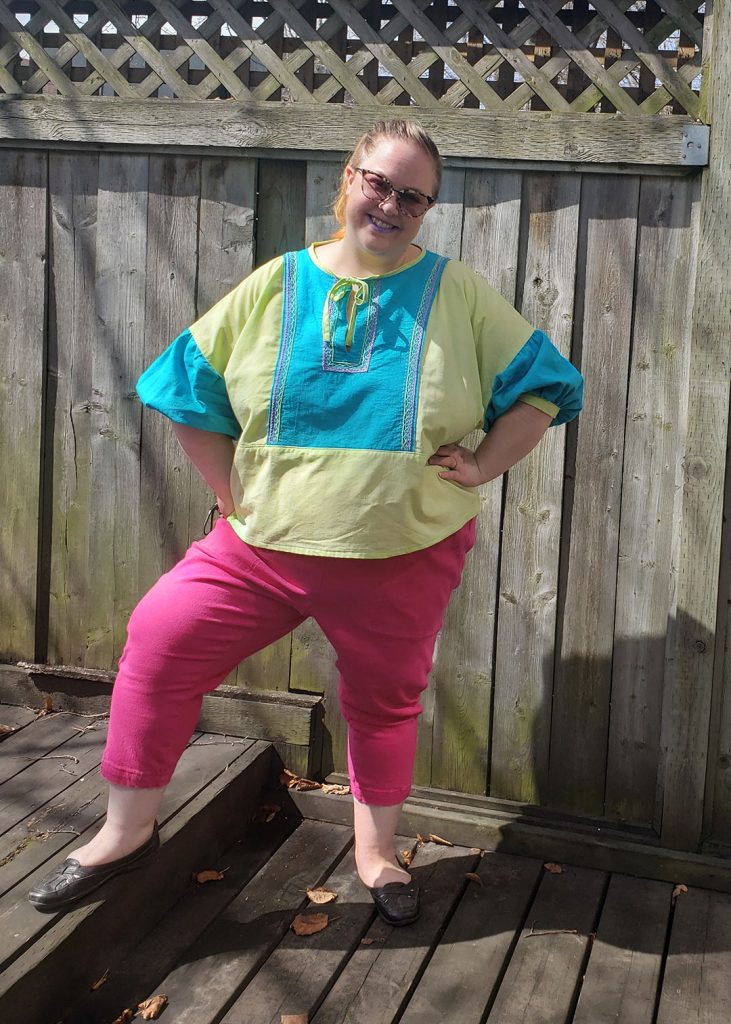 My highest pain is in my spinal cord, hips and knees so sitting down and standing up tend to be tough for me. There are days where I lower my ironing board to seated level and then just roll around in my office chair when I need to iron. An ironing board that can adjust to my height was 100% the best purchase. My pain tends to change based on the day, so sometimes sitting can be more painful and other days standing is more painful, so my sewing tools need to adapt.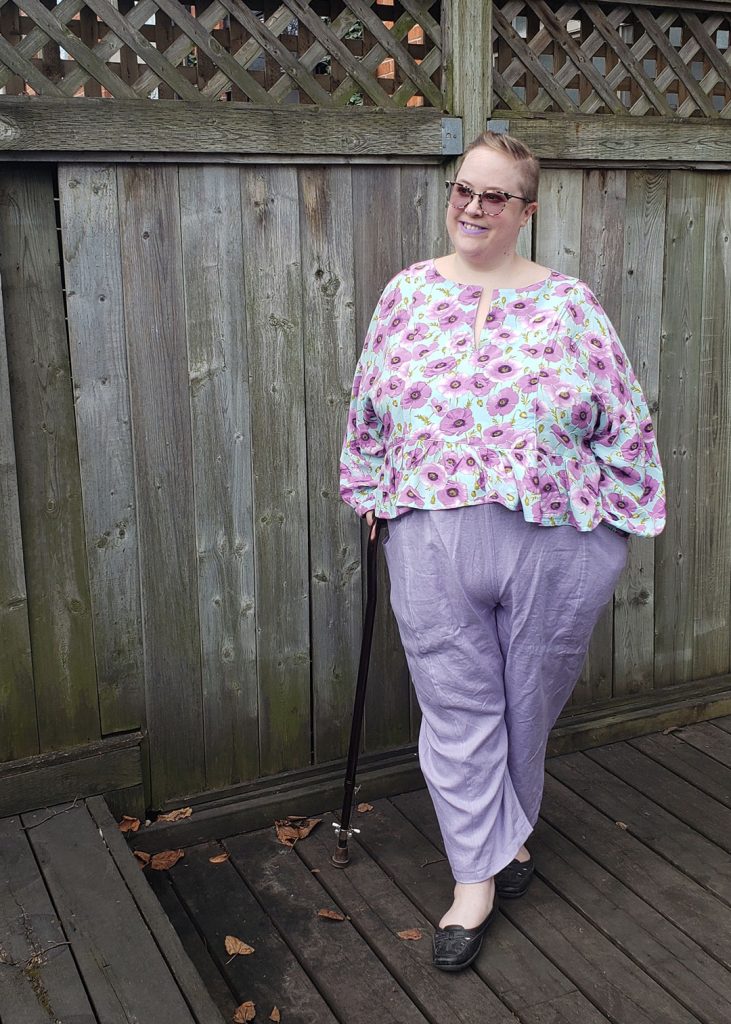 First version
I decided to make my first March Top to test out the fit while I embroidered the panels on the second. If I had any fit issues, the panels would be easy to alter. I was pretty pleased with the fit though, so I didn't make any changes for the embroidered March Top except to use a shorter sleeve based on the fabric type.
My first version was in a lavender print with poppies in rayon. I love this spring print and thought the busy print would conceal the fact that I wasn't going to fuss with print matching on this top. Ha!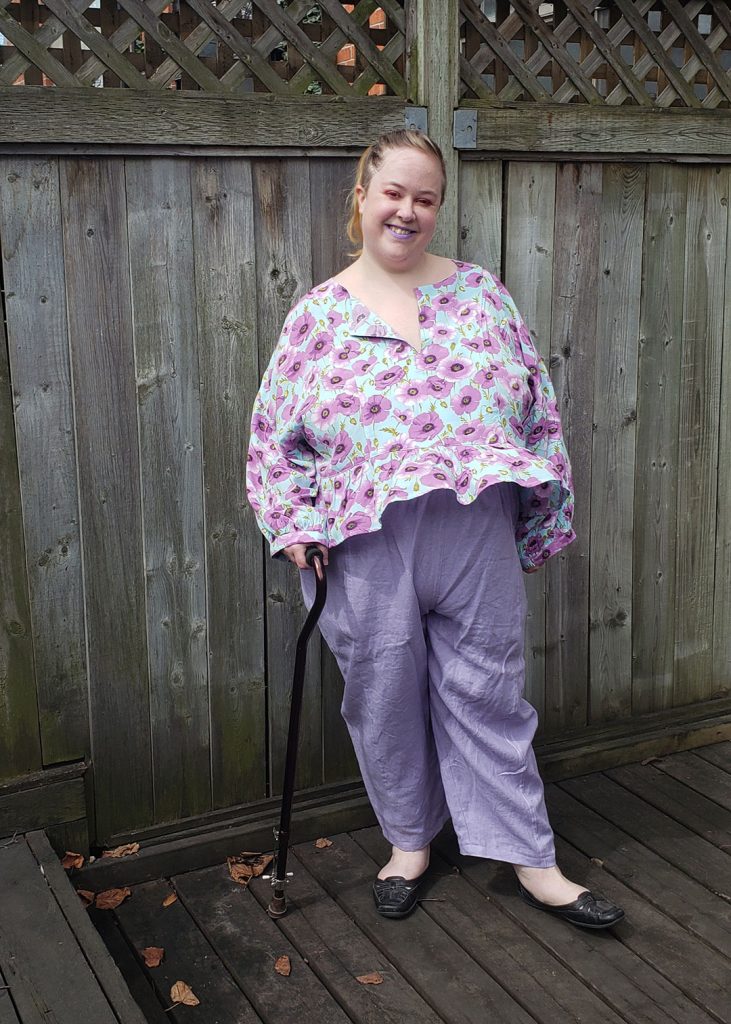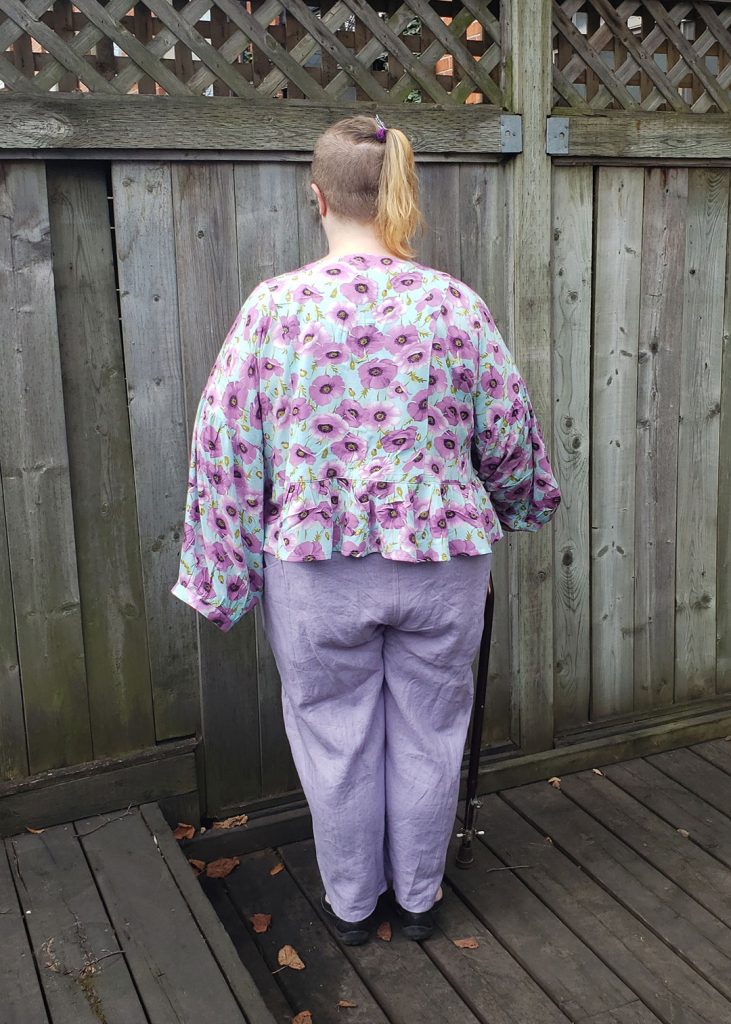 I made a 26 graded to a 28 at the waist. I didn't do any alterations. The first version fit great. I paired the top with lavender linen Muna and Broad Sculthorpe Pants. I absolutely love the outfit! The sleeves are perfectly dramatic and I love the shape of the top. It's got the right amount of loose fit for me to get it on and off, and it's easy to wear without experiencing sensory issues because of the tightness of the garment. I really liked the gathered peplum too, especially with the drapey rayon fabric.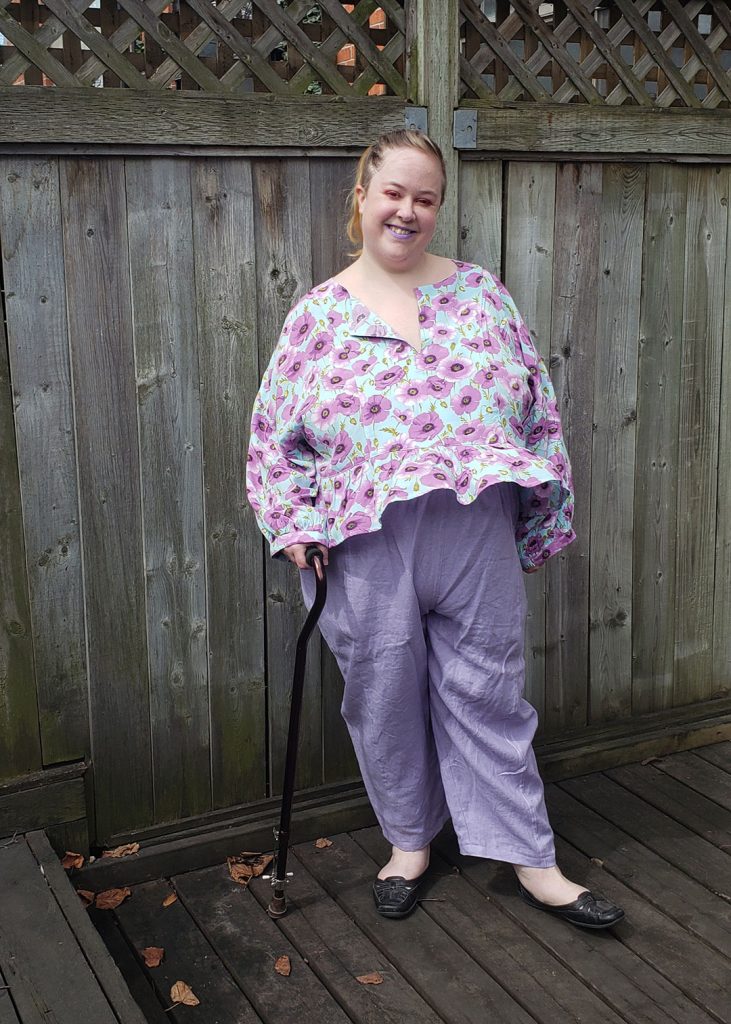 The second version uses the straight peplum, which I actually like the shape of more. I really love my first version, but the second version is so incredibly me! I could stuff it and put it on the couch and have tea with myself.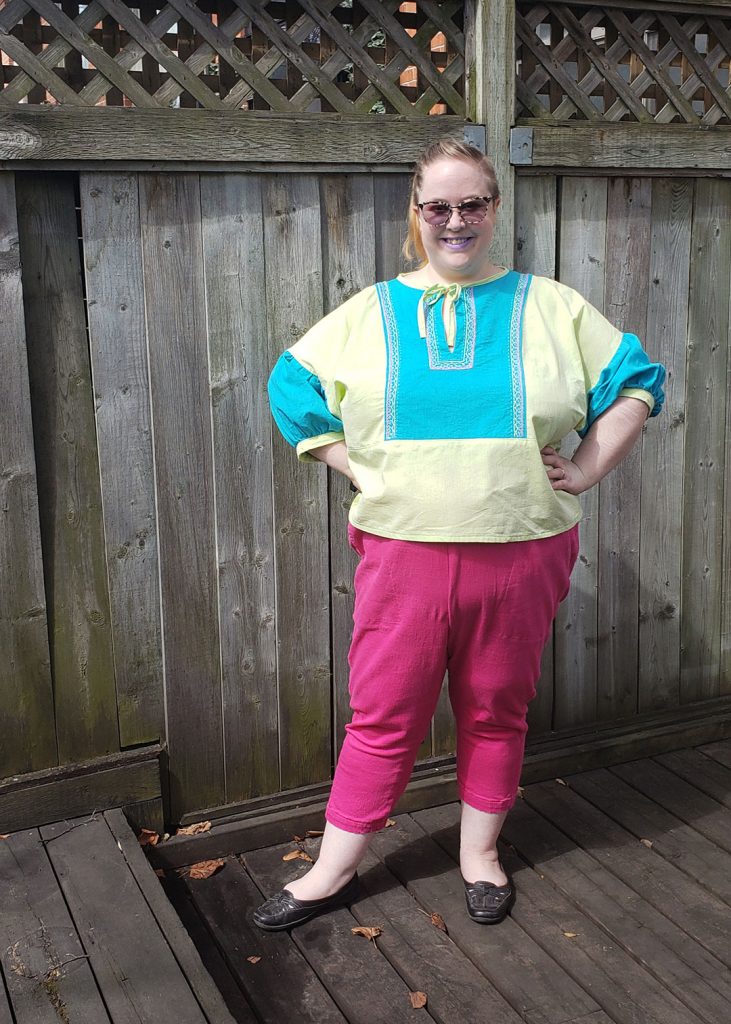 Second version
For my second version, I used two colours of linen: turquoise and lime green. I embroidered lines of a pastel rainbow in different stitches for each colour. Originally, I was going to make an entirely different design, but halfway through the front, I just wasn't happy with it. I am so glad I changed it to this! I also chose to make this one in a shorter sleeve. I found the sleeves in the other version wouldn't work well with the linen fabric. They are great for a drapey rayon but not for a mid-weight linen. The shorter sleeves also make the sleeves all cute and puffy. I chose to do some colour blocking for the top. Originally, I was just going to use the turquoise fabric but it pairs so well with the lime green that I needed to use both. The lime green is also picked up in the embroidery so I think it works well. I made the panels and sleeves out of turquoise and the rest in lime green.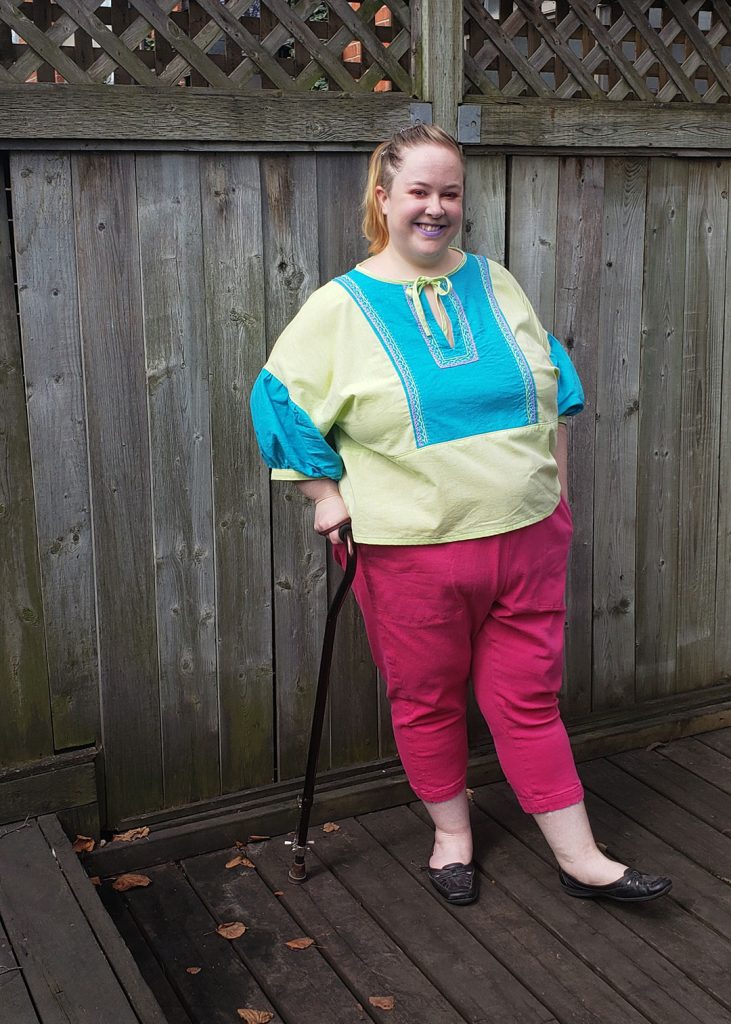 Embroidery
The embroidery design is on the edges of the panels as well as on the neckline split. I used various stitches on the embroidery: stem stitch, chain stitch, herringbone stitch, running stitch, and a zig-zag stitch. Each colour is a shade in the pastel rainbow: lavender, baby pink, a sherbert orange, light yellow, light lime, and a light turquoise colour (which reads as white on the turquoise). I'm so happy with the design. It's simple, but also elevates the top and makes it so lovely and unique. I can see myself making so many more versions using embroidery.
The panels are absolutely perfect for embroidery because the back of the embroidery is not only covered and protected but the panel is also completely interfaced for stability. What better circumstances for creating a wearable piece of art?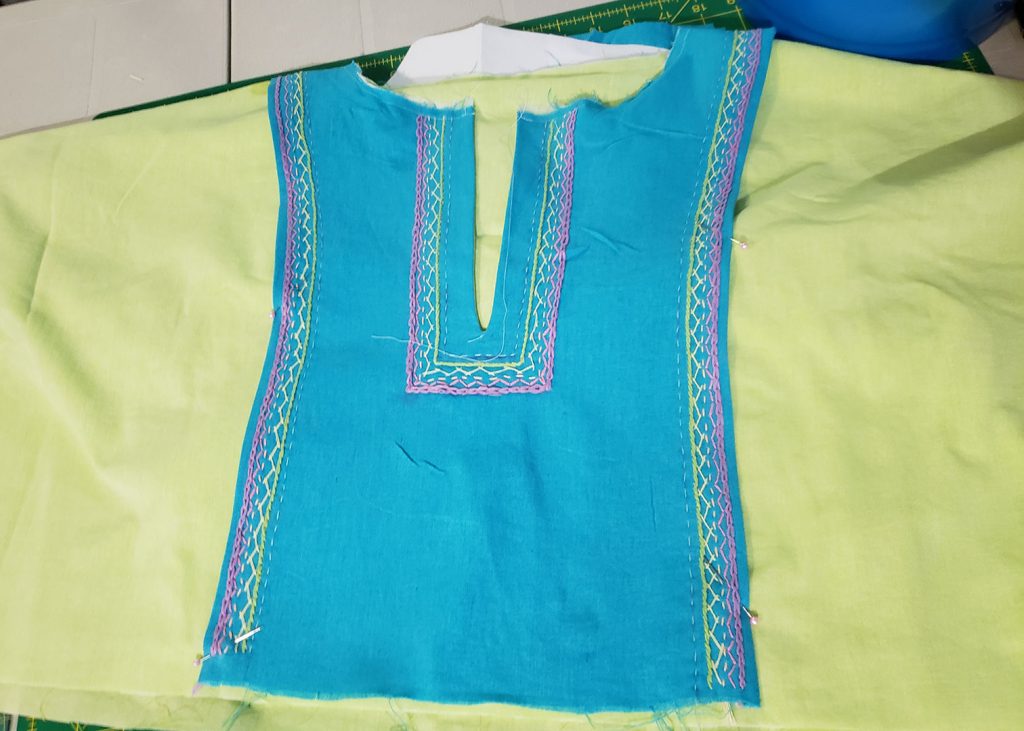 I have been doing embroidery for awhile now. I learned through various tutorial videos that I found for free. Pinterest and YouTube are great resources for learning embroidery stitches. If you are a beginner learning to do embroidery, a simple stitch border like this would be perfect for you. It's like a wearable stitch sampler!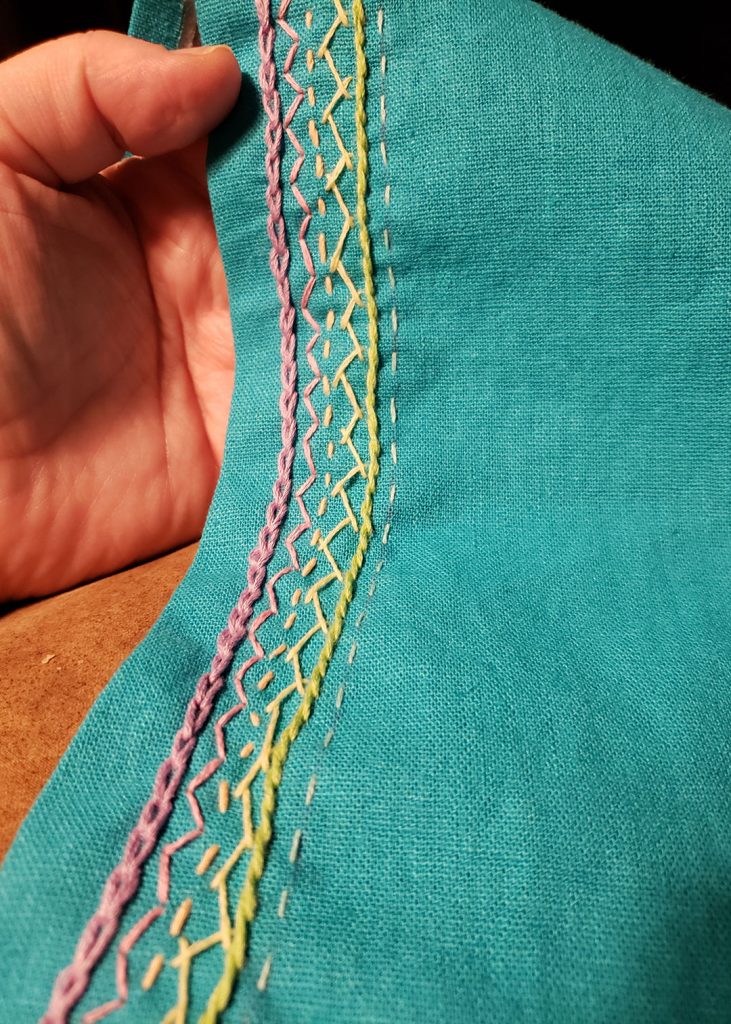 I used embroidery floss from our local dollar store for this project. It's not the highest quality thread but I have used it on other garments and it holds up to washing well. If you are really concerned about how the embroidery holds up over time, I recommend using a high-quality embroidery floss. I do not recommend putting the garment into the dryer, and instead suggest washing on gentle or hand washing it.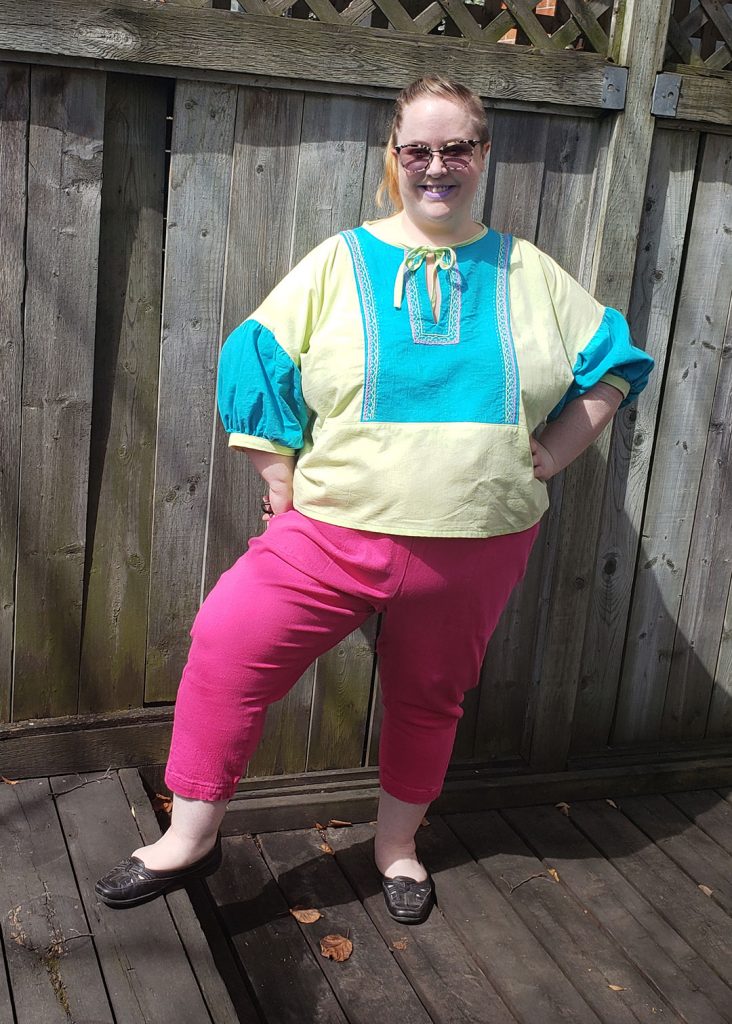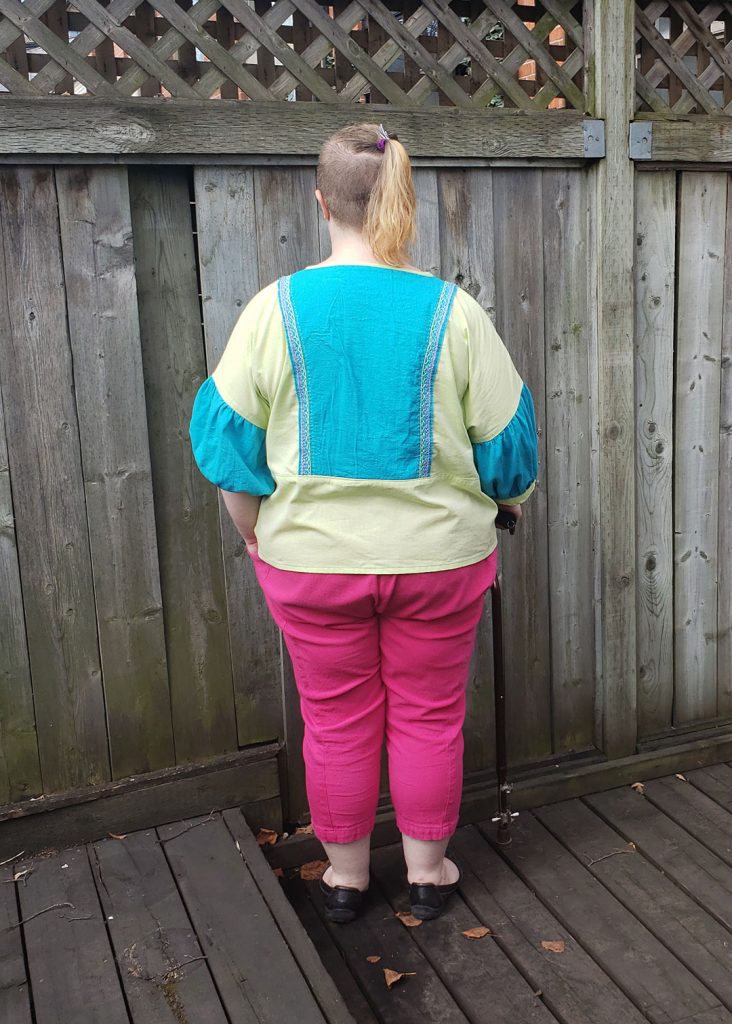 Final thoughts
I absolutely love both versions, and they won't be my last March Tops by any means. I definitely love the embroidered March Top more—but I love both and will be wearing them both a lot. I am thinking this pattern will become a tried and true pattern for me. I just love it so much!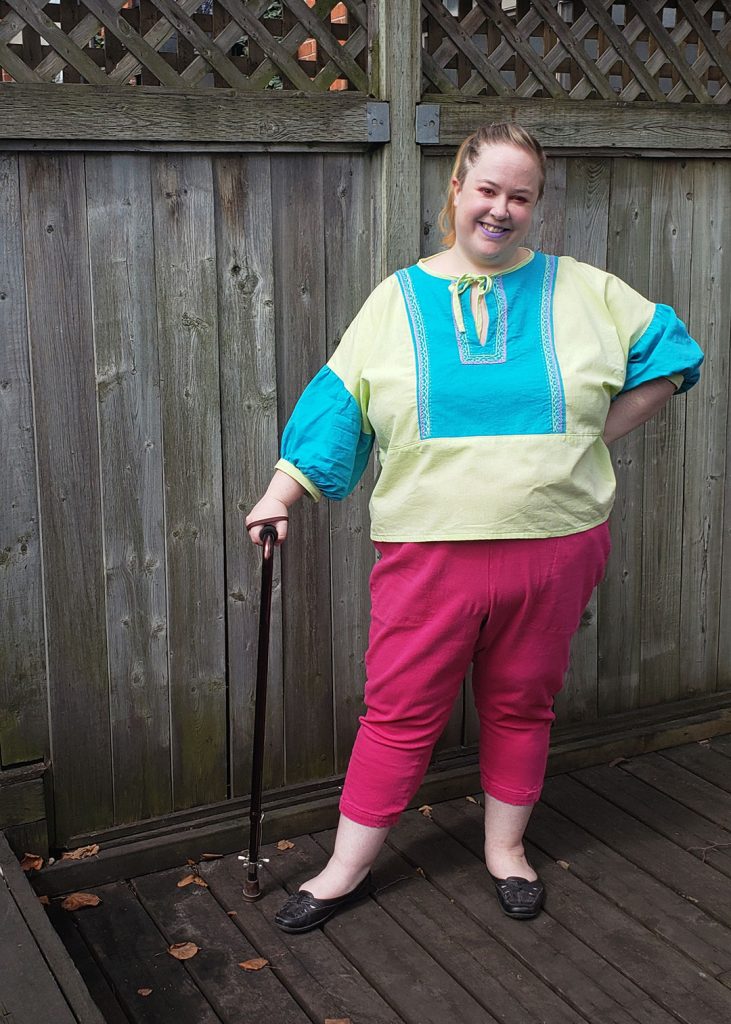 I'd love to see your embroidered March Tops, if you decide to do that. The pattern is perfect for any type of embellishment as well! I am thinking of doing a beaded embroidery version too!