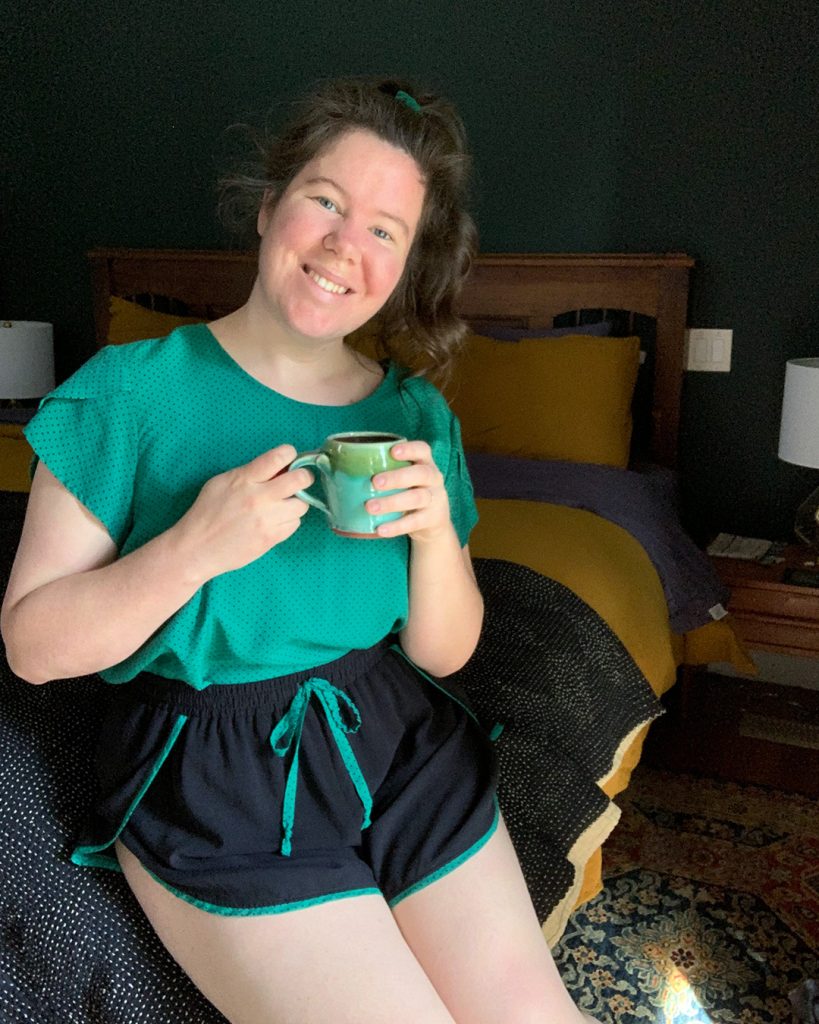 I've got a fun outfit project to share with you today! This pajama set uses our Ashton Top and Sleeve Expansion Pack for the top half and self-drafted shorts for the bottom. I am considering making these cute petal shorts into a pattern—comment on this post if you are interested!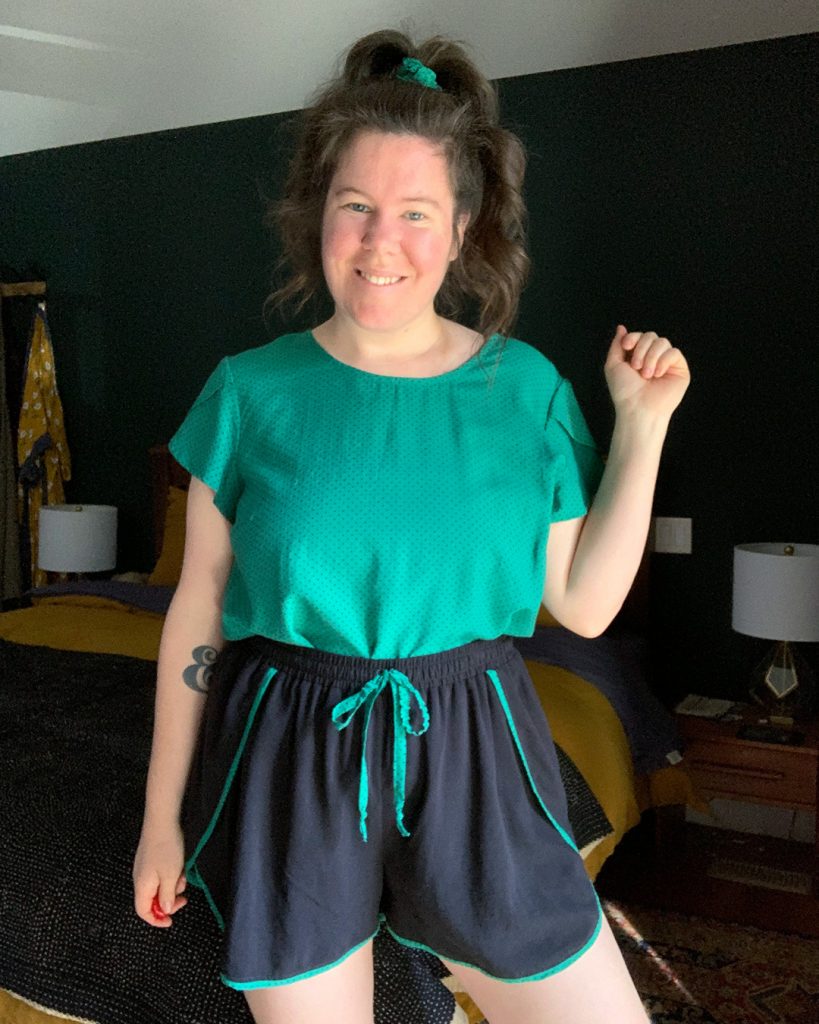 The Ashton Top and Ashton Sleeve Expansion Pack are on sale during the month of May for 20% off, no coupon code required.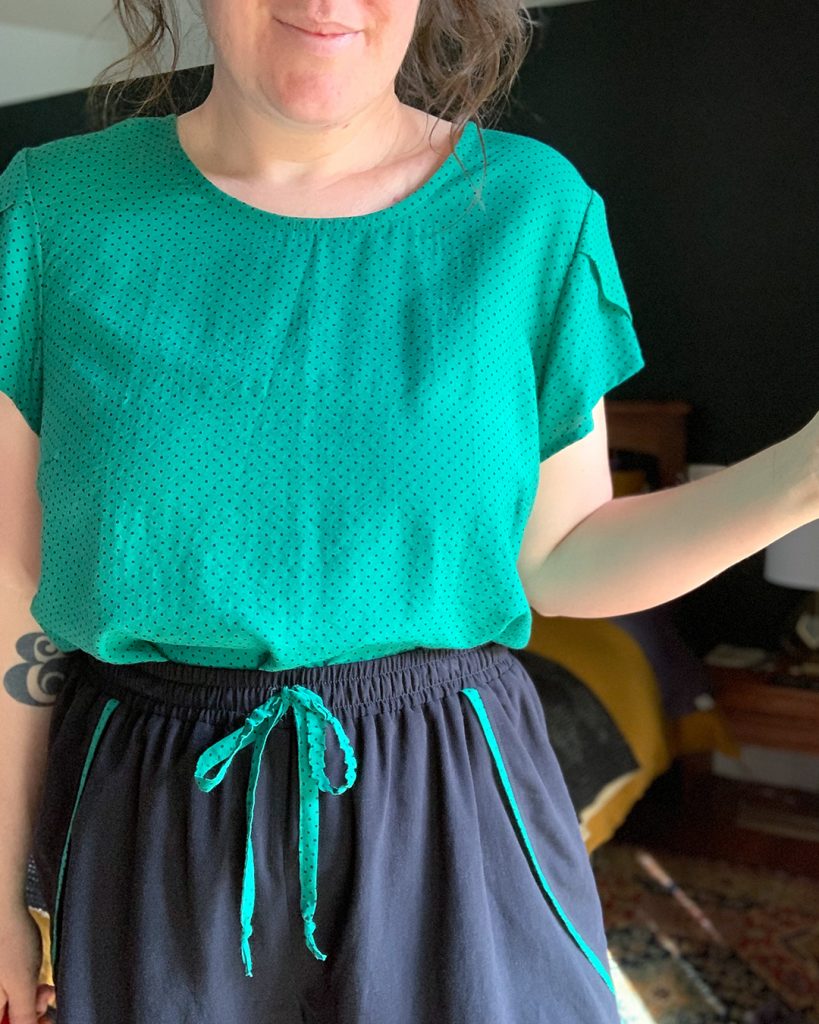 This Ashton Top was sewn up when we were working on the expansion pack, and I could not get the idea out of my head that this fabric looked like pajama fabric. Something about this tiny-dot rayon just screamed sleepwear to me so I had this top languishing on a hanger in my studio for quite some time. Eventually I thought "Why not make matching PJ bottoms?".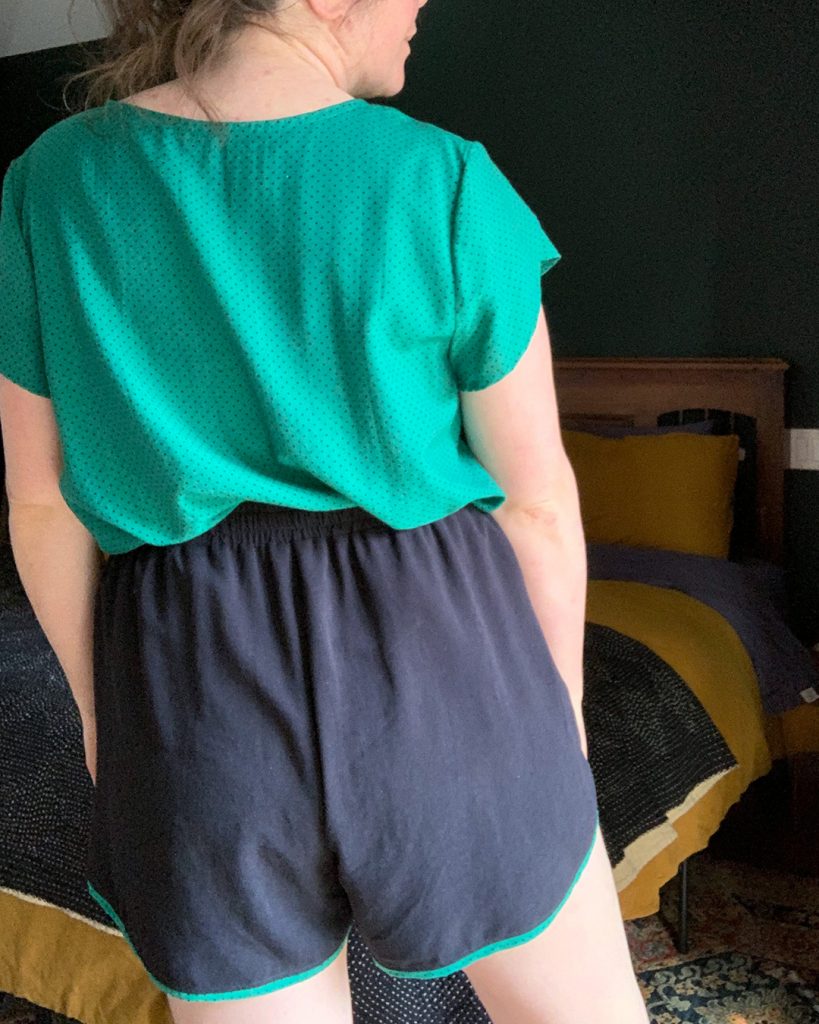 These cute petal shorts were inspired by the Ashton petal sleeve and I love the way the shapes match. I self-drafted these elastic-waist shorts and I am really pleased with how they turned out. They are super comfortable and really fun to wear. The only downside is—no pockets! Thankfully I don't need them in my PJs.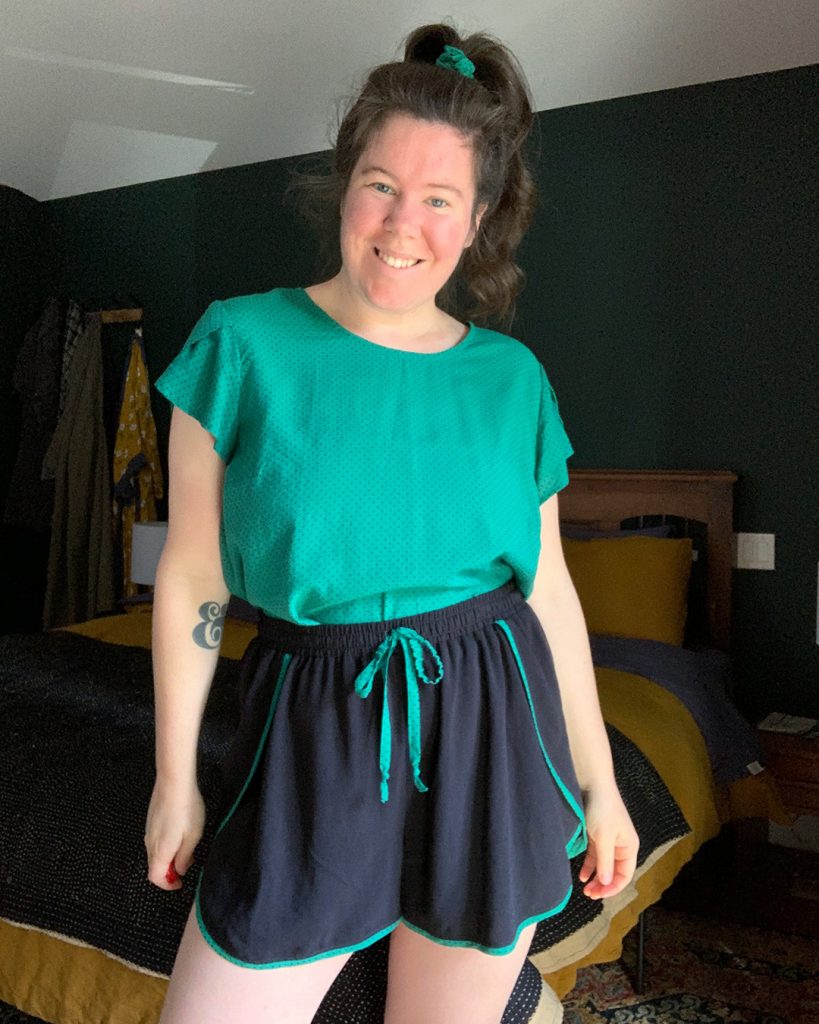 I decided to use the same green dotted fabric for an accent on my black rayon crepe shorts. I cut bias strips, folded them in half, and sewed them onto the petal shape on the shorts. I then serged the edge and pressed it towards the shorts and topstitched! I like how easy this application of bias is, it is almost like flat-piping. I also used the green fabric for the drawstring!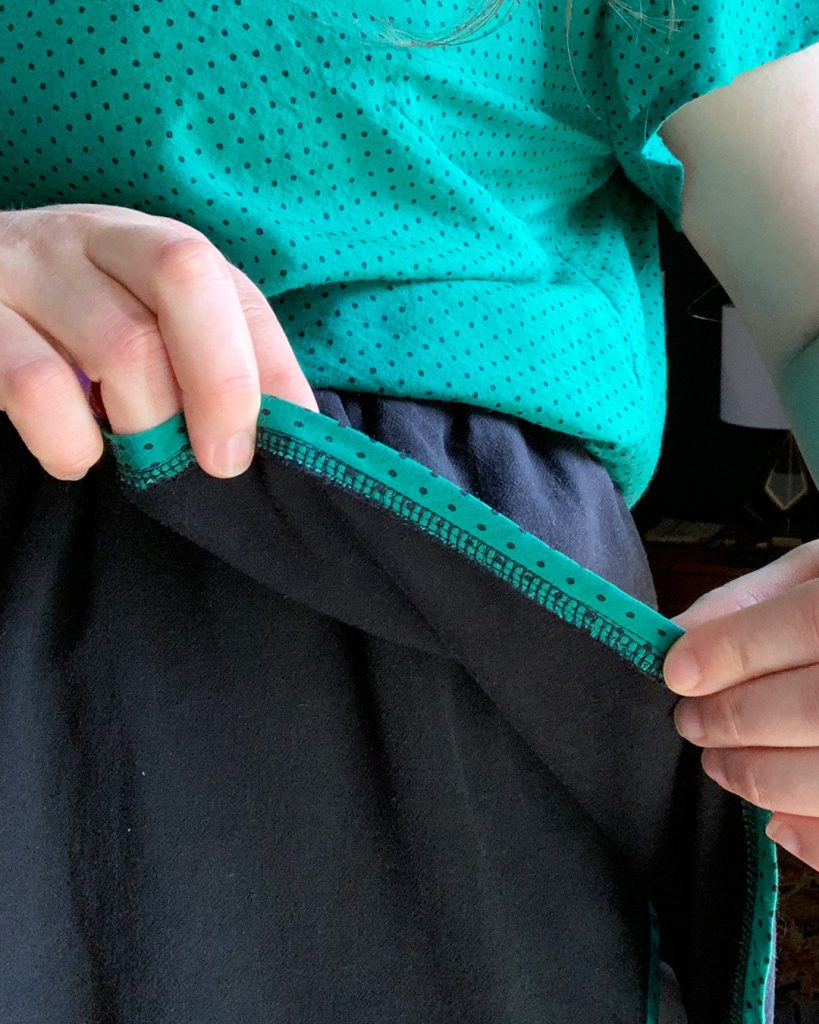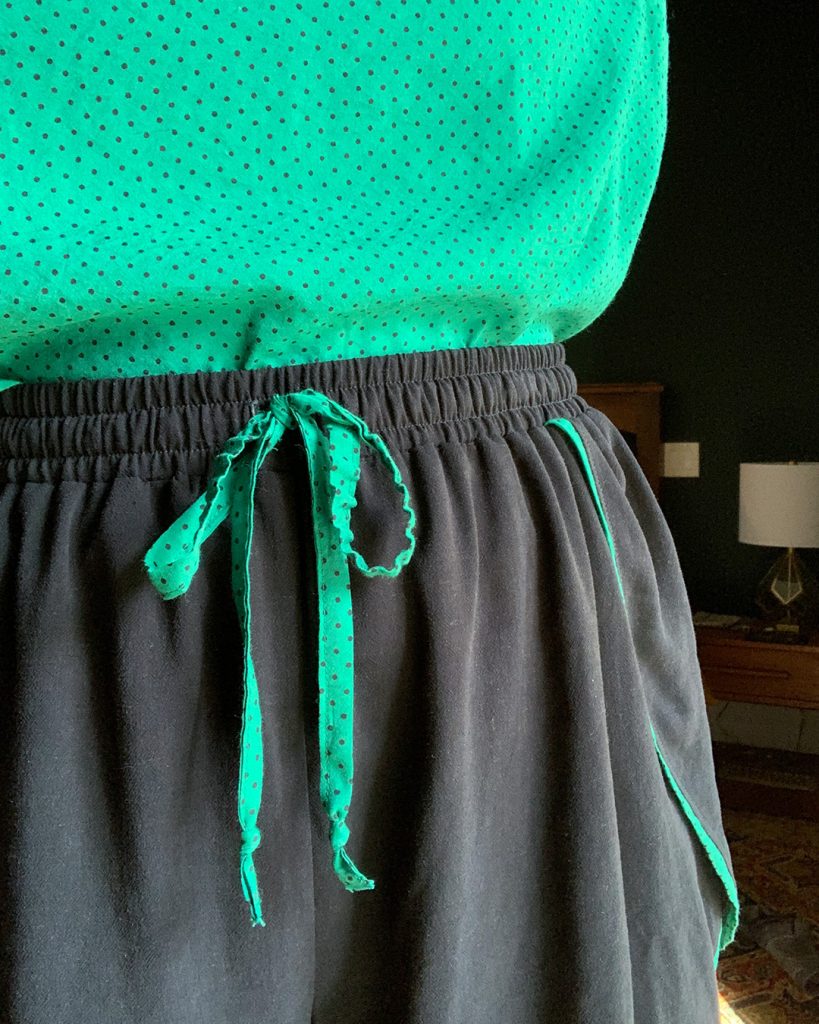 Once my set was complete I decided to make a matching hair scrunchie to go with it. How could I resist! I love that you can use scraps from your projects to make matching accessories like face masks, scrunchies, headbands or wraps, scarves—you name it! There are so many tutorials out there on how to make scrunchies, if you Google it or search on YouTube, you will find one that works for you!
I love this PJ set! The Ashton is two sizes too big for me, which works perfectly for this application—you want your sleepwear to be extra-comfy, right? You can size up on the pattern and make any Ashton that works for you. The base pattern will give you a sleeveless top, and the sleeve expansion pack provides FOUR sleeve options so you can choose which one works best for you.
If Ashton is not your thing for a PJ top, we think our Gilbert shirt pattern and our Jackson Tee pattern make excellent sleepwear too!
Don't forget to grab the Ashton Top and Ashton Sleeve Expansion Pack for 20% off during the month of May, no coupon code required.
Happy sewing!
Helen