I've got a pretty special project to share with you today, one that has been a long time in the making! I began work on this top after we launched the March Top and Dress pattern last year and it has taken me nearly a full year to complete it. I haven't been working on it non-stop, but it has been a really nice project to come back to again and again as I make steady progress. This is my March Top (view C) with custom embroidery!
I really enjoy embroidery because I feel like I am painting with thread when I'm doing it! It is nice and slow and calming, and the end result is always stunning. There is something about the texture and movement in embroidery that really brings garments to life. I have been inspired by embroidery artists like Tessa Perlow and Christi Johnson, who often do work on pre-made garments.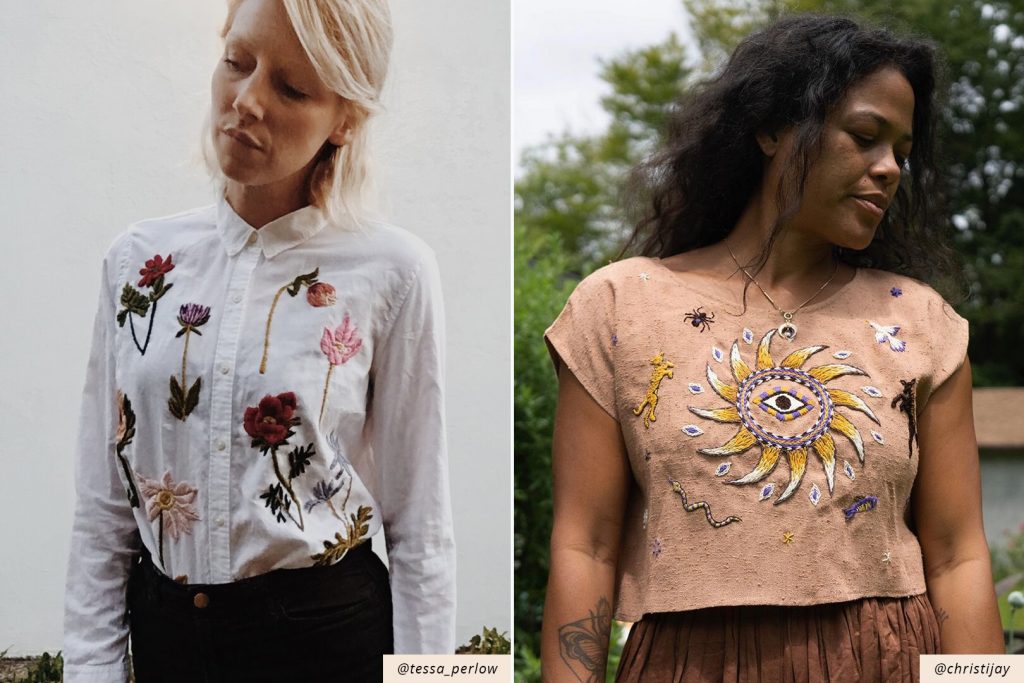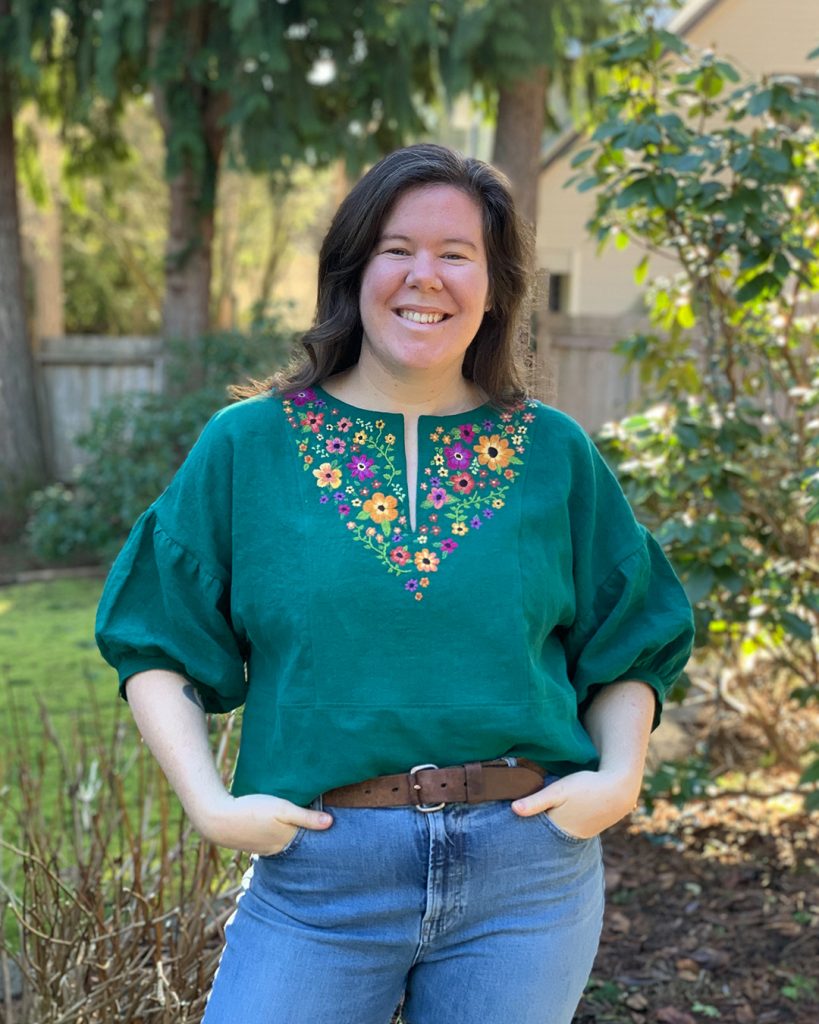 Let's go back to the beginning of this project! The March Top and Dress already has the perfect front and back panel for embellishments like embroidery, beading, applique, etc. This panel is an outer facing that is interfaced and used to help finish the neckline of the garment. The interfacing makes it an ideal place for embroidery!
Psssst: The March Top and Dress pattern is on sale this month for 20% off, no code required.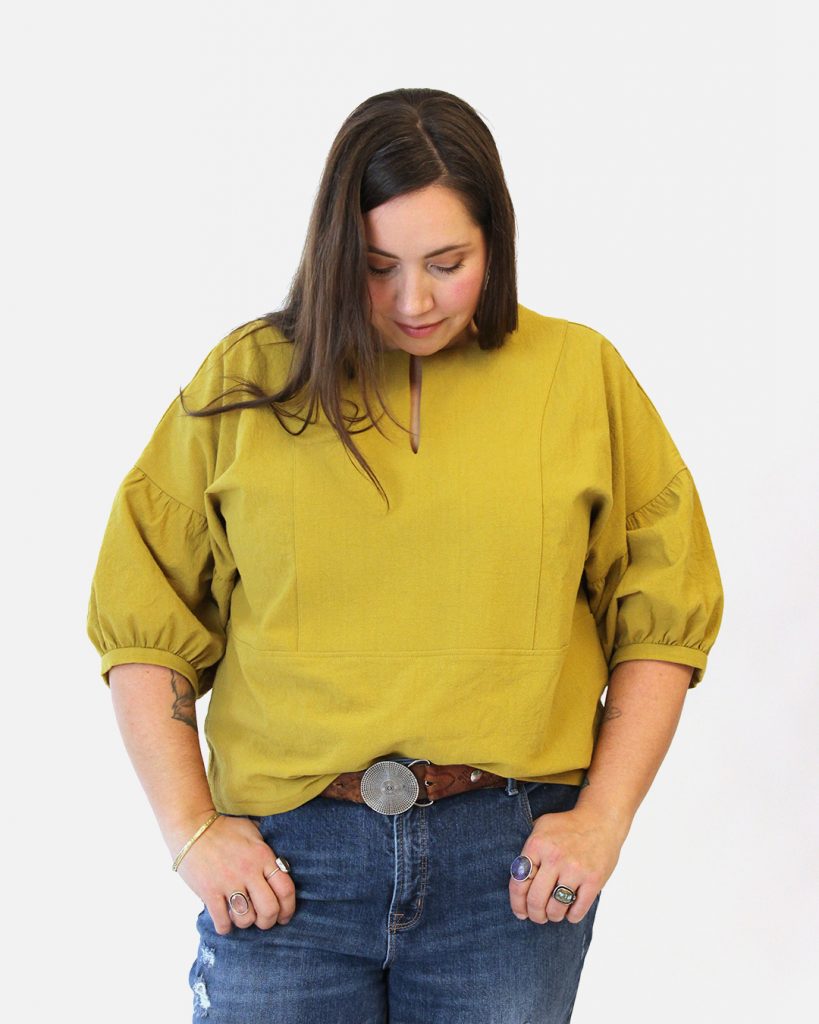 It is easier to embroider on a larger piece of fabric, rather than on a piece that is already cut out using the pattern pieces. I block-fused two pieces of linen that would be big enough to cut my front and back panels out of. I then traced the front and back panel pieces onto the fabric with chalk. I realized the chalk would rub off eventually so I ended up using basting stitches for the outlines instead. I knew I wanted to embroider only on the top half of the panel, creating a point in the middle, around the neck slit. I used basting stitches to mark out this area as well.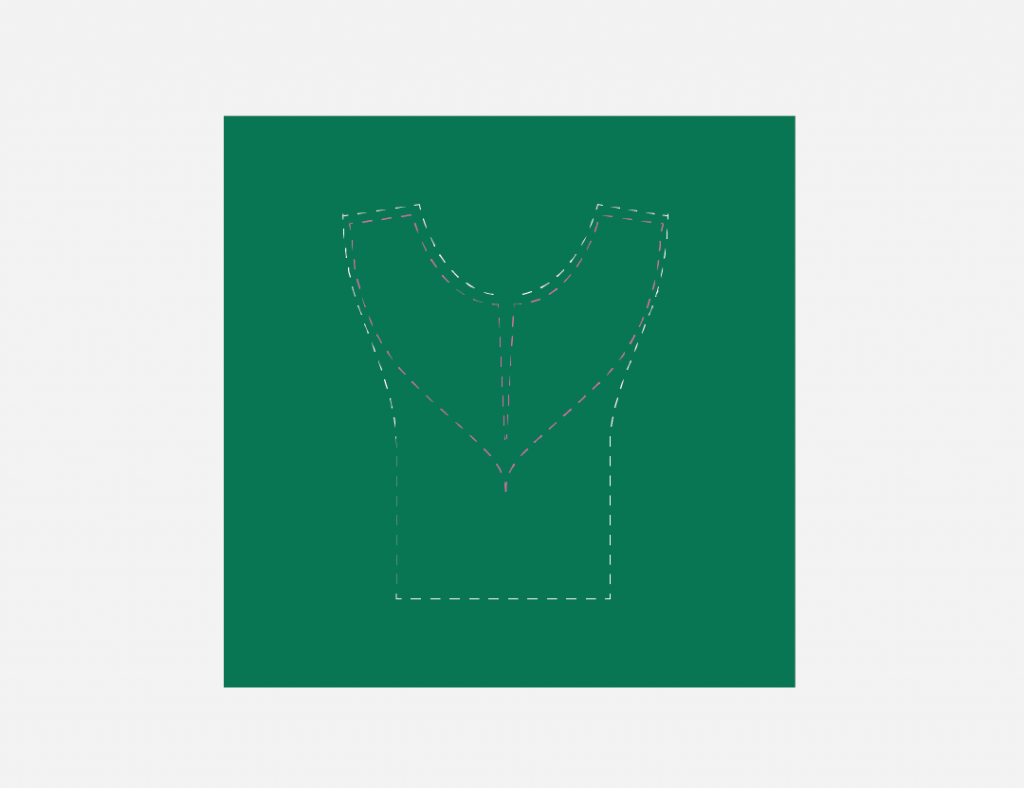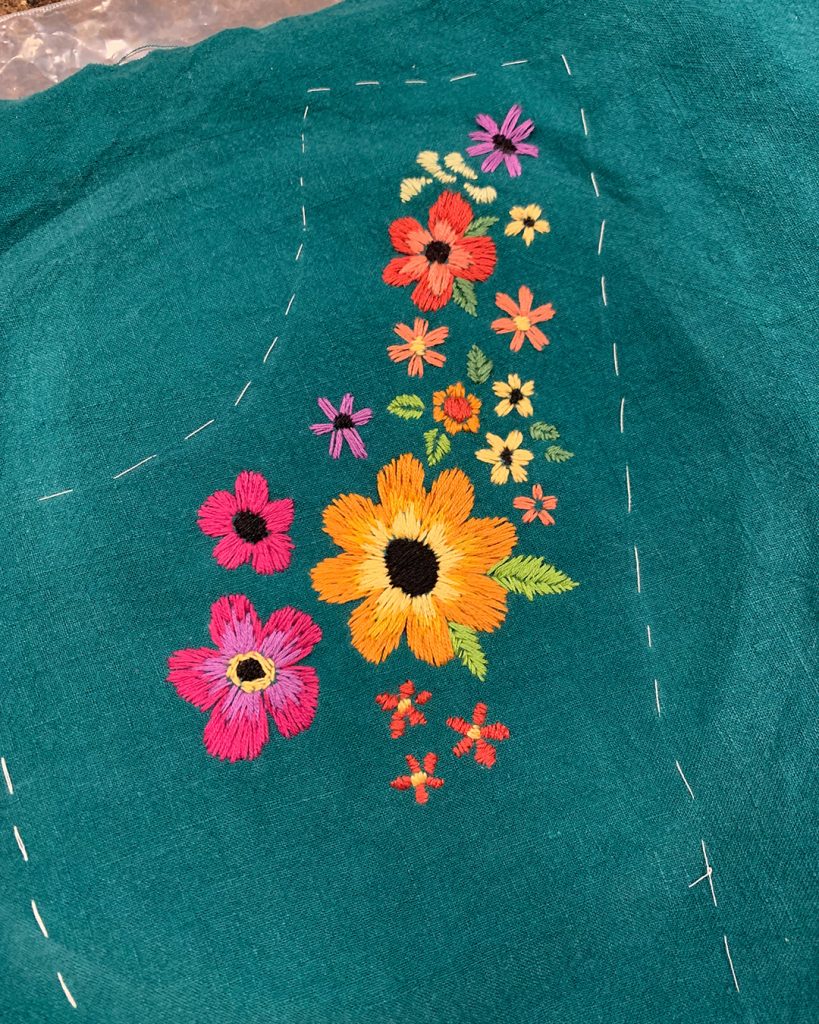 Once I had my pieces ready I could get started! I used an embroidery hoop to make a nice, flat area for my work and I began stitching flowers. This design is entirely improvised and done as I went along. I chose a spectrum of colours that I wanted to work with, but that was as far as my planning went. I personally love improvisational embroidery because you never know where it will take you! That being said, planning out your work is great, too. There is no right way to approach this. This piece was inspired by my garden and celebrates the anticipation of spring flowers. How appropriate for this time of year!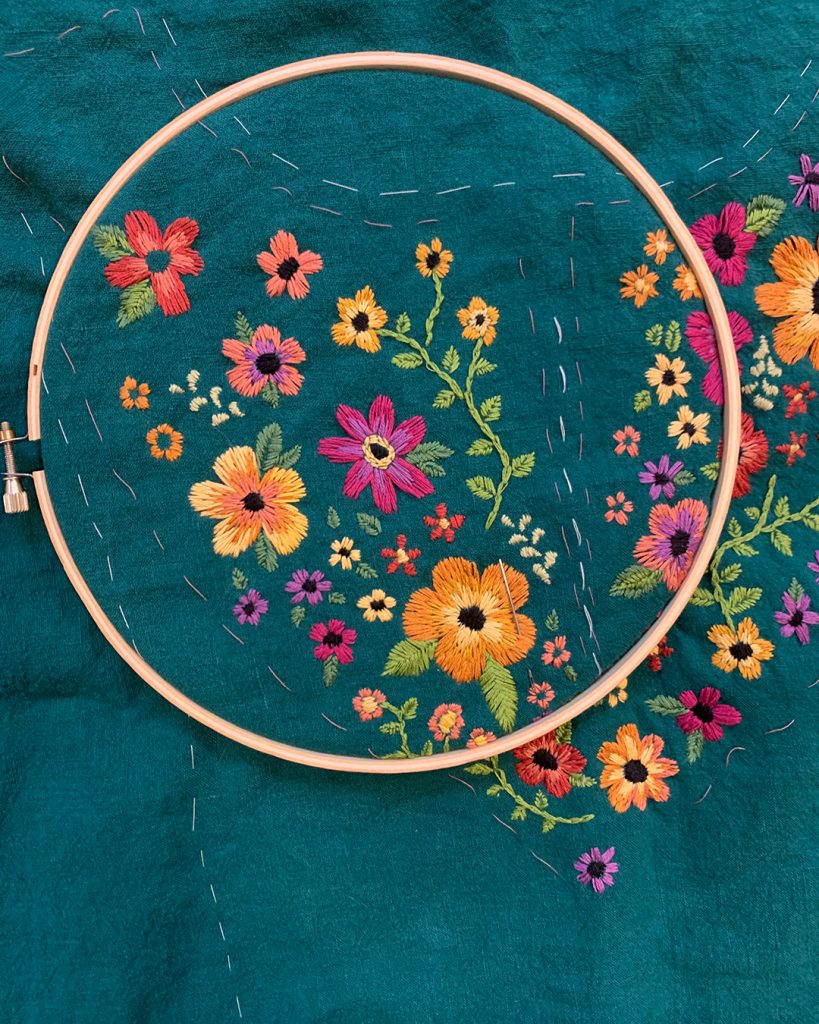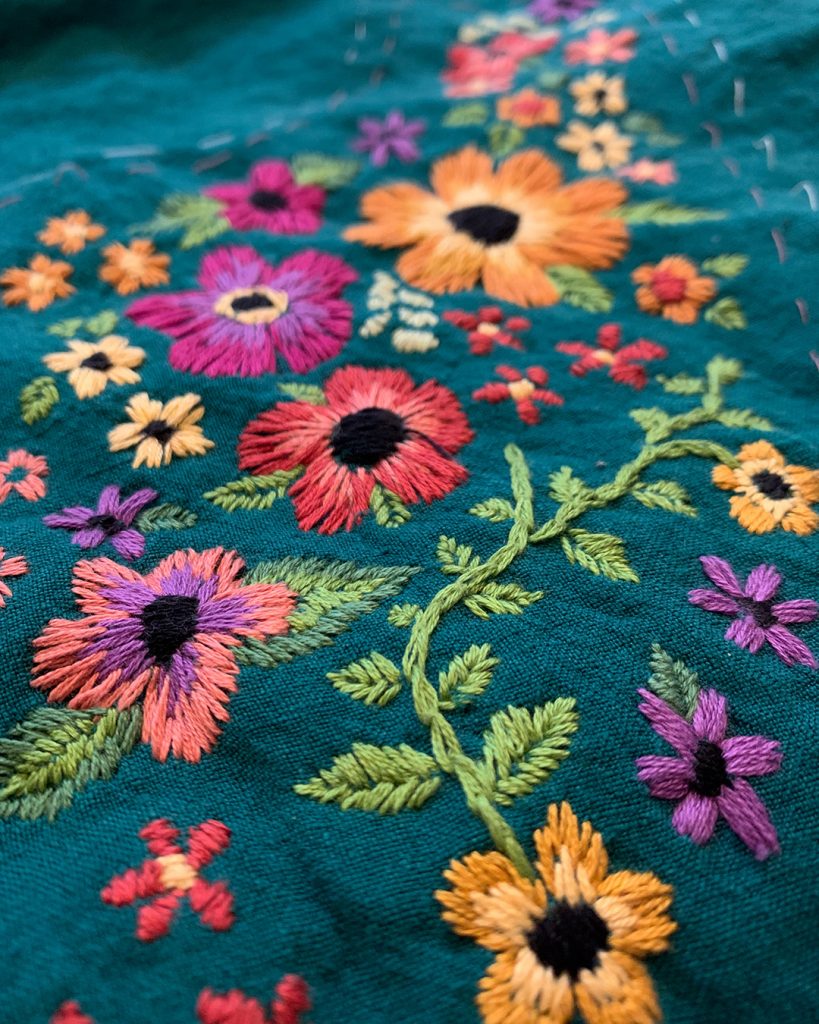 I used basic satin stitch and the occasional chain stitch (for the vines) to create my flowers. I love overlapping colours to create depth and texture, especially in the center of the flowers. This piece isn't symmetrical, but I do feel that it is balanced. This was achieved as I went along, ensuring I did equal amounts of large and small flowers and vines. I filled the area that I had stitched out to create this beautiful curved 'bib' on the front.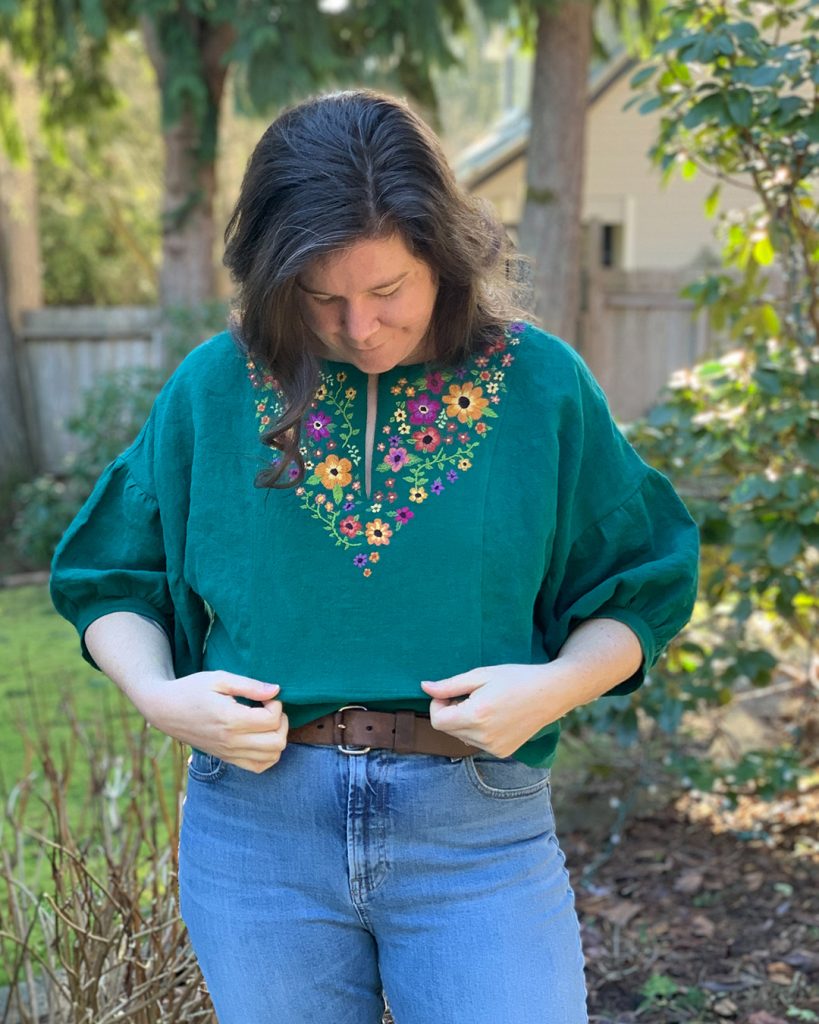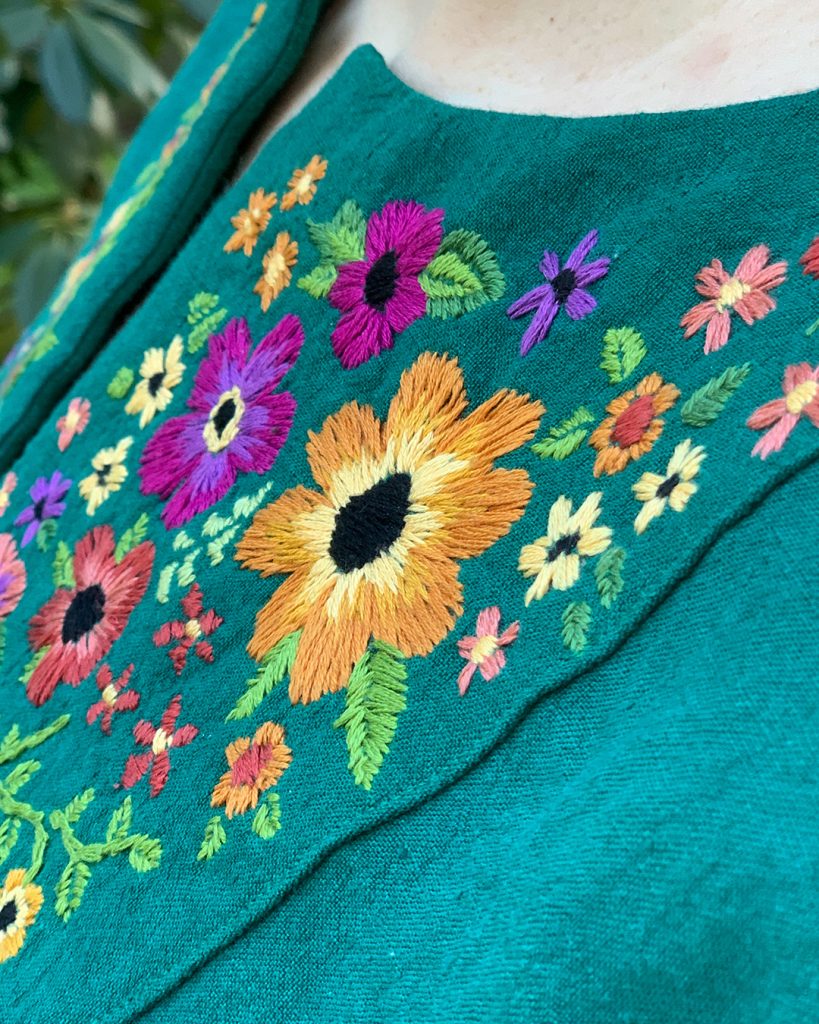 In addition to the front piece, I also stitched a little bit on the back. I considered doing more on the back but to be honest, I was losing some steam. I was ready to complete this project and move on to new things! I continued the flowers over the shoulder seam and onto the back neck a little ways, just to make it look nice and smooth. My hair tends to cover the back of shirts, anyways!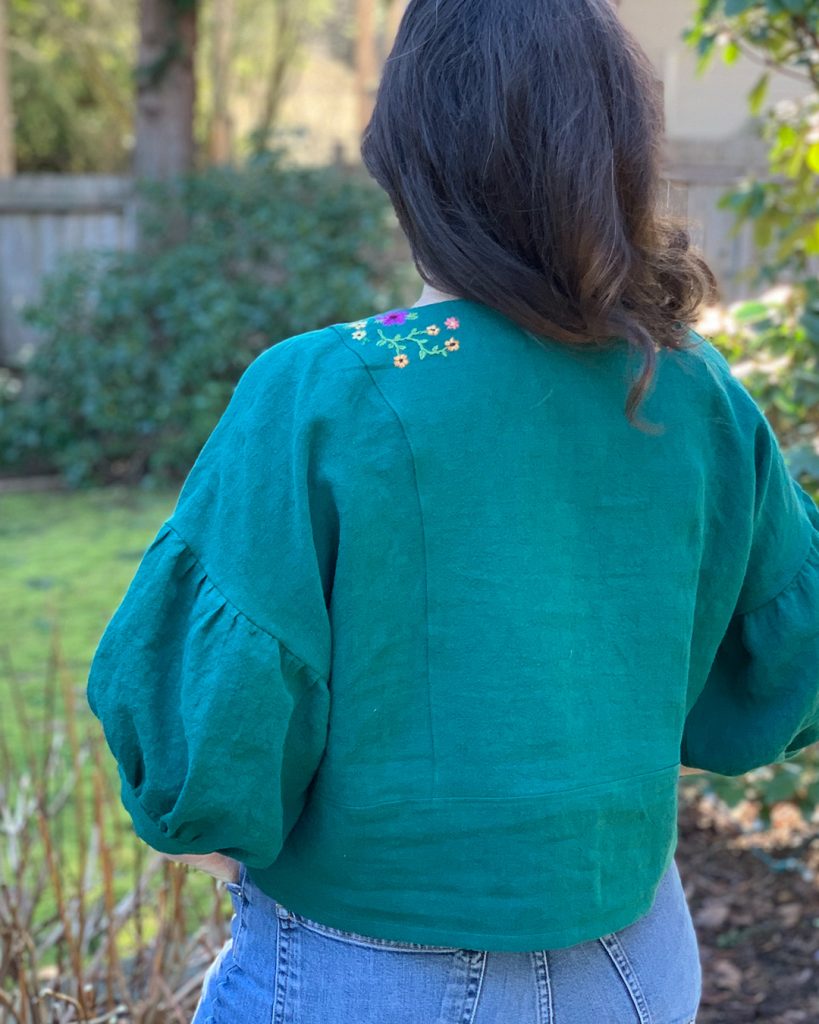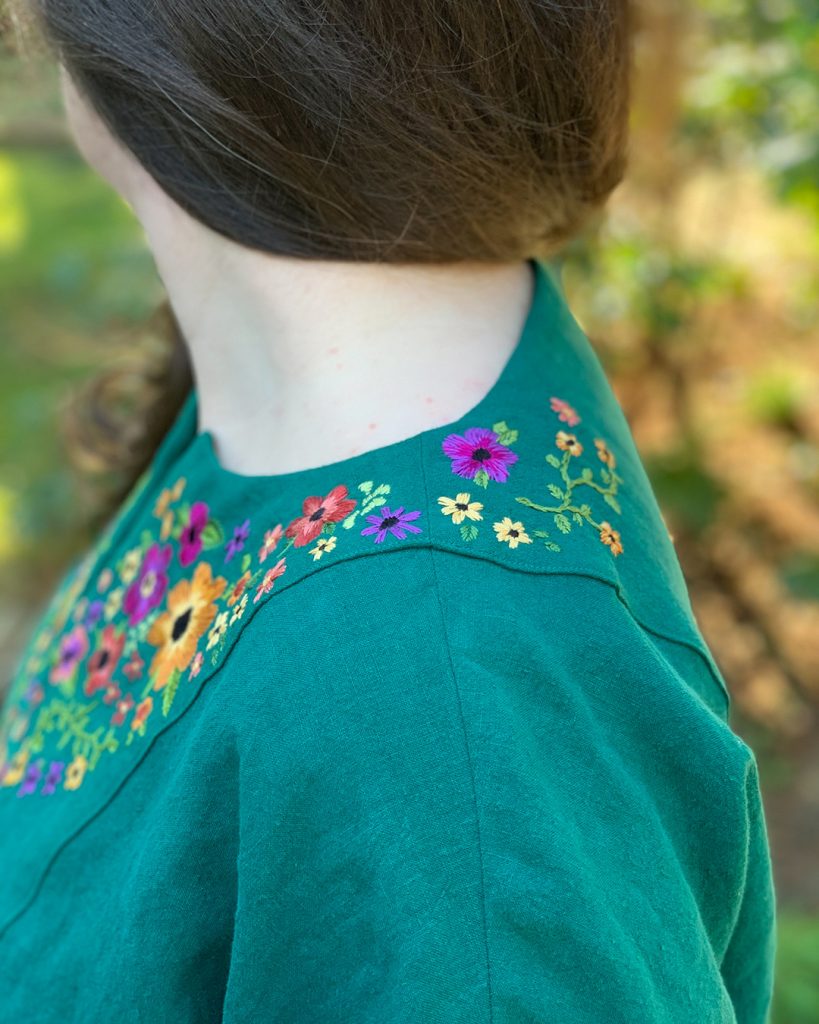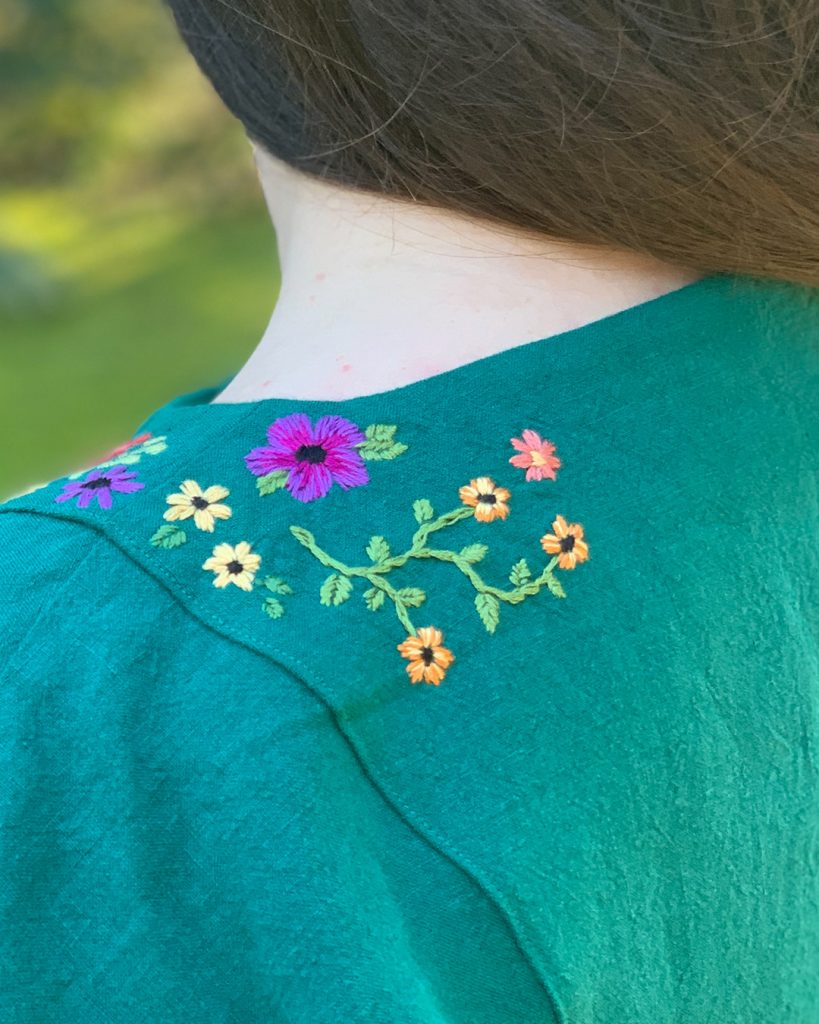 Once the embroidery was complete, I could cut out the pieces and complete the project. I'll admit, this was very intimidating! All that hard work and I was going to cut it up and sew it!? What if I made a mistake? What if I didn't like the final result? I was feeling the pressure. This project sat in my studio for a good couple of months before I worked up the courage to go for it. I'm so glad I did because I love the final result!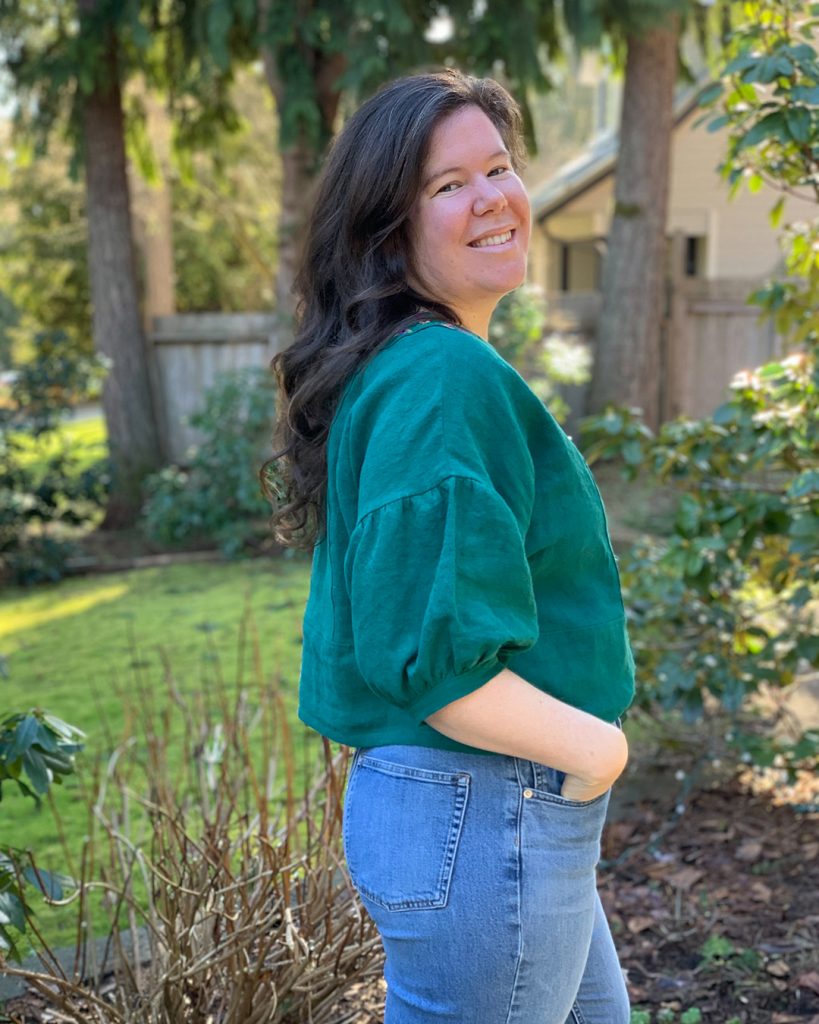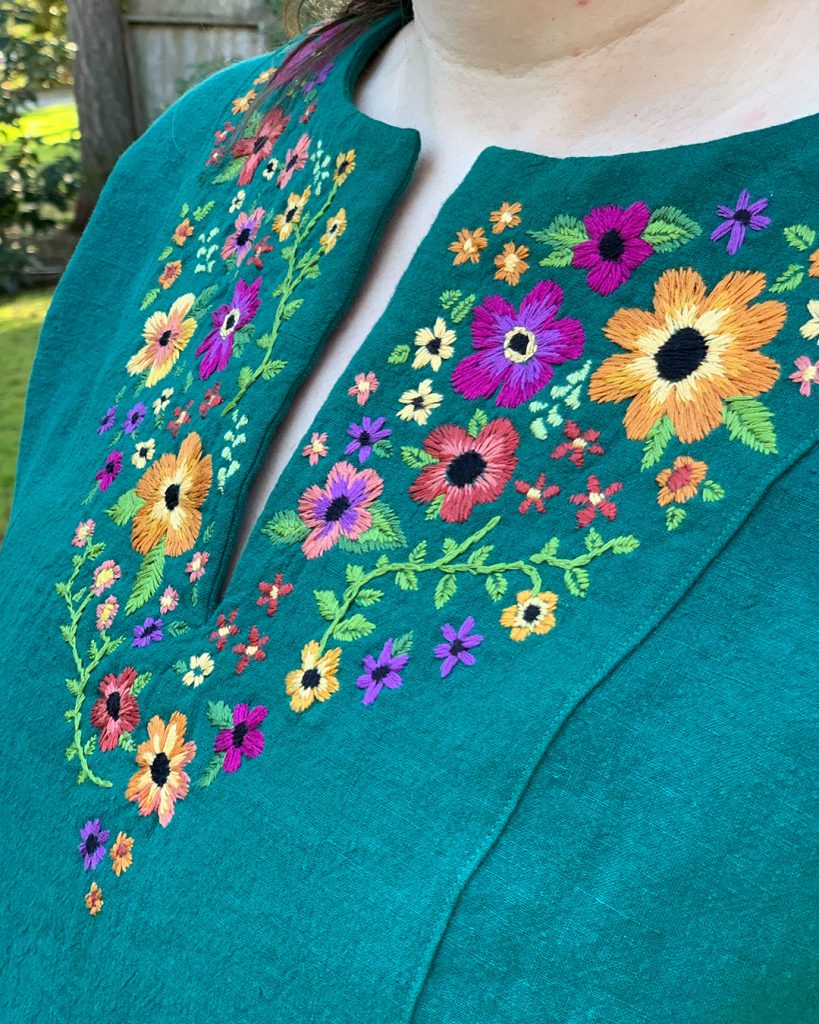 This is view C of March, with the shorter sleeves and straight peplum. I tried the ruffled peplum on this version, but it was a bit too much, so I swapped it out. I also tried the neck tie, but it distracted from the embroidery so I took that off, too. I'm pleased with the embroidery being the star and the puffy sleeves being the secondary focus. The fabric is washed linen from Blackbird Fabrics in 'Emerald'. This fabric weight is perfect for holding the shape in those sleeves!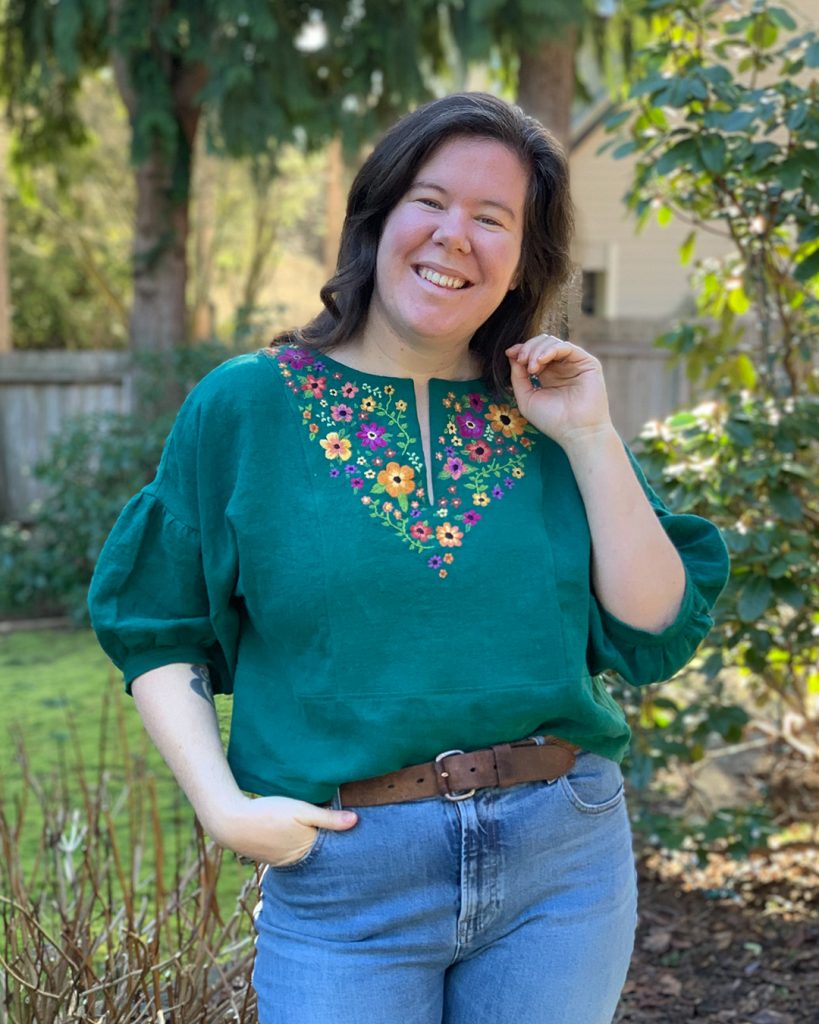 I made a straight size 16 for this March Top and did not lengthen it for my height as I like where the garment sits on me as-is.
My measurements are:
High Bust – 40" (101.5 cm)
Full Bust – 44" (112 cm)
Waist – 34" (86.5 cm)
Hips – 45" (114 cm)
Height – 5'9.5" (176.5 cm)
I WISH I had taken a photo of the back of the embroidery before I sewed it up. As you can imagine, it was a hot mess. I tried to keep it tidy back there but by the end, there were little threads and knots everywhere! Thankfully, it all gets nicely tucked away on the March pattern.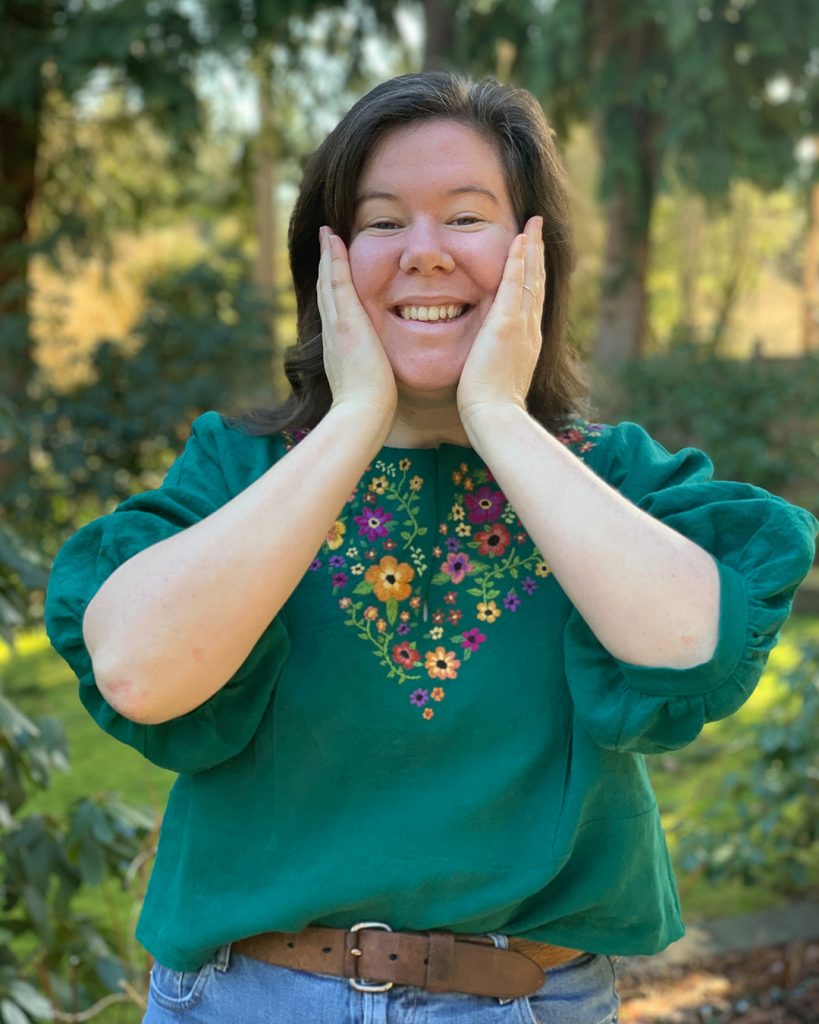 I am looking forward to trying more embroidery on future projects! I've got a vision for a western-themed Cameron Button Up with embroidered shoulder details.
Thanks for checking out this embroidered March top! The March Top and Dress pattern is on sale this month for 20% off, no code required. Check it out!