Happy Canada Day fellow Canadians!  I am SO excited to share pictures of my Winslow Culottes testers with you today. This being my first garment pattern, I wanted to make sure that it was up to snuff!  I love sewing indie patterns, and If I am throwing my hat in the ring, I want my pattern to be as good as all the indie designers I know and love.  Well, as they say, the first step is admitting that you need help.  

When I sent out my call for testers, this was my plan: Get a few testers (assuming I might get 3-5) and then test all the other sizes myself, or find friends to make culottes for.  Sorry, friends, you will have to make your own culottes because the call for testers was WAY more popular than I had anticipated.   I could seriously go on for days about how lovely sewing people are, with their generous spirit and their seemingly unending positivity.

Once my feedback form hit 43 I closed it for entries.  The reason for this is I wanted to give everyone who graciously volunteered their time the opportunity to test, regardless of their sewing ability, blog, or their privacy preferences.   Within the 43 I had every size at least once so we were good to go!  We had a lot of fun in our Facebook group and I can't wait to share their makes and thoughts on the Winslow Culottes with you.
Without further ado and in no particular order, here are my wonderful testers in their Winslow Culottes!

Anya
Anna Zoe   |  @anna.zoe.sewing
" loved the look of culottes, but at first I was unsure if I could pull it off myself. Even though I was a little hesitant I really wanted to give them a try! The Winslows are the perfect culottes. They really do look and feel like a skirt, yet have all the benefits of pants. Once I made them and put them on, I could not wait to make more and I wanted to wear them all the time. They look super elegant and slimming. It's a wonderful pattern!"

Anne
Sew Anemone  |  @sewanemone
"I love this pattern and how flattering it is to many body shapes. I thought the pleats at the front might emphasize my full tummy and normally high waisted patterns do not work with my very short torso. That is not the case with this pattern and I'm so excited I took a chance on it! The pleats and full skirt of these culottes actually hide my tummy and the fitted band at the natural waist makes me look and feel quite slender. The fullness below the waistband makes it easy to fit and oh so comfy and loose for hot weather. Despite looking like a skirt, the fact they are shorts means my thighs do not touch/rub as they actually would wearing a skirt. This makes these my ideal summer garment and I'm so happy to have them in my wardrobe!"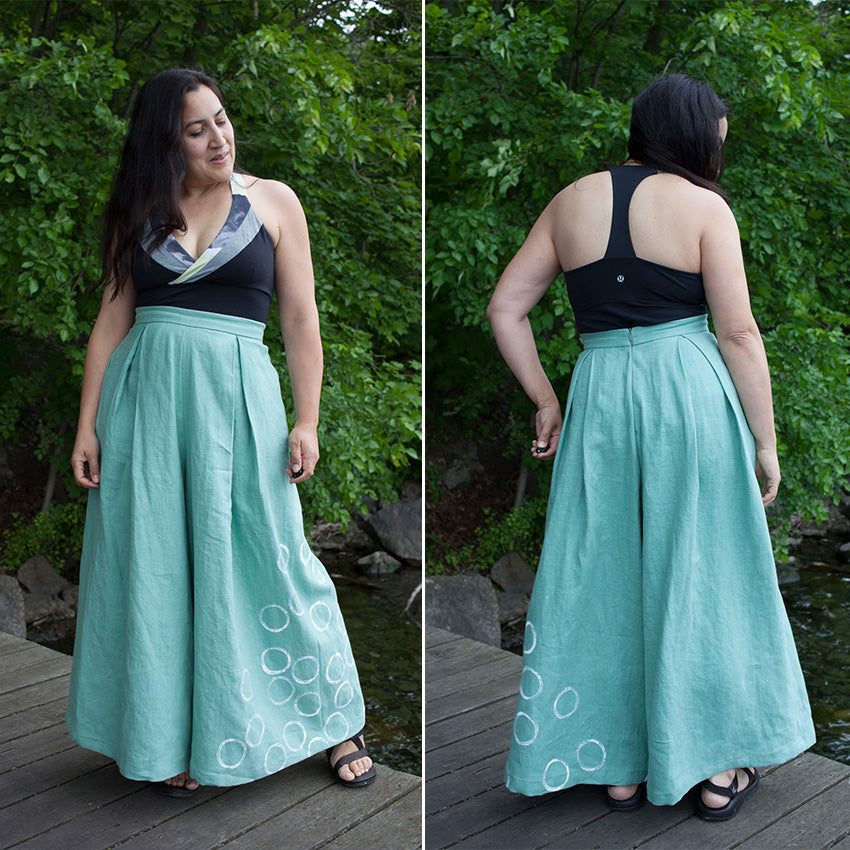 [youtube https://www.youtube.com/watch?v=TiXLMLaf7Lo] Christine
Unlikely Nest  |  @unlikelynest
"The pattern is a joy to work with. It is thoughtfully and beautifully designed. The shapes in the pattern are surprisingly simple, which I really love."
Meg
Cookin' and Craftin'  |   @megret79
"I was quite happy with the pattern: it's a simple but dramatic design. A fitted waist expanding into wonderfully wide-legged trousers with elegant box pleats… love it! In addition, Helen's instructions are clear and straightforward, with lots of helpful diagrams."

Vivian
@acraftinghouse
"My daughter squealed with delight when she tried them on the first time!!! She went straight to her closet and tried them on with different tops. They looked great with so many — fitted jersey tank, cropped boxy(ish) top and looser tank (tucked in). They are absolutely lovely. They have just the right amount of fullness and the pockets are nice and deep. It was such a great experience sewing these culottes! Looking forward to making many more!! I'm planning a corduroy version for the fall."

Sue
Sewin Steady  |  @sue1656
"This was a fun pattern to sew and I like that it took me a little bit out of my comfort zone, both stylistically (culottes!) and skill-wise, since it has a crotch!"
Staphany
@staphanycheng
"The Winslow Culottes is a perfect pattern for the advanced beginner! It has the comfort of easily attached pockets and the nail biting challenge of putting in an invisible zip! The design is gorgeous. I absolutely adore the mirrored front and back pleats, so roomy I know I will be running around in them all summer long!"

Ashlee
This Seams Interesting  |  @Ashlee_Crashlee

Lien
Xcocolienx  |  @xcocolienx
"Happy me, because I always thought that culottes wouldn't flatter me at all, but this pattern can prove you wrong!! "

Dana
Dana Bultje  |  @dana.bultje
Betsy
@ursaminors
"This is a really well made pattern. Overall, I found the instructions to be really thorough and easy to follow. All of my pattern pieces and notches lined up beautifully. I love the result! I also love that this pattern could be easily modifiable to make a culotte jumpsuit! Maybe my next project?

Marie-Fleurine
Sew Mariefleur  |  @mariefleurine

Chui
Wear the Ducky Tie  |  @sewcheesy
"I am in love with my Winslow culottes! Such a quick sew and so practical but cute at the same time. I checked out myself at work at the elevator / in the bathroom way too many times the first time I wore these out. The illustrations are very clear and the fit was good for me without alterations (other than grading between sizes). I like how the Winslow culottes can look so different with different fabrics – can't wait to make myself a shorter pair in a stiffer fabric!!"

Aida
Ida Aida Sewing  |  @aida.k_t
"This is a great pattern, well drafted and I find it to be really flattering on me."

Grace
@chainofdaisies

Emily
In The Folds  |  @inthefolds
"This is a great pattern that is a quick and enjoyable make. Fitting is easy to get right (as you only really need to worry about your waist measurement) and there is lots of room to tailor the pattern to your style. The instructions are clear and straightforward and help you achieve a beautiful pair of culottes."

Katie
@katharineemma
"These culottes came together very quickly (despite my inability to recognize the right vs. wrong side of my fabric and needing to re-cut and interface my waistband!) The sizing was spot-on and I didn't have to make any adjustments. The simple pattern pieces mean it could be really fun to play with directional fabric – I think they would look cute with a border print! I don't normally wear skirts or culottes but as soon as I tried on my finished garment I started looking through my fabric stash to see what I could turn into a crop top. I want to expand my wardrobe a bit so that I have more that will go with these culottes!"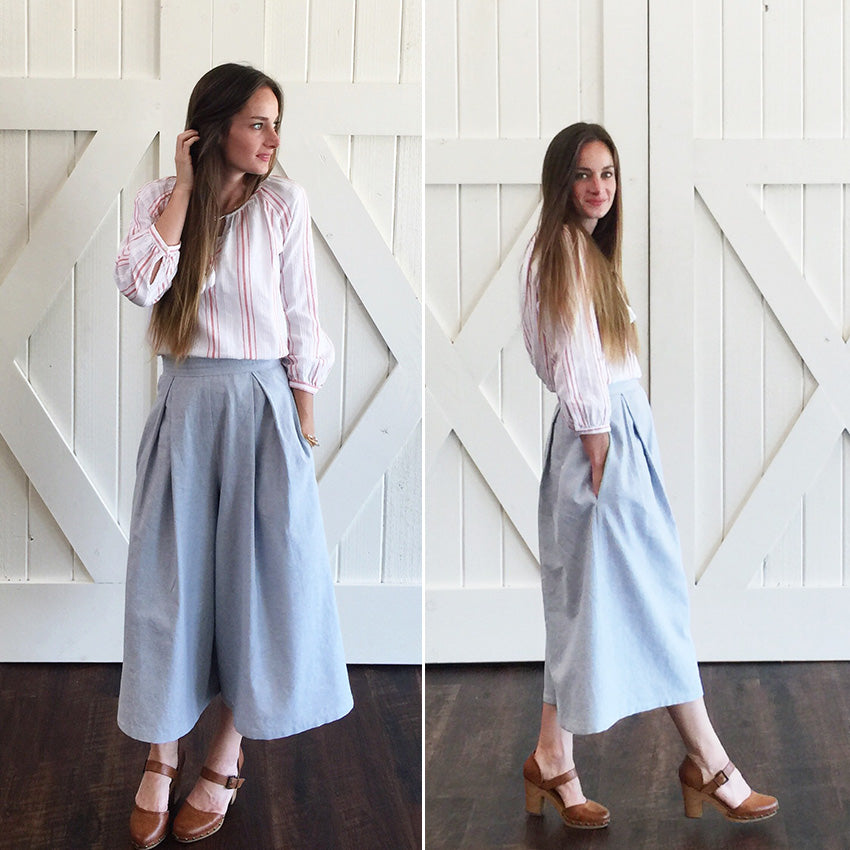 Sara
The Sara Project  |  @thesaraproject_
"The Winslow Culottes are everything i imagined them to be. I love the culotte trend, and this pattern fulfills all my culotte dreams. I love all the length options, and how using a different fabric gives them a different look. So many options! Great pattern all around."

Chirsty
Clever Tinker  |  @clever_tinker
Marianne
@lizziehoops
"I love this pattern and plan to try all the views as it is as good as I hoped from seeing all your samples."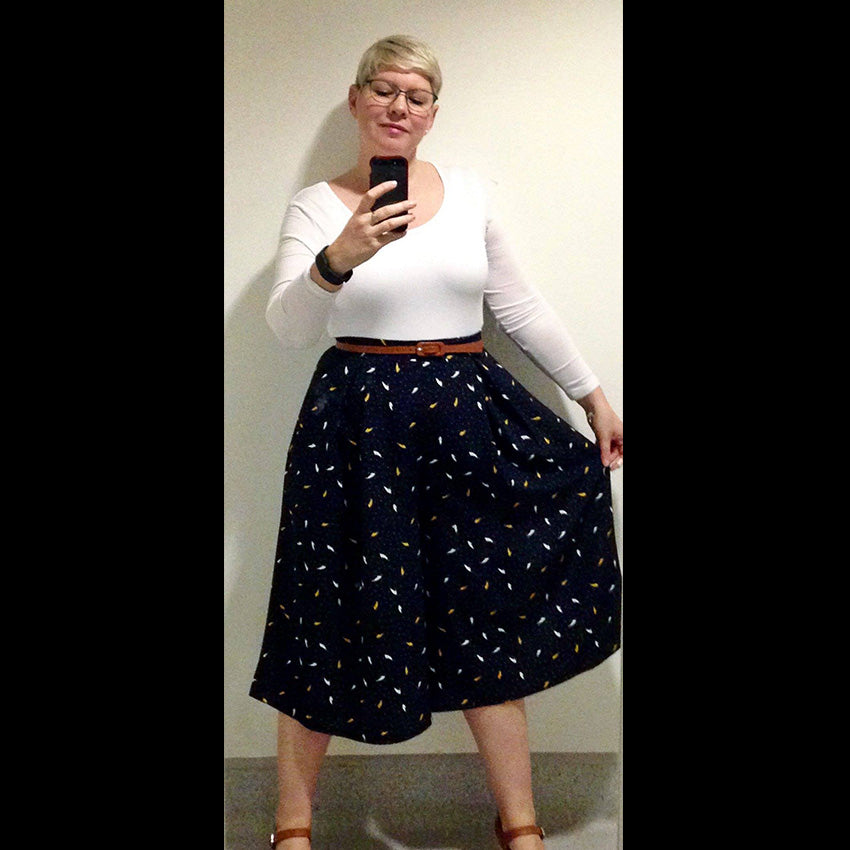 Davina
"Winslow Culottes are lovely and swishy. I made view C in a size 14 (based on my waist measurement) using some crepe de chine. I didn't make any changes to the pattern or need to do any adjustments. Construction-wise, the pattern is super easy to put together and the only change I made was to use an 8" zip instead of a 9" zip and I finished all of my edges before I started the garment construction. I don't know if this saves time but it saves me from having to remember to switch between zigzag and straight stitch. I really love this pattern. Winslow Culottes look great and work well on all sizes and shapes but if you're curvy you're going to love these! I've got generous hips but a relatively small waist and I almost always have to wear spanx or the like under my skirts so my thighs don't rub together- but it's always a bit hot and not very comfortable. These solve this! I can just use my waist measurement to determine my size and they're breezy and my thighs don't touch!
Denise
"Quick to make, super flattering, versatile garment. I'll be making many more."

Kten
Jinx And Gunner  |  @jinxandgunner
"Overall I think the pattern hits that sweet spot between work and casual friendly. For me it literally can go either way depending on fabric choice and length. Also I have some fabric blocking ideas floating around in my head that this pattern is going to be perfect for since it has a straight hem and straight side seams. The instructions were clearly written and diagramed and it even came with a little glossary of used terms. Love that. Additionally the layered patterns and printing indicators can save you time, trees and ink which is a triple win as far as I'm concerned. It's clear you put a lot of work and love into this pattern and I'm stoked to make more.

Meghann
The Kninja
"I love my new culottes. I have plans for another pair of the shorts already, and I can't wait to try the other lengths."
Jennifer
Clothing Hacker  |  @mizzsmartypants
"I love how they are high-waisted, which turns out to work very well for my body. I find that pants usually get much tighter and the waistband rolls down once I sit, due to my middle shifting around. But these are staying exactly in place as I'm sitting at my desk at work and are super comfortable the entire day."

Shannon
@rare.device
"This pattern is straight-forward to put together, cut, and sew, yet gives dramatic impact when worn. A variety of fabrics, both solid and print, would work, and something as simple as changing the weight of the fabric could give you a variety of silhouettes. I think it could be a versatile pattern for a variety of seasons, and look forward to lightweight wool palazzo pants for fall!"
Corrie
Sewist in Training  |  @corr_w
"The Winslow culottes pattern is a great stepping stone for beginner sewers! With simple pieces you can practice your skills and learn a zip!"
Genya
@wish_if_you_can
"The Winslow culottes caught me by surprise. Never thought to try culottes shape because of my full waist and hips but Winslow are greatly balanced and the pleats adds the required space for a comfortable moving while still stays stylish. It's a great new staple pants that fills also the skirt place in my wardrobe!"

Caroline
Blackbird Fabrics  |  @blackbirdfabrics  |  @carolinesomos
"For months, I've been dying to give the new culottes trend a spin. but I was worried that this style wouldn't be flattering on my curvy frame. After making view C of the Winslow Culottes, I am a complete convert! This length is perfect for me and my style, they fit so well into my handmade wardrobe. The fabric I used (tencel twill) has a lovely fluid drape, which looks great with the fullness and pleats. They are insanely comfortable – the first time I tried them on, I seriously didn't want to take them off. Despite the comfort factor, I feel very chic and put together in them. This pattern is such a winner in my book."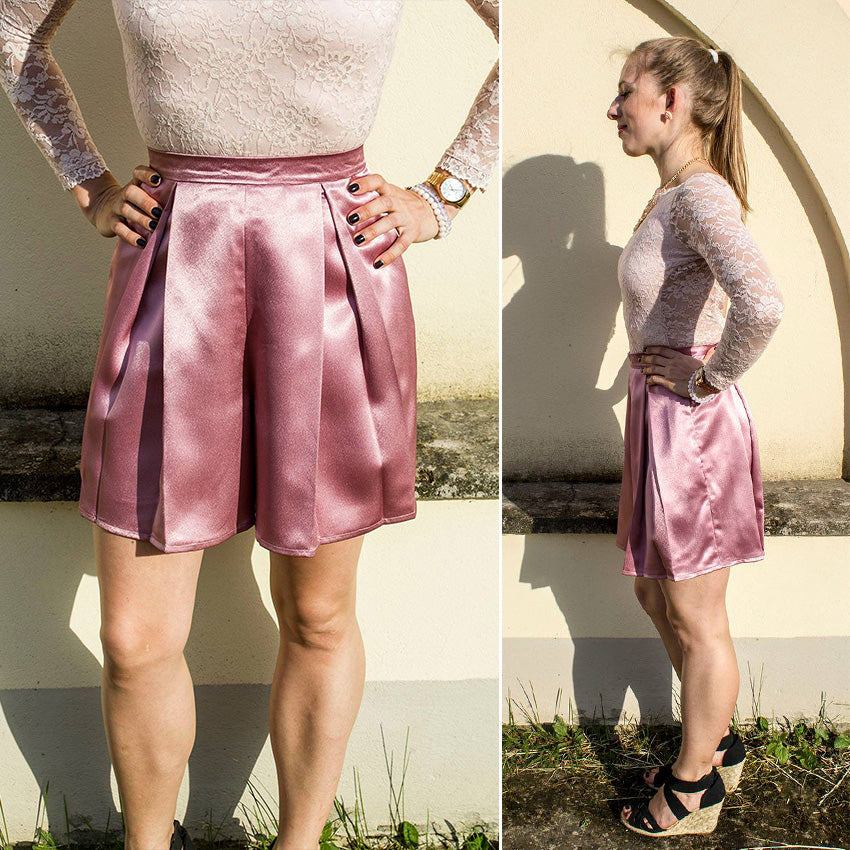 Kadri
@cherrybomb.designs
"I love the Winslow Culottes. The short style is a perfect cheeky style for going out on town on a warm summer night and feeling comfortable and stylish at the same time. The long version on the other hand could be dressed up for a fancy night out or a date night in. I can just envision them in a black fabric with nice drape! The pattern goes together easily, only took me about two and a half hours to cut out and sew. So if you need a fast project or have nothing to wear for a meeting that's taking place in a couple of hours, this is the pattern!"

Tammy
Soca Sewing  |  @soca_sewing
"The Winslow Culottes from Helen's Closet was a great pattern! This comfortable design is perfect for summer wear or fall weather when paired with a coat. It's easy to follow instructions are ideal for a beginner sewer, or can be a great project for an advanced seamstress who wants to use finer fabrics. For her first pattern, Helen did a wonderful job and I will definitely be making more of these!"

Dawn
Soundtrack To Sewing  |  @nw42mb
"I was happy with my Winslow Culottes – version B. The photos and illustrations are accurate.  It was my first time using a pdf pattern, but printing is easy if you read the instructions. It's helpful that you can print the shorter version and extend the lines for longer ones. I will do that when I make longer ones, and just chalk the extension lines directly onto the fabric. Construction is clearly explained with diagrams. The culottes are really quite a quick make. I was rusty with invisible zippers, so that took a bit of extra time. I love having pockets in my skirts/pants and these are nice and deep. I am long in the body, but the rise was perfect as is. I would recommend this pattern – even if you haven't worn culottes before, they are very practical and comfortable!"
Liz
"A neat, elegant pair of culottes, perfect for cycling to work in the summer! Roomy pockets and straightforward construction (less than 3 hours including cutting and finishing!) make these a true summer staple and a workhorse of your wardrobe. I've already planned pairs two, three and four…"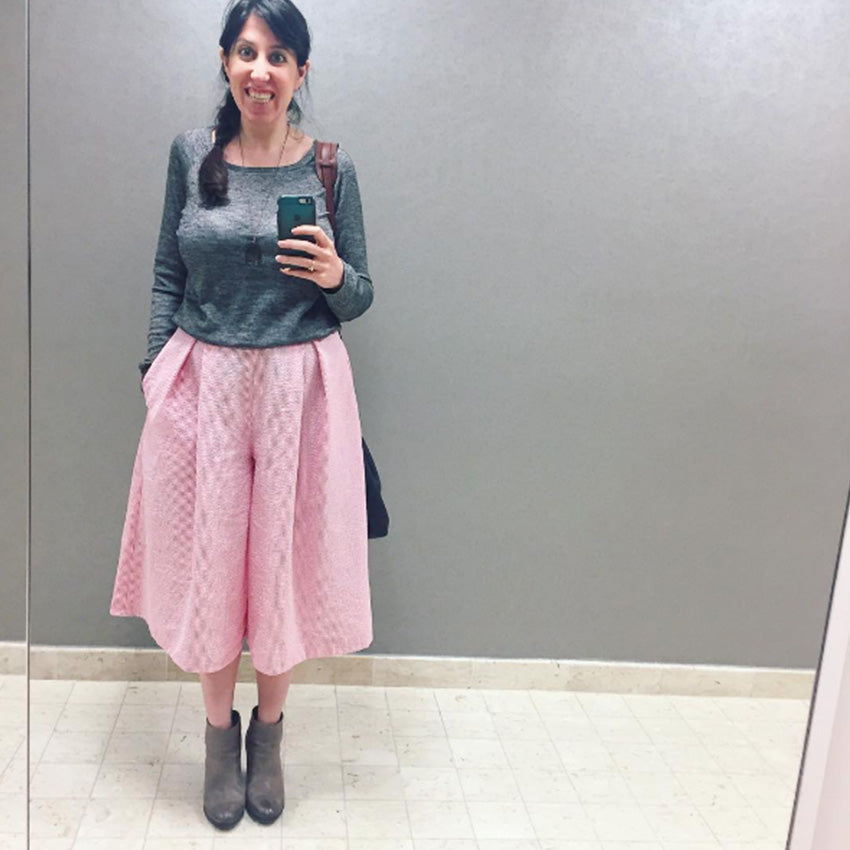 Carly
@breakdownhat
"These are a super-quick, easy make."

Trudi
@trudizsews
"The Winslow culottes are a versatile pattern that flatters many different ages, and adapts to multiple lengths and fabrics. While I've seen photos of younger women looking great in them, I find them very appropriate and flattering for someone my age as well. One of the things I particularly like is that they can be made in lengths from thigh to ankle and anywhere in between. I am looking forward to the different looks I will get when I try fabrics with different drapes."

Daniela
@danicreates
"I love this pattern. It is quick and easy to make and because of that you can try different versions pretty quickly. I made version B in a stretch cotton sateen so it has a bit of a structure. But that's what I like about it. It looks like a skirt but it is comfortable to wear like pants."
Many thanks also to Alison, Elizabeth, and Alexandra, who preferred to keep their finished makes private, but gave excellent feedback and support to this project.
Testing the Winslow Culottes was an amazing experience and I am so grateful to have these ladies as my cheerleaders, I seriously could not have done it without them!