Today we will be cutting out our Winslows!  I am making view A, so you can see all my pattern pieces in one picture.  If you are making the longer views, the layout and process is the same, but with longer pant pieces.
You will need a pair of fabric shears and pins, or optionally a rotary cutter, cutting mat, ruler, and pattern weights. I use large metal washers from the hardware store for pattern weights and store them using a velcro loop. They are fantastic!  I love that they come in so many different sizes. 
I am using a tencel denim from Blackbird Fabrics (currently sold out).  It is 145 cm wide (57″), so I am using the cutting layout on the fold.  Pleas refer to your pattern instructions for the appropriate cutting layout for your fabric.  As you can see below, you need to cut 4 of the pocket pieces (2 pairs). I have traced one in chalk so you can see the full layout.  The waistband is cut on the fold.   If using 45″ wide fabric, you can trace one side of the waistband and then flip it over to get the full width (as shown in cutting diagrams).
The pattern is designed for a 5'6″ woman, so I am lengthening view A 2″ to make it the length I want for my height (5'9.5″).   To lengthen or shorten the Winslows, just add or remove length from the bottom edge. If you are using a rotary cutter, this is easy to do with a large clear ruler.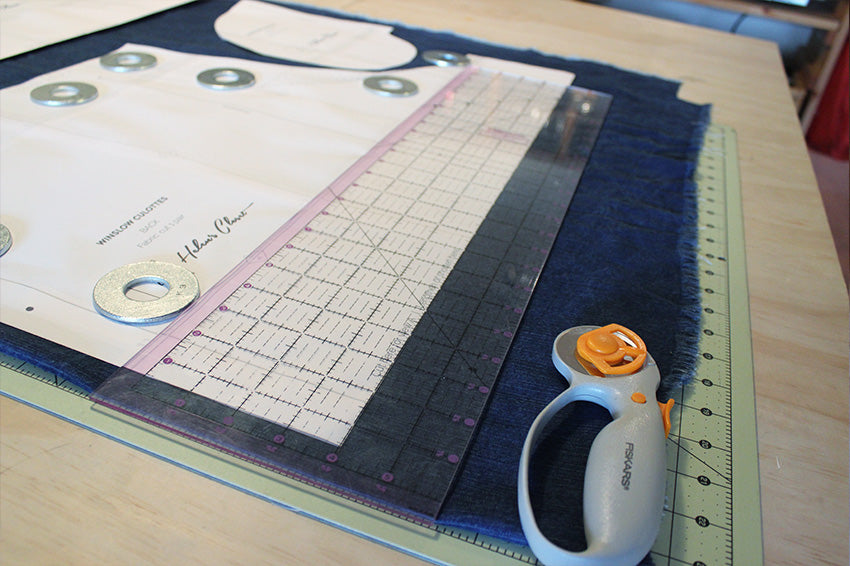 Here is a closeup of me lengthening my pant piece by 2″.
After you cut each pant piece out, be sure to cut your notches.  There are three notches along the top of the pants for the pleats, and two along the side edge for the pockets. Avoid cutting the paper with your nice fabric scissors, as this will wear them out faster.  
In addition to the notches, you have 2 pivot dots to mark for the pockets.  These dots need to be marked on the wrong side of your fabric.  
On the waistband, there is a notch at the center fold.  Clip into the fabric on the fold 1/4″.
When you are done cutting, you will have 1 pair of front pants, 1 pair of back pants, 2 pairs of pockets, and one waistband. 
Next, cut your interfacing using the waistband pattern piece.
Apply your interfacing.  If using fusible, place the glue side down on the wrong side of your fabric and press and hold your iron for 10 seconds to set the glue.  Lift and move your iron along the waistband, do not drag.  It is recommended that you use a press cloth to avoid getting glue on your iron.  
That's all or cutting out the Winslows!  If you have questions regarding specific fabric widths, sizes, or alternative layouts, please let me know! I am happy to help. Tomorrow we will be sewing the pleats and pockets.