I'm very excited to share a special post with you all today! I jumped at the chance to join in the Style Maker Fabrics spring tour when Michelle asked me because I have used her fabrics before and was very happy with the quality and service. Style Maker Fabrics is an American based fabric store with a huge selection of fabrics to suit all your sewing needs. Michelle is super sweet and helpful, which is always a bonus when you are shopping online for textiles! If you have any questions, she is always there to help.  I have used her fabrics in the past to make my beloved striped Lark tee and my striped Mandy Boat tee and they are both true favourites of mine. They get washed every week and are holding up really well to the wear and tear.
Michelle provided all the participants in the tour with free fabrics and shipping (bless her)! I chose two fabrics because I'm greedy like that, and I had originally planned to make a coordinating outfit with them, but in the end, I made two tops. What can I say, I have sewing ADD. I'll be covering both makes in this post. 
Top #1 – True Bias Ogden Cami – Ruffle Peplum Hack
For this top, I chose a rayon crepe with these darling little dots on it. The fabric has a great drape and is nice and opaque. The black colour is rich and the dots are such a good size.  Rayon crepe is a great choice for tops, dresses, and skirts! 
I decided to make myself an Ogden Cami with this fabric, but to add a little ruffle bottom! I followed Kelli's instructions for making the dress hack, but shortened it to a top. I love the result! It is really fun and perfect for warmer weather (ironically it was about 3 degrees when I took these pics – brrrr!).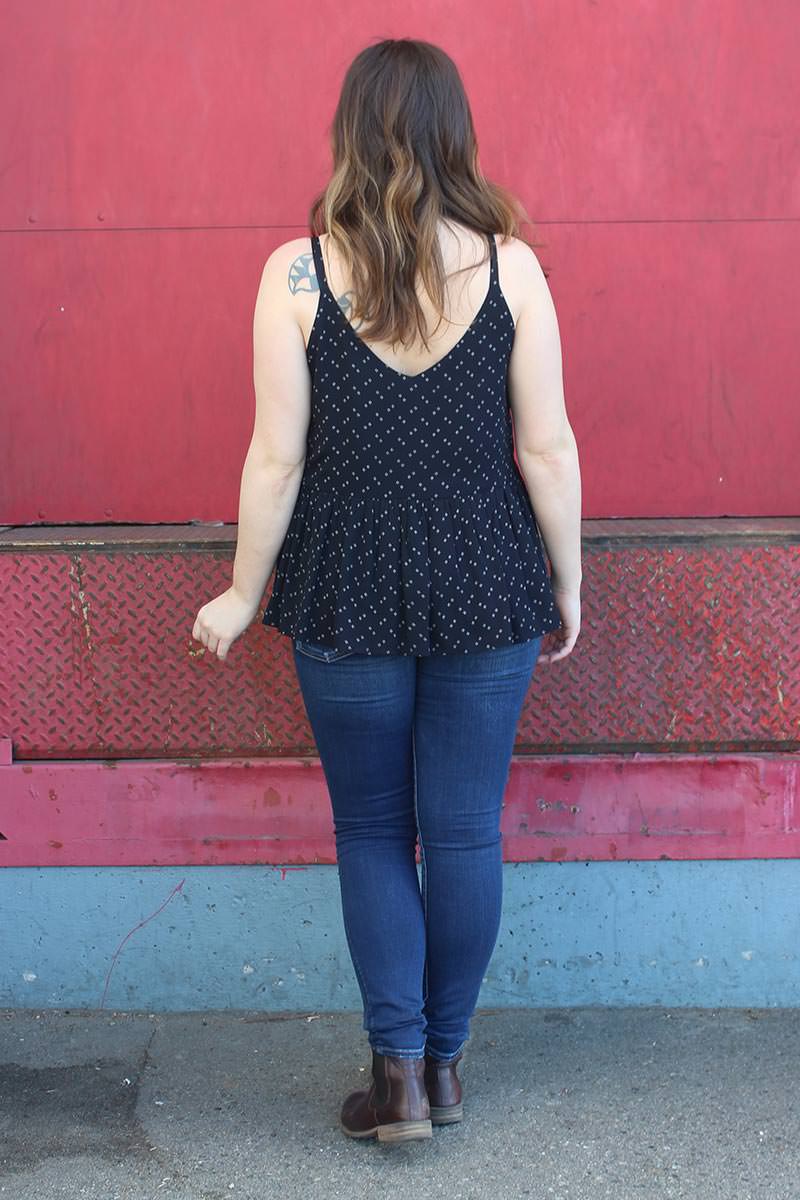 The top half of the cami is fully lined with self-fabric and the ruffle bottom is just serged on, I didn't bother with the stitch in the ditch here. It is not pressed up against my skin so It really doesn't bother me to have the serged seam on the inside.
I can't wait to wear this with shorts in the summer! This is my second Ogden and I am loving this simple wardrobe basic.
Top #2 – Self Drafted knit box top
For my second spring top, I chose this great soft olive green shade which is a go-to colour for my wardrobe. This modal knit is INSANELY soft and buttery and delightful. Not only that, but it sewed and pressed really well and was not difficult to handle despite its slinky handfeel.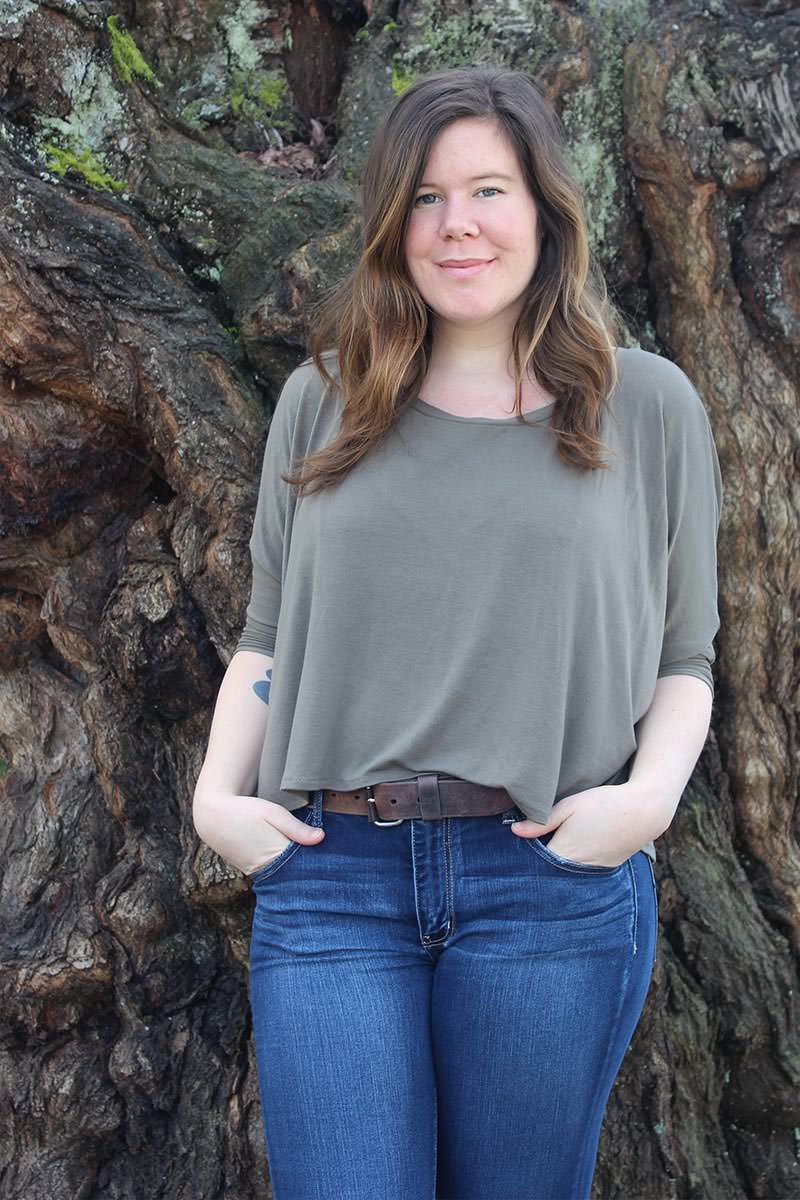 I drafted this top a little while back as a simple, everyday option for wearing with jeans.  It has an oversized, boxy fit á la the Grainline Hemlock Tee or the Mandy Boat Tee, but the arms are finished with short, tight cuffs as opposed to longer sleeves. The drape is similar to the Closet Case Files Ebony, but the shoulders are dropped and it is much wider at the bust. I have 3 or 4 of these in my rotation now and I love them.  Let me know in the comments it this is a design you would be interested in making, too!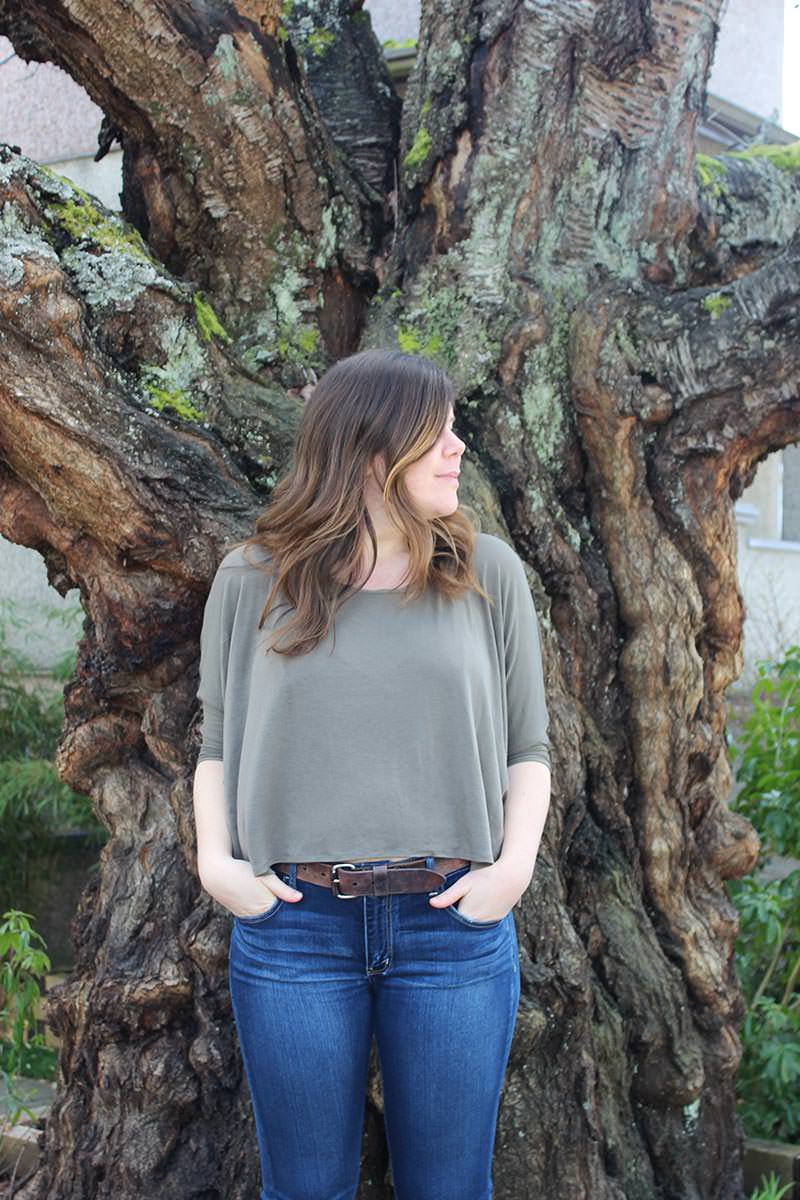 The modal is a true joy to wear, it is like being snuggled by a pile of kittens, I kid you not. Michelle has this knit in several colours, including peach, navy, black, and mocha.
That's all for my Style Maker Fabrics spring/summer tour post! I hope you enjoyed these two tops. Let me know if you have any questions about making your own ruffle bottomed Ogden cami or if you are interested in a pattern for the second knit top I am wearing. Be sure to check out all the beautiful fabrics available at Style Maker Fabrics!
---
Check out the rest of the Style Maker Fabrics tour line up! Deepika from Pattern Review is up tomorrow.
3/20 | 3/21 | 3/22 | 3/23 | 3/24 | 3/25 | 3/26 | 3/27 | 3/28 | 3/29 | 3/30 | 3/31
---