This week on Love to Sew, Caroline and I dive deep into patterns with tips for organizing, storing, and collecting sewing patterns. If you haven't listened yet, you can head to the Love to Sew Podcast website or listen wherever you download podcasts!
I recently put all my patterns in Trello so I can view them anytime time on my computer or phone. Having a digital catalog of your patterns can be so helpful for planning projects or keeping track of what you already have so you don't buy twice! I love that I can browse my patterns now and see all my options, it really does get the sew-jo going!
Trello is a project management app, but it is structured in such a way that I find it makes an excellent organizational tool.
Here are some of the benefits of using Trello:
It comes with a desktop version (easier for adding all of your patterns when you start using it and nice to have the large view)
It comes with an app for iTunes and Android
The base software is FREE
Items can be easily added and moved around or archived
Items can be tagged and then filtered to view only those tags
Items can be linked (fabric to pattern or pattern to pattern expansion, for example)
Add as many attachments and photos as you want (including the actual pattern!)
Highly customizable! No set fields, you decide what information you want to include
Excellent search function
I am going to walk you through my system on Trello so you can see for yourself how handy it can be! If you have any questions, you can email me at hello@helenscloset.ca!
*Note: I am using the desktop version of this app for this tutorial, but it is also available on mobile (and they sync up). 
In Trello, you can create 'boards', 'lists' and 'cards'. My pattern stash is my board (I also have a board for my fabric stash), and I categorize my patterns in lists like 'dresses, tops, pants, etc'. Within each list, there are cards for each pattern. I like to use the pattern name and the designer for the title of the card.
Each card can have a description (good place for your notes), multiple attachments (product photos, envelope backs, and the pattern itself), and links (direct link to the pattern online). You can also label your items with any labeling system you like.
You get to make the labels and choose the colors you use. You can add multiple labels to each card and create as many as you like. One of the labels I really like is 'want to make'. This allows me to filter out all the patterns I am not interested in making so I can really get excited about sewing!
When you want to filter your cards, you can use the filter system to check off which labels you want to see. For instance, I can get it to show me only things I want to make that I have never made before.
Another thing you can do with the cards is link them together. For example, you can link pattern expansion packs to the main pattern or even link items from other boards. I like to link my fabric to my patterns if I have something in mind for a specific project.
To do this, add an attachment and choose the 'Trello' option.
Start typing the name of the card you want to link. For example, I know I want a rayon from my stash that has at least 3 meters, so I type 'rayon 3'. I see the one I want to be listed and I add it to my pattern card.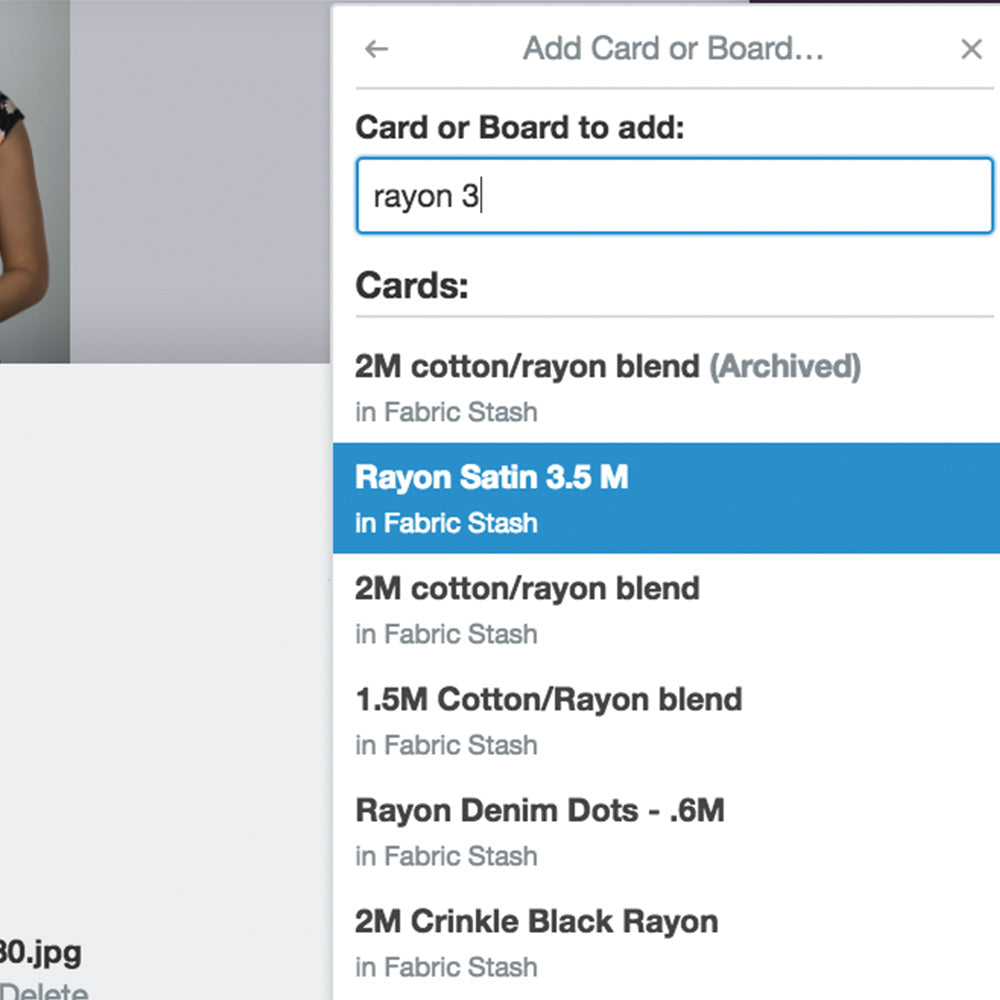 Once the card is attached, you can click 'connect cards' to also link the pattern on the fabric card.
Now when I look at my fabric stash, the pattern I want to make is linked on this fabric card. So cool! You can simply click on the card attachment to go directly to the corresponding card.
I am using Trello as a visual catalog only, and I have my patterns stored on Dropbox. If you want, you can upload your patterns themselves to the pattern cards as a means of digital storage.
Your patterns can be stored on the card and downloaded from Trello anytime, anywhere.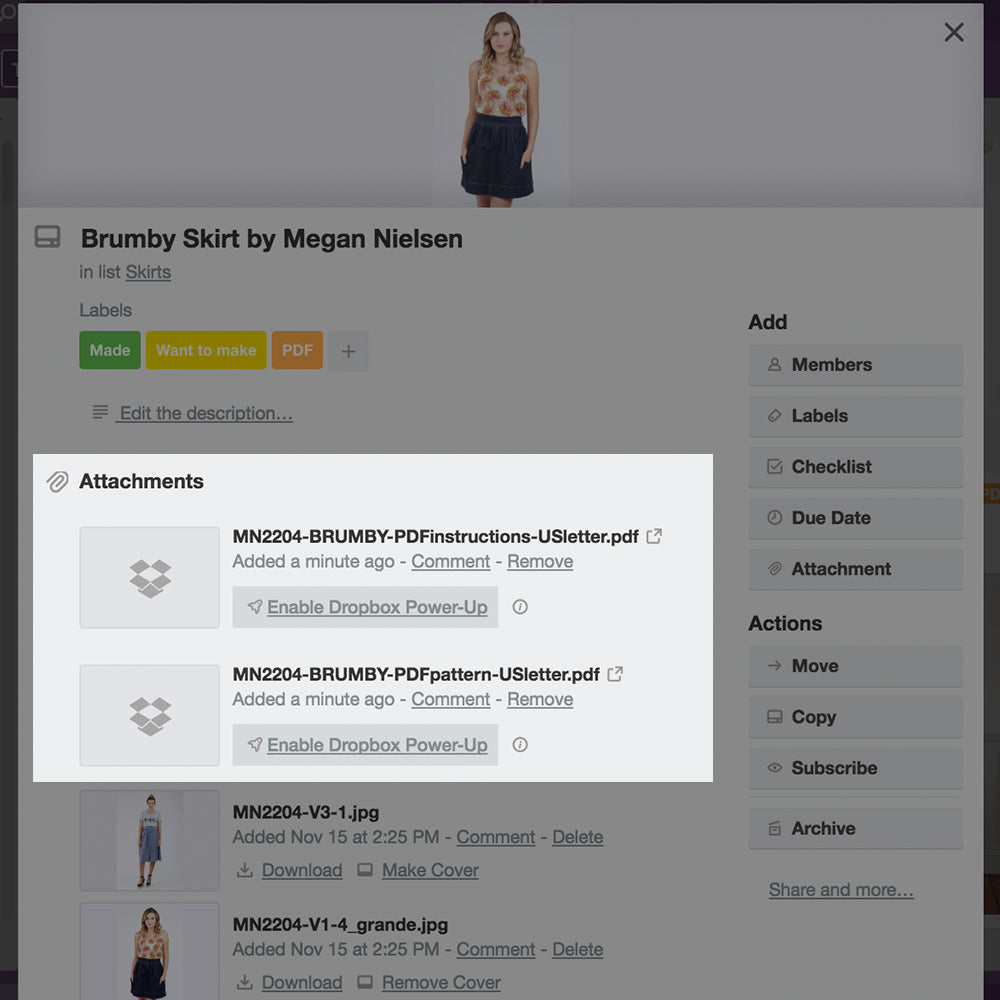 I love how visual Trello is, and it is really intuitive to use. You can click and drag patterns around easily, putting them in any order you choose with the lists.
You can also drag the lists around easily, so you can prioritize dresses in the summer and jackets in the winter. I love it!
I have a little app extension on my Trello that allows me to see the total cards in each list and the total cards on a board. This is handy (and scary) for keeping things under control. You can grab this Chrome extension here. I have a few more patterns than I did when we recorded the podcast thanks to Black Friday!
Well, that's my Trello method for patterns! I hope this has been helpful and inspiring for you. I have my printed PDF and paper patterns stored on a shelf above my computer so it's all in one convenient place. Don't forget to check out this week's episode of Love to Sew for more tips on organizing patterns!