One of my goals for 2018 is to make some more clothes for my partner, Sam. There is an Instagram hashtag, #menswearmakenine, where I have pledged to try to accomplish 9 things for him this year. To be honest, I am feeling pretty apprehensive about it! I have become so accustomed to fitting my own body that the idea of fitting another person is daunting. I do believe that getting out of your sewing comfort zone is important, so I am going for it! As Heather said so brilliantly on the podcast this week, 'just do the damn thing'.
For Sam's first garment, I decided to tackle a button-up shirt. Yepp, I am coming out swinging on this one! T-shirt first? No thank you! One of the reasons I felt confident going with the button-up shirt first is that the Thread Theory Fairfield button-up comes with sizing for 2 different figures and goes up to a 4X. Sam is tall, broad-chested, and carries weight in his tummy area, so I was glad to know that the pattern was drafted to accommodate his shape and size.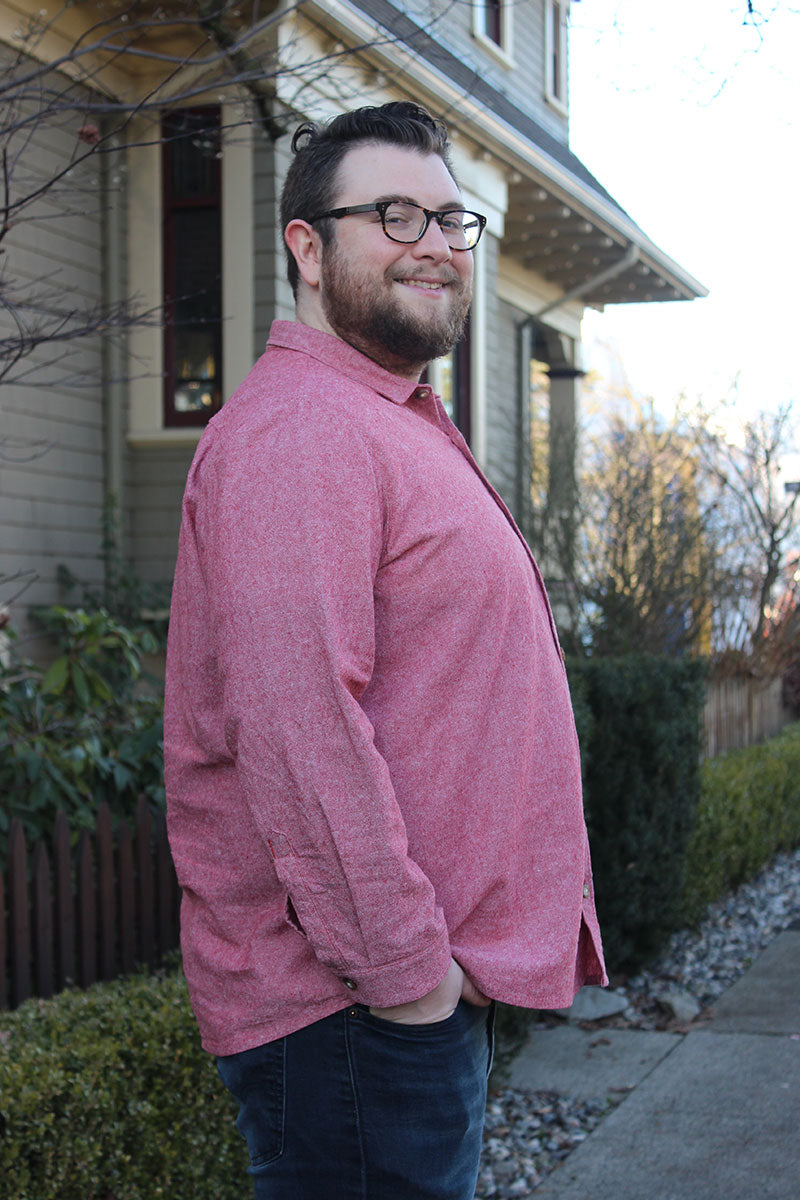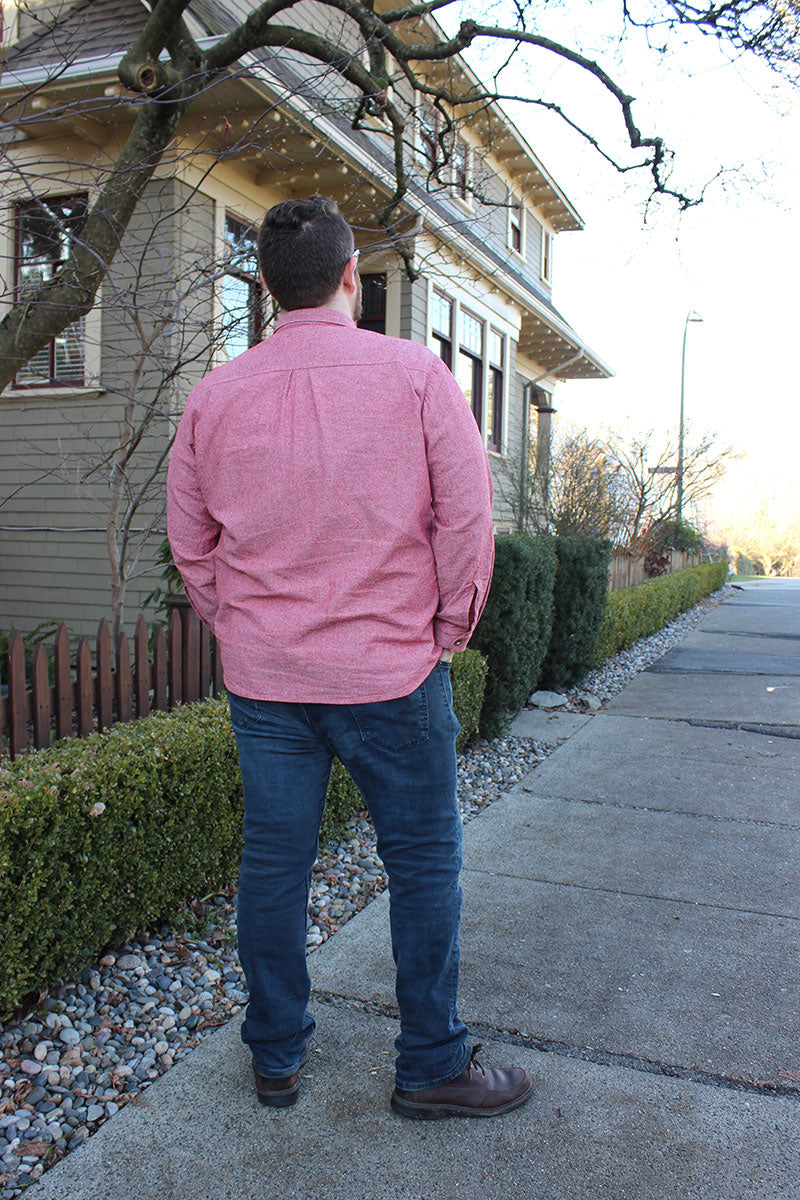 I made three muslins to get the fit right and ended up doing a broad back adjustment, a full bicep adjustment, expanding the neck, and grading in at the hips. I also let the sleeves out at the wrist to make it easy for Sam to roll up his sleeves, which he almost always does.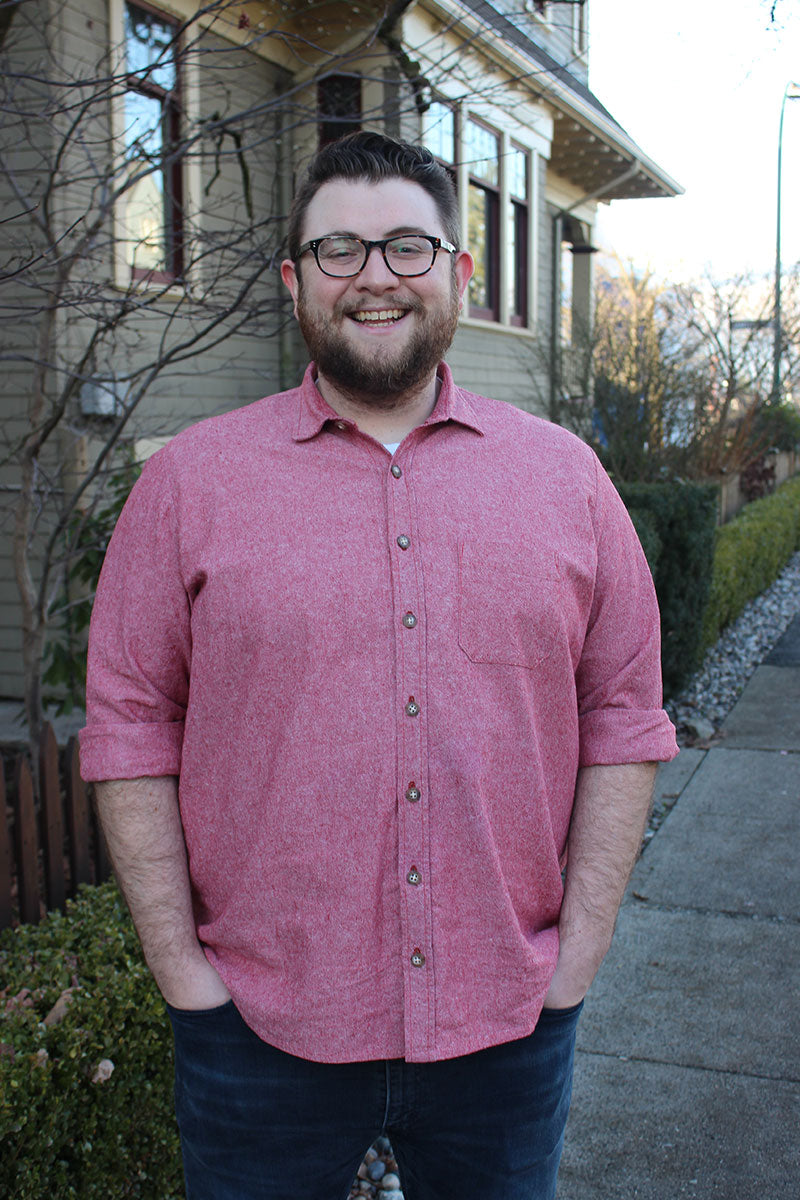 I have resisted making muslins in the past because I just want to get to the sewing part! In reality, it is all part of the process and I am beginning to embrace fitting and test versions more and more. I really enjoyed this project and it is so nice to see Sam in a shirt that fits him that I made! Sam picked this gorgeous cotton/linen blend from a local store, Spool of Thread. It is prone to wrinkles, but it breathes so well and is a great pink colour that I have not seen him wear much to date. Because of the linen, it has a more casual vibe than a typical crisp shirt. I plan to make him one of those, too!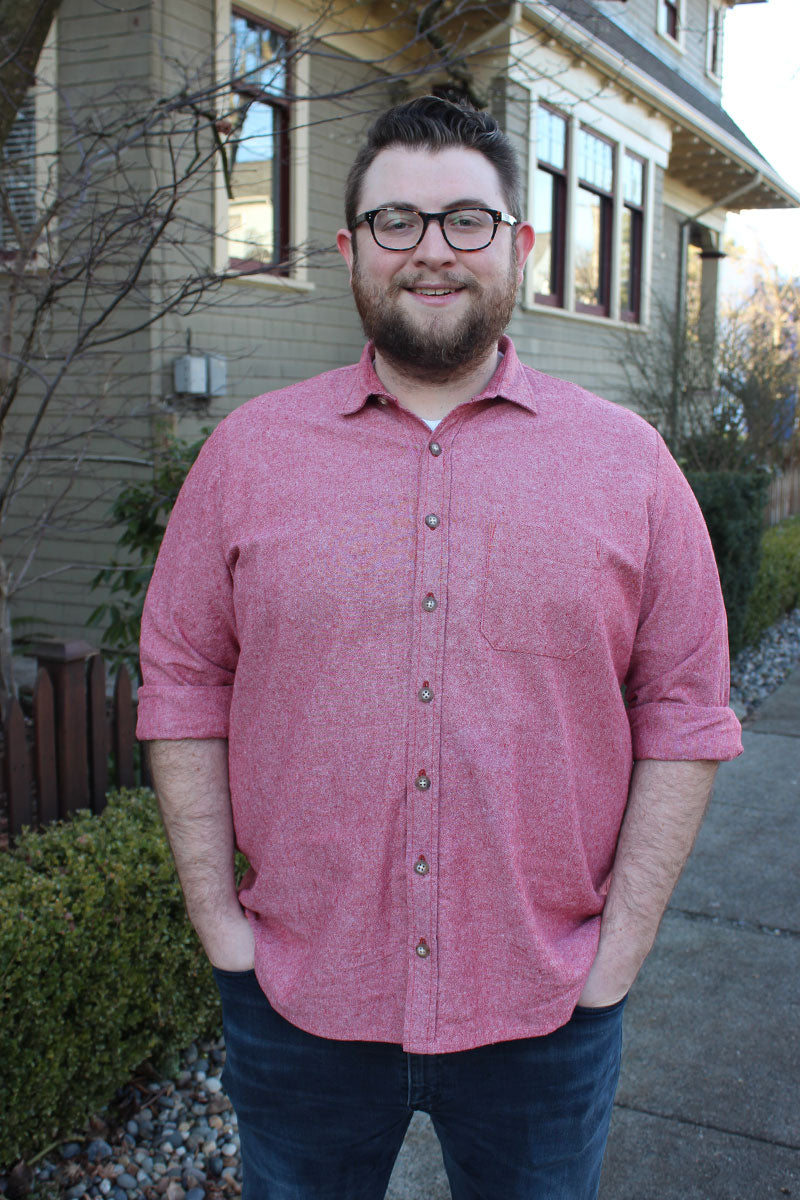 The most challenging part of button-up shirts (for me) is always the sleeve plackets. I feel like I am finally getting the hang of it and this time, and I put a bar tack on the placket to keep it strong when Sam is rolling up the sleeves.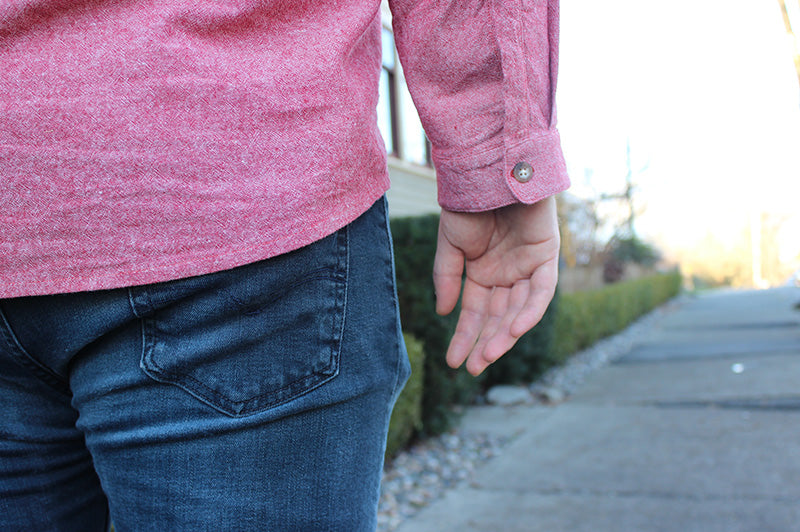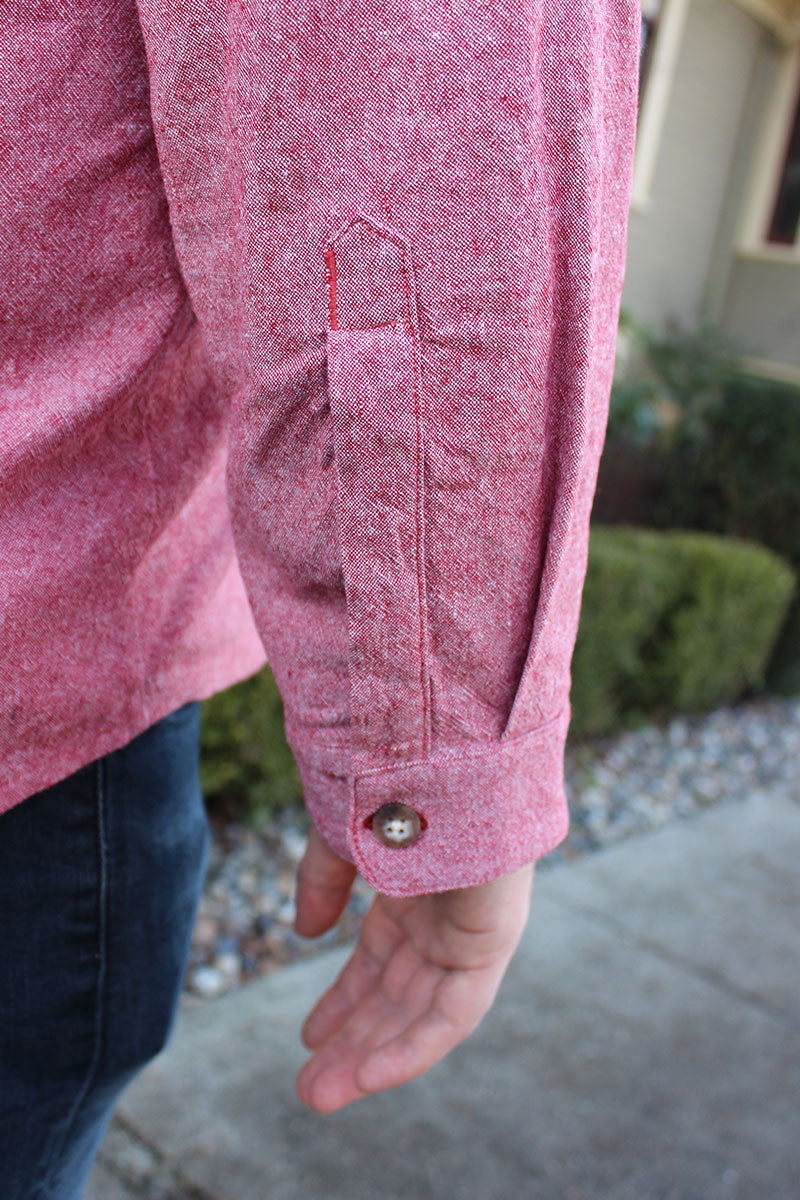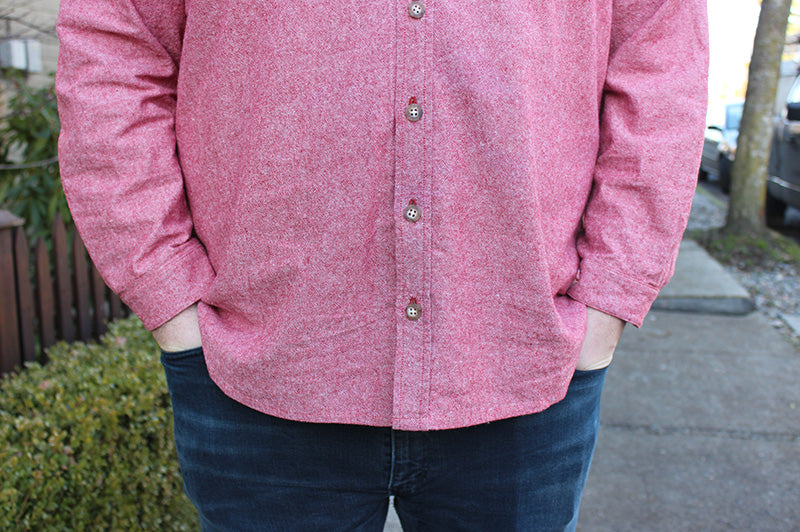 I did make a little mistake on this project, flipping the back pleat the wrong way around. At least, it was the opposite of the pattern instructions. Is there a right way for a men's shirt?
For the buttons, Sam said he wanted a 'brown', which I tried to accommodate with these duo-toned buttons. They are also a little bit larger than traditional shirt buttons, but I like that they suit his frame.  They have a subtle texture that matches well with the variation in the fabric.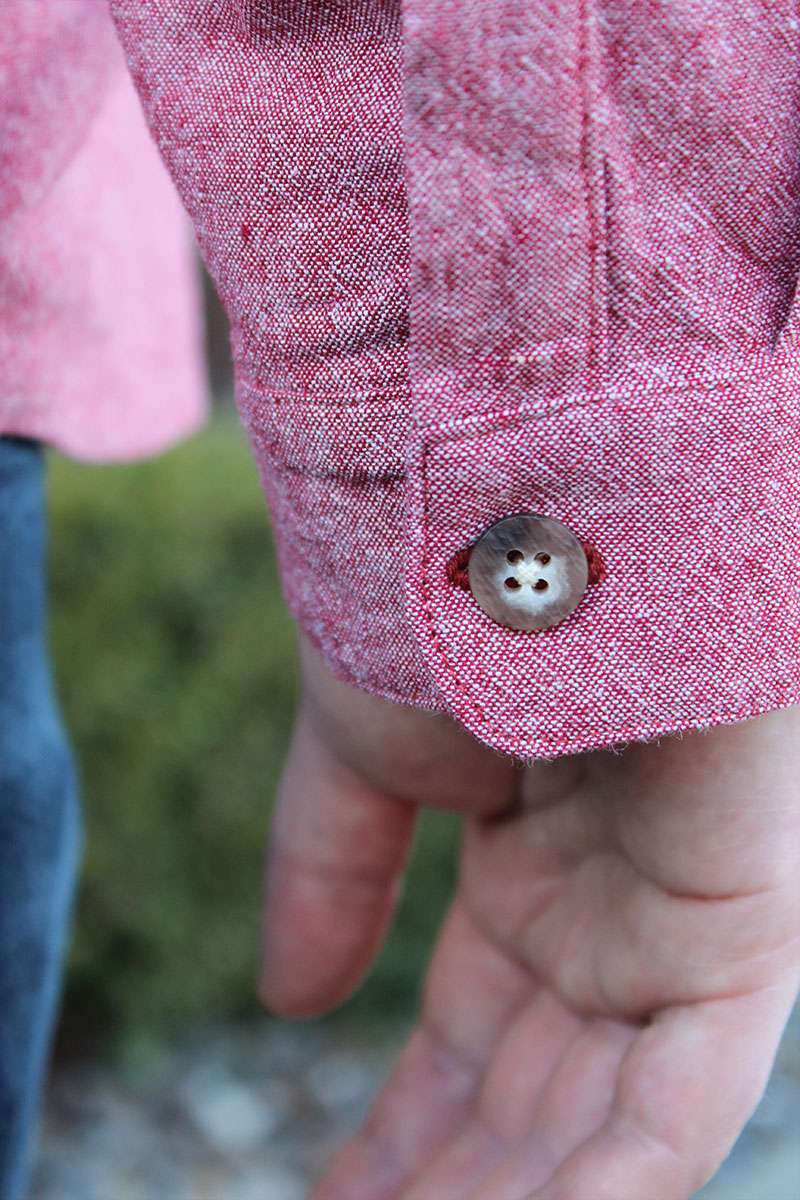 The Fairfield button-up is a fantastic pattern. It has two fit options (slim or rounded) and it even has free collar options! I enjoyed making it and will make it again. 
The fit on Sam's shirt is still not perfect, so I am planning to make a couple of tweaks next time. If you have any insight from looking at these pics, please let me know. I am a menswear newbie! Here is my favourite picture of Sam, laughing uproariously as he tends to do…a lot 😀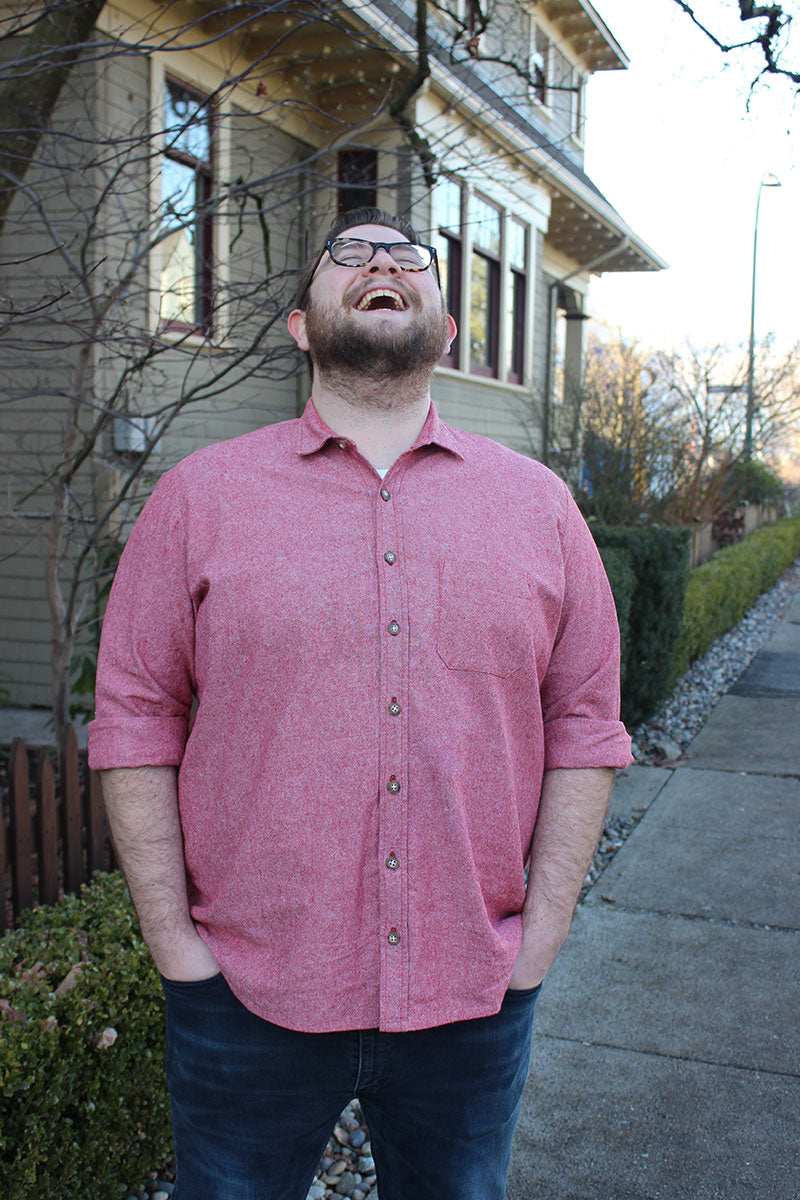 If you want to hear from Sam himself you can get to know him on our very special episode of Love to Sew! This has become a favourite episode of the show because the boys are so funny and we had a blast recording it.