It's my favourite day of the pattern launch week – the tester roundup day! I love sharing all my testers hard work and their thoughts on the pattern with you. I share every review, no exclusions, and I share all photos that my testers give me permission to use. In the case of the Avery Leggings, many of my testers were so excited after making their first pair that they went on to make 2-4 more in the span of 1 week! Now that is some serious positive feedback. Since this test, the only change to the pattern itself is that 1″ of length has been added overall. Otherwise, we worked on ensuring the instructions are the best they can be!
What did the testers like best about this pattern?
Quick to sew and uses very little fabric and paper
Faced waistband has a smoothing and stabilizing effect – great for workouts and layering!
Gusset was easy to insert and adds range of movement
Stabilized elastic ensures that the leggings stay up
The Avery Leggings can be worn casually or for working out
---

Emma
Emma's Atelier | @emmas_atelier
"My new Avery leggings are an easy-to-sew wardrobe staple. I sewed this pair over a few hours on a domestic sewing machine. The hidden gusset makes them super comfortable for lounging or more activewear. My Avery leggings will be on high rotation in Winter."

Gillian
Crafting A Rainbow  |  @gilliancrafts
"I got a great fit without any pattern adjustments! I like the double-layered waist panel, which offers just a hint of gentle smoothing… and the high waist means that the leggings stay in place. These would work equally well as active wear or loungewear!"

Judith
Judith Dee's World  |  @judithdeesews
"We are in the middle of winter and these leggings couldn't come at a better time! These are perfect to keep me warm either as an extra layer under a dress or pants. I also love that they are perfect for training! A must have!"

Michelle
@meesh.made
"This is the only leggings pattern you will ever need! I have been wearing mine every day since I made them; the fit is smooth and comfortable throughout and they don't fall down or go saggy. They take very little fabric and can be cut and sewn in an evening. Even taping the PDF is a breeze because there are so few pattern pieces. I look forward to making multiple versions for lounging, layering, working out and even using as PJs."
Sarah
Sew Sarah Smith  |  @sewsarahsmith
"These are a great leggings pattern; they fit like a second skin without clinging or chafing where you don't want them to thanks to the gusset, which also affords an increased range of movement. I love that they have no side seam too! Great as yoga pants, they also make a great base layer!"

Meg
Cookin' and Craftin'  |  @megret79
"Fabulous leggings perfect for activity or lounging. Incredibly easy and quick to sew, but with some awesome details like a gusset and wide waistband."

Anya
Anna Zoe Sewing  |  @annazoe
"Another great basic pattern! This one will carry you through your workout or yoga practice right to the end of Netflix marathon with maximum comfort and chic."

Leslie
Threadbear Garments  |  @threadbeargarments
"This leggings pattern is very well drafted and I love how it comes with two views. One is intended for more activewear and the other for loungewear. It was a quick sew and I love the gusset, the fit works really well for me!"

Caroline
Blackbird Fabrics  |  @blackbirdfabrics
"I am obsessed with view B! The ultra high waist is comfortable, the waist elastic keeps them up, and the crotch gusset makes them easy to move around and do yoga in! I can see myself getting a ton of wear out of these. My new go-to legging pattern!"

Daniela
@danicreates
"I love these leggings. They are super quick and easy to make, which makes them perfect for experimenting with different fabric. I made view A in soft bamboo jersey knit, comfortable for everyday wear and perfect for layering. I used athletic knit for View B which makes them ideal for running."

Bridgit
Girl and Machine  |  @brodonn
"The Avery leggings are quick to sew up and I love the large waistband. I'm short (5′ 1 1/2)" so even though I made view A they hit a little bit higher. I have a feeling I'll be making them again very soon!"

Denise
@dnembhard43
"I rarely wear leggings but have been wanting to add them to my wardrobe. The Avery is a great fit! It was a really quick sew, so by the end of the day, I had a great finished pair (and of course, I was wearing them the next day)! I really loved the option with the higher waistband, as that can be hard to find sometimes, and it's what helps make them a good fit for my body type. As with Helen's patterns, the instructions were very clear, so I didn't have to spend time trying to figure out, 'what does she want me to do?'"
Yasmeen
@_ym.sews_
"The Avery leggings is the perfect pair of everyday leggings to complement any handmade wardrobe. I can see them pairing well with dresses and tunics, and also for the more athletic sewists to wear to the gym or yoga! Helen has got a great fit, and the gusset is a particularly clever detail."

Kellene
@kellenehunter
"The Avery Leggings are a great wardrobe staple. They are a nice quick project and are easy to sew. I like that there are two waistband and length options. These leggings stay in place and are so comfortable to wear!"

Sue
A Colourful Canvas  |  @acolourfulcanvas
"My Avery Leggings are filling a wardrobe gap perfectly. For yoga, lounging, wearing under tunics…a total win in my books. The pattern isn't difficult and Helen's technique for a perfectly turned waistband is awesome."

Heather
The Pug And Needle  |  @heatherandthepugs
"The Avery pattern is such a fantastic leggings pattern! At first glance, this pattern may look simple, but once again, Helen doesn't disappoint with the details. These leggings are comfy and the big bonus for me: they stay put all day long! "

Aida
Ida Aida Sewing  |  @aida.k_t
"This is a lovely well-drafted pattern, the gusset is an interesting detail that gives a comfortable result, it was surprisingly easy to attach it following Helen's instruction. I also loved the fact that there is no side seam as it made everything much easier."

Anne
Sew Anemone  |  @sewanemone
"These remind me of a favourite pair of RTW cotton blend layering leggings, which I wore out years ago. I have been hunting for the perfect replacement ever since and finally found it in the Avery Leggings! It's like Helen read my mind because the Avery pattern has everything I was looking for: non-visible gusset, no outer leg seams and a wide double layer fabric waistband that stays in place. Basic leggings perfection!'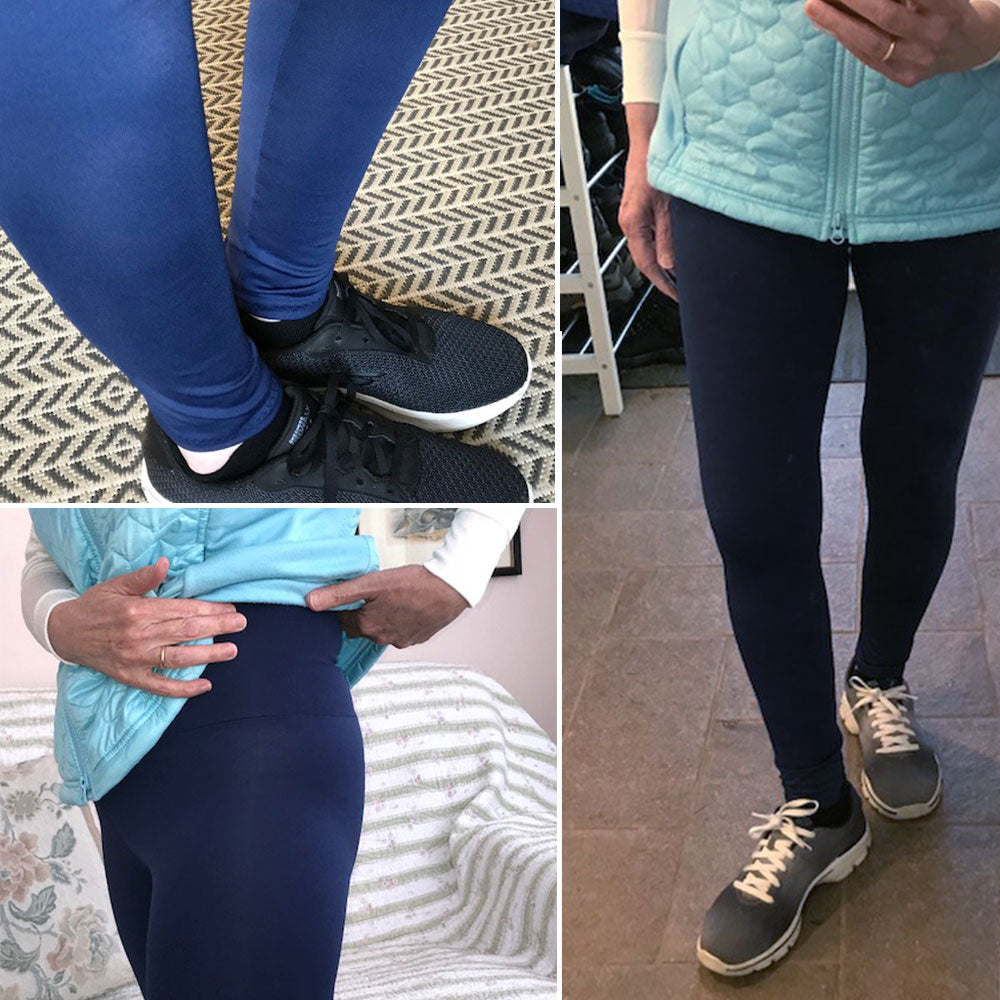 Trudi
@trudizsews
"The Avery Leggings are quick and easy to sew. They can be sewn entirely on your sewing machine with great looking results. "

Jennifer
Clothing Hacker  |  @mizzsmartypants
"These leggings fit perfectly exactly as drafted. They are so incredibly comfortable and I'm not constantly tugging and adjusting them. The instructions are well written and easy to follow."
---
Thanks for checking out my testers and their Avery Leggings! I hope the Avery Leggings will find a place in your handmade wardrobe, too.
---